Here's what I'm planning to read on Kindle this year: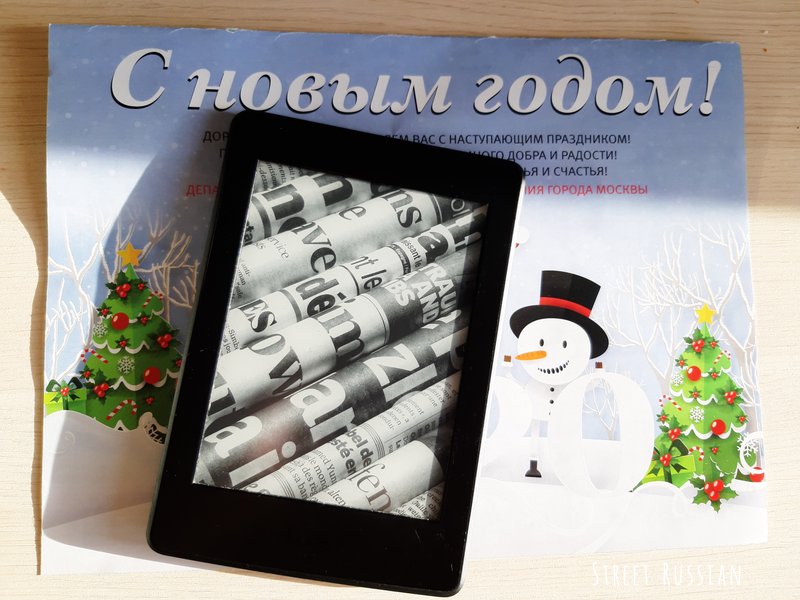 Update: ✔️ = finished!
Books I started in 2019:
✔️ The Anna Karenina Fix As they say on the internet: В любой непонятной ситуации читай русскую классику, там всё у всех намного хуже. Here's one author's take on whether we can actually find all the answers to life in such novels. I haven't yet read more than the intro, which was enough to convince me to buy it when it was published last spring. Really looking forward to continuing!
Dirty Russian: Everyday Slang This is a tricky book. Am I really going to be using any of these words? No. Am I still curious about them? Yep. Last year I started methodically going through the chapters and highlighting anything of note. Some of it is super ridiculous: "Хай всем нормальный пиплам!" Some of it is legitimate: "Бухать бухашку." Some of it is useful: I would never have guessed that "Время детское" means "The night is still young." I think it's worth finishing the rest of the book and looking for the useful bits.
✔️ Putin Country: A Journey Into the Real Russia I stopped reading this at 51% out of the catastrophic depression it creates in the reader. It seemed like a responsible thing to read at the time… we are living in Chelyabinsk and the entire book is about Chelyabinsk… but with chapters like "Nuclear Nightmare" and "The Addicts", it was too much to read in the heart of winter. Living in Chelyabinsk isn't always easy and this book is all cons and no pros. (But two мир тесен moments with this book. #1 I went to visit some friends in another part of the city and the book came up in our conversation. "Oh, we know her! We met her when she was living here. She's actually really nice and she honestly does like Russia, I swear." #2 When I got to the chapter on medical care, there was an interview with a doctor I saw a few months ago.
Babushka's Beauty Secrets Originally read this book at the library years ago and it became one of my very first Kindle purchases. It's full of skin care recipes from the American granddaughter of a resourceful Ukrainian woman. I'd like to read through it again and bookmark a few things to compare with my current Natura Siberica products.
Orwell and the Refugees I read half of this book several years ago, don't know why I stopped. Now I can hardly remember the storyline – something about Ukraine? – but I do remember enthusiastically recommending it to a bunch of people. Would like to start from the beginning again and finish it.
Killing Rasputin Started reading this once upon a time and was overwhelmed by reading just 8% of the book. It's packed with more info than you could ever need to know about the man. Definitely more than Russian nightclubs taught me about him. 😂
The Sin Collector Got to about 50% but not sure I will finish this book. It sounded promising: a young woman tracking a serial killer in Moscow. But so many things rang untrue. Is it just my experience or do Russian women NOT ever shake hands with Russian men? This girl was going around shaking hands left and right. Another character drove a Ford pickup around the city. On the other hand, the writer is from St. P so maybe I just don't know enough about life in big Russian cities.
Books I haven't started (all these were/are free to download)
✔️ Best Russian Short Stories Stories from Pushkin, Gogol, Turgenev, Dostoyevsky, Tolstoy, Saltykov, Korolenko, Garshin, Chekov, Sologub, Potapenko, Semyonov, Gorky, Andreyev, Artzybashev, Kuprin.
✔️ Russian Rules This has been sitting in my NetGalley queue for a very long time. Amazon description: "A thriller of sorts about loose nukes, mistaken identity and iPhones." It was written by the publisher of Russian Life (magazine) so I'm thinking it'll be better than the average "curse those evil communists!" storyline.
✔️ 17 Cents & a Dream: My Incredible Journey from the USSR to Living the American Dream It was free.
White Nights and Other Stories: The Novels of Fyodor Dostoevsky, Volume X Short stories from The Master of Depression? Sounds doable.
The Possessed: Adventures with Russian Books and the People Who Read Them Grad student vs Russian literature.
A Divided Life A spy biography. Why not?
Russia's Dead End Uh, I know, that title. So promising. I downloaded this from NetGalley just because it had "Russia" in the title. Might skip it.
Picnic at the Iron Curtain: A Memoir: From the fall of the Berlin Wall to Ukraine's Orange Revolution Eternally curious about eyewitness accounts of anything anywhere.
Anna Karenina Someone once gave me an actual copy of this. I did start reading it… but was quickly overcome by farming this, agriculture that, and All. Those. Names. I didn't know any Russian at the time and couldn't understand why people's names kept changing. This is my mom's main complaint about Doctor Zhivago, by the way. 😉
War and Peace Let's be honest: it's highly unlikely I'm going to read this. My husband had such a tortured face when I asked him whether it is worth reading. (He read it in high school in Ukraine.)
✔️Cold War History – To the brink of nuclear destruction – From World War 2 to the Cuban Missile Crisis Before my time so it's my responsibility to learn about it.
✔️ Long Journey Home: A Young Girl's Memoir of Surviving the Holocaust Part of her tale takes place in a labor camp in Siberia.
Have you read any of these books yet? Which Russia(n) books are on your list for this year?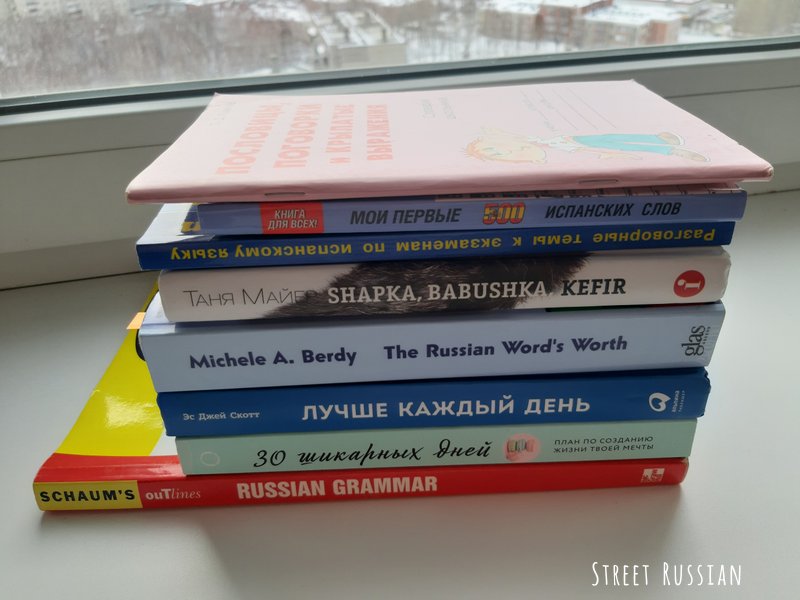 PS: If you're into books about/in Russia, I recommend this blog!