***Part 2 of 3(?)***
I've been home for a few days and the hospital experience is starting to fade in my mind. I can say for sure that it was an overwhelmingly positive experience. The hospital was very very clean, the surgery was successful, and in a way it felt like I went away to study medical Russian for a week. If I'd had this experience at any previous point as a language learner, I probably would have broken down in tears but ура, my Russian is finally at the point where this was like an intense TORFL (Test of Russian as a Foreign Language) rather than misery and miscommunication.
Again, some useful vocab in case you ever find yourself in the hospital:
палата = patient room, recovery room
операционный блок = operating room
реанимация = intensive care unit
комната для осмотра = exam room
столовая = cafeteria
капельница = iv therapy but also refers to that tube they leave stuck in your arm
укол = injection
чулки = compression stockings
мензурка = little measuring cup for pills
клизма = enema
ходить по-маленькому = to go number one
ходить по-большому = to go number two
мерить давление = to check your blood pressure
Фельдшер = medical worker with more authority than a nurse but less than a doctor
страховой полис = insurance document

And again, to help keep this organized, here's a brief timeline:
2019: A broken arm lead to all kinds of interesting visits (seriously!) to a public hospital and public clinic downtown… will share that in a future post. Also, a biopsy at a private clinic.
2020: 2 days in a different public hospital for a biopsy, followed by 8 days in that hospital for a surgery.

I'm no hospital expert by any means but I've had an outpatient laparoscopic surgery in the US and now an inpatient laparotomy in Russia. Here are some of the things that stood out about life in a Russian hospital… (For info on food + checking in, read Part 1.)


Empty wrist, regular bed
In Russia, you don't get tagged with a hospital bracelet (name, date of birth, allergies, etc). Maybe this is because the ward is smallish and it's easier for staff to remember who you are? It's kind of nice to not have that plastic on your wrist, helps you feel like less of a imprisoned patient.
And the bed is just a regular bed, not a fancy five-thousand-dollar, remote-controlled contraption that can be wheeled around and adjusted. The biggest downside of this is trying to get comfy after surgery. If you want to sit up, that's all on you (and your abs). 😉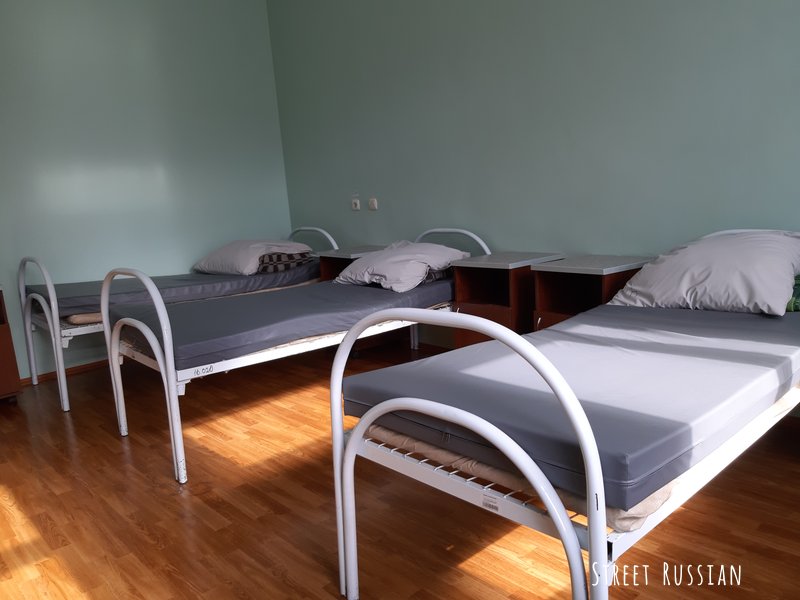 Something I was nervous about: no call button for emergencies. It turns out there is a solution for this, though… your roommate(s). They keep an eye on you, you keep an eye on them, and the nurses pop by every now and then.


Who are you?
In the US, medical staff (especially nurses) always start with a smile and something like, "Hi there, my name is Joe and I'll be your nurse today. How's your pain level? If there's anything I can do to make your stay more comfortable, press this call button and I'll come right away."
In Russia, there's no smiling Joe. No call button, of course. And the pain management strategy is largely "just be tougher". (We'll get to that later.)
Before my surgery, I was called into the комната для осмотра. I knew there would be some kind of physical exam and I was guessing either the surgeon or my doctor would be there. Yes, the surgeon was there. The doctor was there. And so were 5 other random people. I was told, "take off your pants", and then I was examined while everyone else just stood there watching. I still have no idea who those people were. 😂 It reminded me of a story I heard from some English teachers last year. They had gone to the hospital to get a yearly physical in order to renew their work visas. There was a lot of nudity and rooms full of different people involved, so I figured these kinds of public exams were common. It surprised me then, one night, when a new girl had checked in to the hospital and one of the recovering patients told her, "You won't believe it, you'll walk into that exam room and it'll be filled up with people standing there staring. I was totally taken aback! They didn't introduce themselves or anything!"
So, no, introductions are not a big thing. But most staff do wear nametags and just like anywhere else, people always appreciate it if you learn and use their names.



The Bathroom
Standard rooms: bring toilet paper. Store it in your room, carry to the bathroom and back. There are bathrooms at each end of the hall with a communal handwashing area and separate toilets.
The платная комната (paid room) had an unexpected bonus: an in-suite bathroom!!! I didn't expect any of this when I checked in. I didn't know there were different kinds of rooms, I just knew I would have to pay for my care.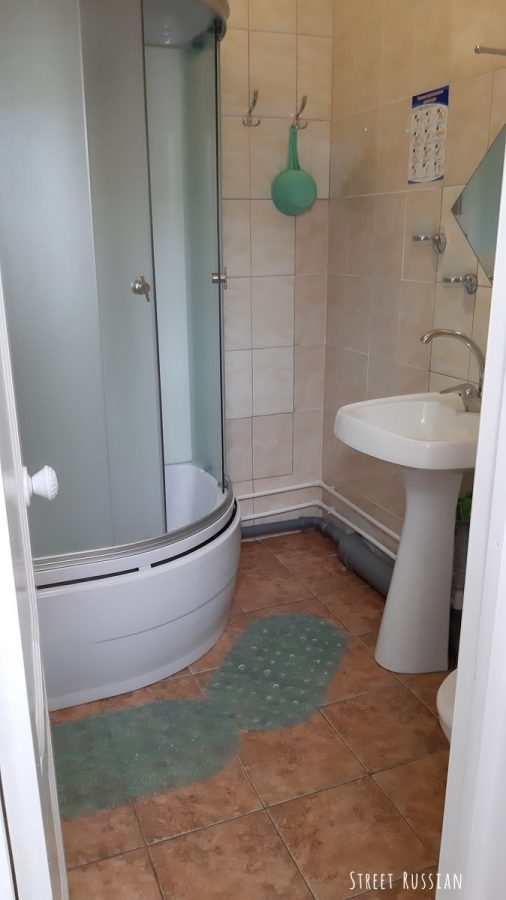 The biggest perk to the bathroom was having a shower available at all times. I think the common shower was only available at certain times of the day. Don't forget to bring a towel, by the way. Like Douglas Adams wrote, "A towel is about the most massively useful thing an interstellar hitchhiker can have."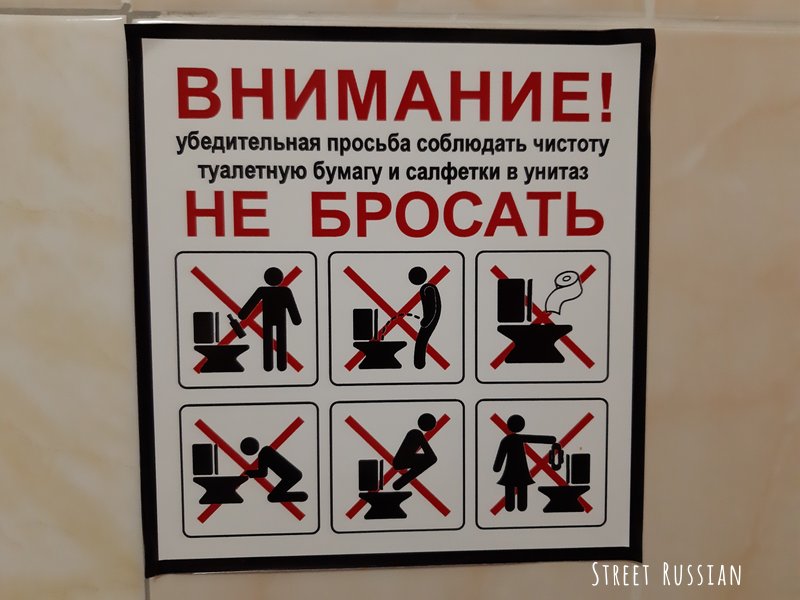 The Room
There are two kinds of hospital visits: those for платные услуги (paid services) and those for бесплатные услуги (free care). Your status determines your room in the ward. Here's what a бесплатные услуги room looks like: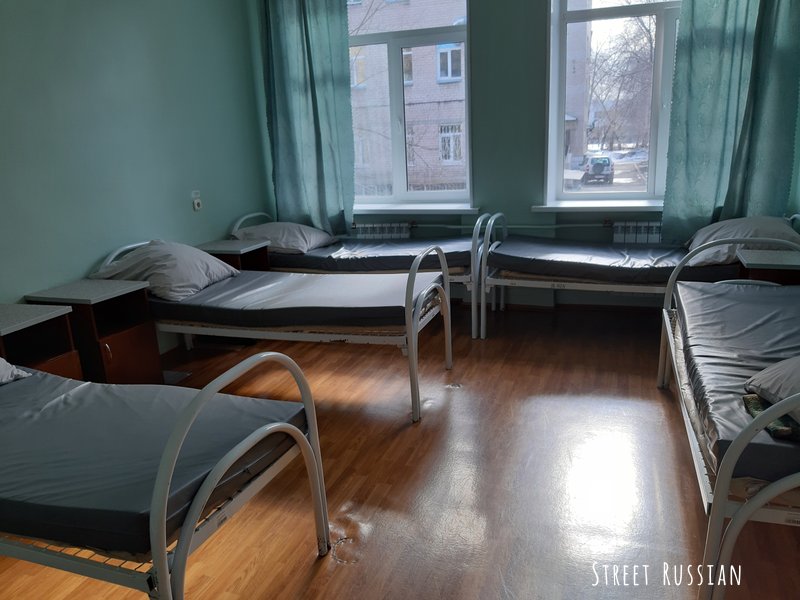 That particular room had beds for 6 patients. An interior door connected it to another smaller room with 4 beds and a sink. Everyone kept their belongings in the little тумбочка next to their bed.
The платные услуги room is smaller and fancier. You can see a short video of it here. (second slide).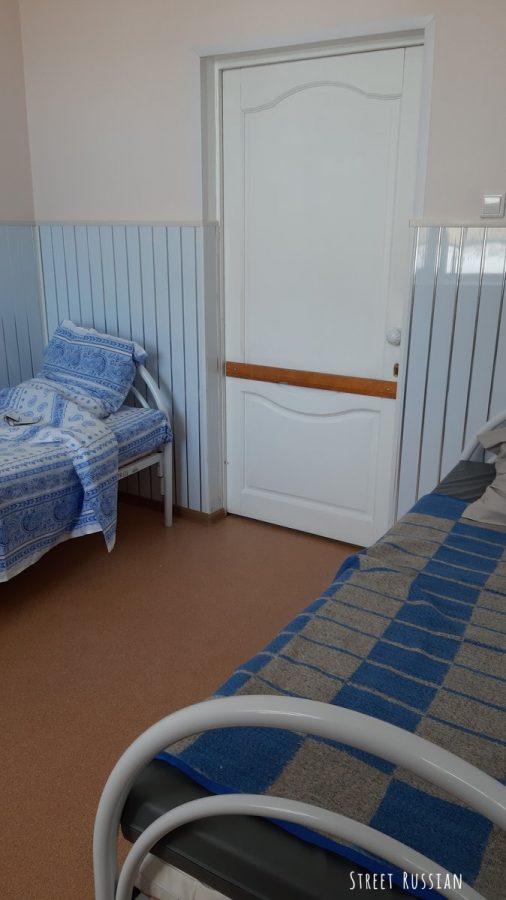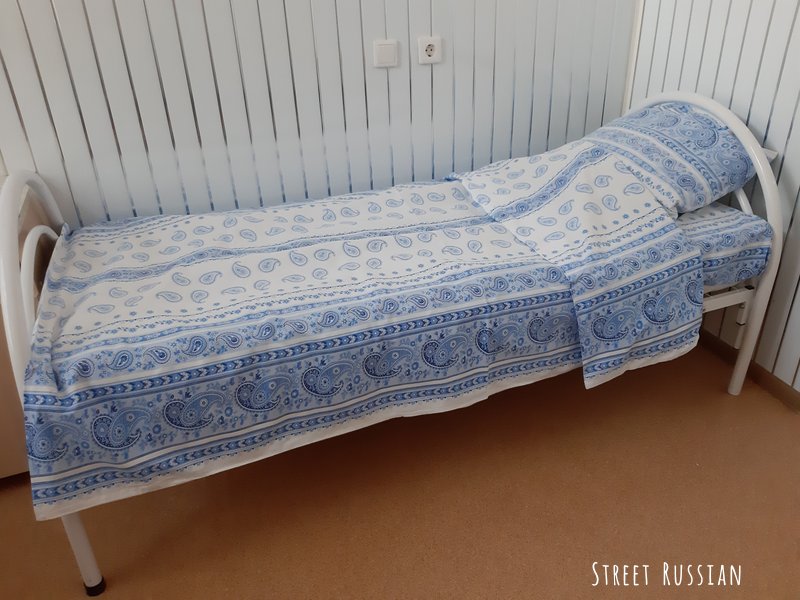 I can't say much about the price of paid medical care in Russia but I can pass on what one of my roommates said: her insurance company was paying for everything and it cost an extra 4,000 rubles (currently $50 USD) to stay in the платные услуги room. In my case, they just assigned me to this room without the option of staying anywhere else.
There was a charger by each of the beds, a тумбочка for each bed, a rolling table, and even a little kitchen nook (microwave, tea kettle, fridge). There was also a TV, something the free rooms didn't have. One roommate did watch TV, the evening soaps. There didn't appear to be any other TV in the ward, unless there was another paid room tucked away somewhere.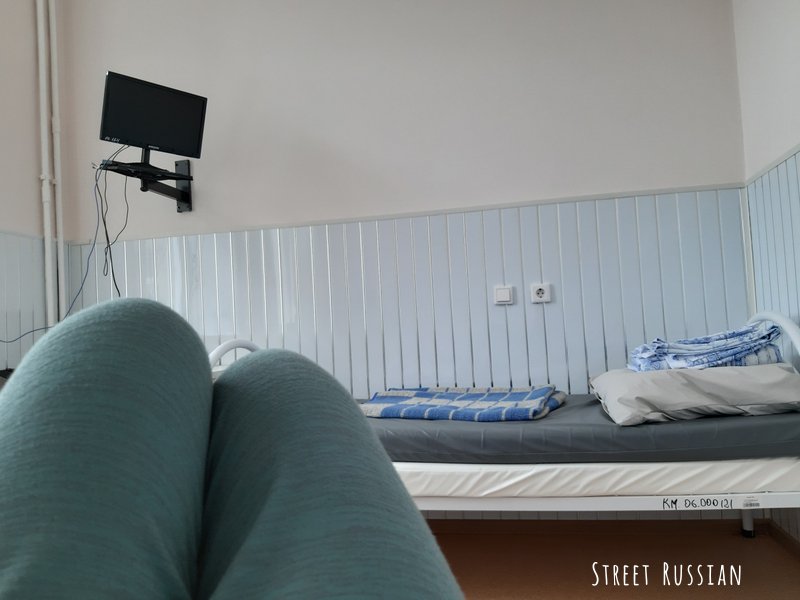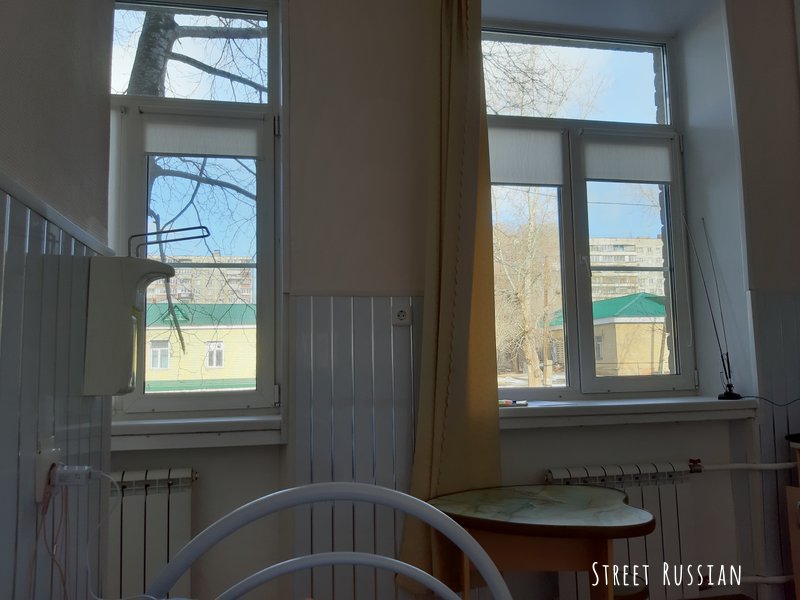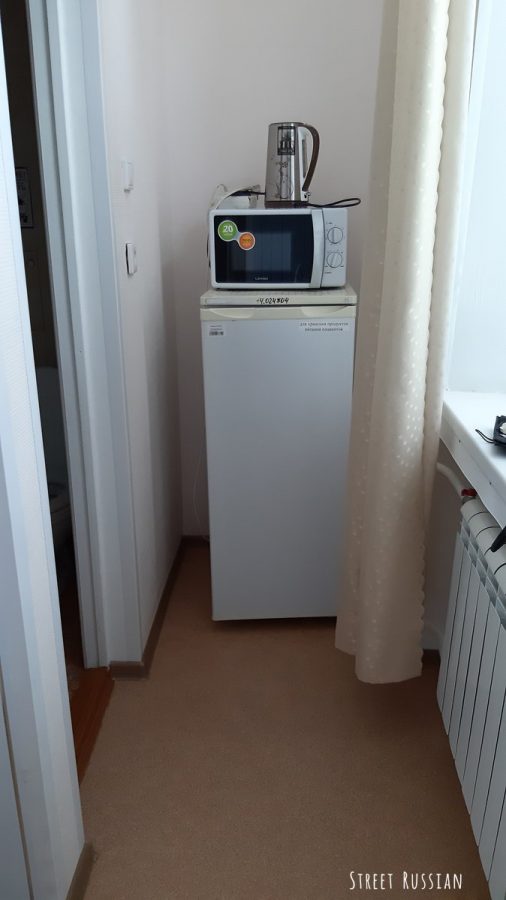 Free time
There isn't a special hospital wifi connection but you could use your own connection on your devices. The connection was a bit spotty- thick walls? bad location? I called my parents in the US on Viber and surfed the web but YouTube, for example, was unreliable. Everyone had this issue with their phones so we usually clustered near the windows, hoping that would do the trick.
The ward was simply one long corridor with rooms: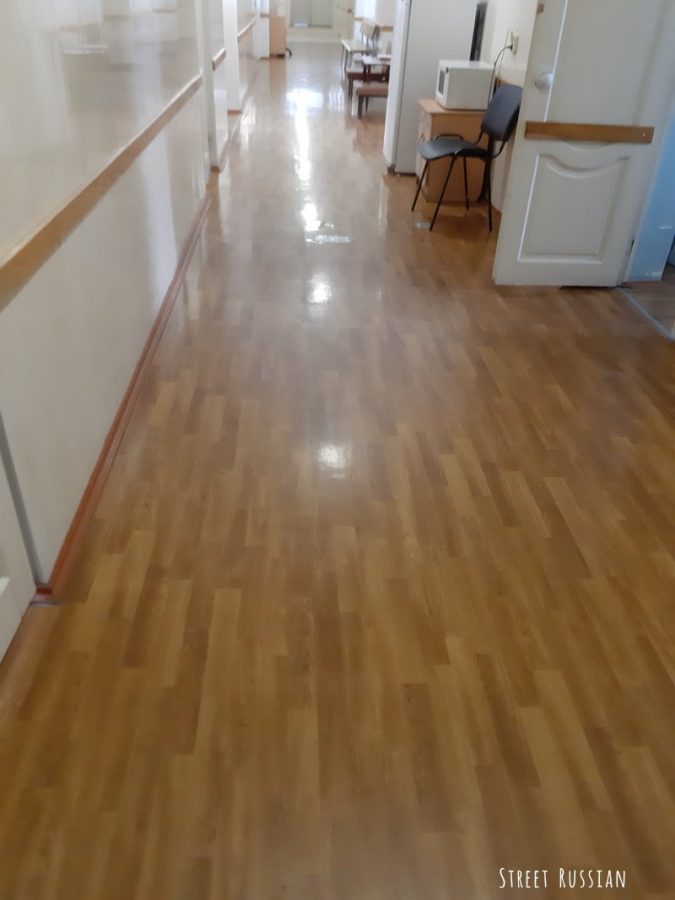 Stretching your legs meant walking up and down the corridor, dodging nurses and doctors if it was between 9 AM – 5 PM. There were lots of colorful and gory health posters up in the hallway: here's an ovary in good health, here's a carcinoma in graphic detail, here's why your daughter should get vaccinated for HPV. The biggest poster by far was the anti-smoking placard. In short, it said something like this: Russia is the smoking-ist country. Fewer and fewer people smoke in the west but more of us are smoking, including women and children. *long long list of smoking-related health problems* It takes a massive amount of willpower to quit. If you don't have this kind of willpower, ask a professional for help.
I heard stories of patients being allowed to go outside for a walk but the hall was enough of a challenge after surgery. The thought of going down to the basement to retrieve jacket and shoes from the coat check was too much. It's probably the longest I've even stayed inside in my life so far, emerging outside only on day 8. (But that's nothing now, compared to people who are self-isolating all around the world.)
During my first stay, I didn't have a roommate. I had brought a paperback book and my phone. During the next (longer) stay, I had an incredible roommate for the first 3 days. Our first day together, we talked for hours and had an anti-stress spa night: face masks and calming music. The following morning, we played Russian word games together while waiting to be called back to the операционный блок. After that ugh, it was all a blur. But when she checked out on Friday night, I was starting to move around a little bit. Russian hospitals DO NOT put up with laying about, haha. Over the weekend I met some really cool women in the neighboring палата, so I spent a lot of time over there chatting and resting. We ate together in the столовая, showed each other pictures on our phones, and looked after each other. On my final day, I got a new roommate but she was not terribly interested in conversation.
So how to pass the time in a Russian hospital? If you're up for it, I would recommend trying to make new friends. It's an opportunity to meet people from all over the область and even better, people who have no interest in English. If you can keep up your enthusiasm for language learning while recovering, this is an amazing chance to improve your Russian. Not everyone will want to talk to you, of course, but some will. I left with a lot of new VK and Viber friends who came from towns I knew nothing about: Сатка, Кыштым, Озёрск, Снежинск. If not for this situation bringing us together, I would have never had the chance to meet any of these women.
But you're in the hospital for a reason, right? If you're not feeling well enough to get up (although the nurses will make you, ha!) and socialize, then bring books to read or stuff you've already downloaded to watch. There was no common room, nowhere to go other than the палата, someone else's палата, or the столовая. Like we'll talk about later, painkillers are not a big part of the hospital regime so bring things that are interesting enough to distract you from what your body is feeling.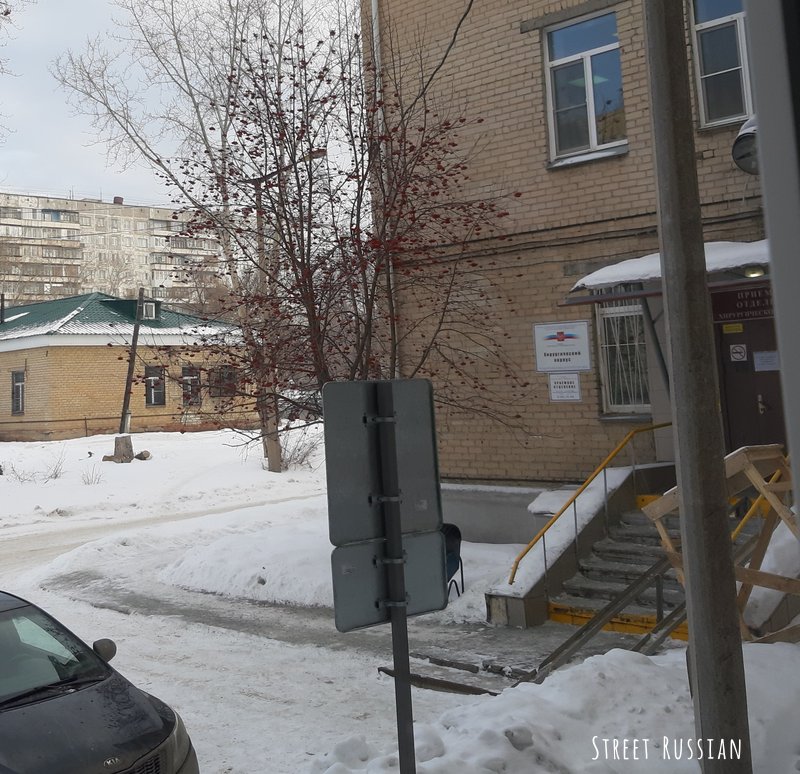 And how about the security of your stuff? My passport was always stashed away in the тумбочка and I probably could have sent it home with my husband after checking in. The ward seemed quite safe but I didn't bring anything very valuable anyways. For the surgery stay, I just had my phone and Kindle. When I left the room, I slipped them into a small shoulder bag and carried them with me. I was always the only person with a bag, though. Because I was in a small room, there was a key to lock the door. I was told on my first stay that I could "lock the door when leaving" but I never did that.
This hospital was much nicer inside than the one I visited last year for my arm. In general, I think this means you can never have any expectations when going to a hospital here. You've surely seen photos floating around the internet of decrepit, scary rooms with broken tiles and rust stains. Neither hospital I've been to here in Chelyabinsk fit that description, although last year's hospital definitely had a Soviet look to it and there was a somewhat terrifying physical therapy room in the public clinic.
Next up: how the nurses prepare you for surgery in a Russian hospital, communication with the doctors, the surgery itself, and the in-hospital recovery routine…
Stay healthy out there, fellow Russian learners!