***Part 1 of 3(?)***
This is not a horror story, this is not a sad post. This is not the tale of some foreigner who got rushed into emergency surgery. This is, however, my story of spending a week in a public hospital in Russia.
First, some useful vocab in case you ever find yourself in the hospital:
палата = patient room, recovery room
операционный блок = operating room
реанимация = intensive care unit
комната для осмотра = exam room
столовая = cafeteria
капельница = iv therapy but also refers to that tube they leave stuck in your arm
укол = injection
чулки = compression stockings
мензурка = little measuring cup for pills
клизма = enema
ходить по-маленькому = to go number one
ходить по-большому = to go number two
мерить давление = to check your blood pressure
Фельдшер = medical worker with more authority than a nurse but less than a doctor
страховой полис = insurance document

Also, to help keep this organized, here's a brief timeline of my experiences so far:
2019: A broken arm lead to all kinds of interesting visits (seriously!) to a public hospital and public clinic downtown… will share that in a future post. Also, a biopsy at a private clinic.
2020: 2 days in a different public hospital for a biopsy, followed by 8 days in that hospital for a surgery.

Checking in at the hospital (or, what not to do)
When you check in at the hospital, you need special shoe covers called бахилы. Some hospitals might sell them in a vending machine: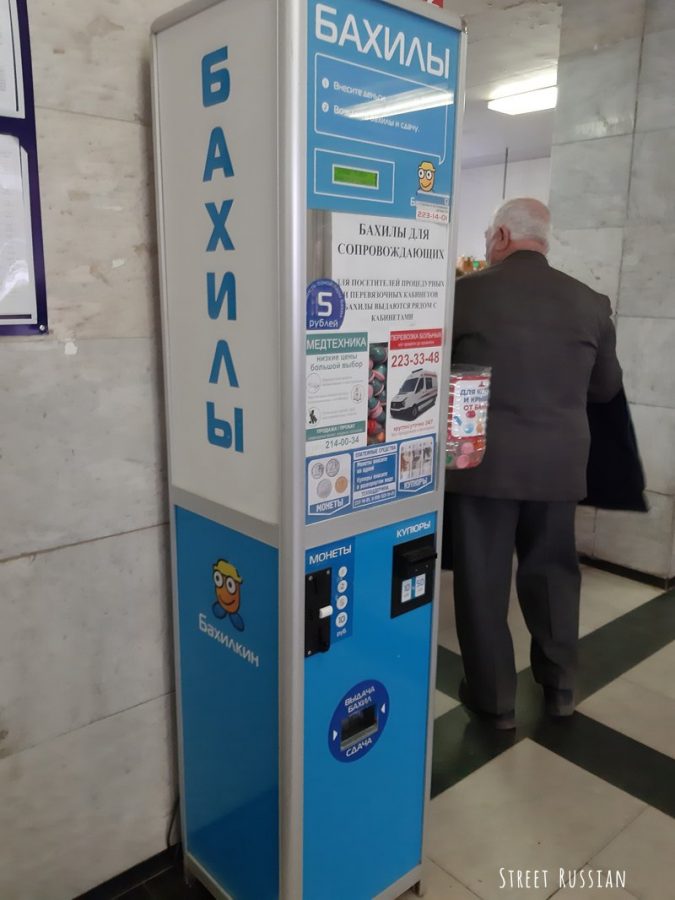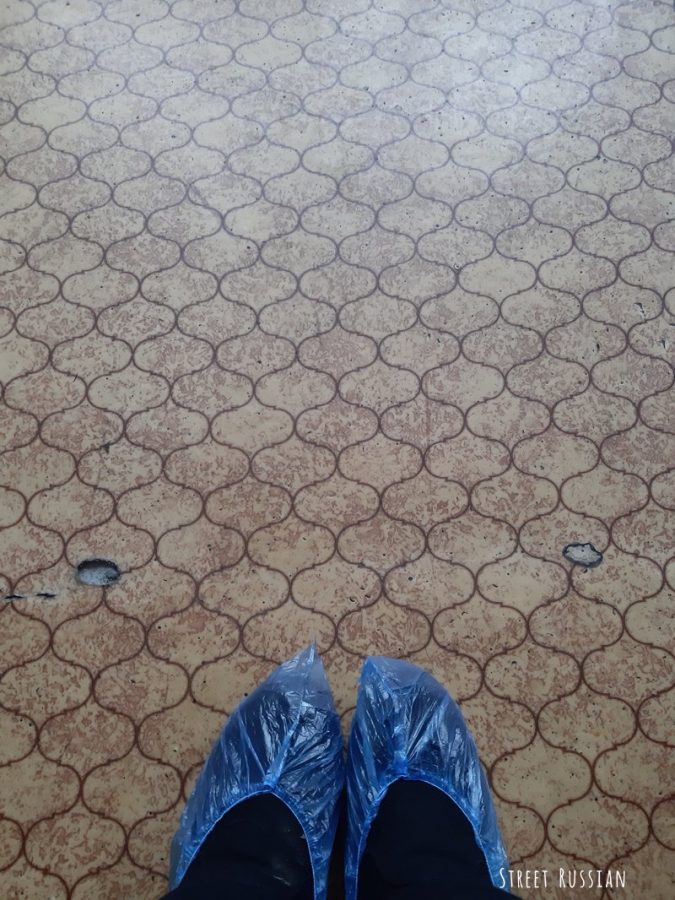 When I came to a different hospital in the suburbs for a consultation in January, however, we'd forgotten to bring бахилы from home and there was no place to buy any. We sat in the waiting room of the surgery ward…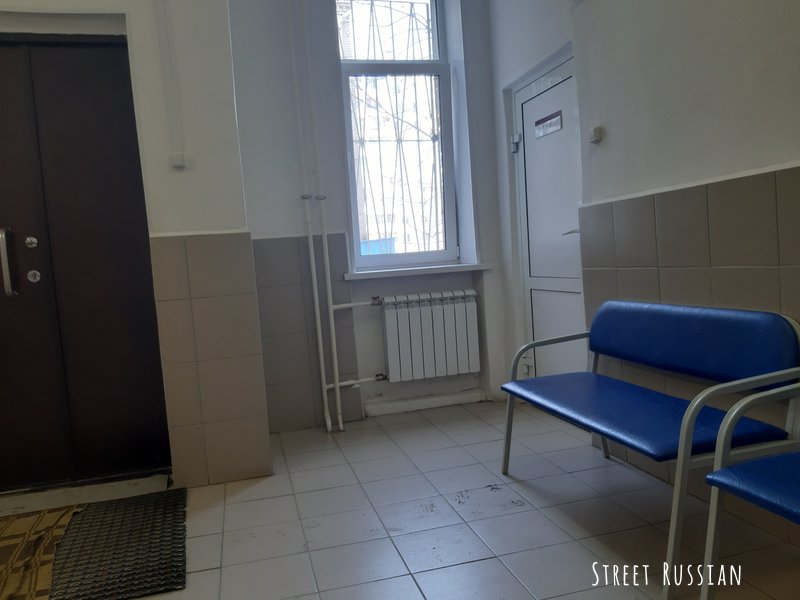 .. and when they called me back to check in, I actually just took my boots off and entered in socks. 😂 The woman behind the desk was horrified. "What in the world are you doing?!" My surgeon came along and said, "She doesn't speak Russian, she speaks German" (haha what?) and the woman immediately softened and pulled out some shoe covers from a drawer somewhere.
The next time we came to the hospital, I was checking in for an overnight stay. This time we'd remembered to bring бахилы (we are set for a few years now, I think!) and were even able to give out a few pairs to people who had forgotten their own. I was told to check in to the hospital at 9:30 AM, right after opening, and the waiting room was already packed with people and their shopping bags of food and water.
The check in procedure involved signing a lot of paperwork, handing over my shoes + coat to be kept in storage, and doing some basic vital stats like weight, height, blood pressure, and temp. Please be warned: when they hand you a thermometer, you're not supposed to put it under your tongue!!! It goes under your arm. Lesson learned. 😆
Once I was officially in the system, I said goodbye to my husband and was escorted to the room (палата) in the women's ward. But wait a minute… let's go back to 2019 for a minute…
Last year I had a very minor surgical procedure and a biopsy done at a private clinic. It was a quick procedure: no food or water the morning of the procedure, come to the clinic, go under general anesthesia (IV), wake up, lie around a little in a tiny палата, go home. I think I even went to work that afternoon.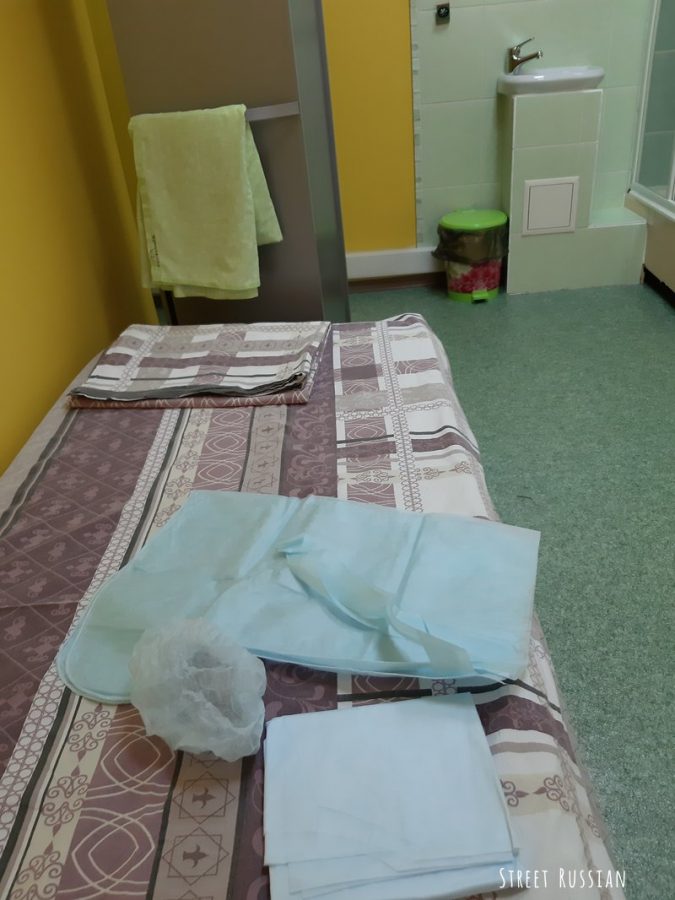 So I assumed this would be the same. I didn't understand why I was supposed to stay at the hospital for 2 days, though. Maybe to stay under observation because of the anesthesia?
So here's the thing about any surgeries or biopsies in the hospital: day #1 is always The Day of Waiting. The surgeons, doctors, and anesthesiologists are running around, doing their thing, and you're waiting for them to stop by when they have time. There are no appointment times to discuss your case. You just wait. I didn't know this so it seemed like people were just randomly barging in the room all day long. On the other hand, once I found out that the biopsy wasn't that day, it meant I could go eat in the столовая down the hall!

Food in the hospital
The столовая opens only at certain times. Patients are called to eat when the food is ready, meaning the door will be flung open and the meal will be called out, "завтрак / обед / ужин!" If you're hungry outside of mealtime, there's a fridge in the hall to store food in or you can keep snacks in the little тумбочка (dresser) next to your bed. Meals, by the way, aren't prepared on site. They're delivered 3 times a day in huge metal vats. I know this because I could see the delivery truck from my window.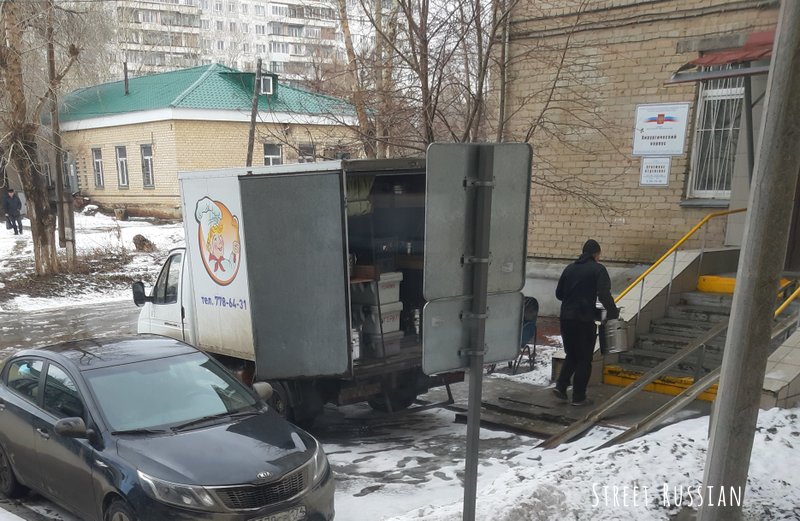 The столовая was a small room with 5 tables and seating for about 25 people. YOU MUST BRING YOUR OWN ЧАШКА (CUP). This first stay, I forgot my чашка so I drank only bottled water those two days. There's a menu posted in the столовая every morning so you know exactly what's being served but it's always the same:
breakfast = каша (different kinds of oatmeal)
lunch = суп, каша, котлет, салатик (soup, a different grain, meat cutlet, maybe a tiny scoop of marinated carrots or cabbage)
dinner = a wild card. Sometimes you get something great, like plov or запеканка, and sometimes it's just more гречка (buckwheat) and a hardboiled egg.
Some of the meals: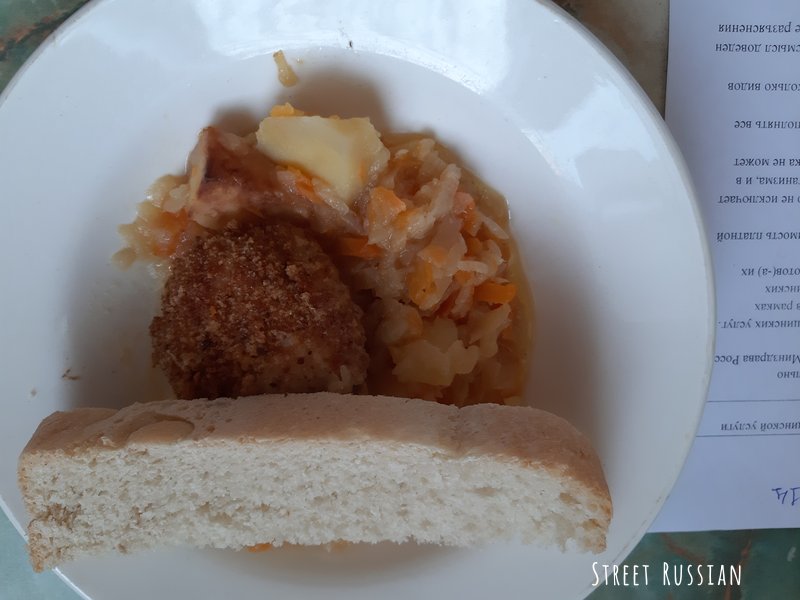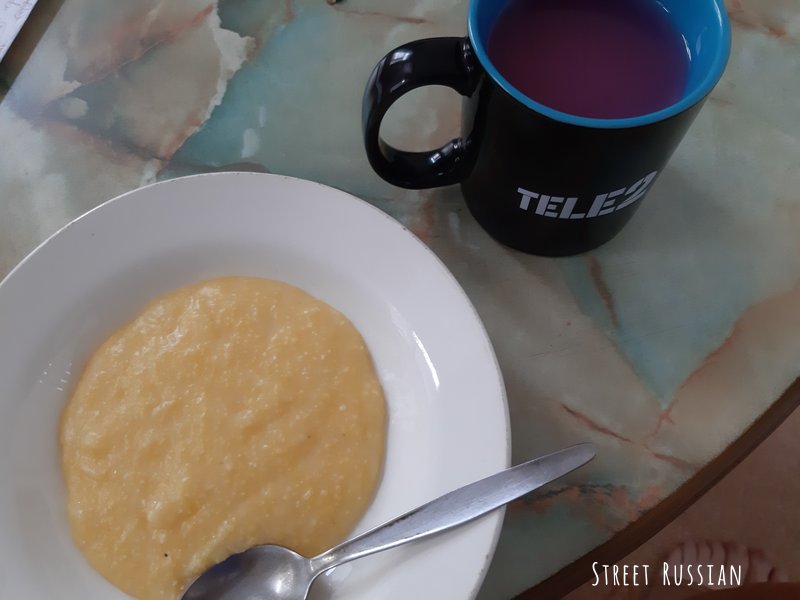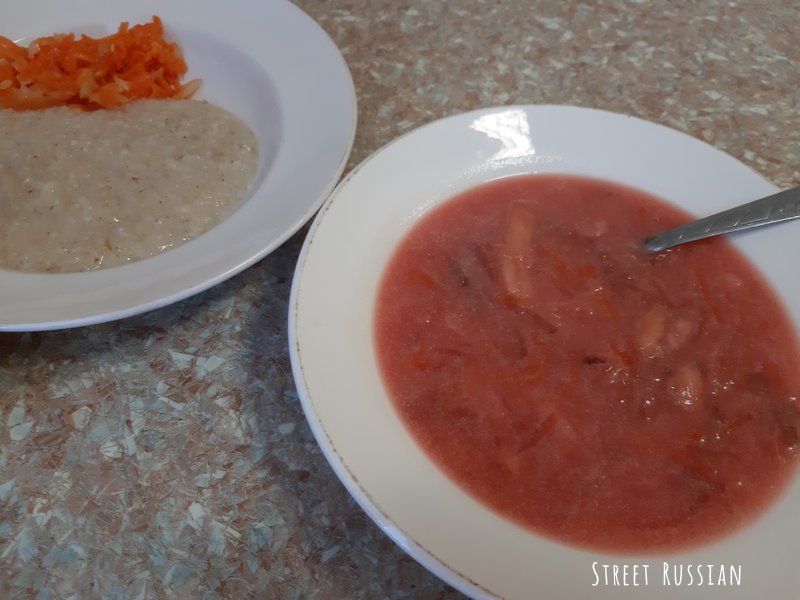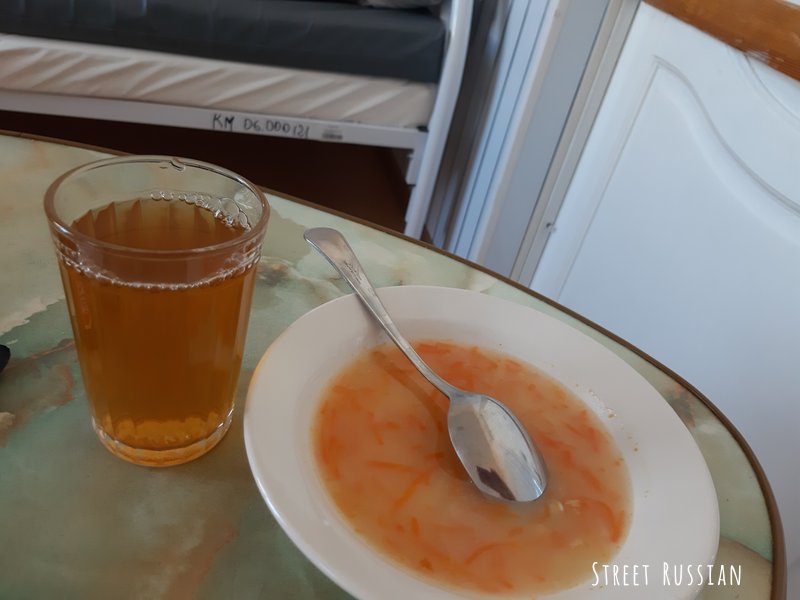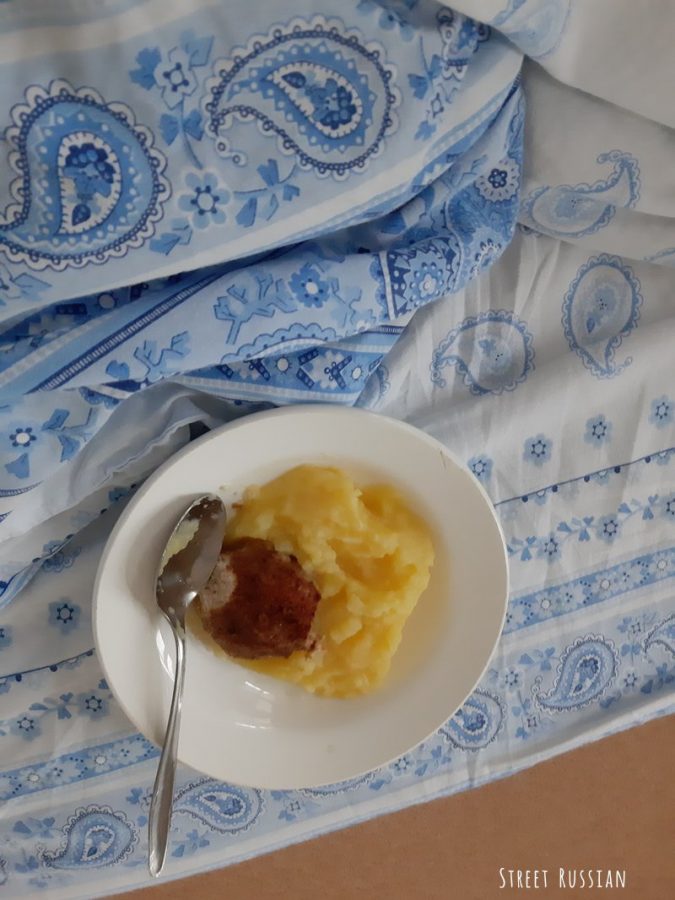 If you like Russian food, you'll enjoy the hospital food. It's a bit bland- no salt protocol?- but tasty enough. Everyone brings their own snacks though. There are rules about what you can and can't bring but I don't quite understand all the logic of them. Candy and sugar are okay but chocolate is not. Kefir and tvorog are okay but chicken and mushrooms are not. In the evenings, the communal fridge gets checked by a nurse. This meant a barrage of shouting in the hallway: Чей банан? Whose banana is this? А кто пьёт коку колу? Hey, who has been drinking Coke?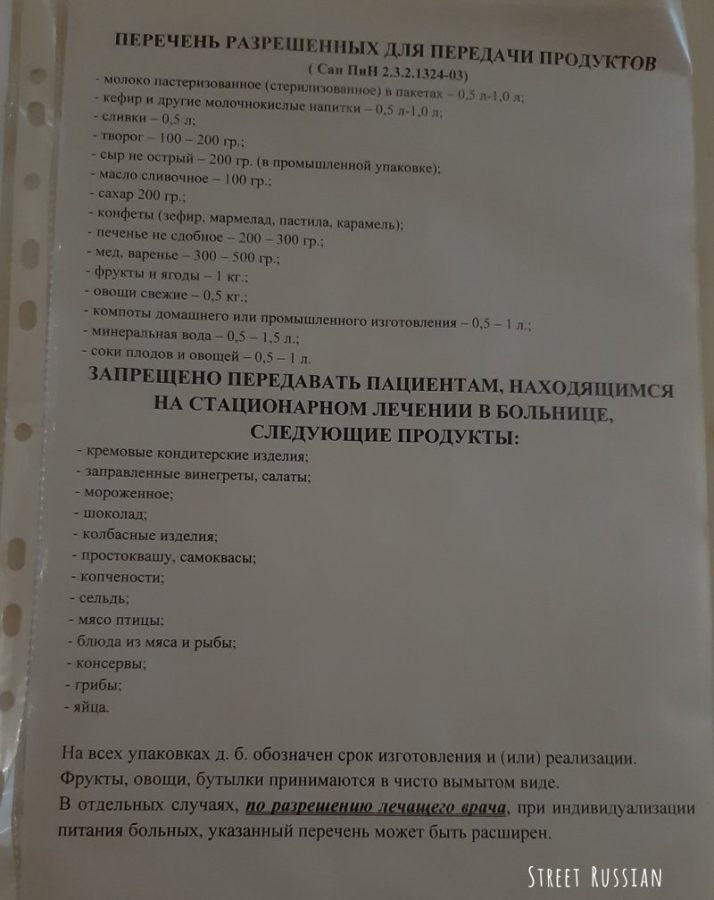 If you are lucky, someone will drop off supplies for you: more bottled water, some extra food and snacks. The hospital was under regular quarantine (flu) so I didn't really have visitors but a friend dropped off THIS AMAZING FEAST one afternoon!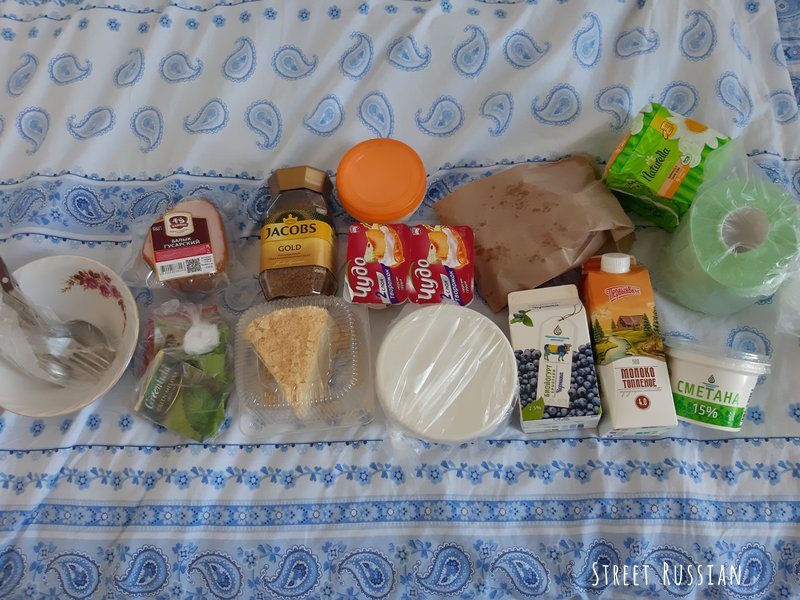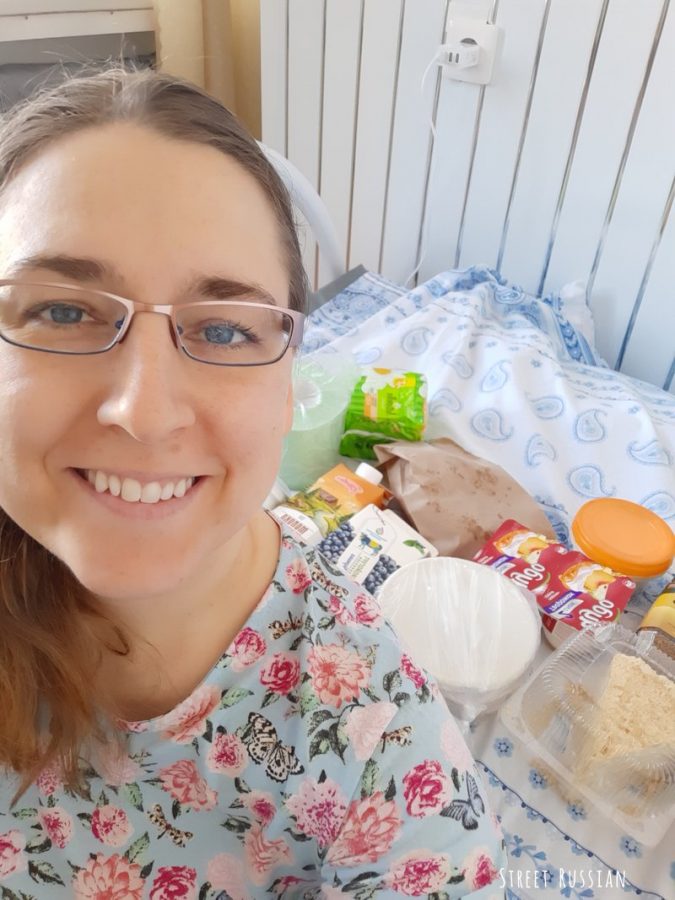 She even brought along homemade pelmeni and then dropped off mashed potatoes + chicken another day. My appetite was tiny but it was so, so uplifting to have a homecooked meal.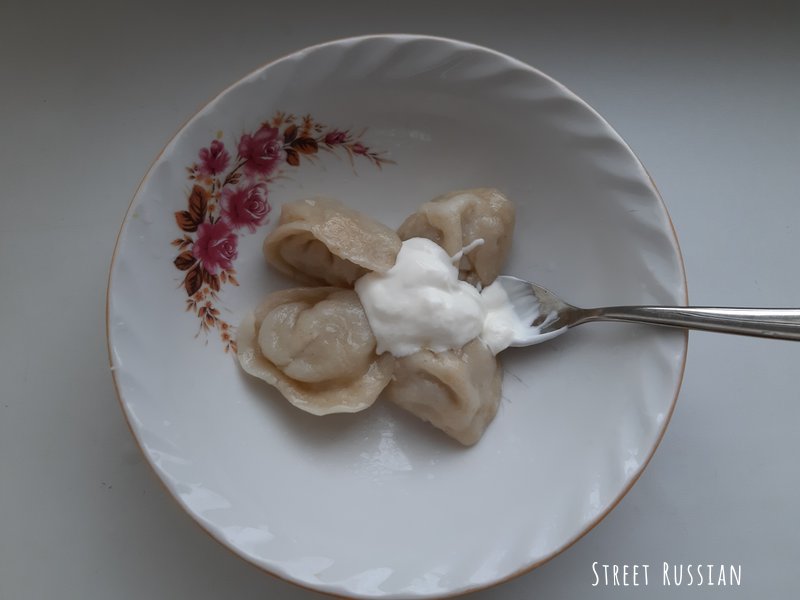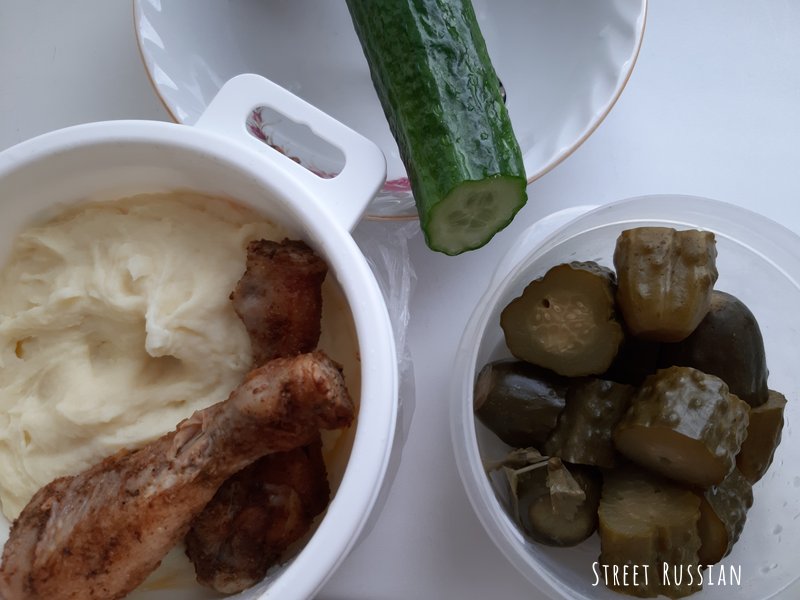 Back to the столовая… When you're called to eat, there's a big rush toward the counter where the food is served. You grab a plate from the counter (food already on it) and a piece of bread from the bread bucket, pour yourself something to drink (кисель, чай, компот), and find a seat.
Some women brought their own spoons, which was another thing I didn't understand. We're all eating off the same plates, why not use a hospital spoon too? (No forks or knives available.) The plate is surely washed in the same manner as the spoon? But those who didn't bring spoons often made a huge deal out of selecting a spoon. Pick one out of the container, examine it for spots, put it back, and repeat until finding a satisfactory spoon. The worst was when I saw a woman cough into her hand and then start the spoon selection process. 😡
The столовая was a quiet place. People sometimes chatted a little but most women focused on eating and were finished within 10 minutes. It was a bit clique-like: you usually sat with the women from your палата. During my overnight stay, there was no one else in my room so I just sat where I could. I was more scared and unsure during that period, so I would wish my tablemates "приятного аппетита!" and shut up. There was an older woman I sat by twice, enough for her to notice I didn't have any bread and lecture me on the dangers of this: "You know, I once knew a man who died from not eating bread." During my long stay, however, I met a wonderful group of women so we always saved each other spots at mealtimes.
All in all, I thought the food situation was great. It's not like you'll spend much time eating when you're recovering from a procedure or waiting for a procedure, but when you're ready to eat, the food tastes good. And even better: for most people the food is free… as is the entire hospital stay and the medical procedure itself! The catch is that you have to wait on a list until it's your turn.

Next post: room tour + roommates at last, daily routines, the surgery, and making friends in the ward. Here's a peek at what most days were like (and the 6 AM wake ups were no joke: the nurses get you up for the first укол of the day and to make it even more joyful, it's in the попа/butt, of course)….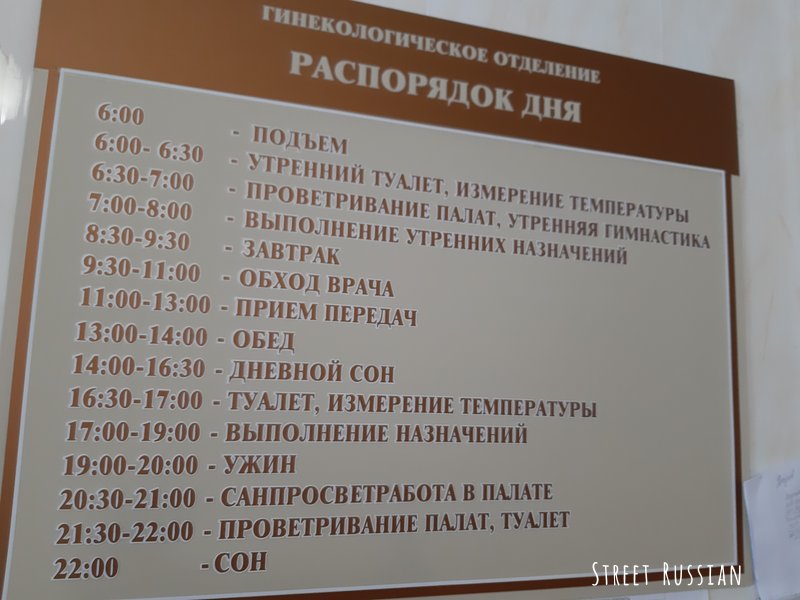 Stay healthy out there, fellow Russian learners!