I saw this plaque in Gagarin Park a few months ago and didn't quite understand what it meant. Do you?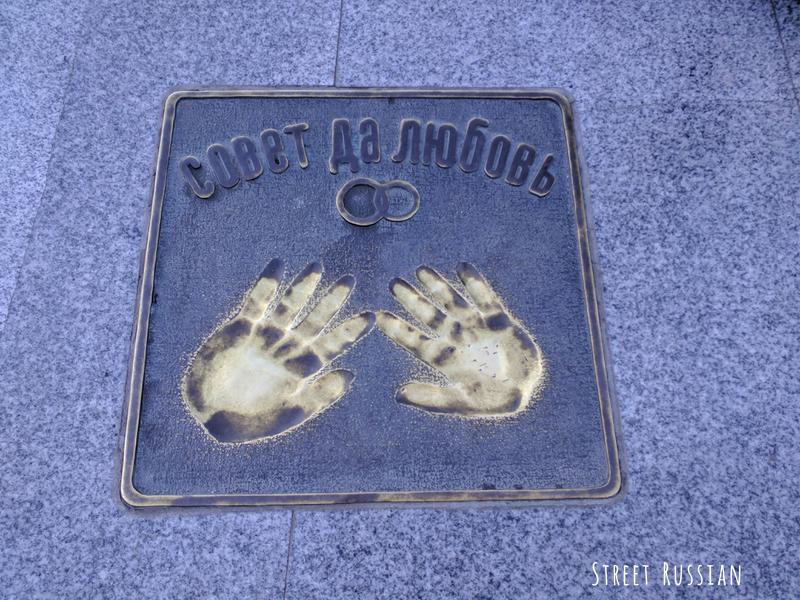 This morning, reading in Schaum's Outlines Russian Grammar, I came across this-
In informal conversation and in many folk sayings and idiomatic expressions, the unstressed conjunction да is often used to mean и (and).
Ah ha! That cleared up part of the phrase but I still couldn't quite put the whole thing together. Что такое совет да любовь? My husband took a look at the photo and got it right away: "It's that thing people always say at weddings. You know, um, what's that phrase?" I guess we need to go to more weddings. 😉
ProZ has some useful translations: I wish you both the best in life, may you live happily ever after, best wishes!
Once I started looking around, I found lots of expressions with да. Here's a great list with other meanings for да.
These are my favorites:
Ай да молодец! = Great job! Way to go! Not to be confused with Айда! Let's go!
Ай да Пушкин! ай да сукин сын! = This phrase has its own Wikipedia entry.
Да здравствует король = Long live the king!
Жили-были старик да старуха = There once was an old man and an old woman…
И сказал Бог: да будет свет! = And God said: let there be light!
And, of course, Совет да любовь = May you have a happy marriage!
Can you come up with another good expression for this list?