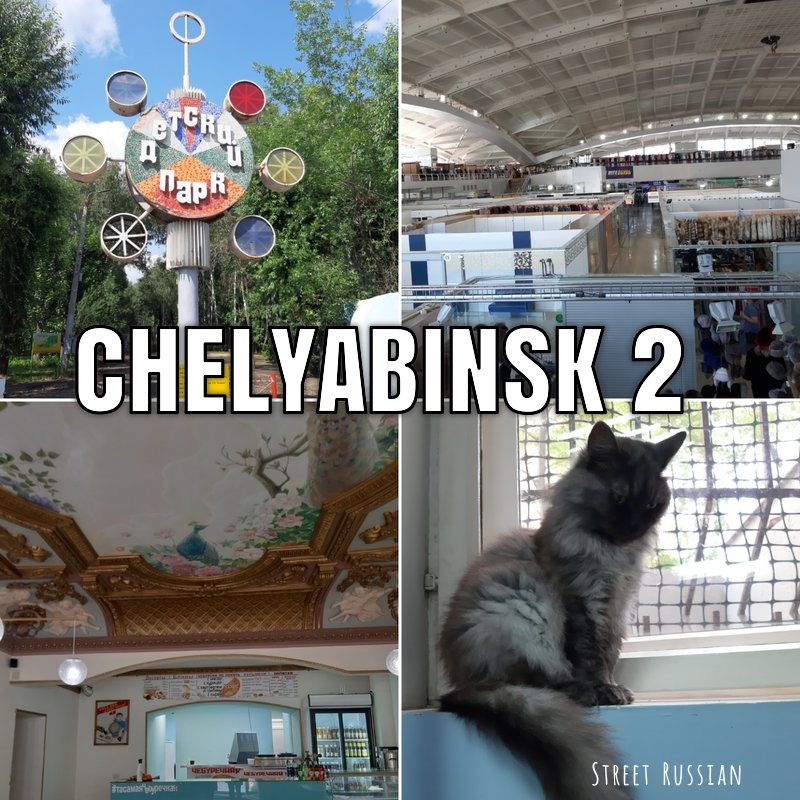 How to spend a weekend in Chelyabinsk, continued from Part 1.


The Cat Cafe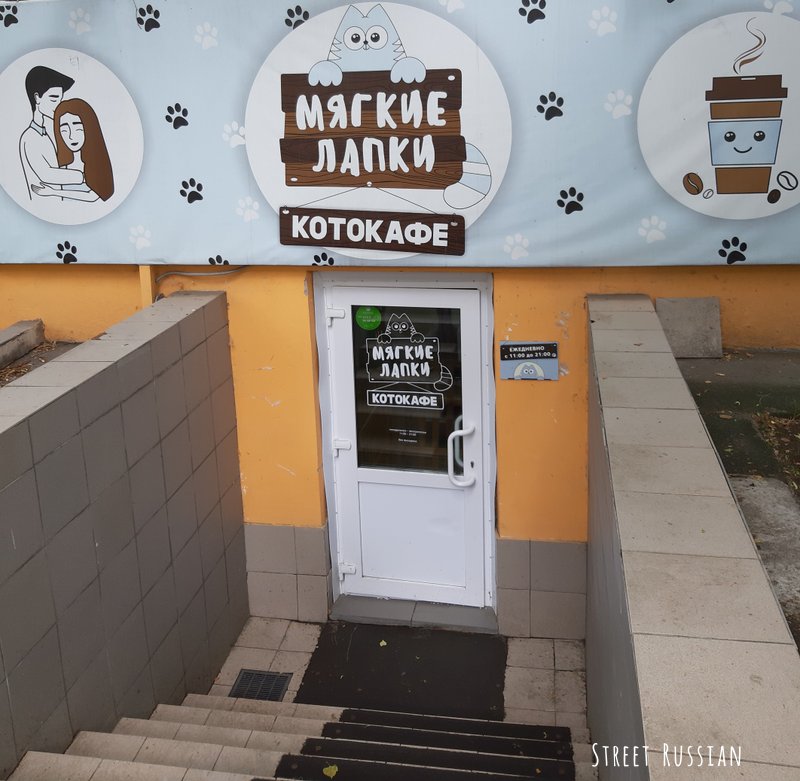 Мягкие лапки ("Soft Paws") is an awesome place to spend the afternoon. It's an anti-cafe, meaning you pay for the time you spend there instead of what you consume. And there are cats everywhere! 😻 Here's my favorite… how can you not love this face?
Some of the other beautiful residents: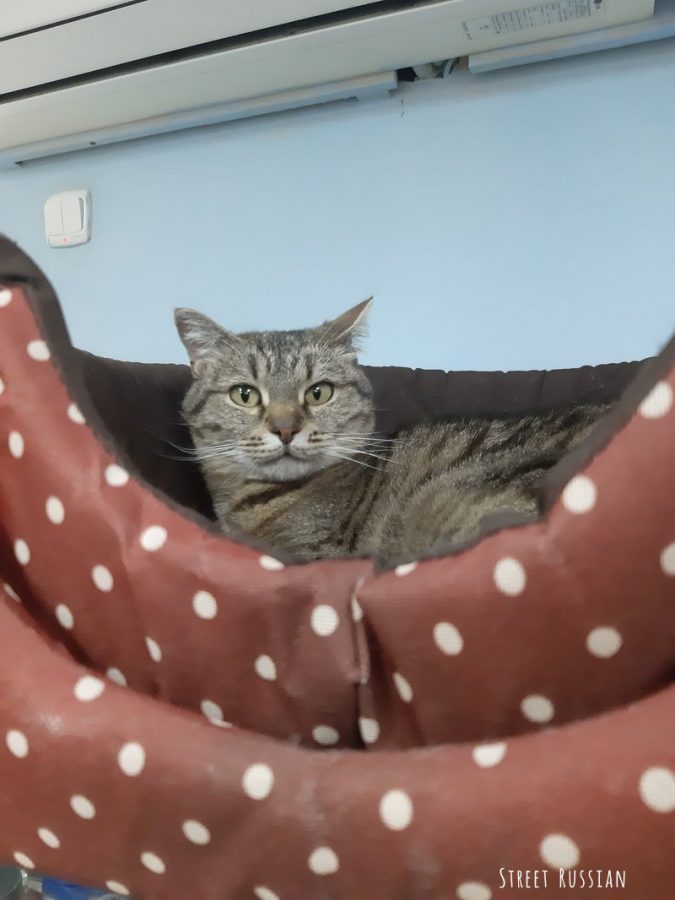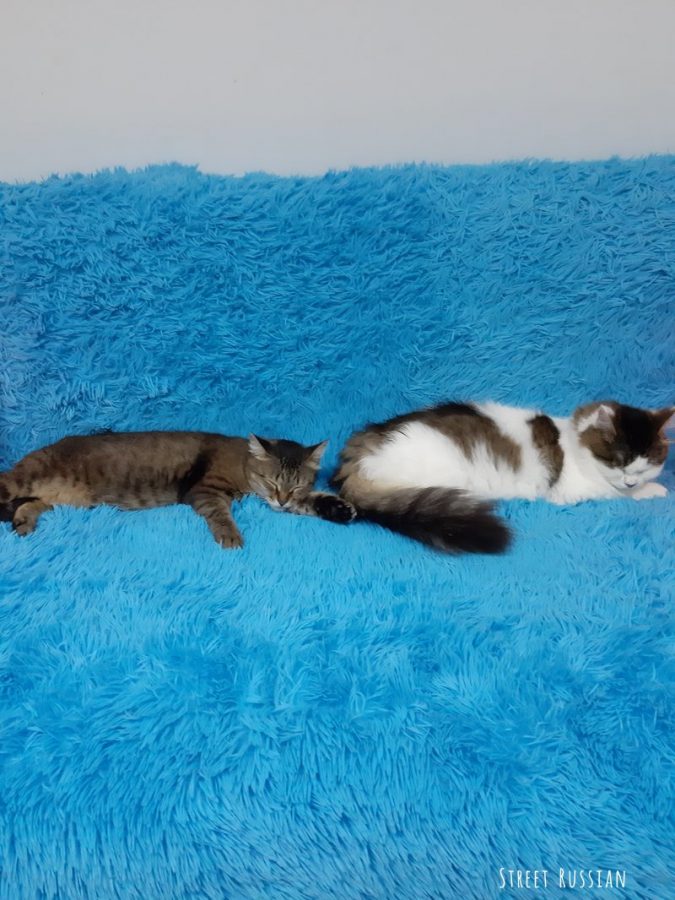 Each cat has his/her own poster, so it's easy to identify who just jumped up on your lap. There are about a dozen cats living here, and most are pretty distinct.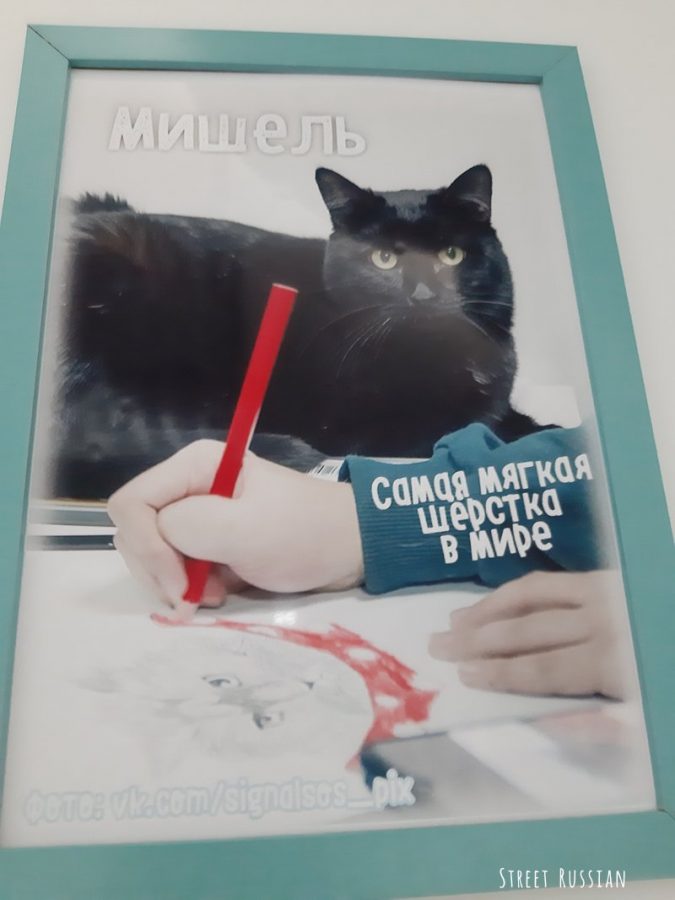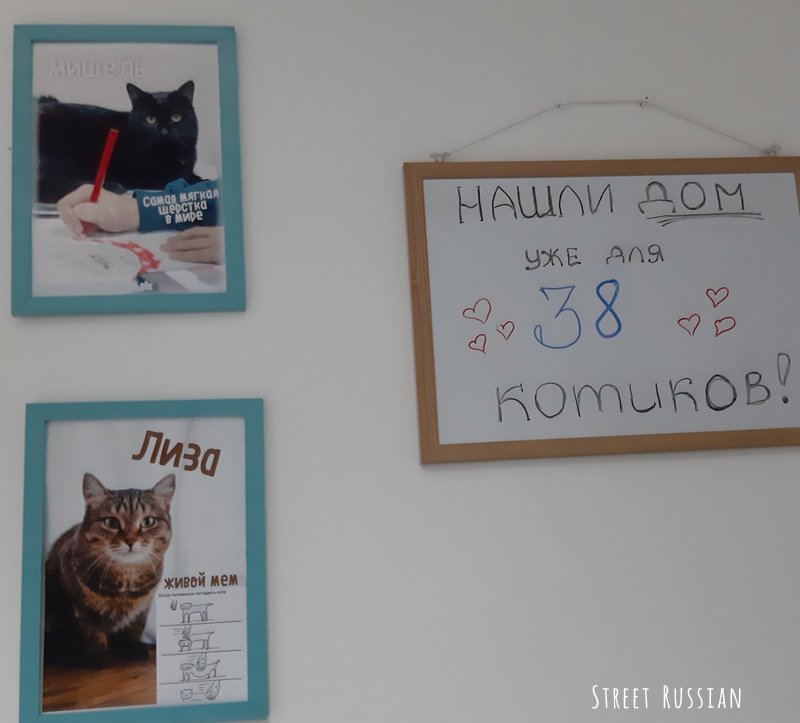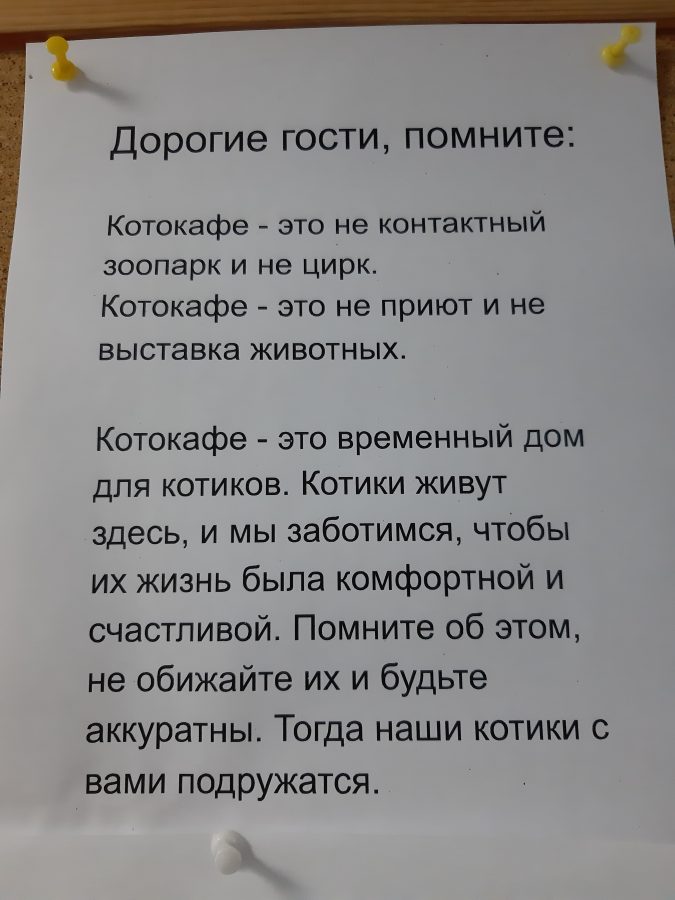 Cats have their own мерч too.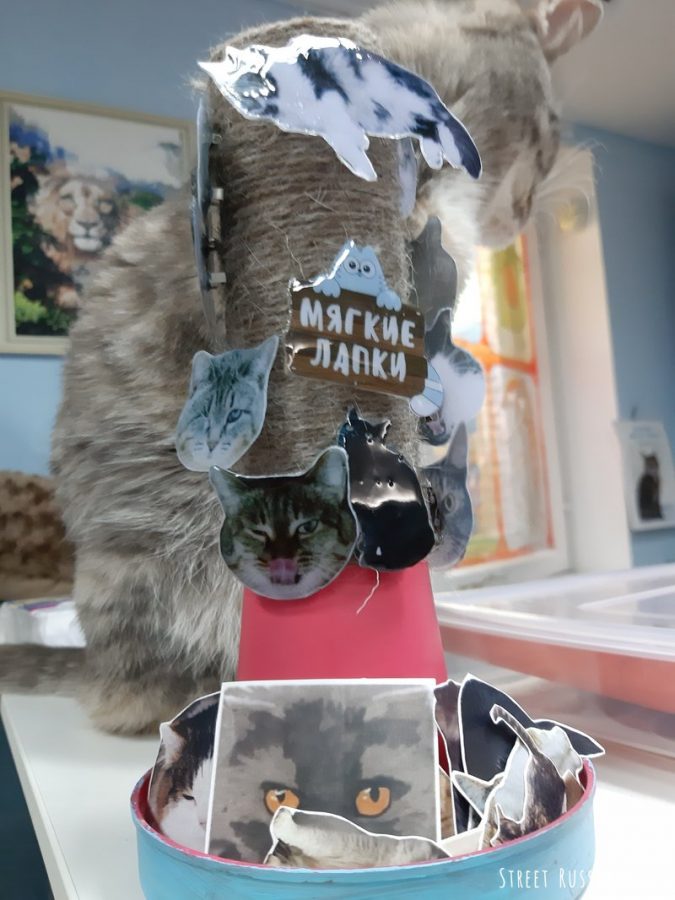 It's a nice place to sit and chat or to play a board game with friends. Some of the cats will join you. Others will spy on you from afar. All of the cats living here have been diagnosed with an illness, so they need extra special care. The cat café helps them stay comfortable and healthy. Some of the cats (38 so far!) eventually find a good forever home through café visitors.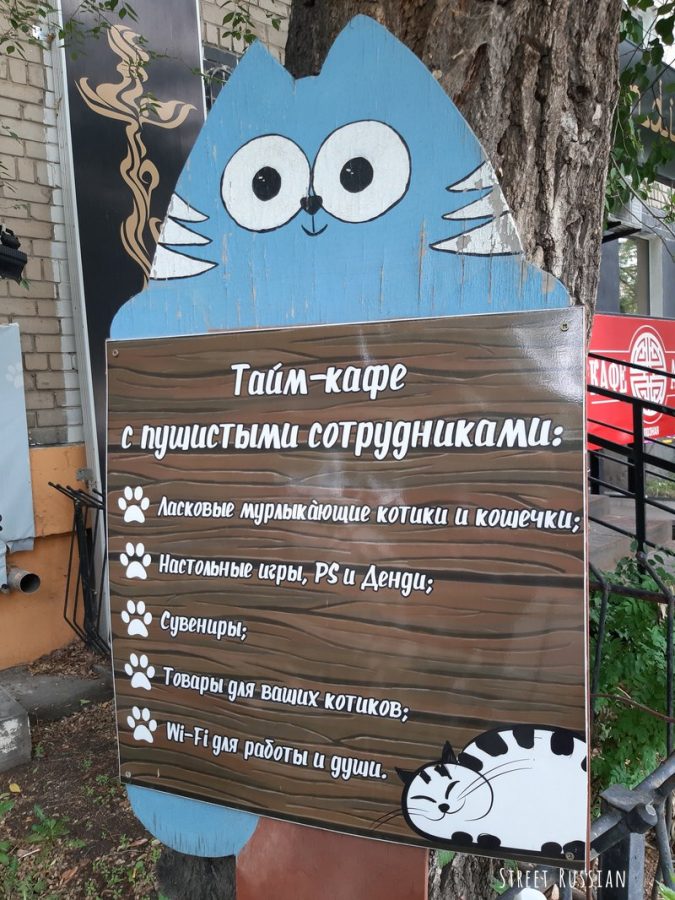 The price is pretty reasonable, especially considering coffee, tea, and candy are unlimited.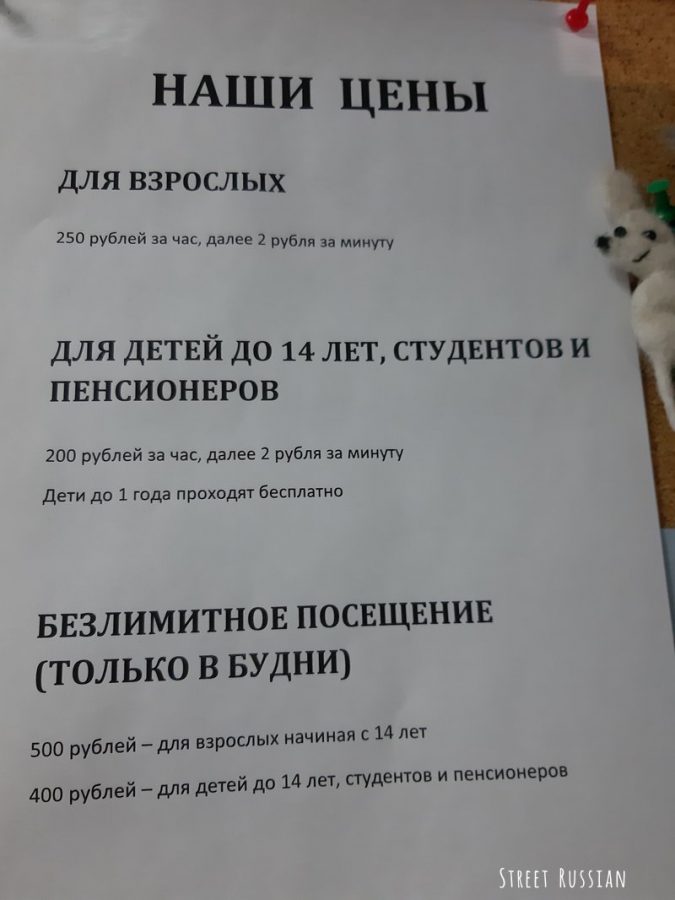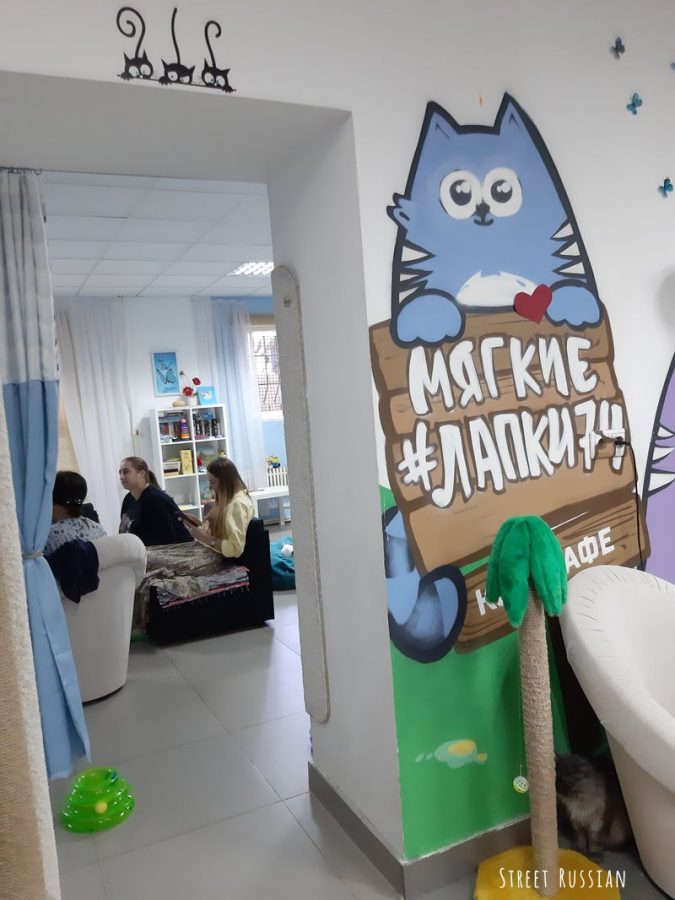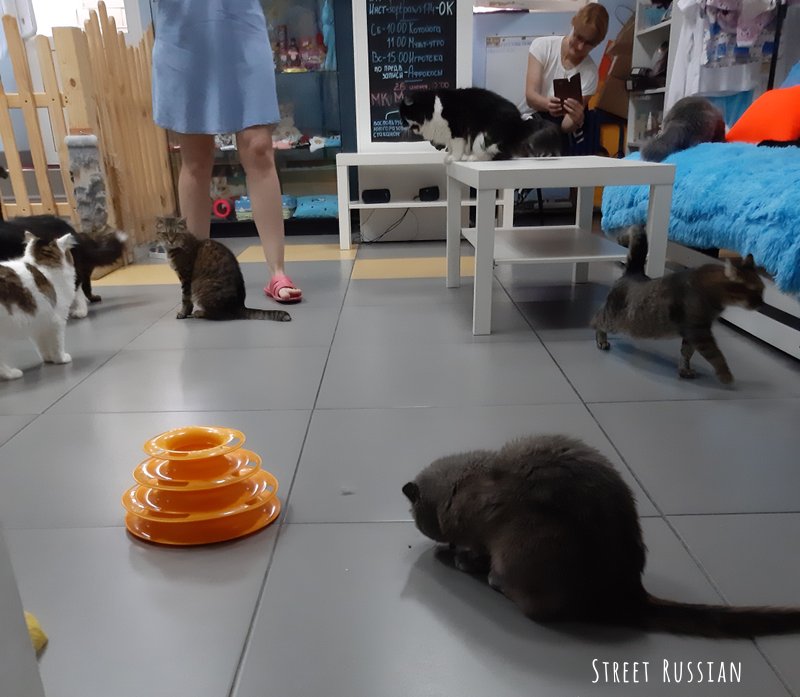 Other cities have cat cafés too; St. Petersburg even has a raccoon café! There's a time-based cat café here in Kazan (Котокафе "Мурзик") that I'd like to visit. Have you ever been to a Russian cat café?
☆☆☆☆☆☆☆☆☆☆


Cheburek Cafe #1
If you're in the mood for a café with actual food, I recommend Чебуречная №1. It looks completely unassuming from the outside…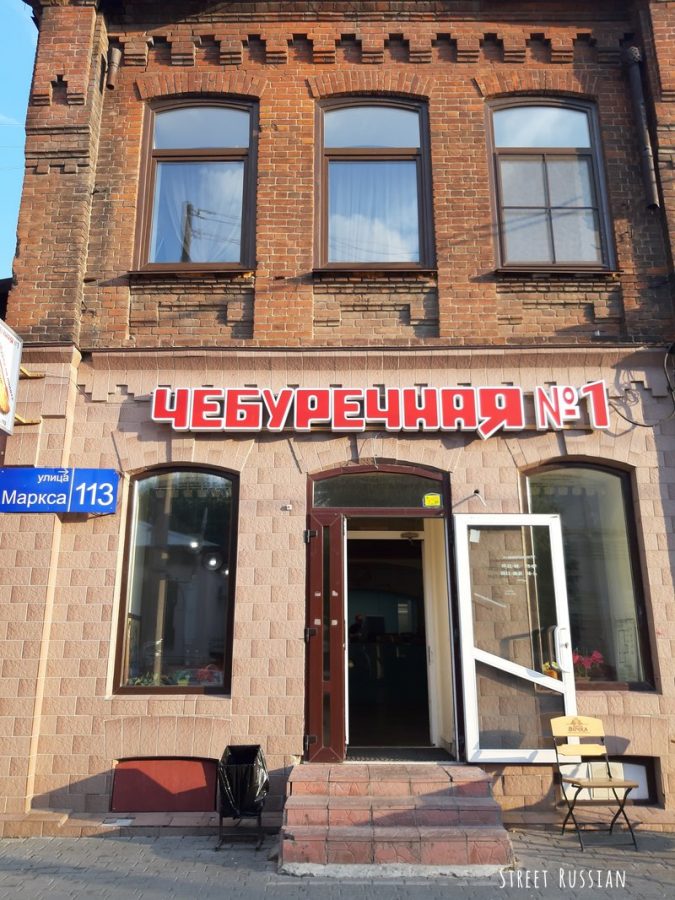 …but the interior will amaze you.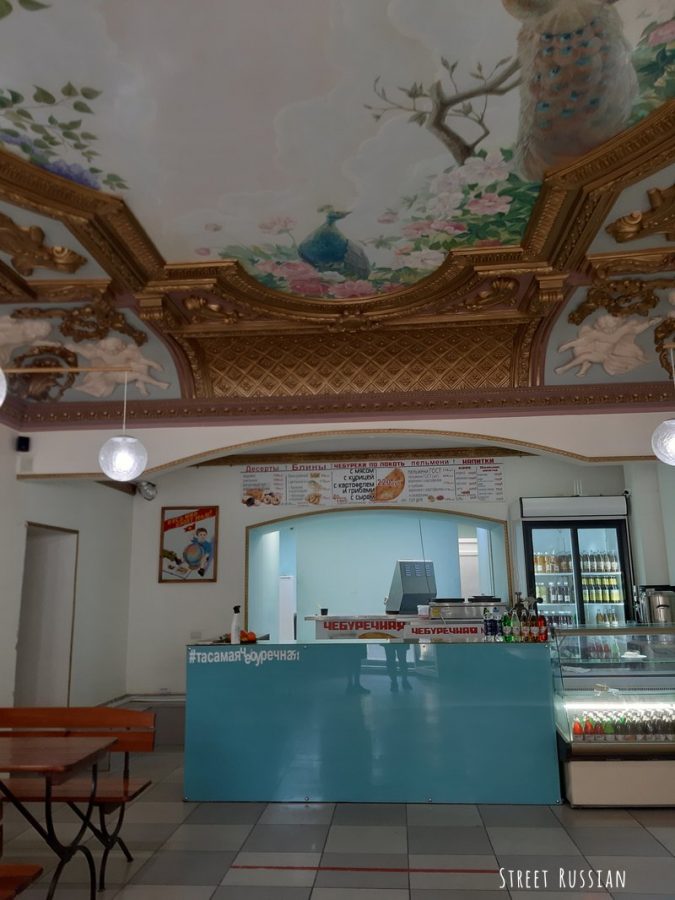 Why the elegant ceiling designs in a place that bills itself as a Soviet-style забегаловка? Are they leftovers from a previous tenant? Or were they painted here purposefully for people eating chebureki?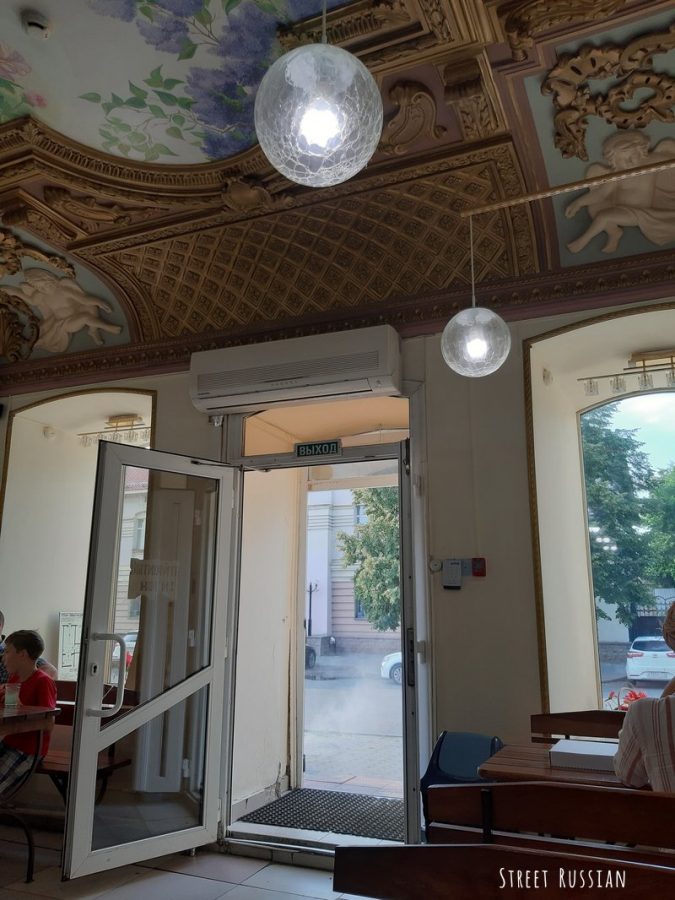 According to this article, the space used to house a discount luxury clothing boutique, which is probably when the art appeared. The building itself goes much further back. A century ago kerosene was sold here, but I promise you that now the air only smells like delicious fried dough.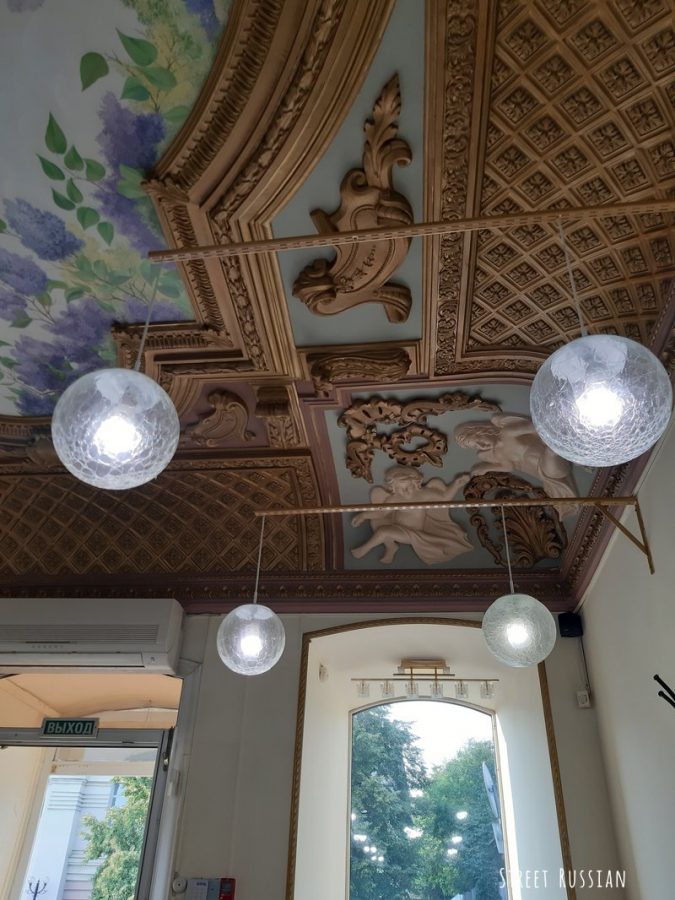 Other decorations include these USSR-throwback posters.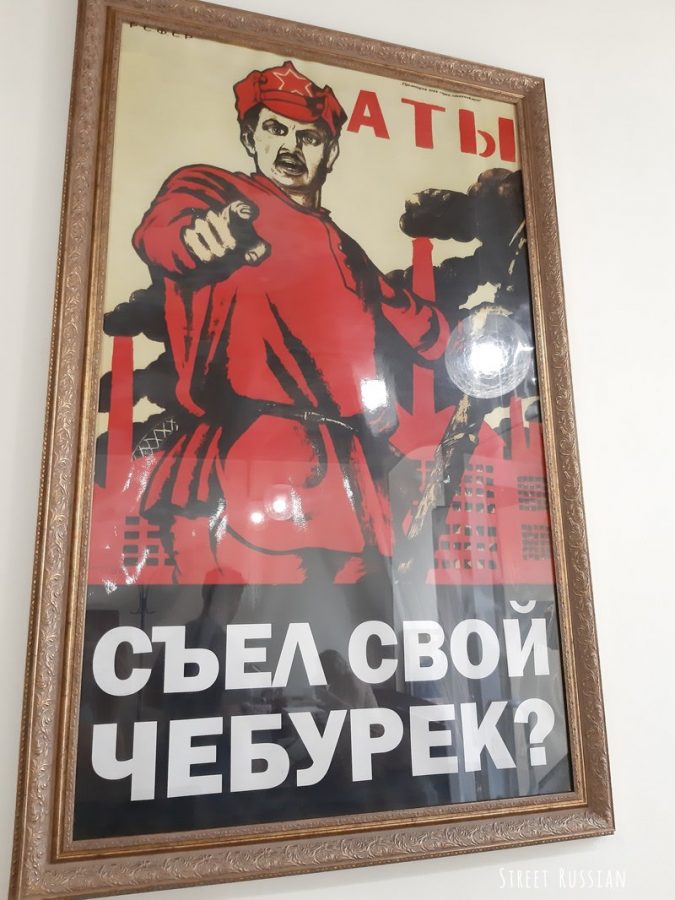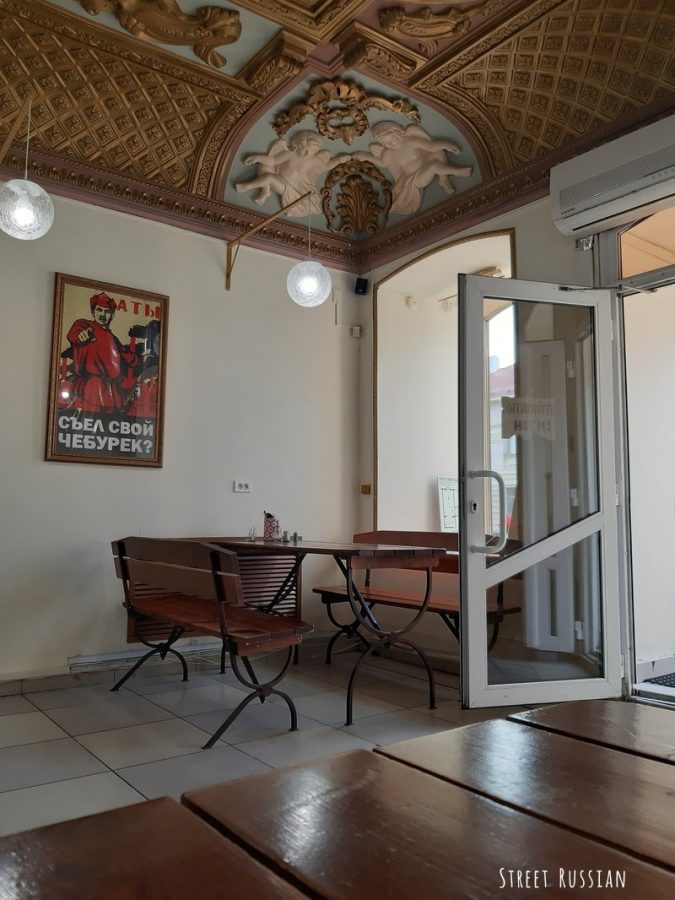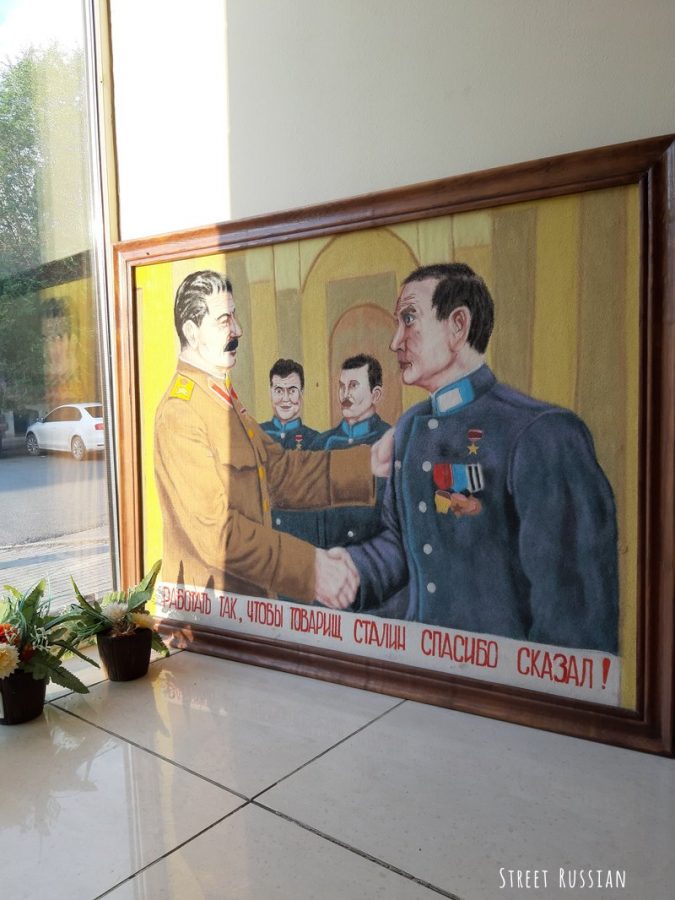 And what about the main attraction, the чебурек? Local ads promise that you'll be served a foot-long cheburek…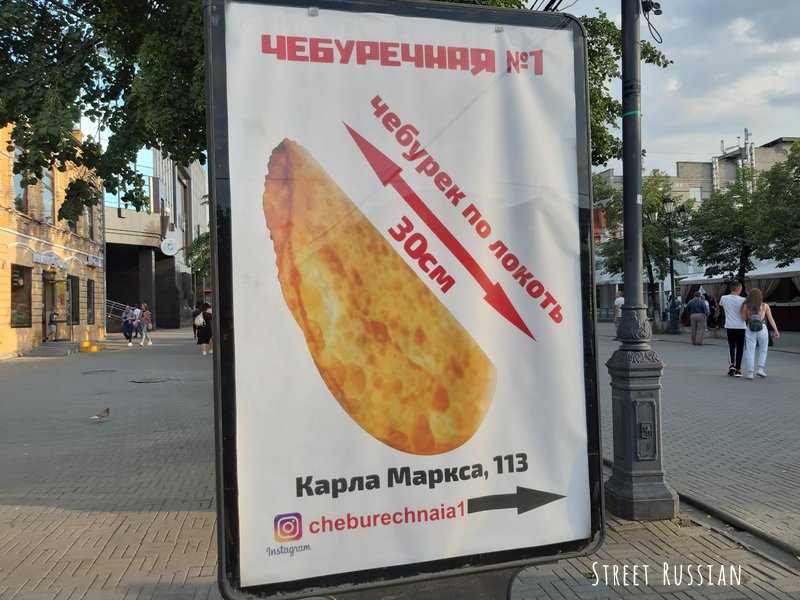 … and it's true!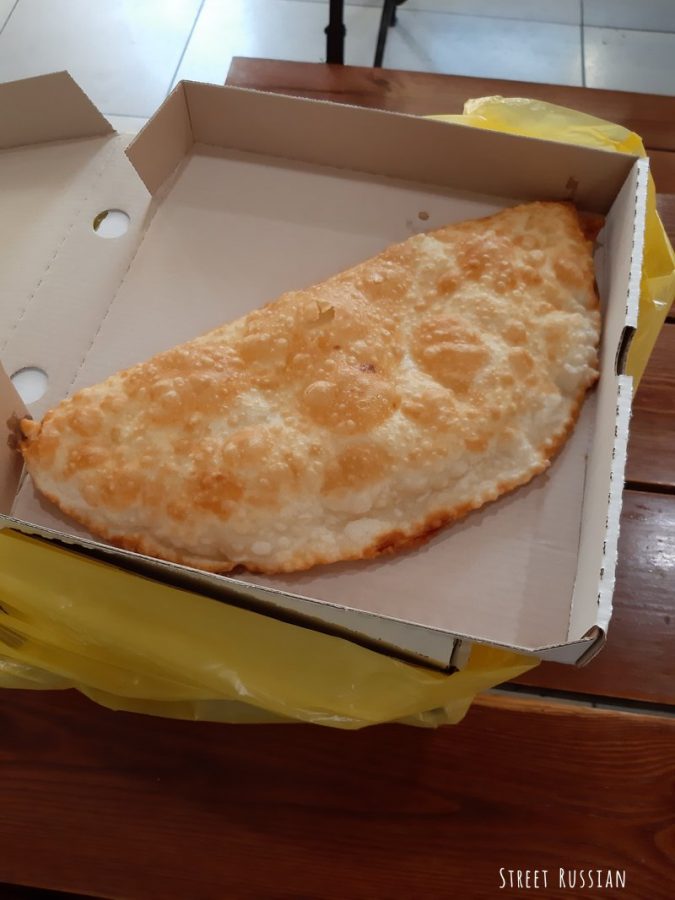 It's pricey compared to usual cheburek prices (220 rubles instead of 80-100 rubles), but they're pretty filling. This is a great place to stop for a quick meal in Chelyabinsk.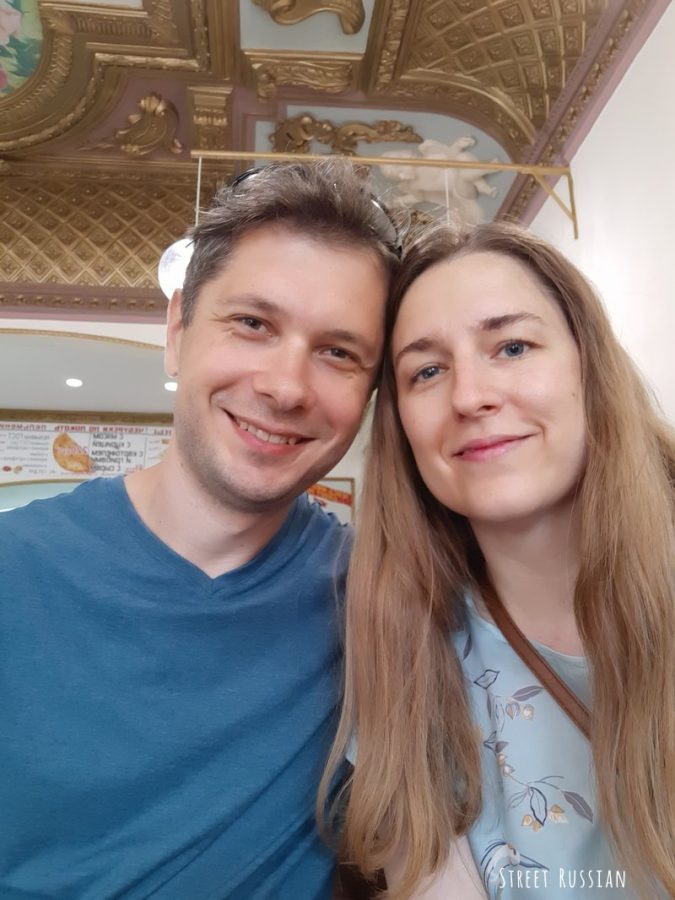 ☆☆☆☆☆☆☆☆☆☆


Tishchenko Park
When we first moved to Chelyabinsk, my head was full of internet horror stories about pollution. The last thing I expected was an entire city full of parks. Chelyabinsk parks are not politely landscaped suburban areas. Instead, each park is a heavily forested oasis. The internet was right about the pollution. It's not just the factories; the streets are filled with fumes from marshrutkas. Parks are the perfect escape.
The last park we visited in Chelyabinsk was Парк им. О.И. Тищенко, which welcomes visitors in with this cool old sign.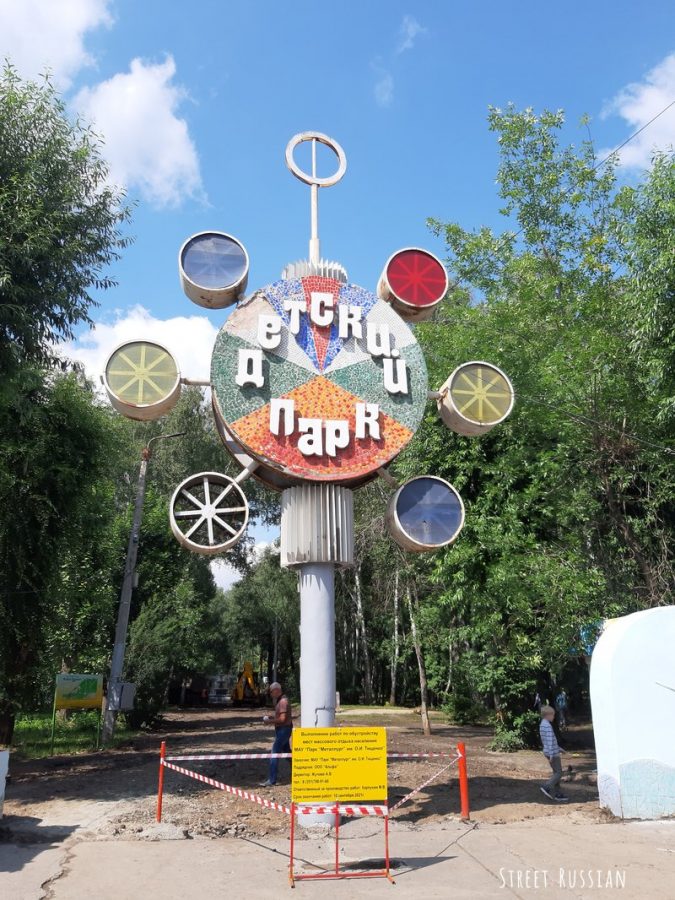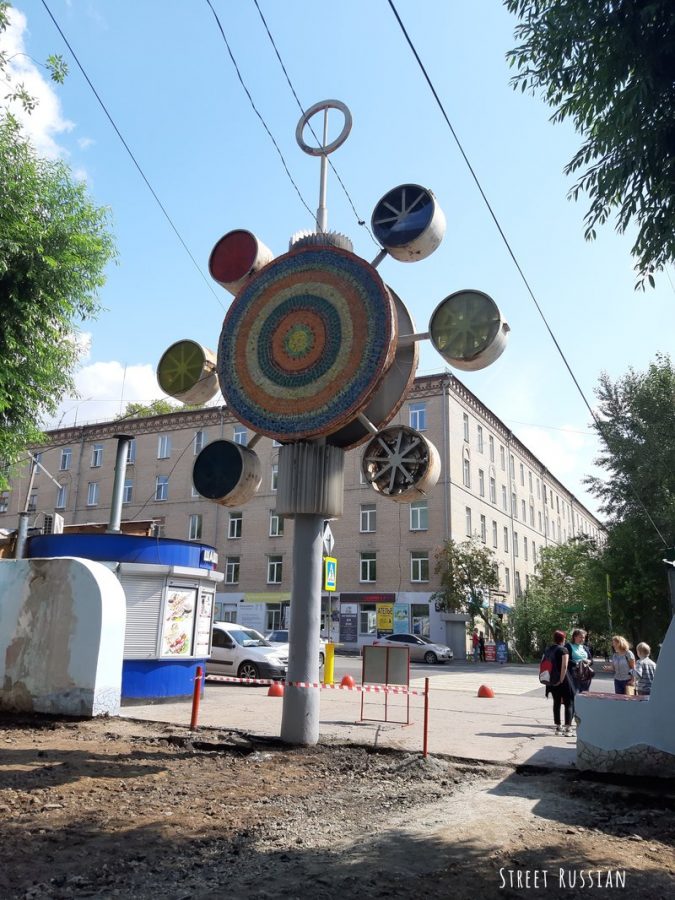 As you can see, there was ремонт happening when we visited, so this entrance probably already looks different today. Hopefully they kept the sign!
There's plenty to do: lots of forest to explore, a Ferris wheel, a 550㎡ fairytale park, an aquarium, a large fountain, a massive birdfeeder, a petting zoo, and even a paintball club.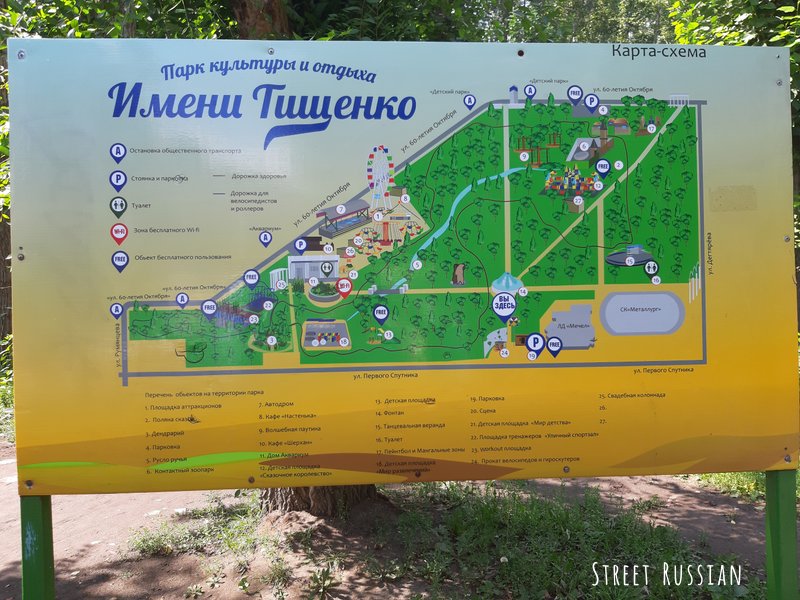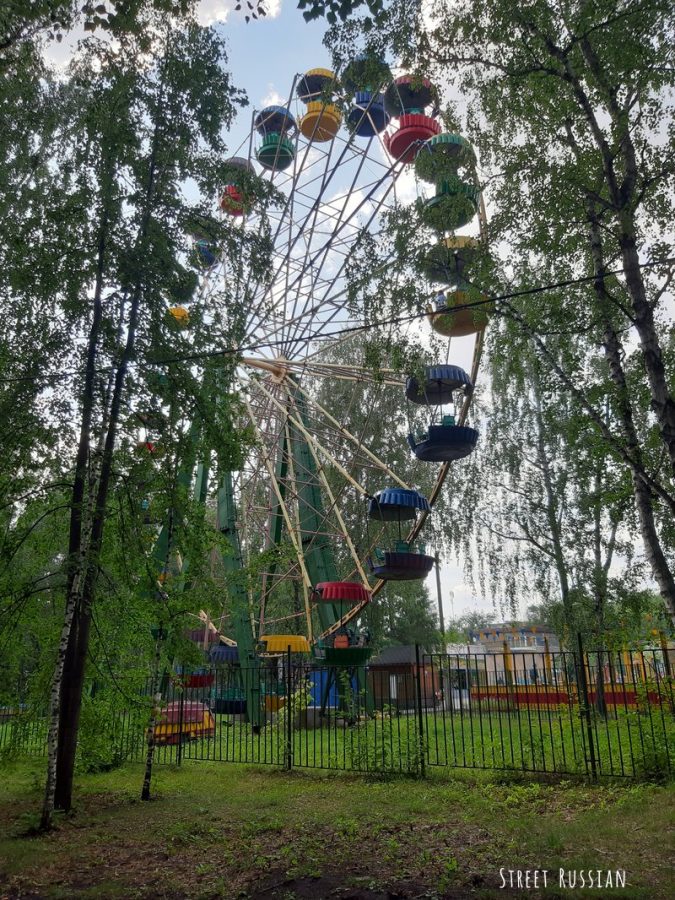 Related post: Chelyabinsk Ferris wheels.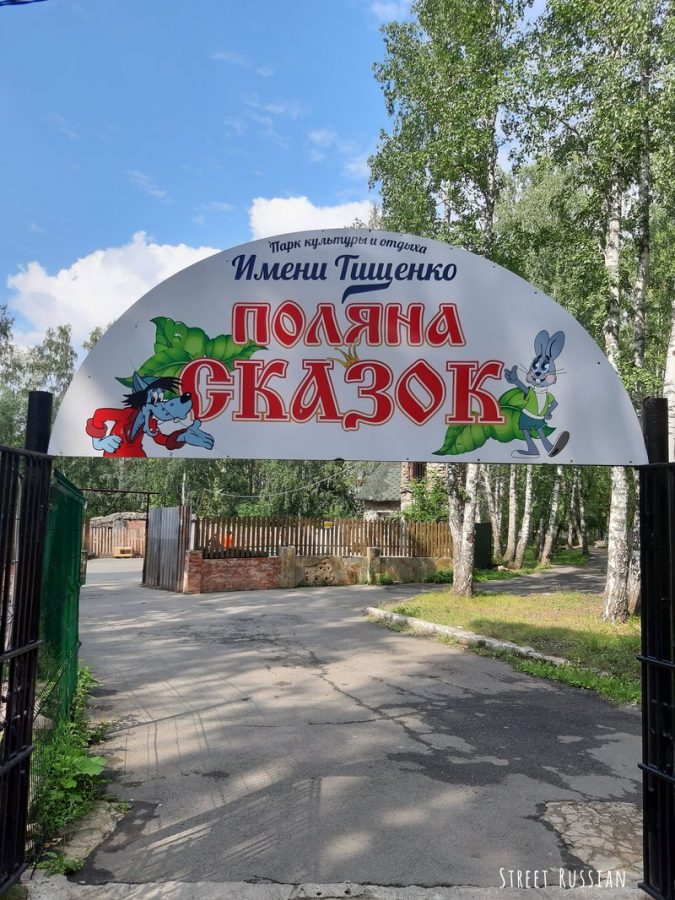 This Fairytale Meadow is filled with familiar faces. Can you identify them all?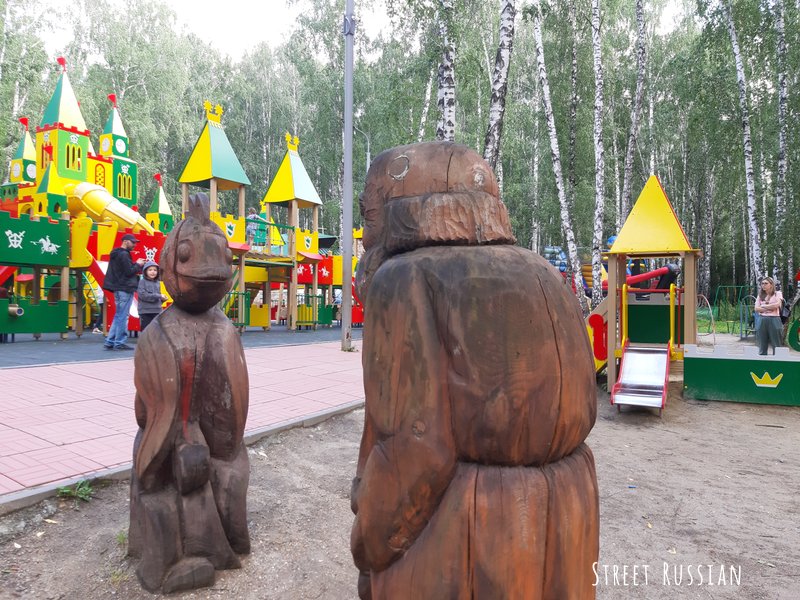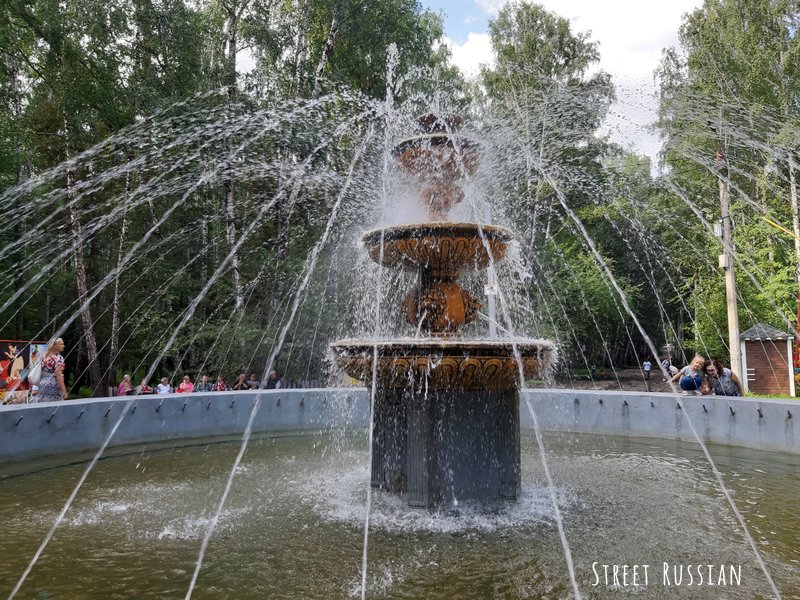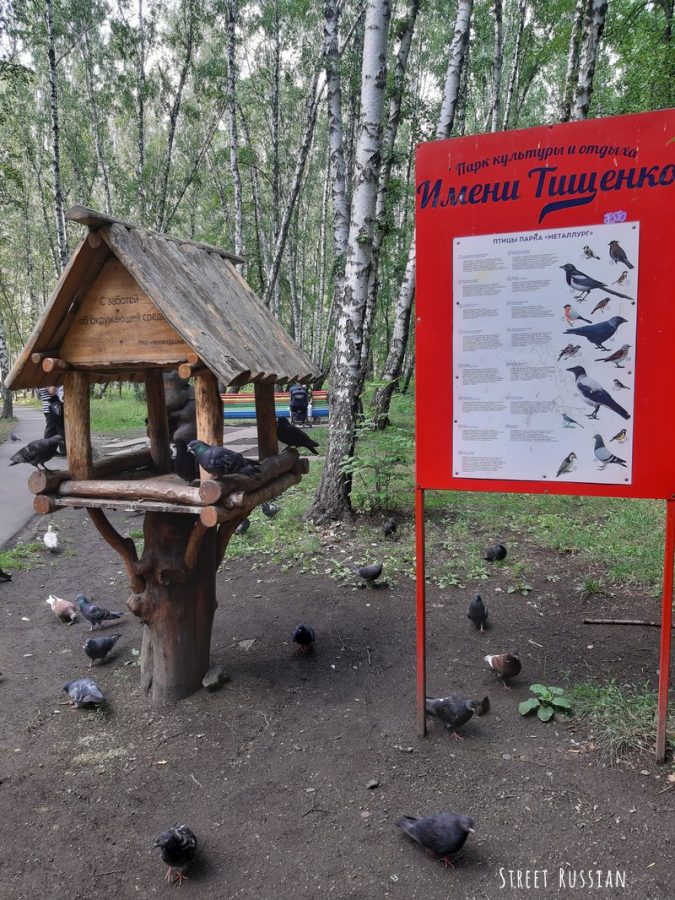 And because this is Chelyabinsk, there's a giant factory just down the street from the park. In fact, that giant factory – the Chelyabinsk Metallurgical Plant – created this park for the neighborhood back in either 1947 or 1981. Thick forests next to metal factories is exactly how I'm going to remember this city.))
☆☆☆☆☆☆☆☆☆☆


The Chelyabinsk Trade Center
Челябинский Торговый центр is a famous city landmark with very little currently going for it.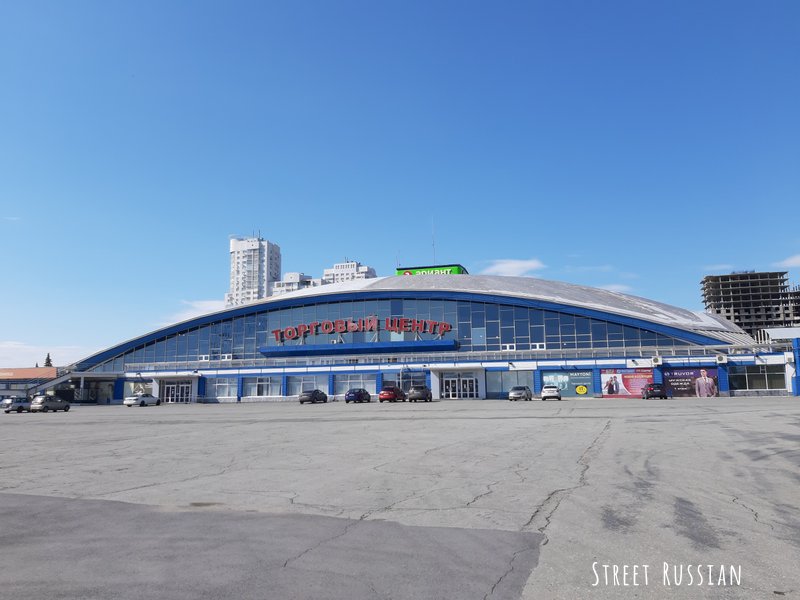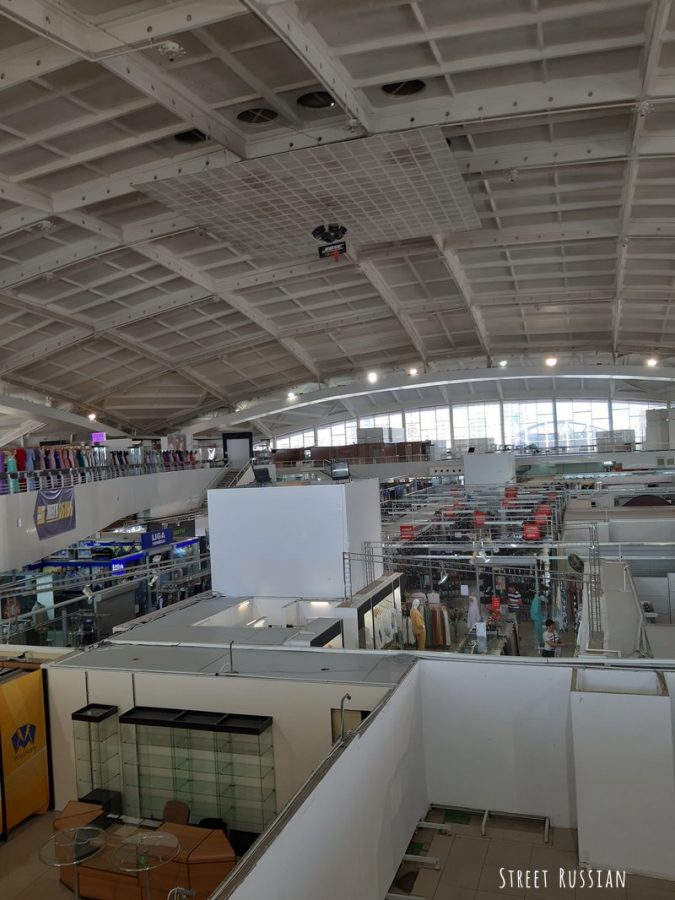 This *could* change soon, since there are two projects in development nearby. One is the city's eternally-under-construction metro… 29 years and counting! The city transportation scene is basically run by the marshrutka mafia, but it seems like the current mayor is actually finishing projects. Perhaps the metro will finally open (current projection is a 2025 opening).
In the meantime, the only proof of life from Chelyabinsk's metro: this metal tower thingy across the street from the trade center.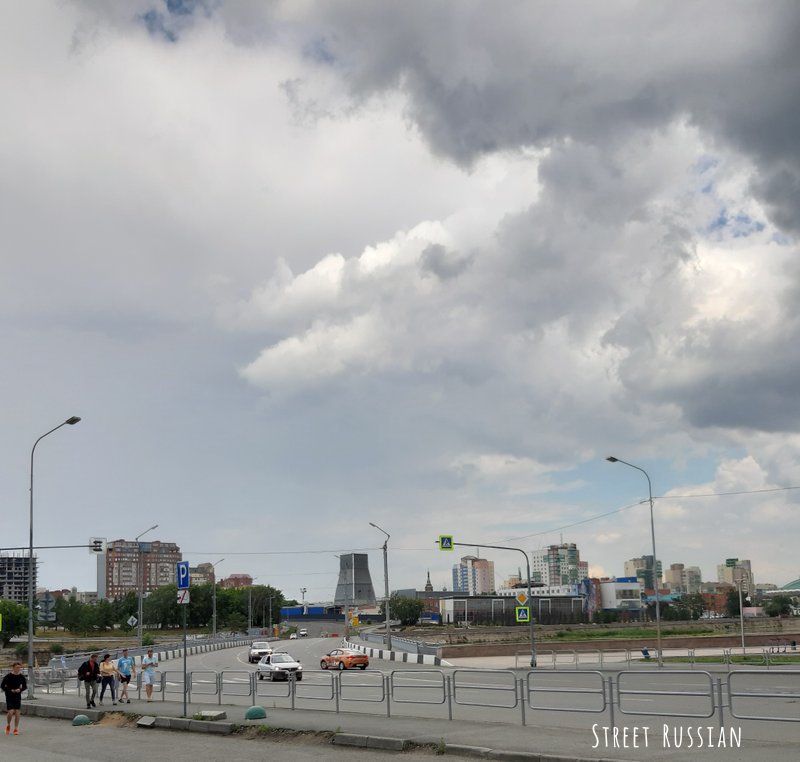 There's a great video – The Soviet Metro That Was Never Finished ☭ – from a local YouTuber. He explains that the city administration had selected this as a metro site because the Chelyabinsk Trade Center was such a bustling place… 40 years ago, when they started planning the metro. 😂 Perhaps if the metro actually does open someday, the trade center will get a boost in business.
The other promising development is a fancy new river embarkment upgrade that just opened. There's a modern shopping mall across the river, a 5-minute walk from the trade center, and the city just redesigned the space between the mall and the river.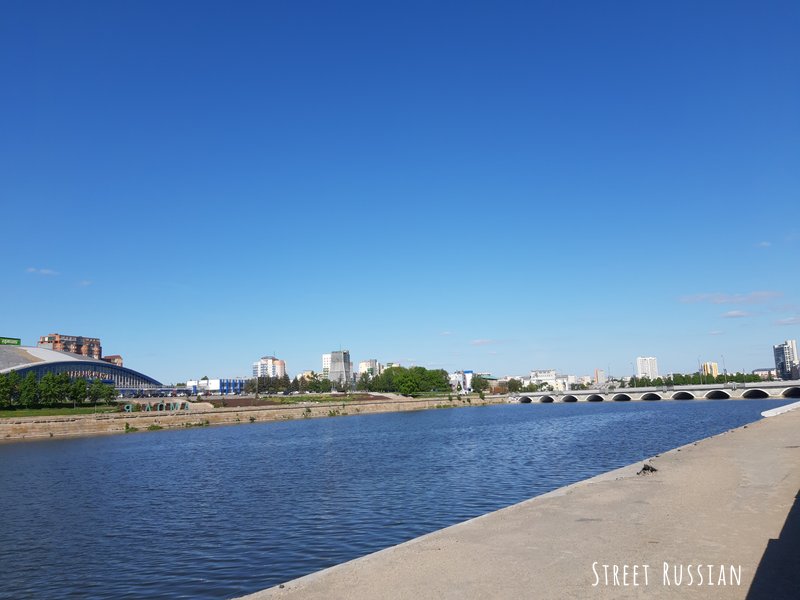 It'll definitely be a boost for the shopping mall, but could it also attract more business to the trade center?
Back to the empty shell that is the trade center: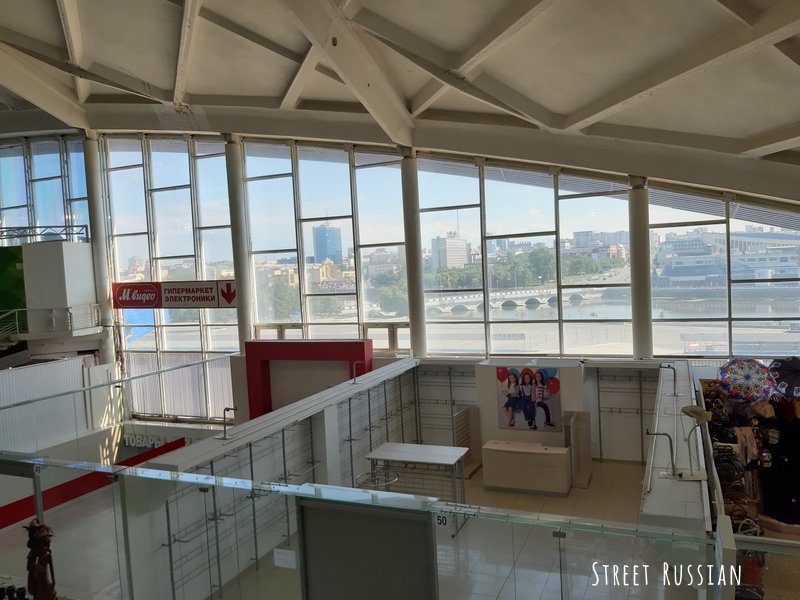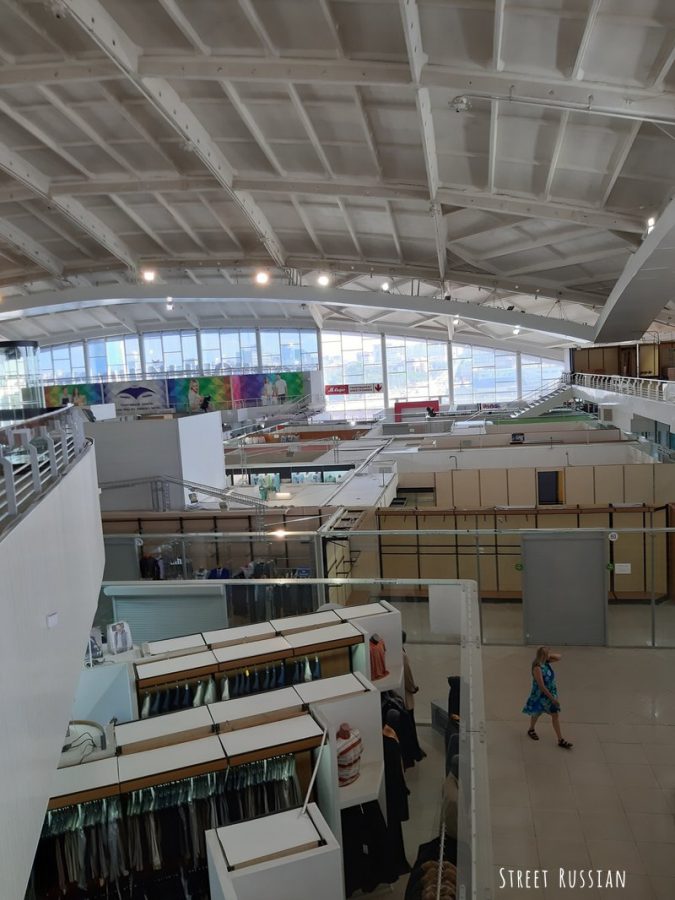 If you like architecture, it's worth stopping by. The roof is a massive concrete dome weighing over 5000 tons. More info on how it was built here.
If you come for the shopping, you'll be disappointed. Inside is a warren of little shops selling jeans, evening gowns, hats, etc. It's eerily quiet and vendors will eagerly beckon you in, hoping to get any customer at all.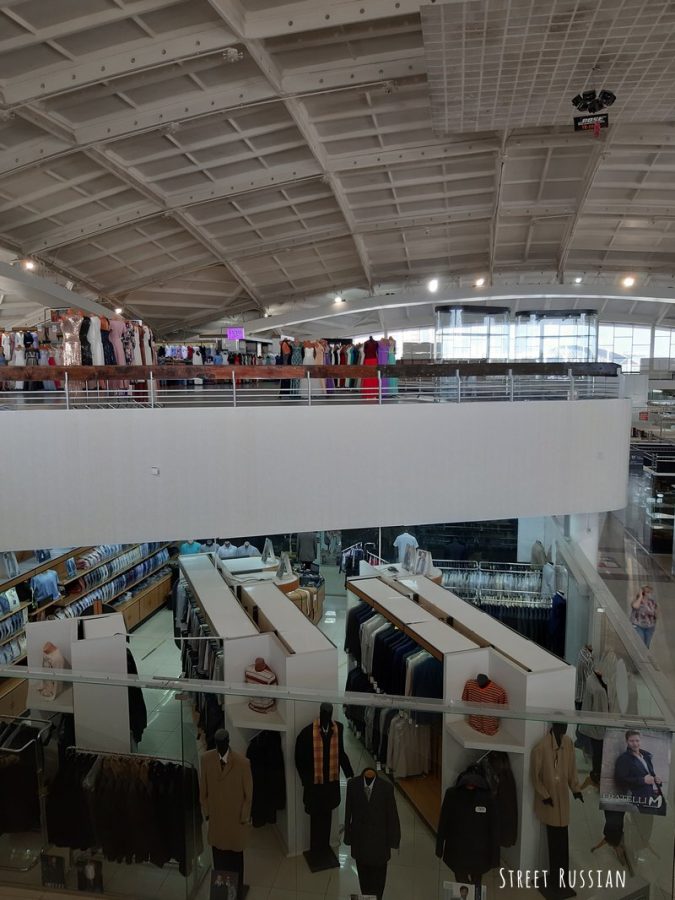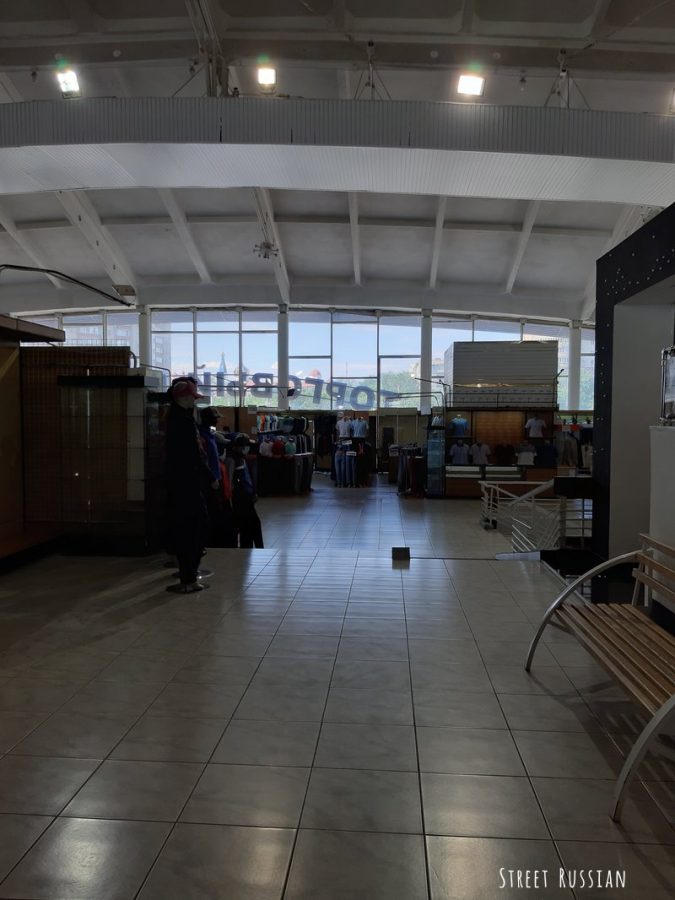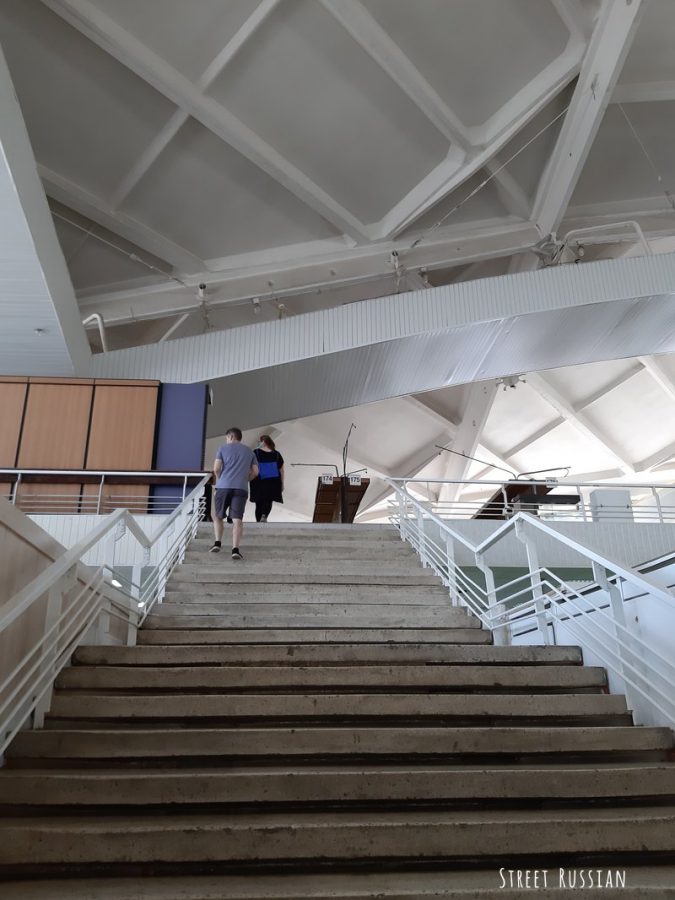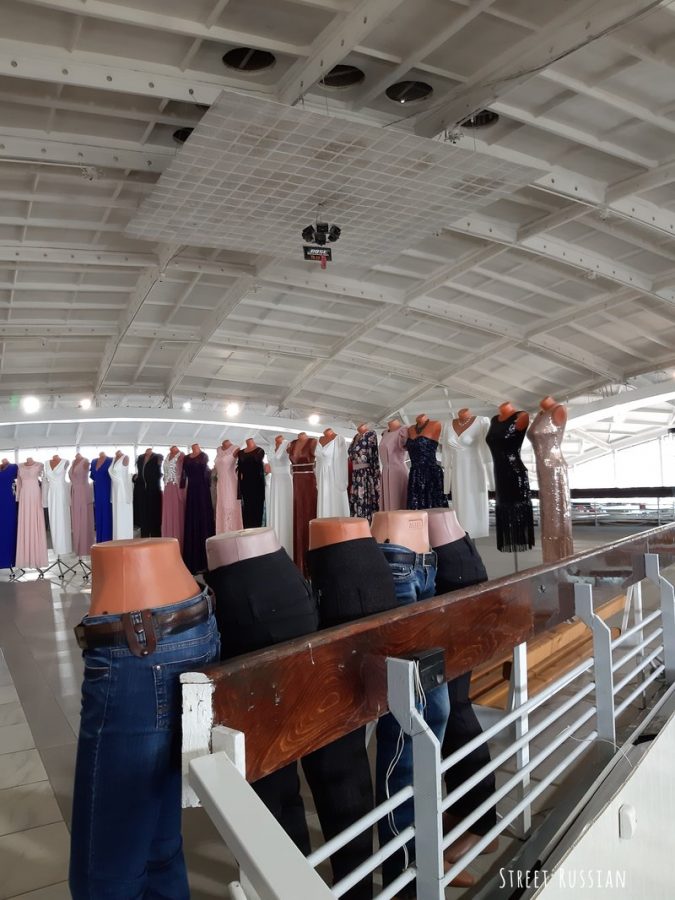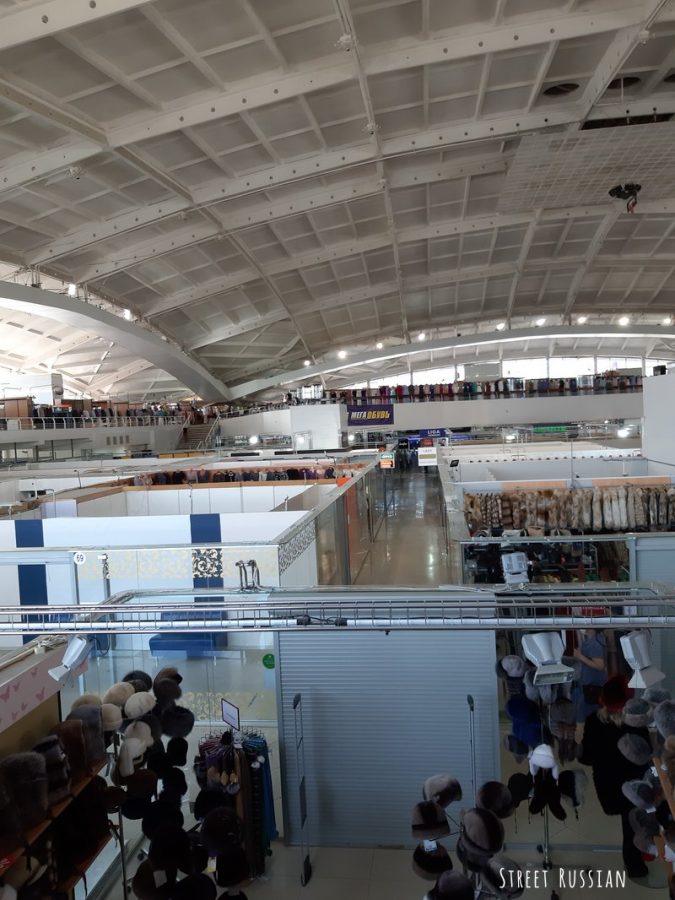 Even if you came here looking for a particular store, it would be quite a task to locate it. We met an elderly man wandering the aisles in mask and gloves, looking for an electronics store that at first we couldn't find either. Turns out there are a few shops in the building with a separate entrance. They seemed much busier than anything in the main part of the trade center.
There are so many massive shopping malls in Chelyabinsk now – I wrote about 6 of the biggest here – that I'm not sure the торговый центр will be able to find its footing again. But at the time it was built, it was celebrated for its unique design. Can it live on as a landmark? I think it could definitely be a stopping point for fans of Soviet concrete architecture.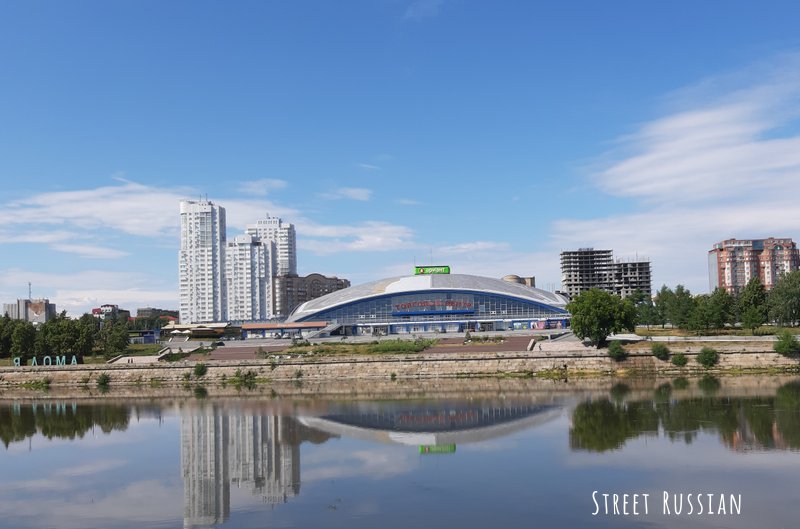 ☆☆☆☆☆☆☆☆☆☆
Part 3 coming soon!
What do you think of these 4 places? Which sounds like the best weekend adventure to you?