A sequel to 2020's Covid vocab in Russian, in which we examined news headlines. This time, let's take a look at billboards and signs…


Phrase #1. наденьте маску = put on a mask.
If you want to talk about putting on a mask, the proper verb is надеть, to put on, as seen on this vending machine in the Yekaterinburg metro: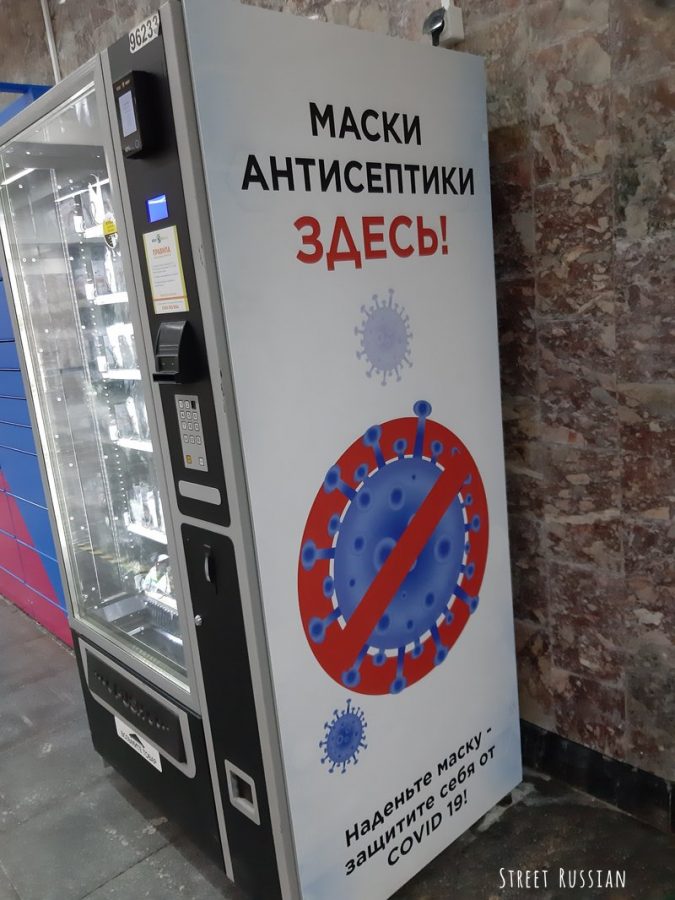 "Put on a mask – protect yourself from COVID 19!"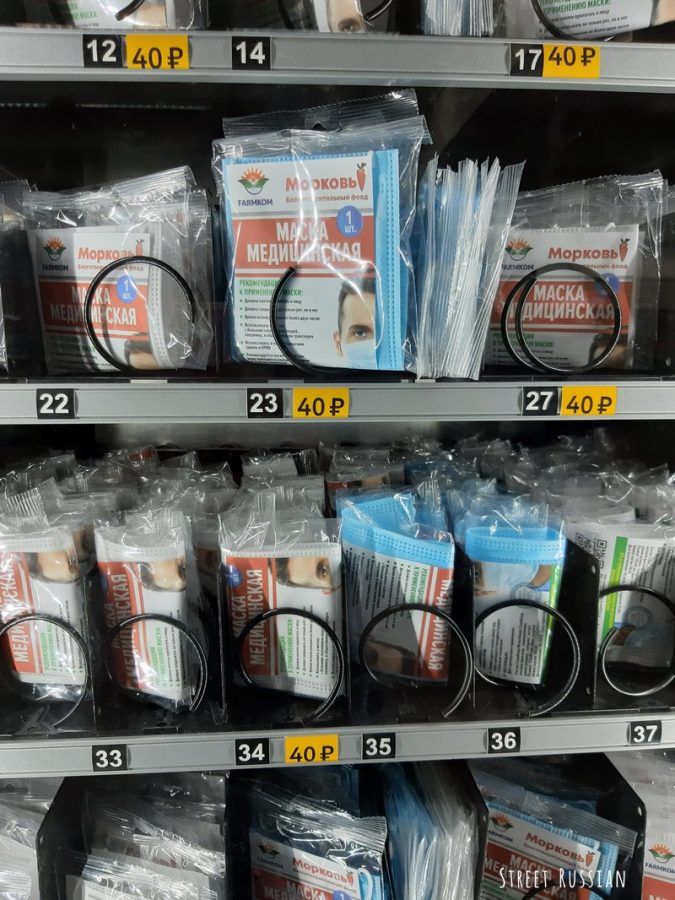 Another useful verb: носить маску, to wear a mask.
Я ношу маску. А ты? = I wear a mask. Do you?
Other things you can надеть and носить include перчатки, gloves and бахилы, shoe covers.
Sometimes you might see a reminder to wear средства индивидуальной защиты, personal protective equipment.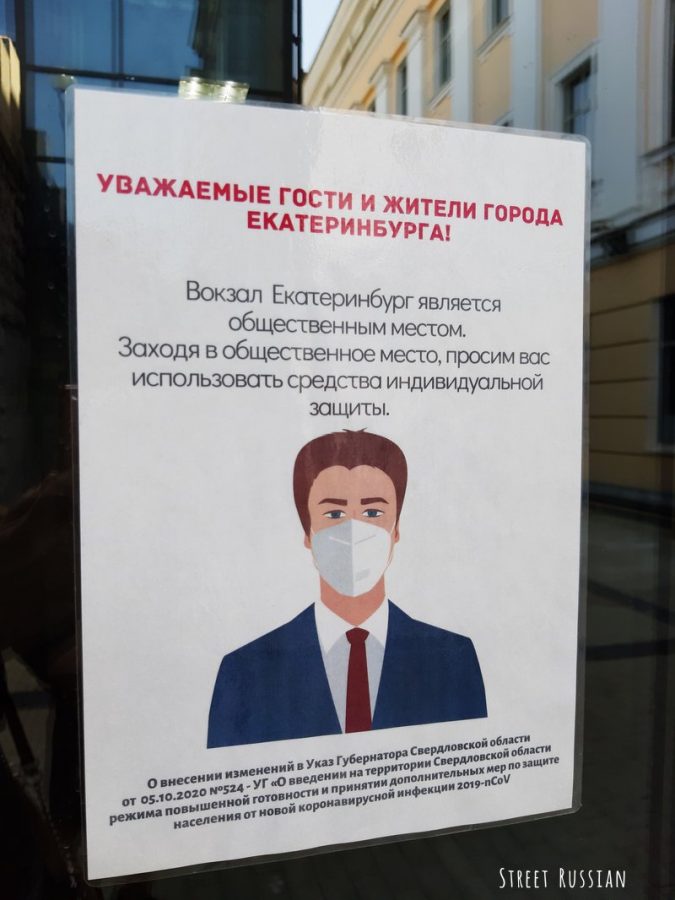 Sign at the Yekaterinburg train station.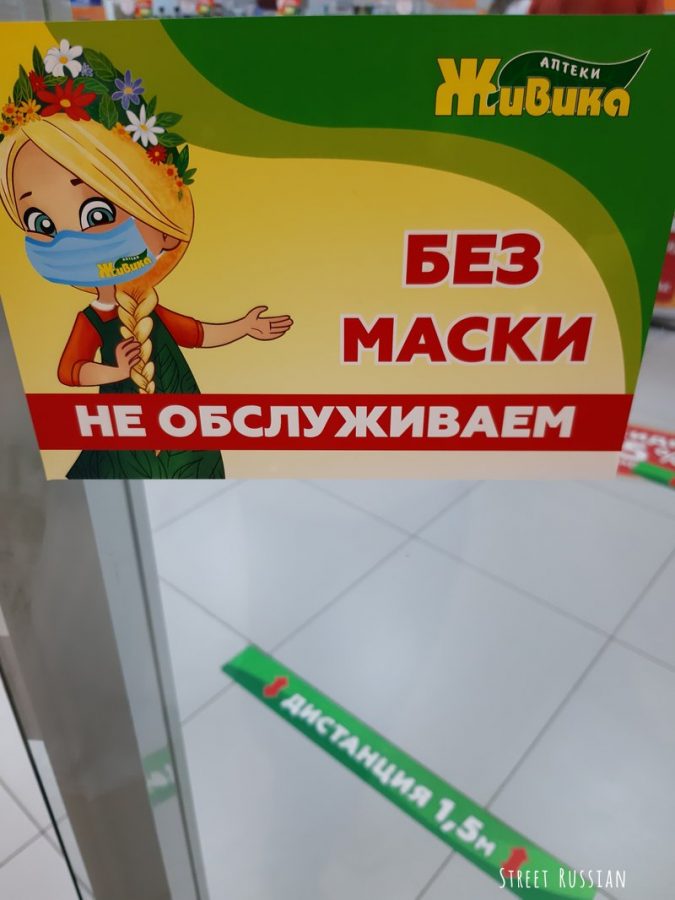 Door of a drug store: "We won't serve you if you don't have a mask."


While there are lots and lots of signs reminding people to wear their masks, instances of people actually wearing masks is much lower. While we waited in line at the post office a few months ago, my husband and I were the only people with masks. Not even the employees wore masks. Supermarket cashiers are split right down the middle: half use masks, half don't. It's very rare to see any marshrutka/taxi drivers wearing masks. One taxi driver spent the whole ride ranting about how dangerous masks are for the human brain. 🤷 And when I stood in line to get vaccinated, only about half the people in line wore masks. So yep, lots of signage, not always so much enforcement.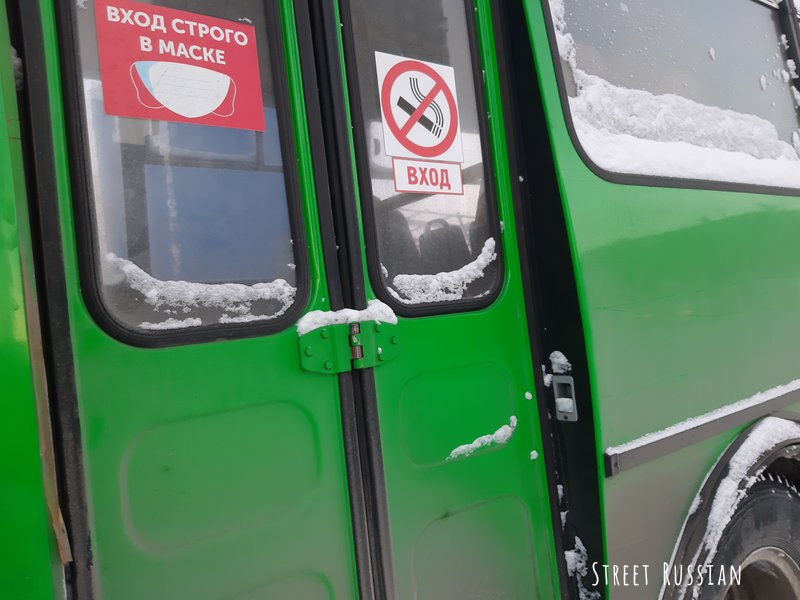 On the side of a marshrutka: "Masks strictly required."


Phrase #2. соблюдайте дистанцию = keep your distance.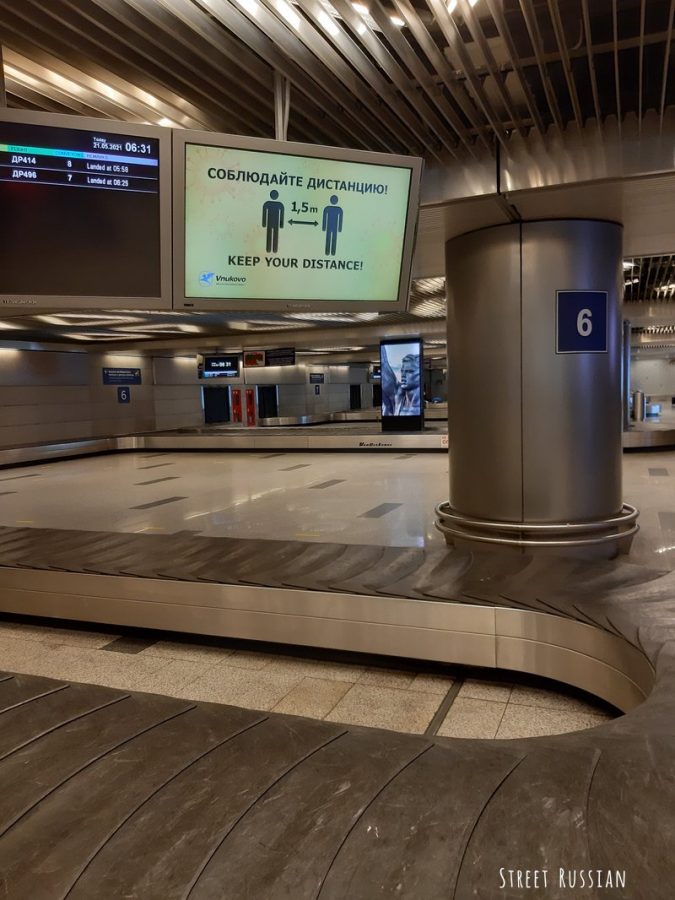 Sign at an airport in Moscow.


Before 2020, соблюдайте дистанцию was written on the back of every city bus, reminding cars not to get too close. Now it has taken on a slightly different meaning.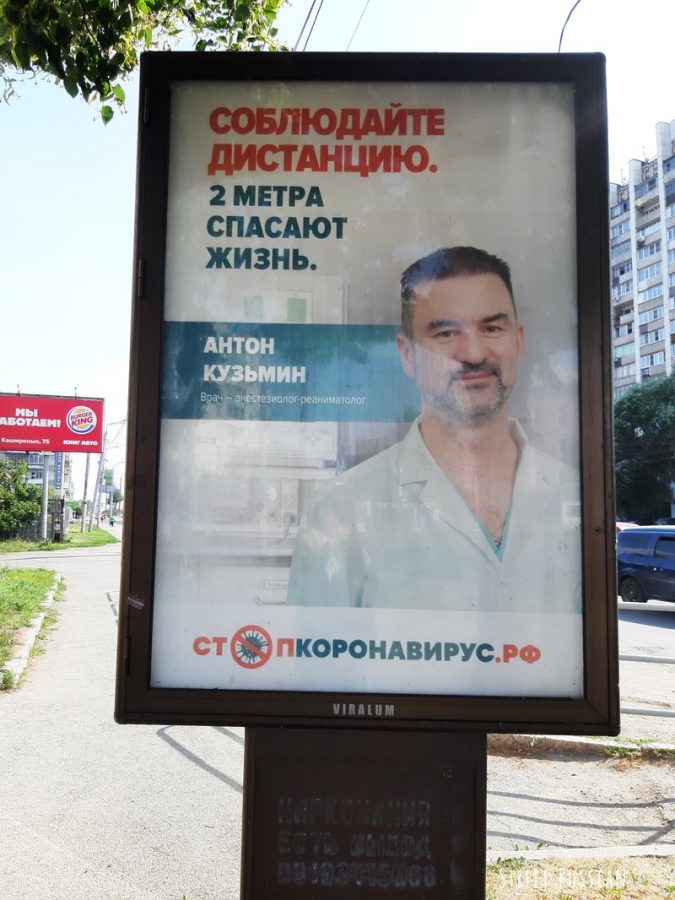 Businesses try to enforce this by placing social distancing stickers on tables and chairs. Here's a table at a fast food restaurant: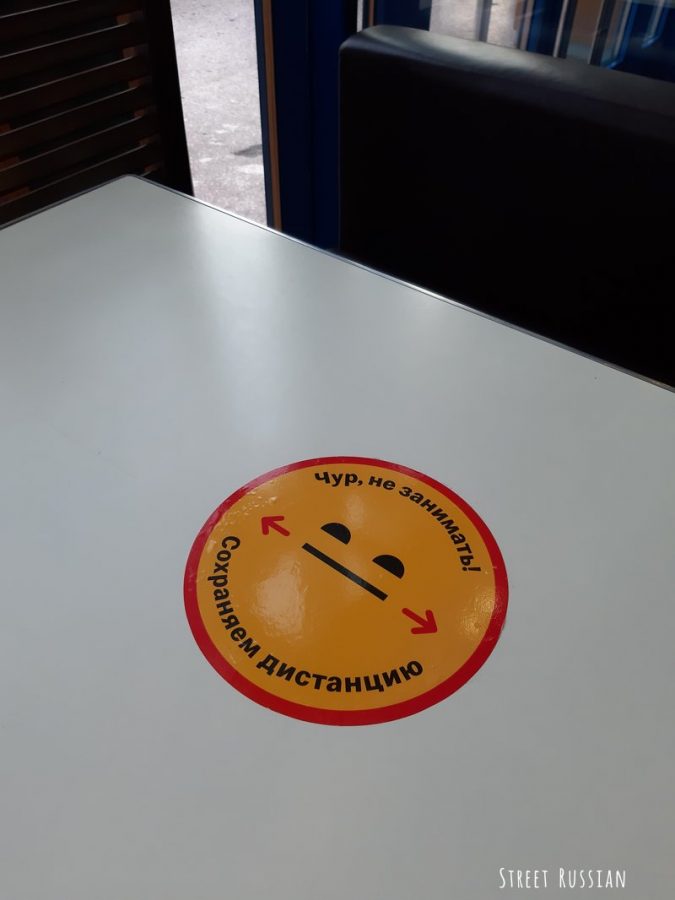 Seating at the Chelyabinsk airport: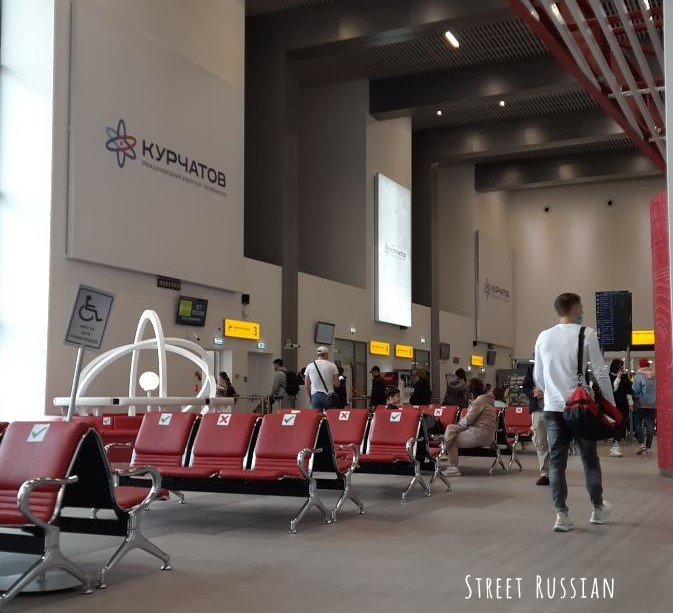 Seating at the Kazan train station: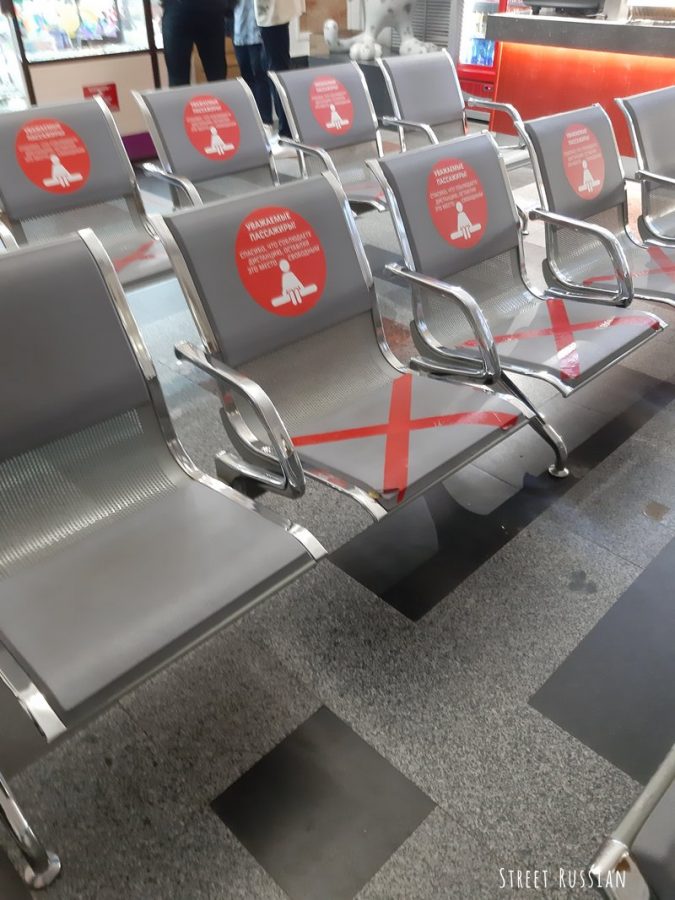 Phrase #3. сделать прививку = get vaccinated (literally: do the vaccine).
There's a big push right now to get as many people vaccinated as possible. In Chelyabinsk, people can sign up for appointments at public health clinics or attend a mass vaccination event at a shopping mall.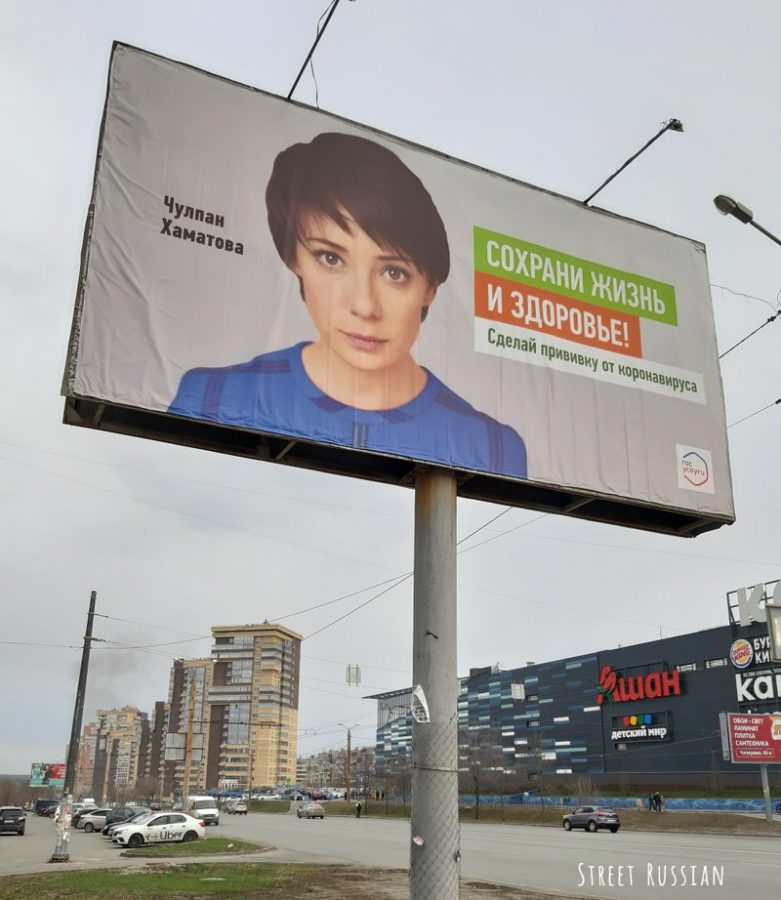 The phrase сделать прививку can be followed by the preposition от, meaning from or against. For example:
прививка от энцефалита, encephalitis vaccine
прививка от ветрянки, chickenpox vaccine
прививка от столбняка, tetanus vaccine
прививка от оспы, smallpox vaccine
прививка от туберкулеза, tuberculosis vaccine


Here are some billboards I've seen around the city this year: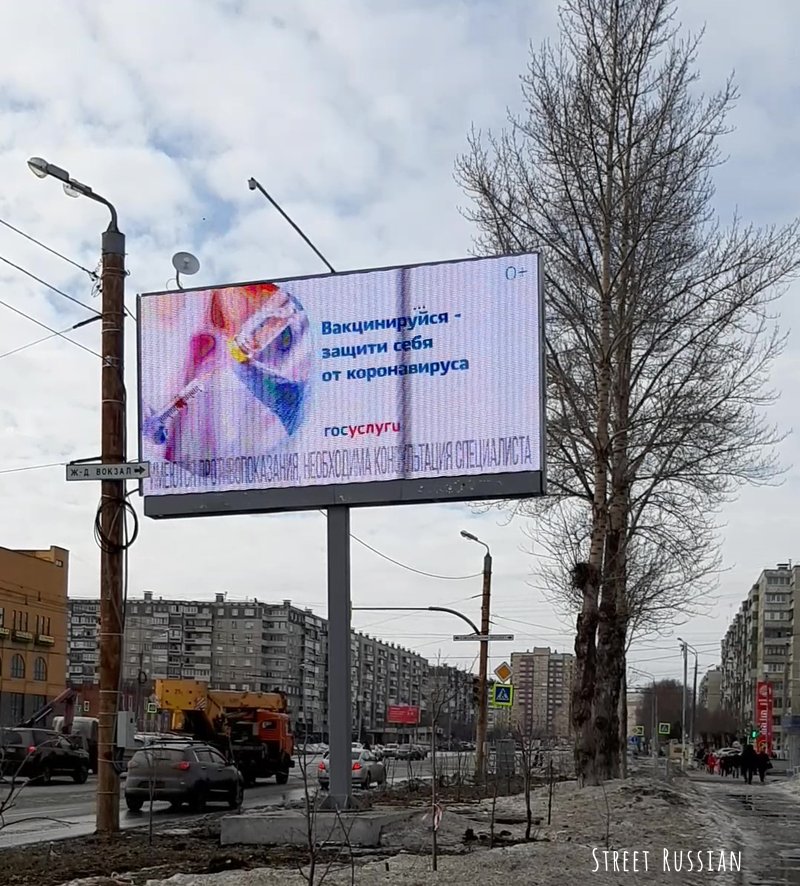 "Vaccinate yourself! Protect yourself from coronavirus!"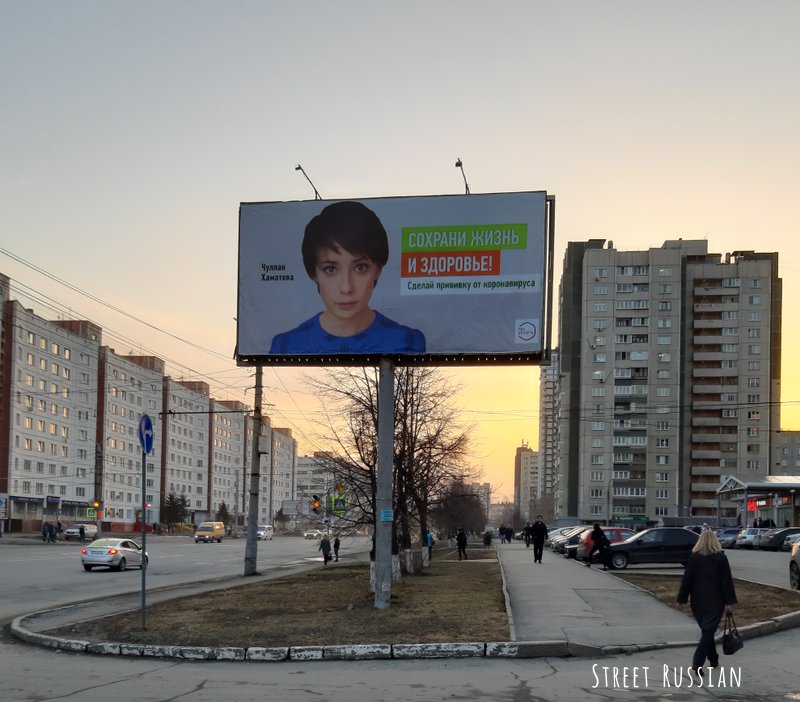 "Save your life and your health! Get vaccinated against the coronavirus!"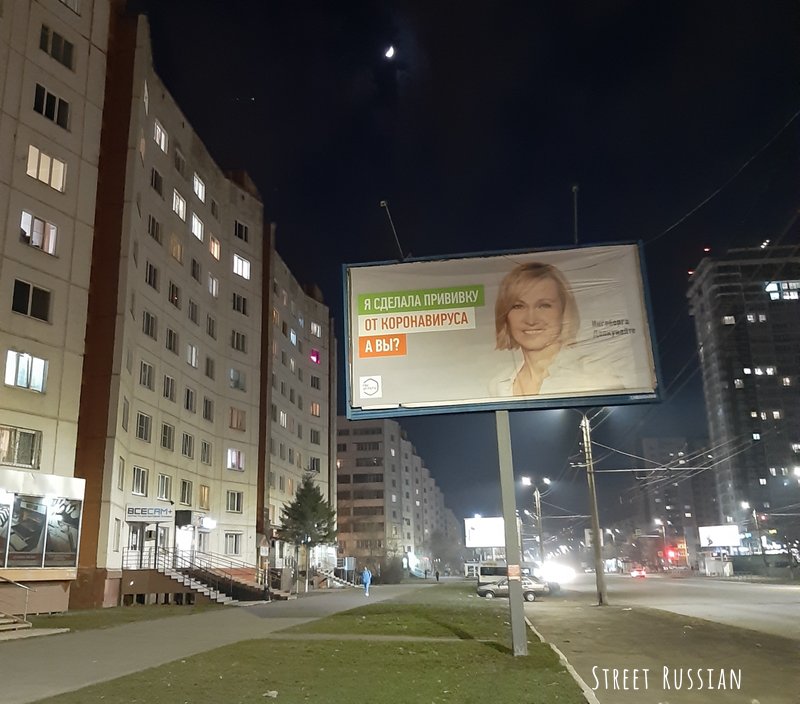 "I got vaccinated against the coronavirus. What about you?"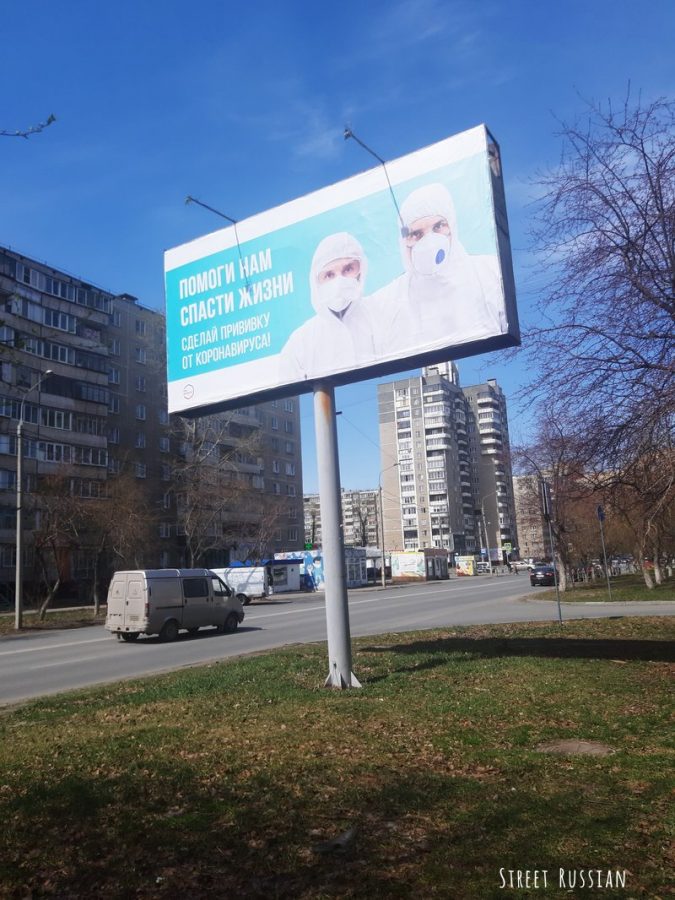 "Help us save lives. Get vaccinated against the coronavirus."


In our region, it's even possible to be vaccinated at home.

This offer is for people who are housebound, not for people who simply can't be bothered to wait in line.
In Moscow, where cases are again on the rise, there is now a prize lottery for getting vaccinated. Those who get their first dose this month will be entered to win a car. Will it convince more people to get the shot? I don't know…
My husband and I were very grateful for the opportunity to get vaccinated. We know several other people in Russia who have also done it. They're all foreigners. When I talk to my Russian friends (ages 20-70), it's complete doom and gloom. Every time I see them, they ask me if I have had any complications from the vaccine yet. So few people are wearing masks that you might assume the vaccination rate is high, but reports say that only about 10% have received the vaccine so far.
One other piece of recent news is a national cashback travel initiative. Though the border is still closed with many countries, lots of people are eager to travel. Many are participating in an internal program called Tourist Cashback Travel. Here's an article from last year about the program. Basically, you book a trip within Russia through an authorized dealer using a special bank card, and you'll receive a certain amount of money back. This summer it has even been extended to children's summer camps.
If you'd like to learn more vocab words, I recommend reading last summer's SlavFile newsletter: Russian-English Glossary of COVID-Related Neologisms and Jargon, Review of COVID Glossary, and Humor in a Time of Plague.
Будьте здоровы!