*This is an early update on one task from last month's study plan.*
You guys- I just did something BIG.
I read a whole BBC article in Russian! Holy smokes!
Have you heard of foreigncy? It's a website for learning cool languages (Russian, Persian, Arabic, Hebrew, Urdu, Mandarin) with a twist: it's not for beginners! It often feels like the internet is full of sites for beginners… and then you're supposed to jump into the native-level material. Sometimes I want a little help in making that transition, but I haven't found a lot of good intermediary sites. (Mainly, I've stuck to the fantastic Russian Language Mentor.)
Earlier this year, I bookmarked foreigncy as something to check out- it was the 'Russia Bans Release of Hollywood Film' article that's been on my study plan for the past two months. The lesson was marked as 'Sophisticated', which most definitely does not describe my level of Russian, ha. I'd recommend starting with something at the Intermediate level so you won't be staring at the screen all day long.
Here's the lesson I completed: Putin Wants to End Career Successfully and Travel. How could you resist a title like that? 😉
You'll get the hang of their lessons quickly, but here's the basic structure:
Read short description of the article in English.
Watch a video about the topic. (The video for the Putin lesson isn't working, but other videos are fine.)
Practice with flashcards.
Play a vocab game.
Click on the link that will take you offsite and to the article.
The Putin article was only a few paragraphs long, and the vocab activities really did help me get past some of the new words!
Here's a screenshot from one of the lessons-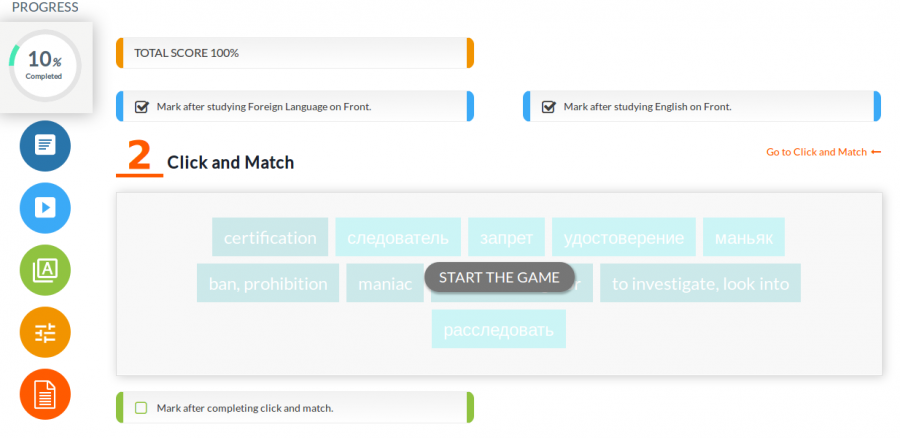 There are some other things that look interesting on the foreigncy, like these quizzes. There's also a paid version of the site ($90 a year) but I'm not going that route yet. The other year I paid for a year subscription to busuu… and only used the site twice. Lesson learned. But for a free, intermediate-to-advanced site for Russian learners, I think this site rocks. Check it out and let me know what you think!