Have you ever dreamed of visiting St Petersburg, Russia? Or moving there? Or how about moving there, exploring the city's retro cafés and gilded museums, and then starting your very own tour company?
If that sounds enticing to you, you'll definitely enjoy hearing Stacey's story… Давайте познакомимся!


1. Stacey, what's currently your favorite word in Russian?
There's nothing I love more than a good word play so there are several words and phrases I love to play with.
One of my favorites is the word 'снизу' meaning something like down below and pronounced as 'Sneeze-oo)
Me: Где Андрей?
Ответ: Cнизу
Me: Bless you 😉

2. Why did you decide to start learning Russian?
When I went to college, I thought it sounded like fun to work as a translator/interpreter and envisioned myself working for the government. I began to study critical languages such as Russian and Japanese. Critical languages is a US term used in reference to languages that have a large demand for professionals but for which there is little supply of professionals who can speak it.

Already studying French, Italian and Japanese, I decided it was time to add a second critical language to my belt and I chose Russian.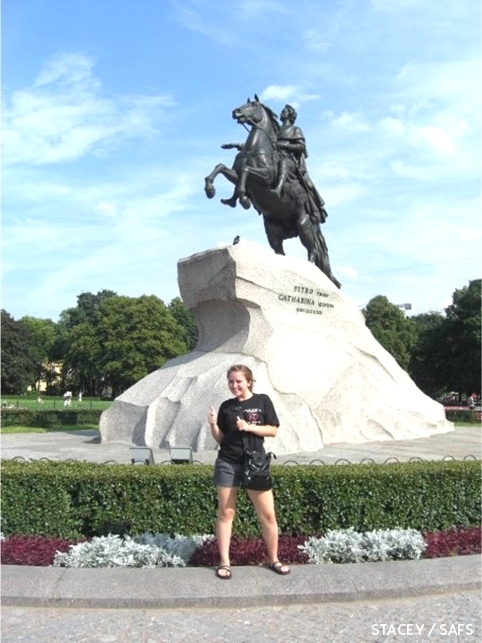 3. How did you end up moving to Russia and starting a tour company?
That year I decided to add Russian to my belt, for some reason (let's call it fate) I decided to start learning it in country, in Russia rather than in a classroom in the US. I made my first trip to St. Petersburg in the summer of 2009 when I began studying Russian.

I came over as a beginner and returned home knowing I wasn't done with Russia. With a fresh determination, I threw myself into my studies learning not only the language, but also history and culture so I fully knew what I was getting myself into when I returned in 2012.

The easiest way to get in is to come over as an English teacher. I taught English and worked as a freelancer for a number of years before moving more into what I really wanted to do all along which was to share my love for Russia with others professionally.

I started a passion project, SAFS, that I've since turned into a business. This has been a long time in the making and is constantly evolving.


4. Please tell us about your beautiful cat, Kibby! Was it easy to bring her into the country? How has she adjusted to life in St P?
My purrdryga, Kibby, joined me a year after I moved over. I had to get set up and make sure everything she needed was here before torturing her with a 3 flight trip…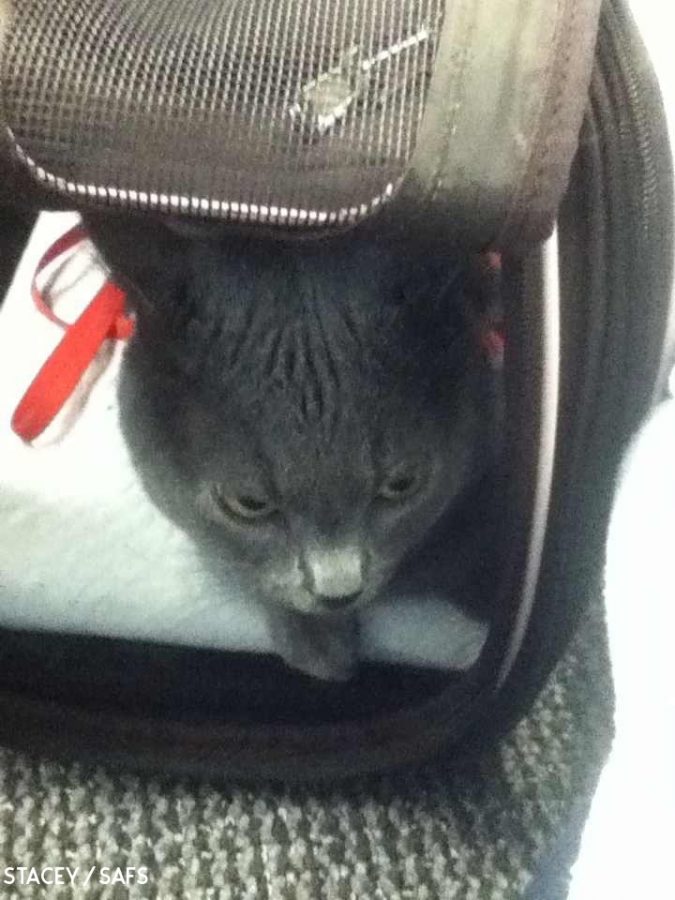 *purrdryga is my spin off of the Russian word, podryga (подруга), meaning female friend. In Kibby's case, purrdryga refers to a feline friend 😉

At first, Kibby was super pissed that I didn't ask her permission to uproot her life. I raised Kibbs from a kitten and she was my responsibility to take care of, so we had few options and bringing her on board with me was ultimately the best decision for her.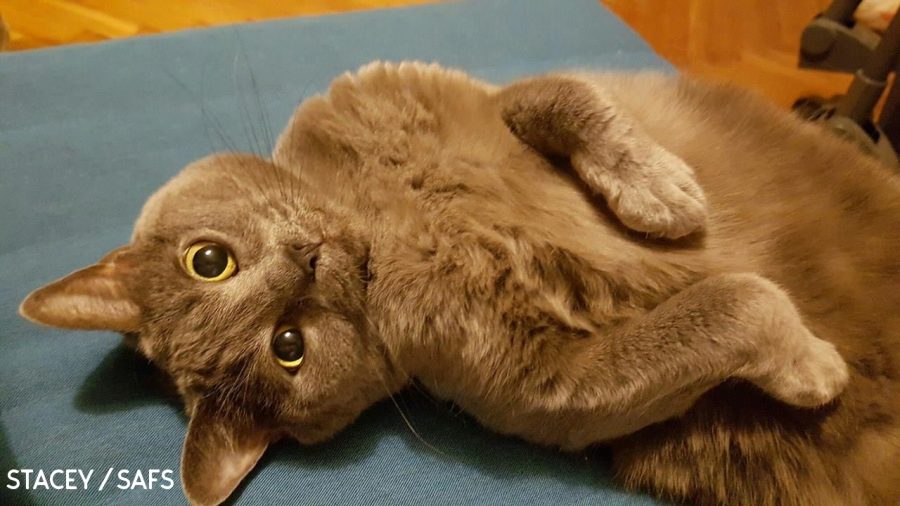 She quickly adjusted to life in Russia. Her Russian also improved. My husband and I met a couple of years after Kibby came over so she vetted him and approved and they often had long chats over tea and play time in Russian/cat (which he also attempts to speak from time to time). He then became the favorite human which I think is totally not fair but I'm happy she approves of our choice.


5. Если не секрет, how did you meet your husband? Are there any funny cultural differences that come up in your marriage?
I met my Russian, Alex, at a party. He was a friend of a friend. We didn't hit it off that night, but we friended each other on Vkontakte and soon after a date was organized and the rest is history.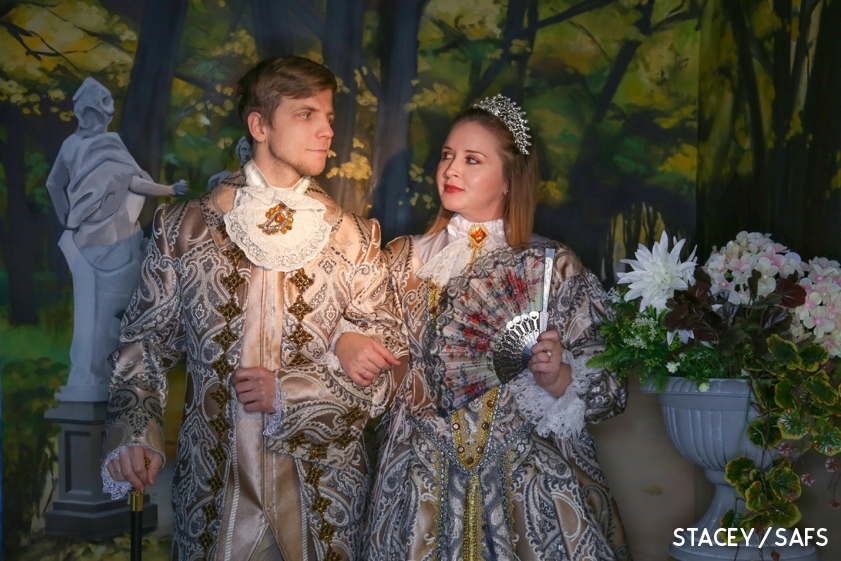 So many quirky differences, the best ones are usually language faux pas. We speak Renglish (Russian & English) at home. We both make mistakes but sometimes there are some really funny mistakes that we just keep using because they're too good not to. For example, nail polish will forever be known to us as nail makeup and door knobs have become door handlers.


6. Can you share some info about SAFS with us?
I found it so hard to navigate Russia when I arrived. Hard to get around, hard to find tours and information on things I was interested in. After a few years of living here, I began to help newcomers navigate the city and a few years after that I began to design tours and experiences that I wanted to go on myself. Now my team consists of some of the best guides and specialists who really know their stuff and are passionate to share with others. We are designing an ever-evolving list of interactive experiences for those who want to go in depth with Russian culture and history and learn on the go.

SAFS is an acronym for Ships Are For Sailing. It started off as a blog. Just after moving, I created a blog as a way to keep up with friends and family and over time it shortened to just SAFS which I say as a word rather than an acronym.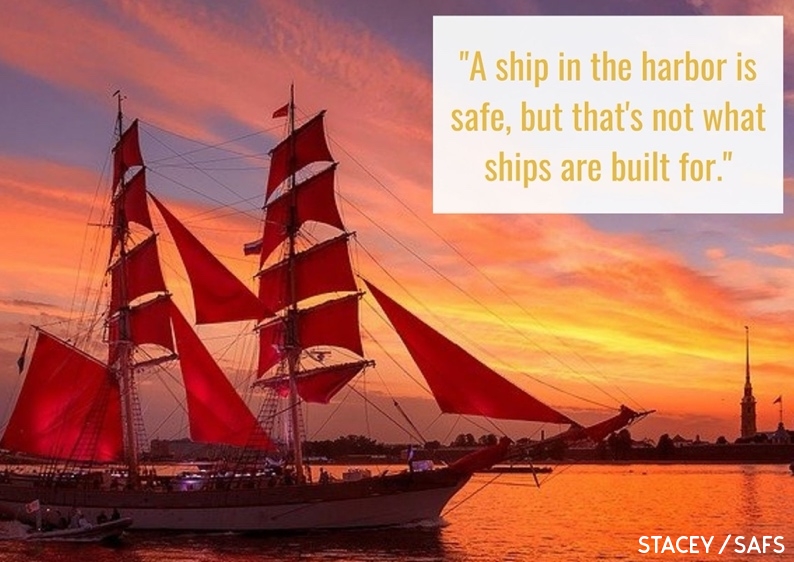 Looking for a blog name was challenging but there was one quote that inspired me.

I feel that this is a quote that the founder of St. Petersburg, Peter the Great, would agree with as he was the first tsar to ever visit Europe and he envisioned a city in which all of its citizens would sail around. St. Petersburg was designed to look like Amsterdam with its canals, many of which are manmade, and has often been referred to as the Venice of the North.
7. What are your top recommendations for someone who is going to visit St P?
Make a bucket list before you come. Follow us on Instagram for some fun ideas to add to that list, some tips on navigating the city and recommendations on other interesting places to experience while here.
To get a full Russian cultural immersion, don't just visit the Hermitage and Catherine's Palace,
Get acquainted with the city history on the first day with a city tour. I'm not saying that as a tour guide, but it's a good way to get to know the city and how to navigate it before going out on your own. You'll understand the city layout and history better that way.
St. Petersburg is home to some of the world's greatest literary giants such as Dostoevsky, Pushkin and Gogol.
Visit the ballet. Mariinsky is amazing but I recommend the slightly cheaper and more contemporary Mikhailovsky Theater which, like the Mariinsky, has a rich history.
The city underwent 3 revolutions that changed the face of the country – don't skip the Political History Museum which is best visited with a guide. It's a deep topic and hard to grasp from reading a few English signs on the walls. Even if you know the topic ok, I still recommend having a guide for that museum.
Go back to the USSR by visiting the donut shop that hasn't changed since its opening, Pyshechnaya, and visit the Soviet arcade museum. We are currently preparing some USSR tours in St. Petersburg, so be sure to check those out for more Soviet immersion in St. Pete.
Take a trip in the People's Palace aka the St. Petersburg Metro. Don't miss Avtovo! We offer a guided metro tour for those who want to get to know the People's Palace more in depth.
Get better acquainted with the current political situation on our Putin tour. The Russian president grew up in St. Petersburg and the tour focuses on the childhood that shaped the man.
Finally, do something quirky like visiting racoon city, a cat cafe or go to paint a matryoshka.
For more fun ideas, tips and tours, look us up on Instagram or stop by our site to see what we're offering.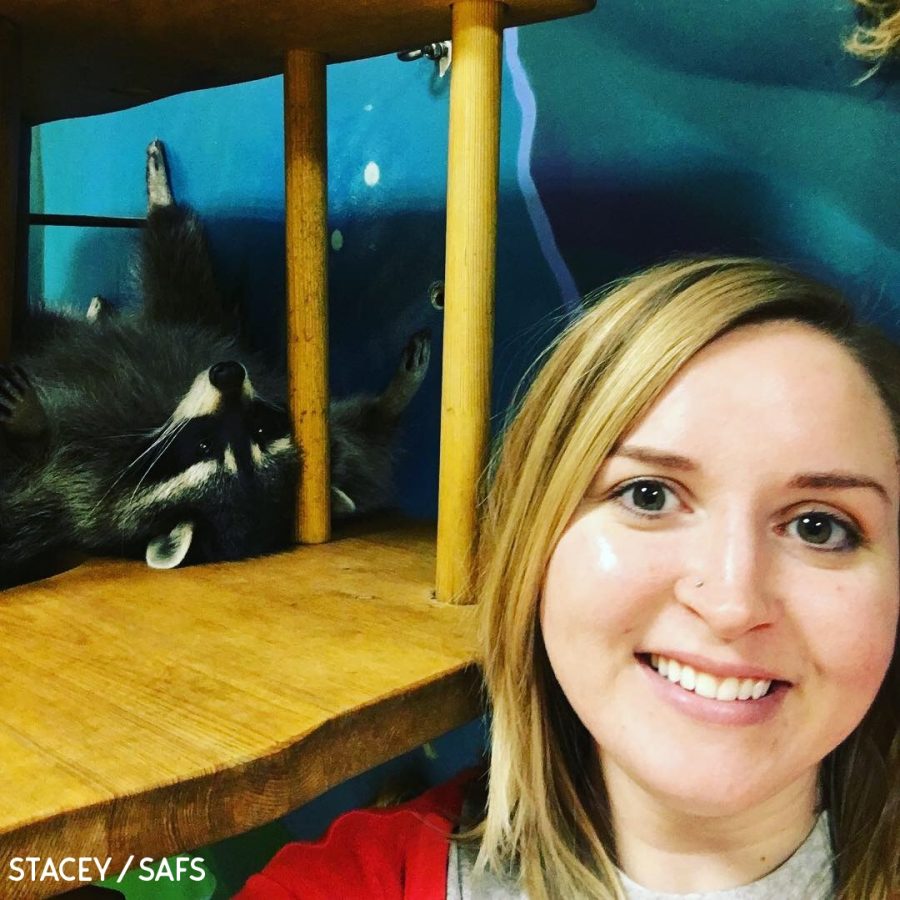 8. I know that you had to rethink your business model after Russia closed to foreigners (due to covid) and this resulted in cool online offerings like the Virtual Vodka Experience. What are your hopes for the future of SAFS?
The pandemic definitely put a big hole in the master plan but it's been a great period of development and growth and it's been good to have this time to explore other areas we thought we wouldn't get to for years. Now we are focusing more on education rather than tourism and products. When you can't visit Mother Russia, Mother Russia comes to you! That's our current motto)))


9. What is something that you really enjoy about living in Russia? What is something that drives you crazy?
This is one and the same for me, the thing I love is also the thing that can drive me crazy and that is how unpredictable Russia can be.

I went to the store my first year here to buy shampoo and the cashier rang up two champagne glasses. 'No, no.' I said, 'that's not mine.' She said it was a gift and put it in the bag – who can argue with that?! For the purchase of two shampoos, I got a set of champagne glasses and that makes total sense, right? That's the beauty of Russia.


10. Are there any other Russian cities that you've visited or would like to visit someday?
Russia is HUGE! I've been fortunate to visit a good many cities – had an epic road trip in Russia last summer. We visited Tula, Nizhny Novgorod, a few cities in the Golden Ring and several little cities sprinkled along the way.

There are so many cities still on the Russia bucket list to visit, but the top cities include Ekaterinburg, Kazan and cities in the far east.

A city that pleasantly surprised me was Tula – the steel and pryanik capital of the country.


11. Is there anything about the Russian language that you still struggle with, like grammar or pronunciation? Do you have a plan for improving your skills?
Yes, yes, yes! I gave up on conventional learning methods, sitting in a classroom and learning with grammar books. When you're dealing with real people, the only thing that matters is that they understand you and you understand them. Trying to achieve perfect grammar and pronunciation just goes out the window. I used to take private lessons but then I decided that more than improving my grammar and pronunciation, it would be more effective for me to focus on improving my vocabulary. My grammar and pronunciation is what it is and I hope it'll improve as I practice more in conversation. So now instead of studying the language, I go to Russian events, lectures, meetings and soak it all in. I watch movies and tv shows in Russian and use my google translator when I need it. I found this has really helped me get around better than anything. That being said, I did have a grammar and pronunciation foundation to work with before I let myself go rogue.


12. If someone wanted to improve their Russian quickly and only had 15 minutes a day, what would you advise them to do?
It depends on the level of Russian they have. If you're a beginner, it's important to grow your vocabulary and build a grammar structure. Apps are pretty effective for growing vocabulary and can be fun too. I used to enjoy Memrise which uses word play to help you remember new vocab.
For higher levels, I'd recommend finding an interesting TV show and watching at least one series every day. This is slightly more than 15 minutes… but hear me out…immersion is the best way to learn and when you can't be immersed, you can still put yourself in situations to hear the language every day.

Start with cartoons (seriously) and action movies. Cartoons are geared towards kids who are learning language and they often define terms with repetition to help you memorize it. Action movies have very little dialogue and when there are speaking bits, it's usually clear what's happening.

Level up by trying thrillers before moving on to comedy, drama, etc. I'd also encourage you to turn off the subtitles from the start. Just don't turn them on at all. I find there's less focus on listening comprehension when the subtitles are on and this defeats the purpose. Go for the challenge!

Finally, the best way to improve your Russian is to move to Russia or at least come visit. Look us up if you're coming!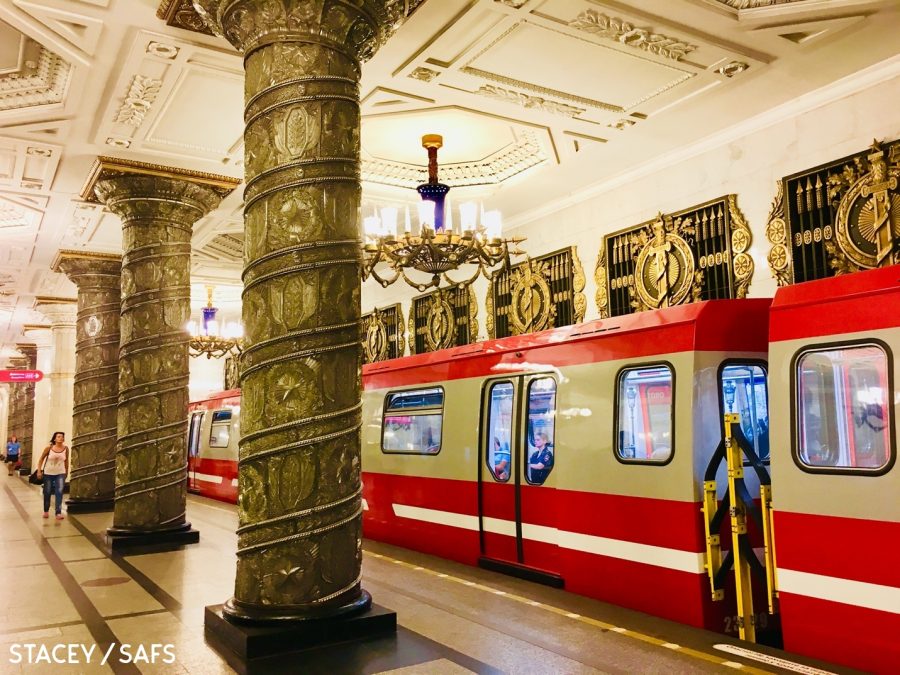 Stacey, спасибо большое for sharing your Russia story with us!
Dear readers, are you inspired to follow in her footsteps? Or maybe just visit the city and experience one of her tours?