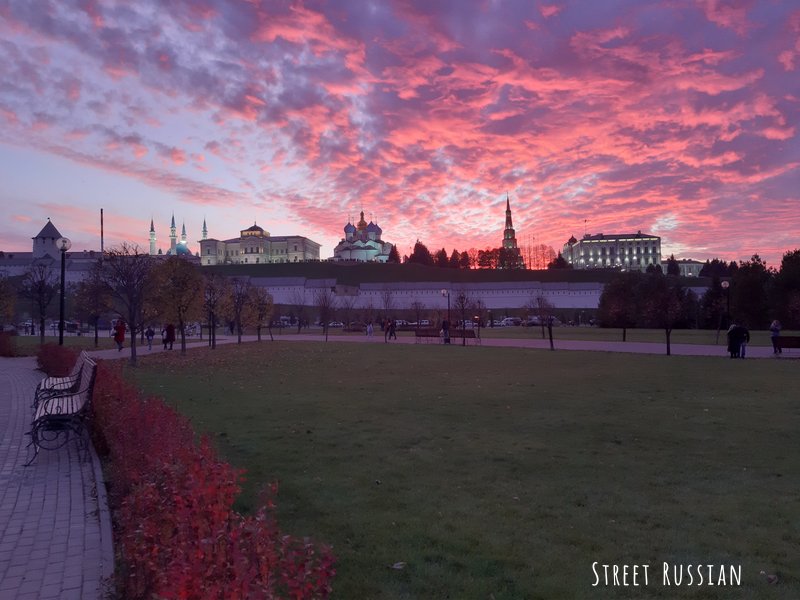 Sixteen photos from an amazing October walk in downtown Kazan. 🙂
During our first few weeks here, I was overcome with a feeling of déjà vu. Downtown Kazan is massive and ornate. Some of the buildings could easily land the cover of an architecture magazine. I'm still partial to Chelyabinsk… it has so many unusual and eye-catching structures… but Kazan is on a whole different level. Walking around in Kazan's city center will take you hours and hours.
In comparison, downtown Chelyabinsk was an entirely different, much smaller place. There was one small, heavily-instagrammed pedestrian area named Kirova Street. There was traffic-filled Lenin Avenue. The was a sprawling forest (Gagarin Park) right in the middle of the city. And there was the up-and-coming embankment; old riverbank quickly being transformed into benches and walking paths. Exploring Chelyabinsk was more about exploring the suburbs and outskirts of town. Exploring Kazan (downtown + suburbs + outskirts) is going to take ages. An exciting task! 😀
But back to the déjà vu. Downtown Kazan reminds me so much of downtown Kharkiv, Ukraine. It's very walkable. It's filled with things to look at / eat / experience. It's impossible to walk more than a few feet without spotting incredible architecture. The first few weeks, I felt like we were in Kharkiv again. Chelyabinsk felt like a solid, regular Russian city. Kazan has an exotic magic to it, like Kharkiv did.
My husband suggested walking in a new direction one weekend. We started on Bauman Street and headed into neighborhoods unknown. Soon we came to more of those amazing buildings I was telling you about. Each of these buildings probably deserves its own post, but here's a sneak peek in the meantime…
Здание Правительства Республики Татарстан / The Government of the Republic of Tatarstan.
Address: Свободы пл., 1.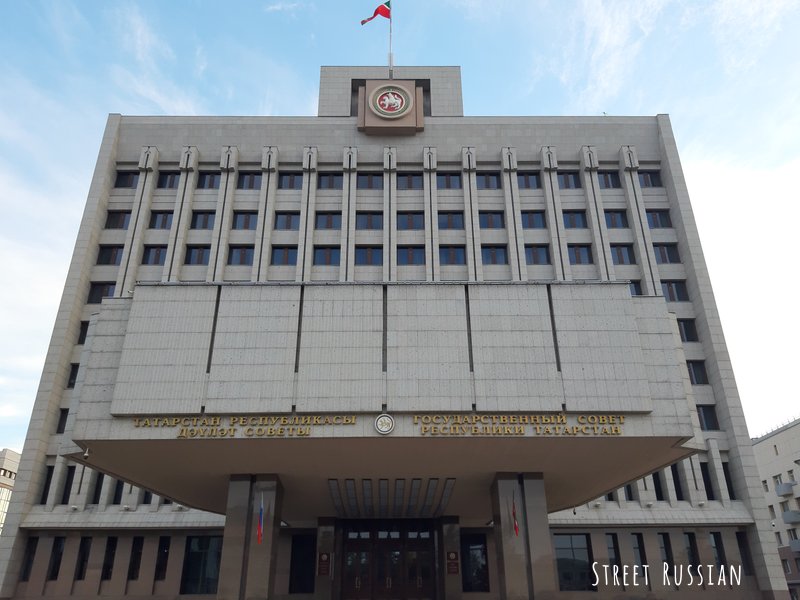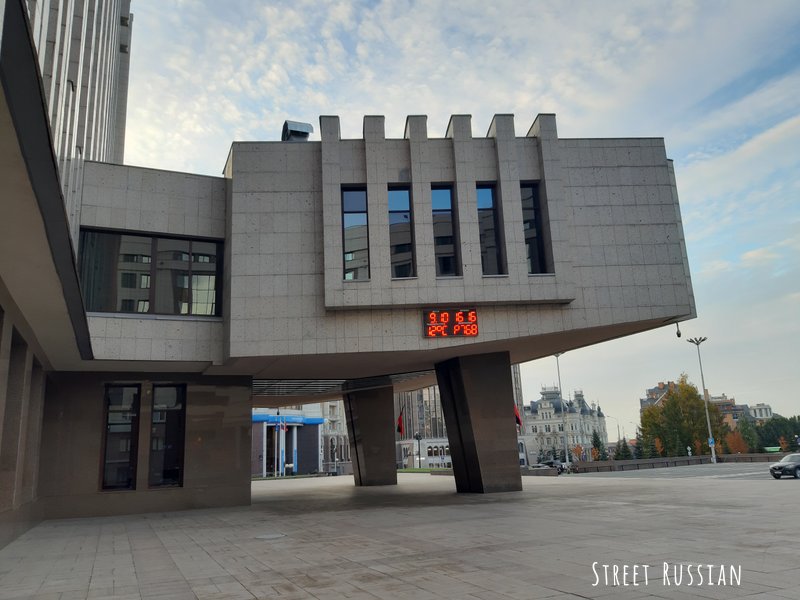 Across the street from the government building were several apartment buildings that can truly be called шедевры (masterpieces). One is designed in a middle eastern style: winding columns, arches, majestic white lions near the door. Others have nude statues and rounded balconies. On the ground floor are upscale shops with names like Baby Rich. I'm definitely going to give these buildings their own post in the coming months, and maybe try to find out what kind of people live here.
Address: ул. Касаткина, 15.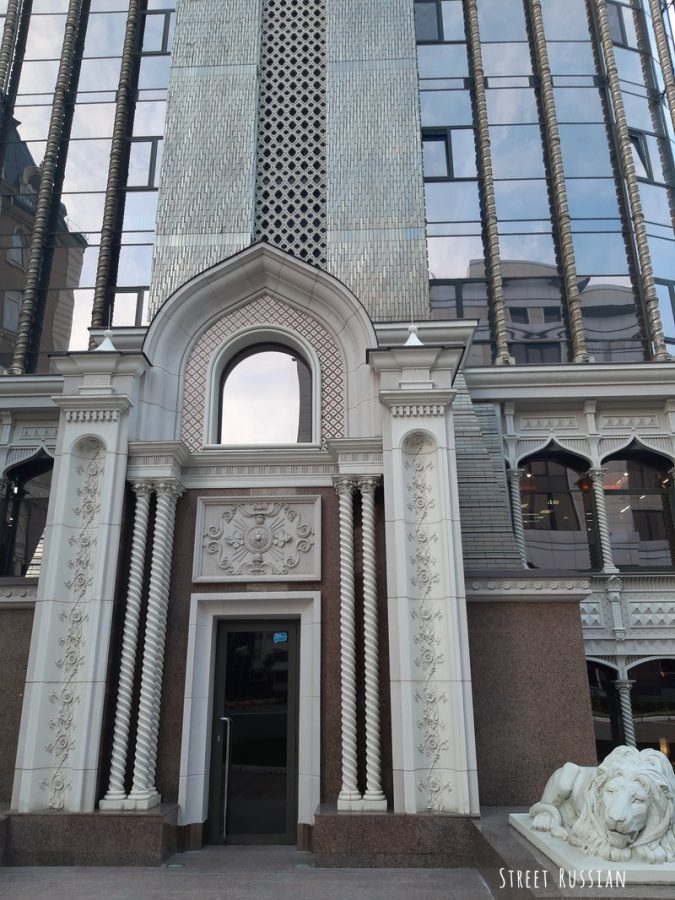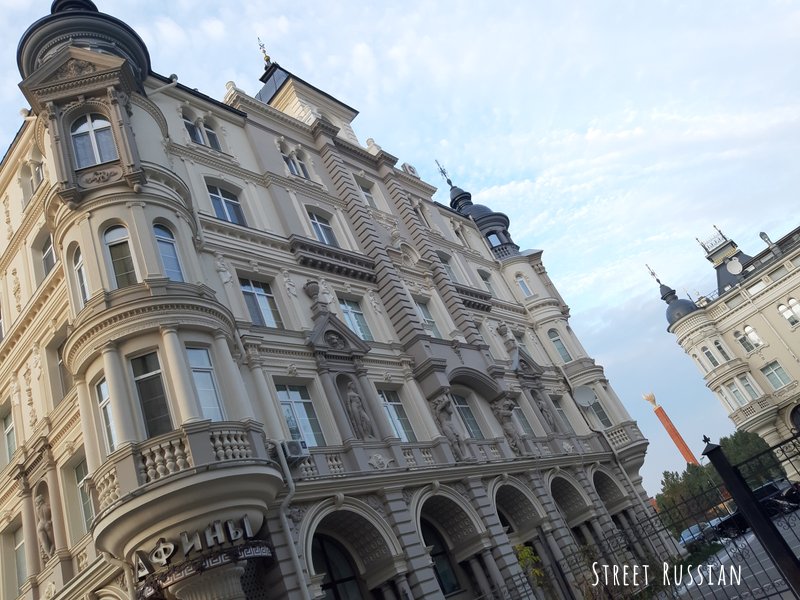 See that red column in the above photo? That's right in front of the Национальный культурный центр «Казань» / National Cultural Center "Kazan". We didn't go inside this time because it looked so crowded (it's a library as well). On the other side of the building, there was a panoramic view of the Kazanka River and plenty of benches for admiring the view.
Address: ул. Пушкина, 86.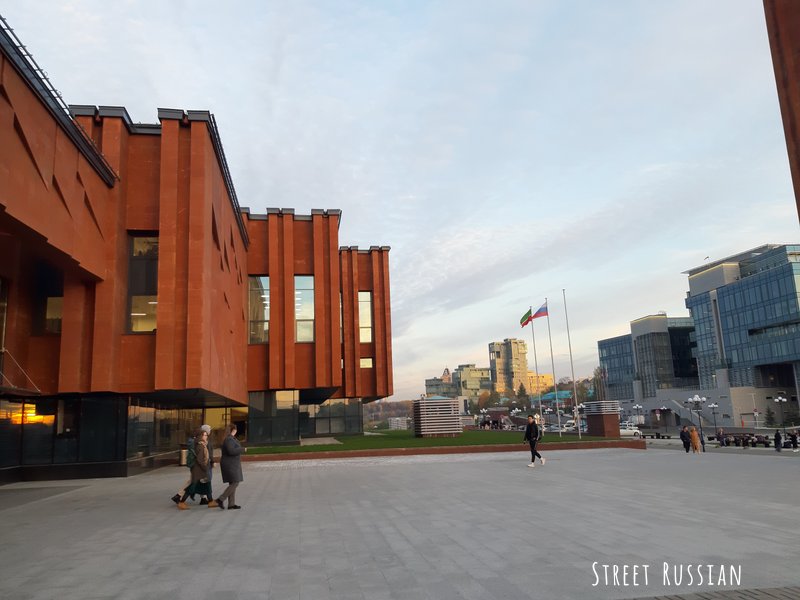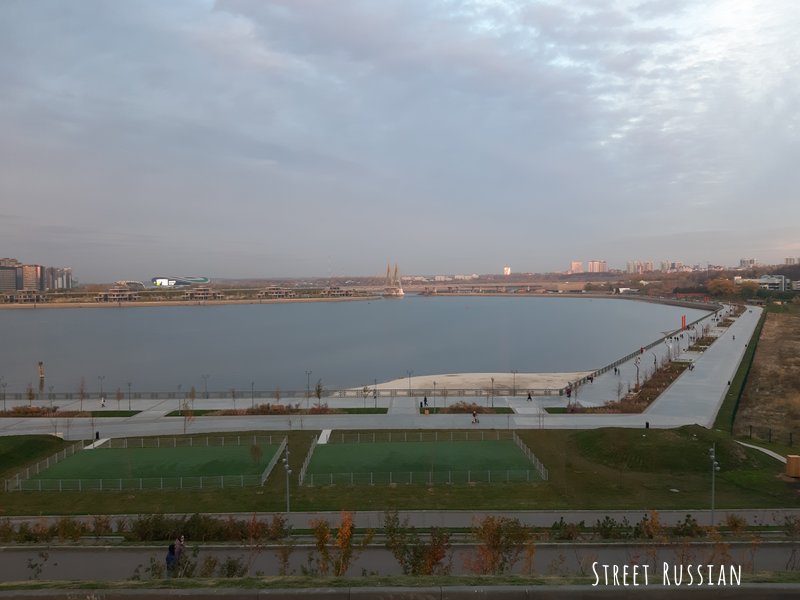 When the sun started to set, we turned around and headed back towards Bauman street. The first thing to appear in the distance was a blue and white мечеть. From far away, the scale was so off that I confused it with the gigantic Kul Sharif mosque. As we got closer, I realized it was a much smaller мечеть with a similar design. And since Kazan is very much a multicultural city, there's a small Orthodox church right across the street.
Мечеть Ирек / Irek Mosque + Храм преподобномученицы Евдокии / Martyr Eudokia Church
Address: ул. Федосеевская, 5 + ул. Федосеевская, 46.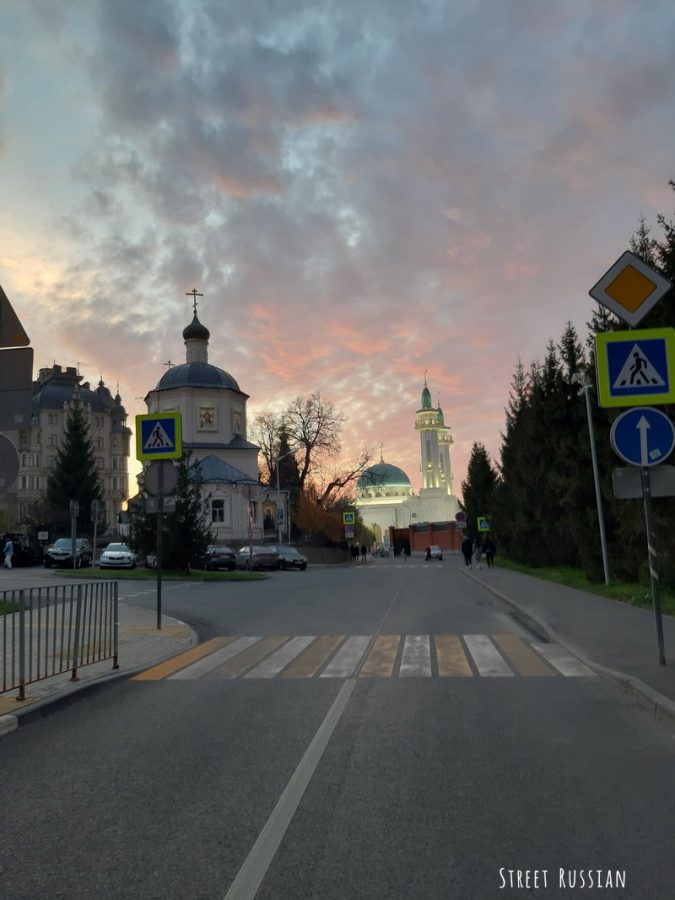 We arrived at the mosque just as a sunset call to prayer was going out. There was a crowd of people in the street; some going into the mosque to pray, some just taking pictures on their phones.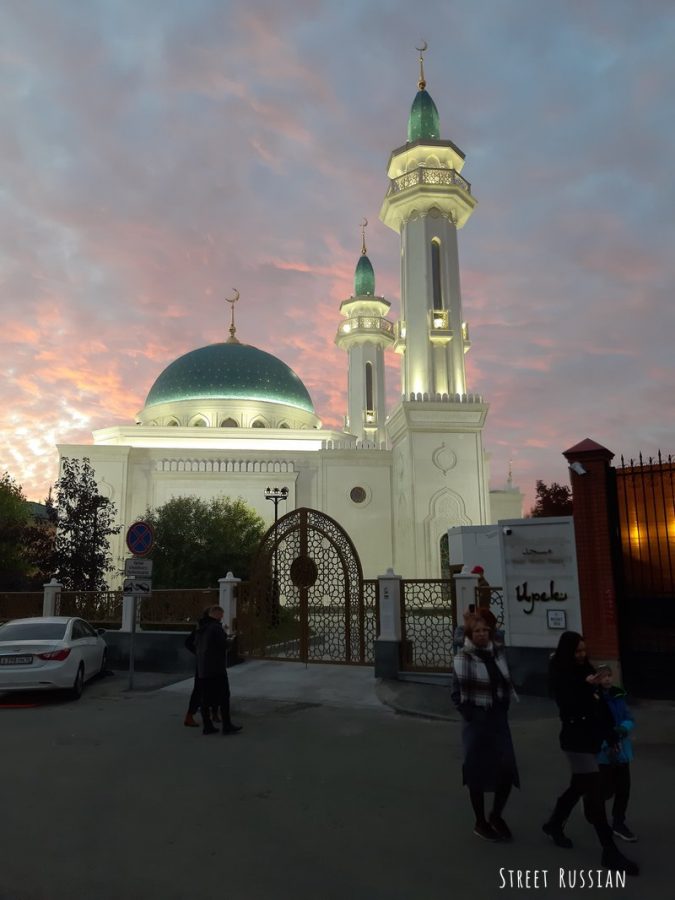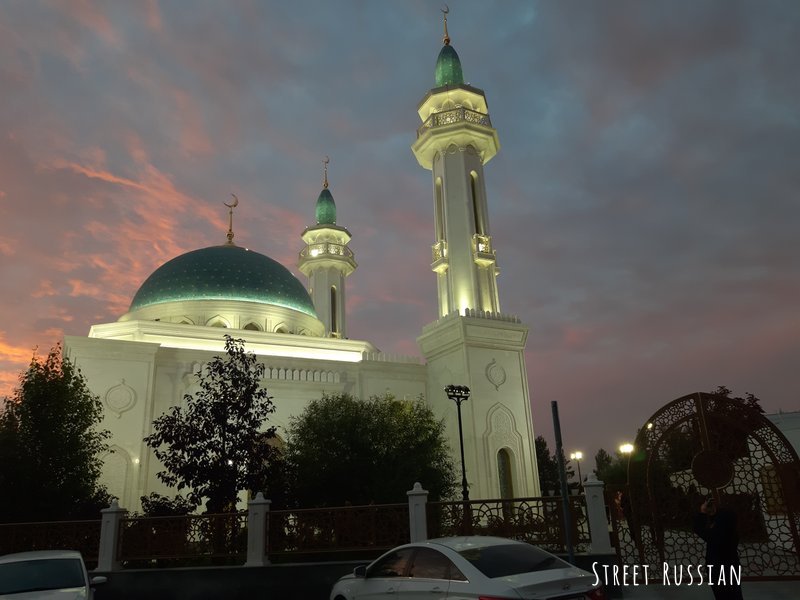 And like eeeeeeeverything in Kazan (cars, businesses, street musicians), of course there was an instagram username on display.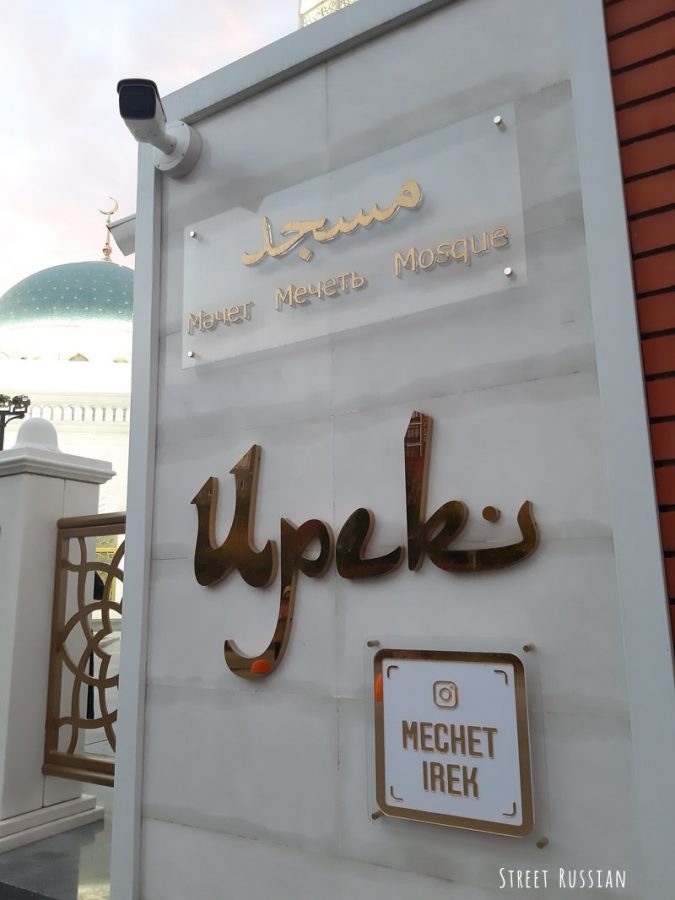 Between the Irek Mosque and the Kazan Kremlin, we saw several more cool buildings. First up: a branch of the International School of Kazan. This is a pricey and prestigious elementary / middle / high school with lots of foreign teachers.
Address: ул. Федосеевская, 52А.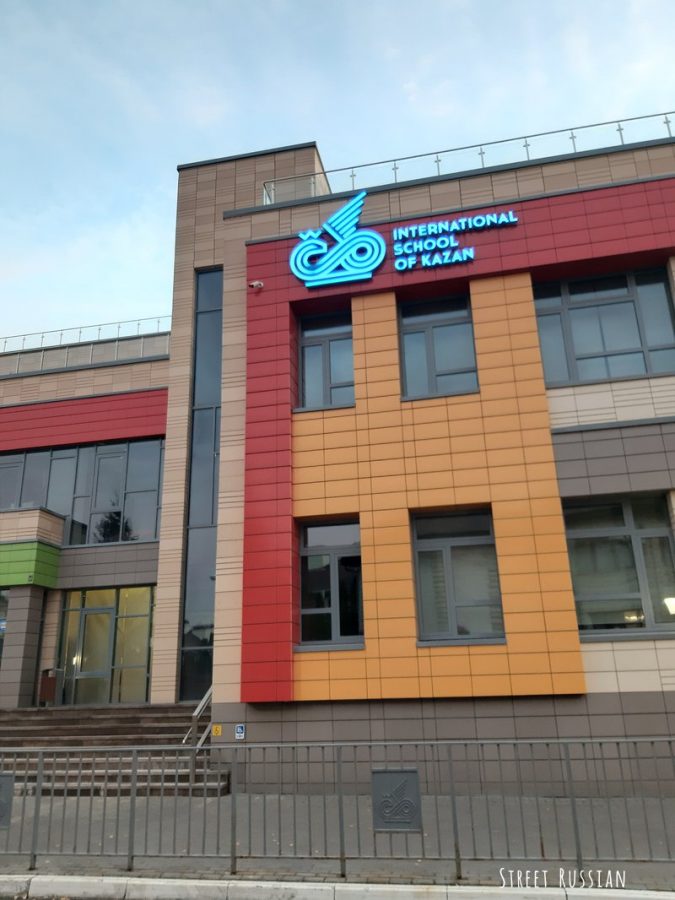 Continuing back toward Bauman Street, which is on the other side of the Kazan Kremlin…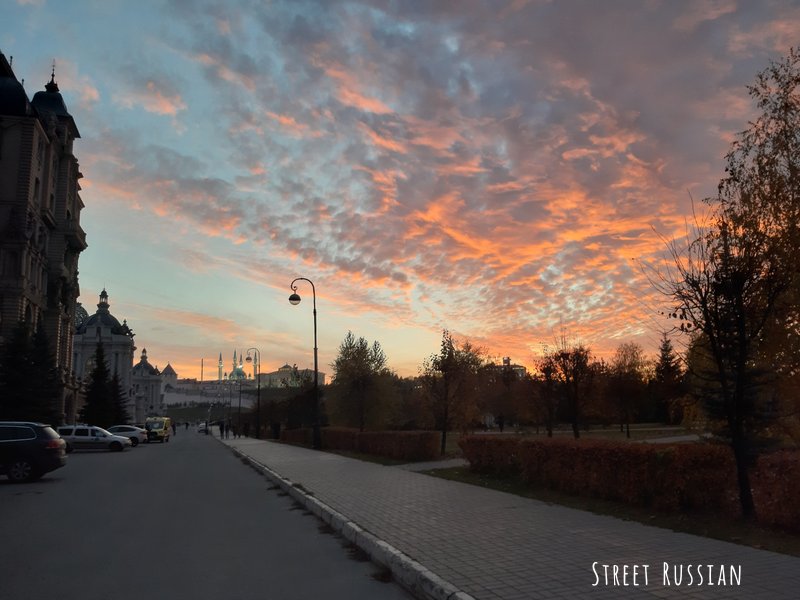 … there's a nice park (Парк Дворца Земледельцев) named after an absolutely majestic building. When I told my husband that this incredible place is called the Farmer's Palace, he didn't believe me until he saw the Russian name above the columns: Дворец Земледельцев. Some people translate it as Agricultural Palace. Maybe that sounds fancier?
Address: ул. Федосеевская, 36.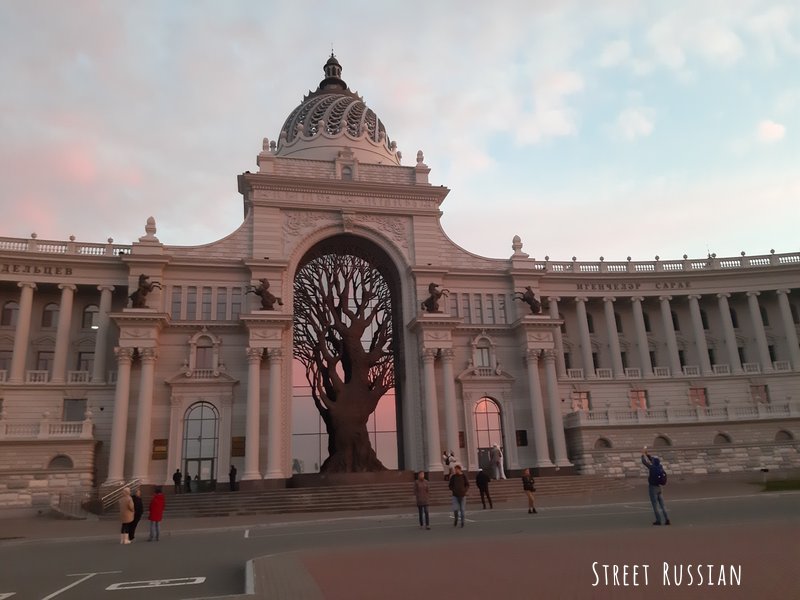 The park across the street was an incredible place to watch the sunset. I don't know how we got so lucky with the sunset. The next day was entirely gray and uninspiring. But that night, wow! The buildings within the kremlin were perfectly highlighted against a sky of pink clouds.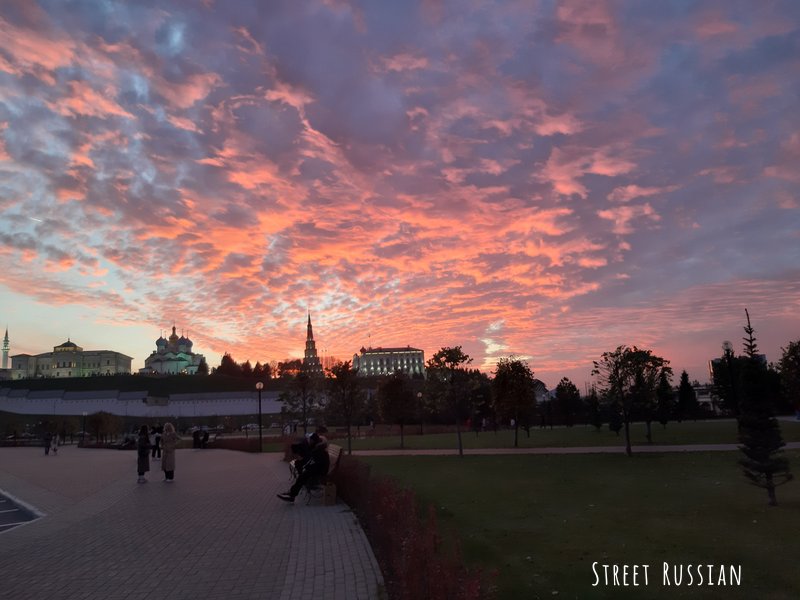 People tell me that the small city of Innopolis, just 25 miles to the west, has a regular schedule of beautiful sunsets. No one ever said anything about Kazan, but perhaps it's the same? Let's see what happens over the next few months. Whether this was a special event or a standard evening, it was the perfect end to a day of exploring.