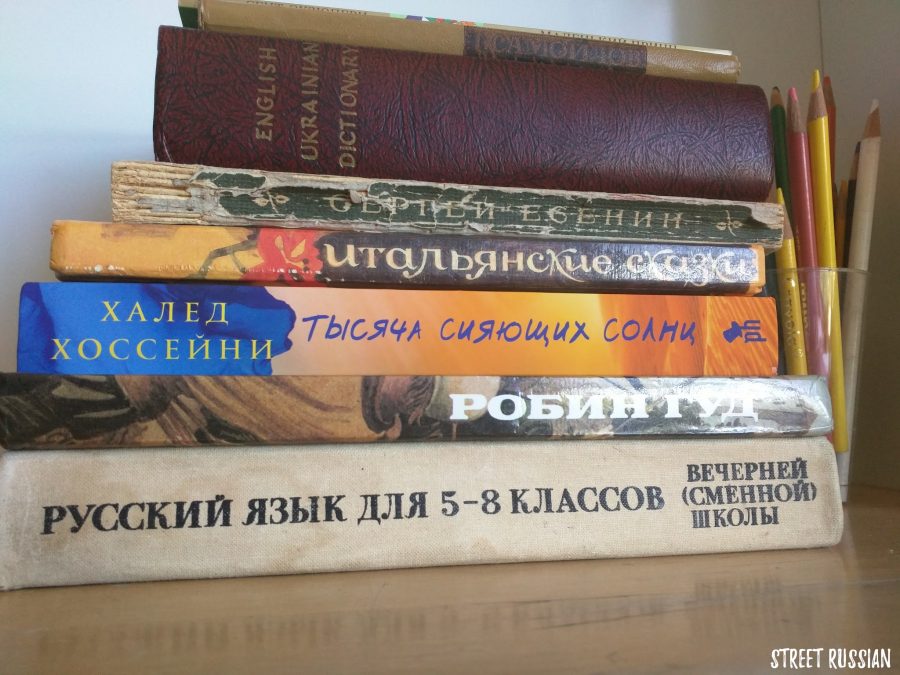 Confession time.
I've never really read a book in Russian.
This sends my husband into a tailspin. "Reading is the best way to learn! It's how I learned English." He moved to the US when he was 18 and pretty much knew only two phrases: orange juice and what he describes as his first English word ever- whoisondutytoday. (That's how English classes in Ukraine would start. D first assumed it was just a really long English word.) But many years (and books) later, he's crazy fluent. In fact, English is even easier to him now than Russian is. When I whine about how my Russian has flat-lined, he always says the same thing. "Katushka, just pick a book and start reading it. Seriously, trust me on this."
All this time, I thought (incorrectly, it turns out!) that Russian books were lame. Sure, I have the requisite little collection at home. Aren't all learners supposed to have this?
There's the copy of двенадцать стульев that a former student gave me.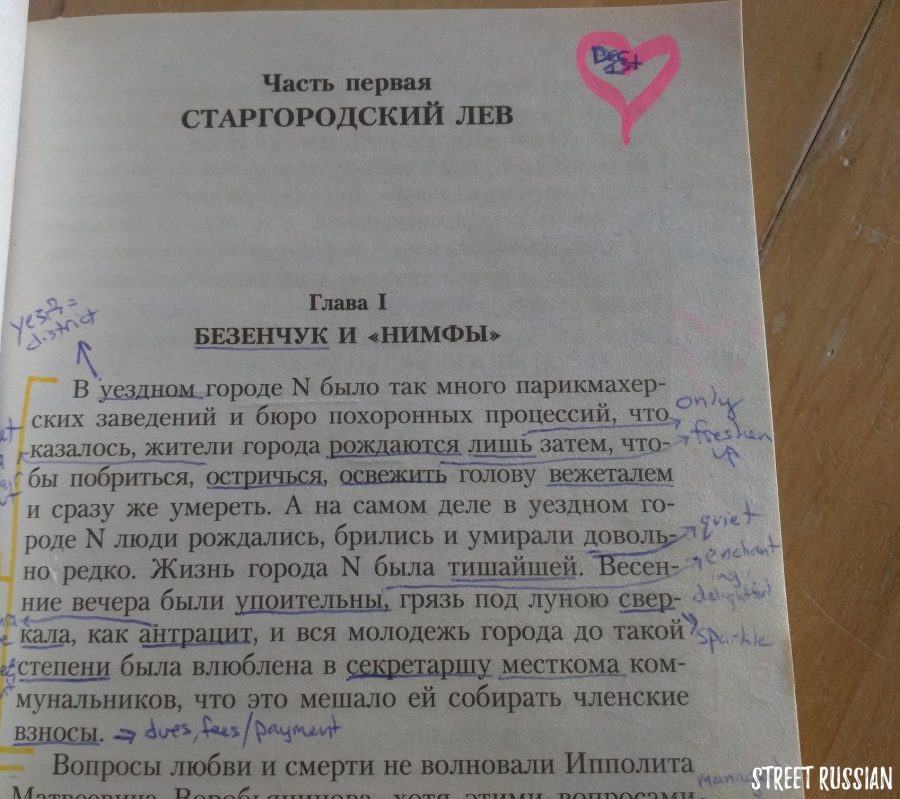 There's доктор айболит, the book I thought would be a more realistic goal.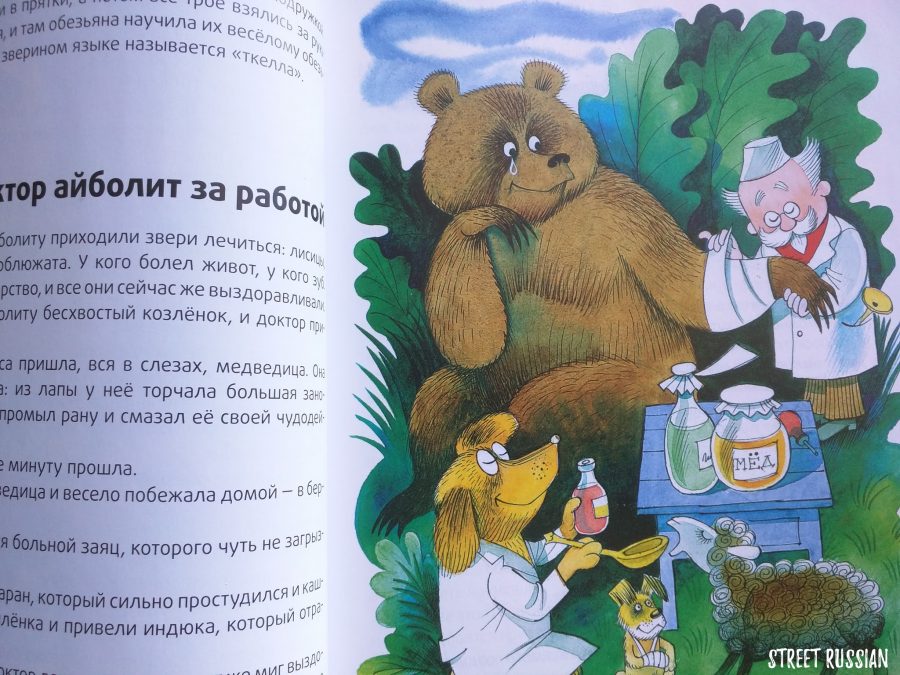 There was also a short-lived attempt at reading выскочка, a forty-two-year-old book with a Children's Library of the Crimean Oblast stamp on the inside cover.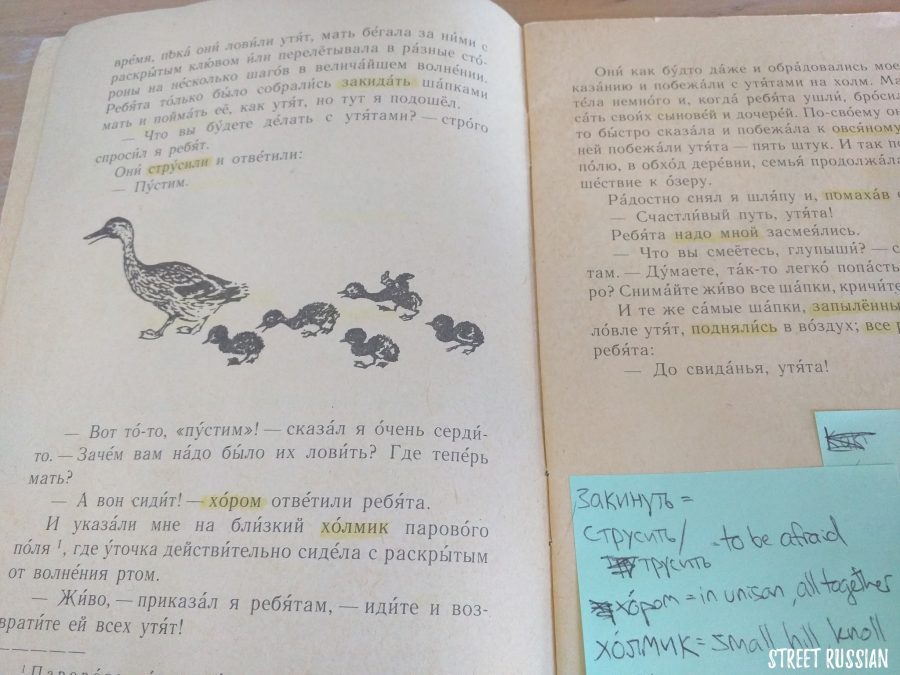 But like you can see, the highlighting would always disappear after a few pages and the book would go back on the shelf. D would be sad. What was the secret to reading in Russian? Where were all the good books??
HERE'S THE SECRET-
You have to know exactly what you want to read.
Over the past few weeks I went to a Russian bookstore and an American bookstore. If you're in the US and you want something to read in Russian, well… you get to pick from великие мертвые авторы, mighty (and dead) authors–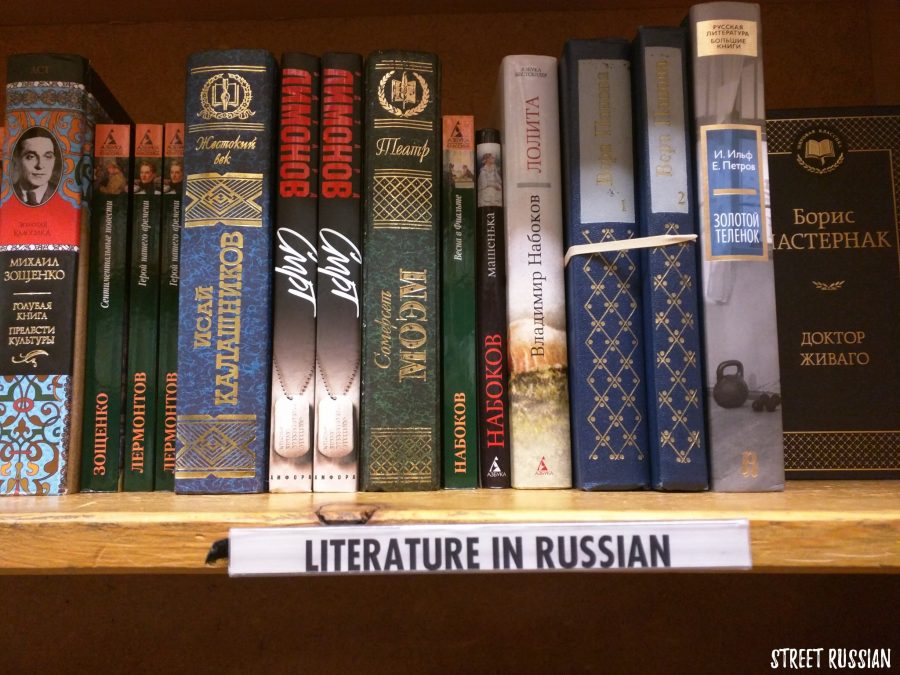 or go the Twilight / Harry Potter route.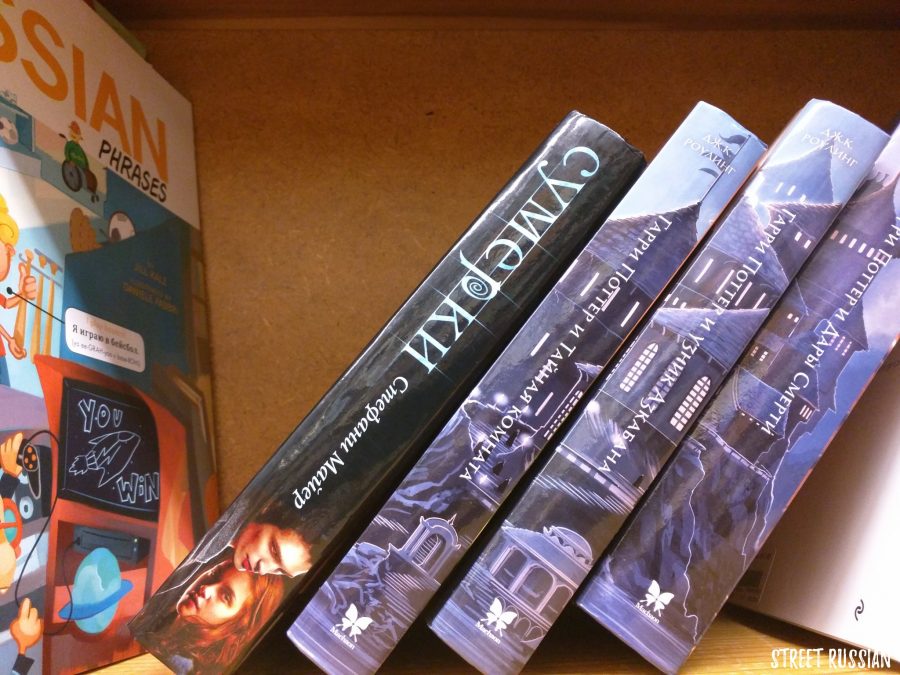 If you're not an erudite reader of Russian novels, not enthralled by pop fiction sagas, and don't want to read kid's books, there's nothing else on the shelf. How can you find something if you don't even know what you're looking for? Can I just google "random TEOTWAWKI books in Russian" and expect to actually find a book? Probably not.
And then along came the Russian bookstore in Nizhny Novgorod. Ugh, sooooo good! Here were the zombie books, the cookbooks, the grammar charts, the x-rated novels, the biographies. Here was stuff I wanted to read!!!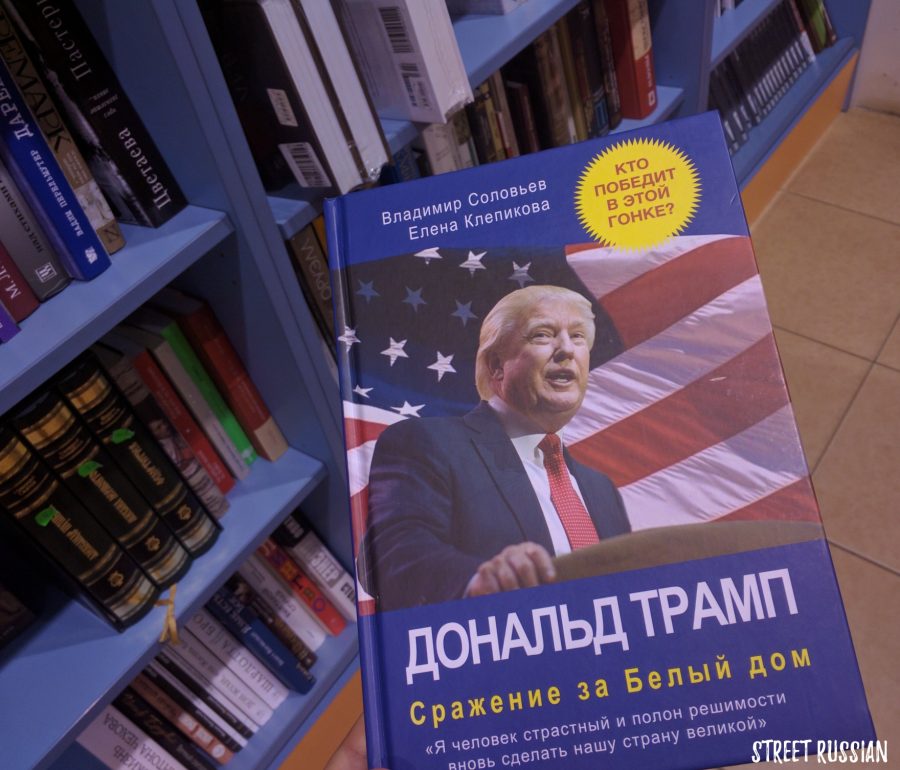 Er, well, I don't want to read that one, but you see what I mean- there were books about every single thing you could imagine. I could have lived in that store!
Not wanting to go too wild (considering my track record of finishing books), here are the three books that I couldn't pass up.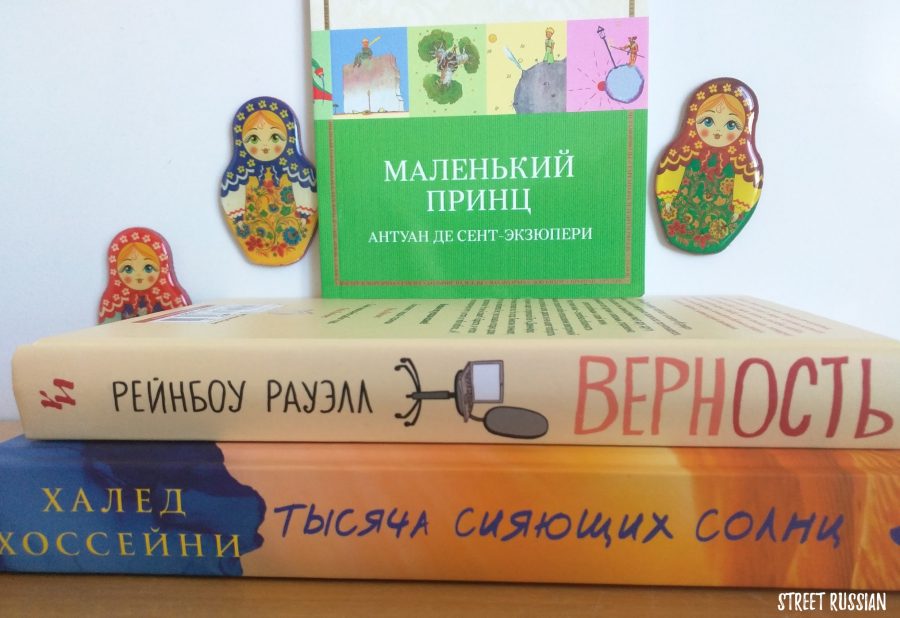 The Little Prince, which was the first book I ever read in Spanish.
Attachments, a romantic comedy written partially in email format.
A Thousand Splendid Suns, about the lives of two women in Afghanistan.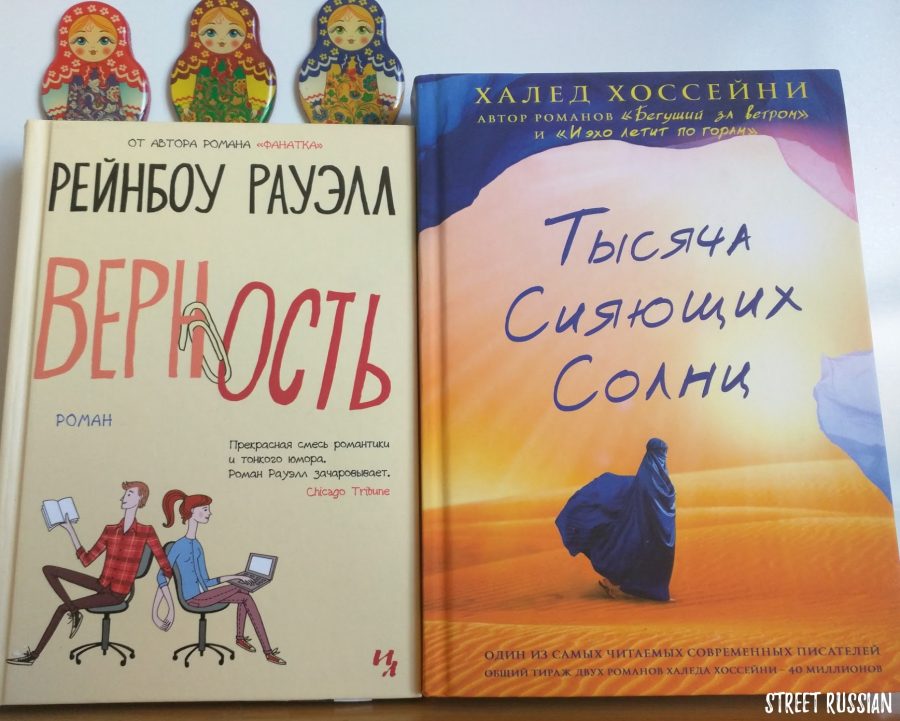 Maybe it's a bad sign that everything I got is a translation, but I'm actually excited to read some Russian language books for once. In teaching terms, this is "compelling content", something so juicy that the learner doesn't even care/notice what language it's presented in.
And for D? I brought him back one of his favorite sci-fi authors 🙂 (Again, in translation!)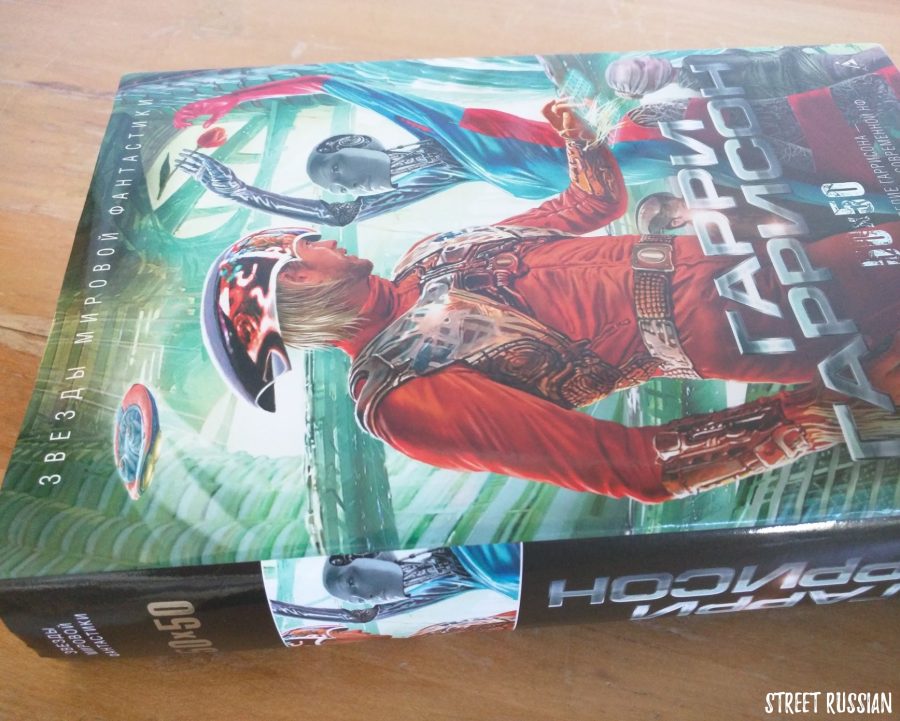 We only have four months left in 2016, so my goal is to finish at least one of the new books. Honestly, it'll probably take forever to read them, since I look up new words, put them in ANKI, and then re-read chapters. And read a thousand English-language TEOTWAWKI books on the side at the same time. But whenever I'm ready for a new Russian book (in three years maybe, haha), it's going to be a purposeful endeavor. No more hoping for a miracle at the local bookstore or whining about how long the authors have been dead. My new formula: pick the author, find the book online. I will keep an eye out for Russian authors in the future, too, but it's kind of like blind dating- it takes tons of some dates to find someone you like. In the meantime, I'll probably go with translations of authors I already enjoy. Or who knows, maybe we'll move to a Russian-speaking country at some point and I'll just find a local bookstore to live in 🙂
What books do you read in Russian?
How have you found them?
Do you have any book suggestions?