We discovered another fairy tale park. Or maybe it's a Soviet cartoon park? This place is hidden away in a larger park in the city's metallurgical district.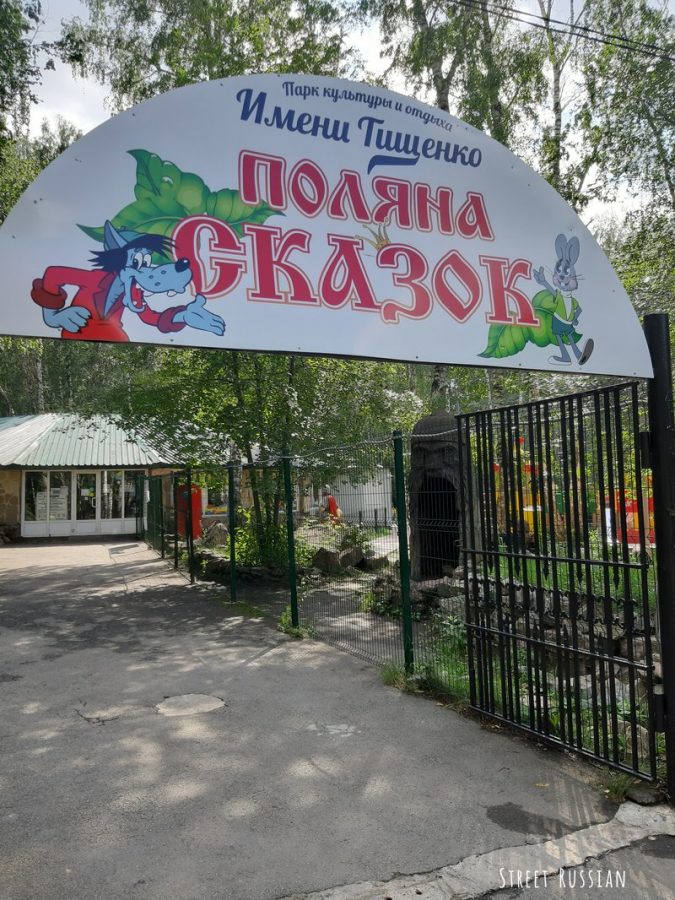 Let's see who lives here…


Ну, погоди!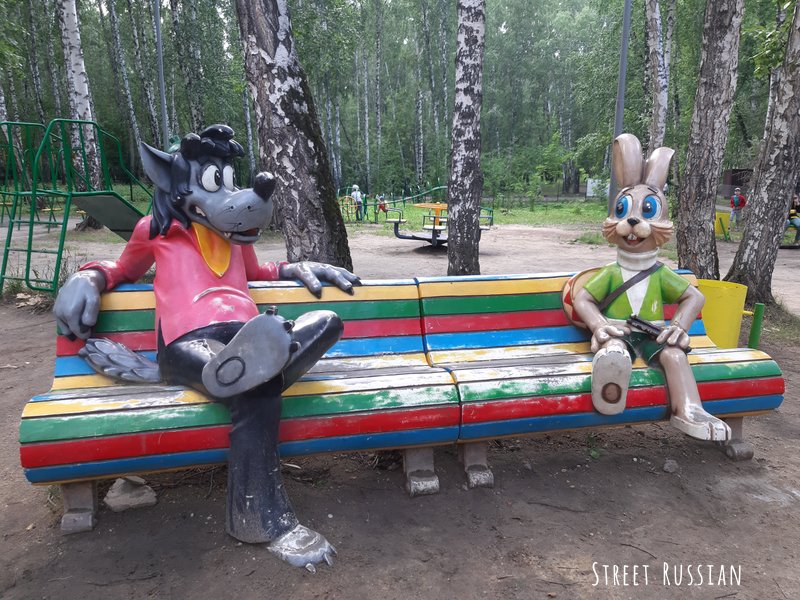 Meet Волк and Заяц, stars of an uber-famous Soviet cartoon that first aired back in 1969. In short, everyone with access to Russian TV watched these cartoons. Each cartoon is pretty short, short enough that my Russian teacher in the US showed them to us during class. The most recent cartoon was released in 2017.
Some articles on the show:
Moscow Times (2012) – Smoking Law Could Hit Classic Cartoons. (Spoiler: Волк has been able to keep his cigarettes in the original episodes.)
Forward (2020) – Why Russia's most popular cartoon is strangely relevant now.
Russian Life (2020) – The reboot of a classic Russian cartoon features some modern updates.


Винни пух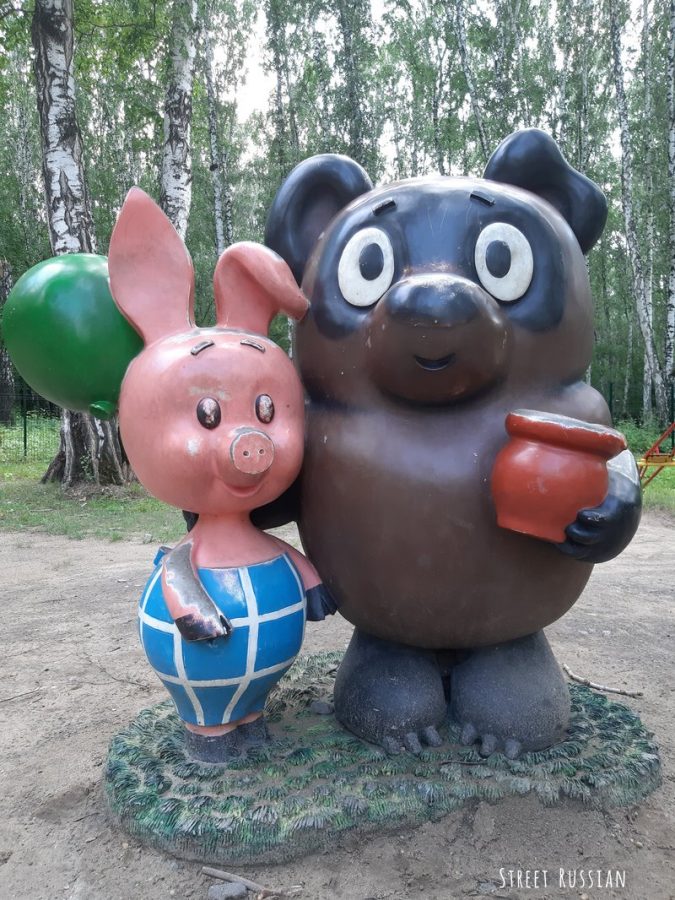 To me, Russian Vinnie is a totally different guy than American Winnie.
Russian Vinnie is scrappy, energetic, decisive. American Winnie is a total space cadet.
Some articles on the show:
Smithsonian Magazine (2014) – Russia Has Its Own Classic Version of an Animated Winnie-the-Pooh.
Jordan Russia Center (2021) – Тhе Story of the Russian "Winnie the Pooh" 1 (Part II is here)


Домовёнок Кузя
I didn't recognize this statue at all… he looks nothing like his creepy animation version! 😂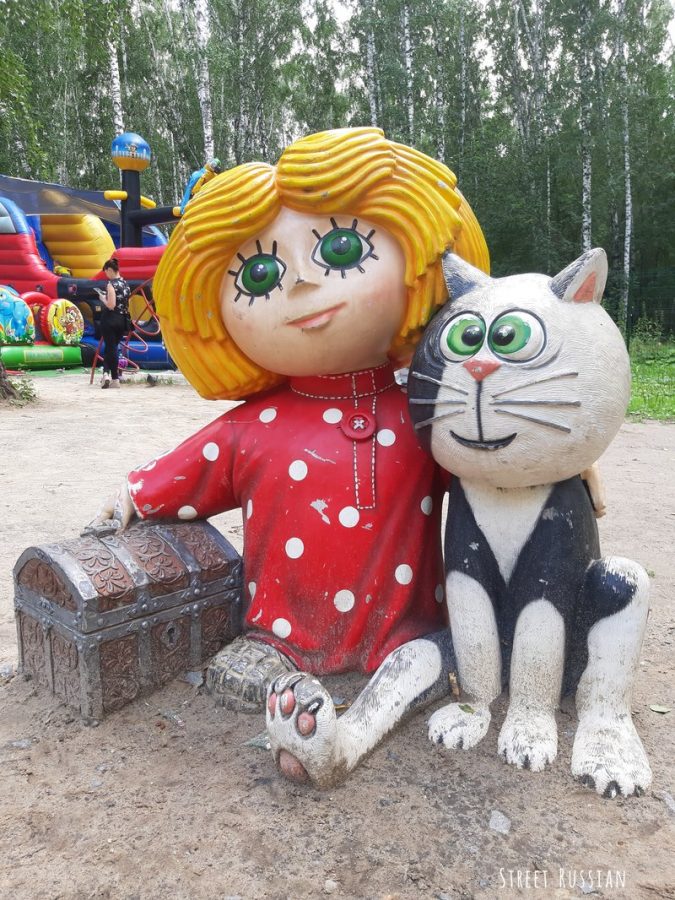 You probably already know about the domovoi, a house spirit. This particular little guy was forced to move from his village home into a новостройка, a change that completely baffled him. Here is his story:


Емеля-дурак
This cartoon I have yet to watch. I saw this exact same statue years ago in a park in Ukraine, where I also thought, "It's time to watch that cartoon"… so it's definitely time to watch this cartoon! Have you seen it yet?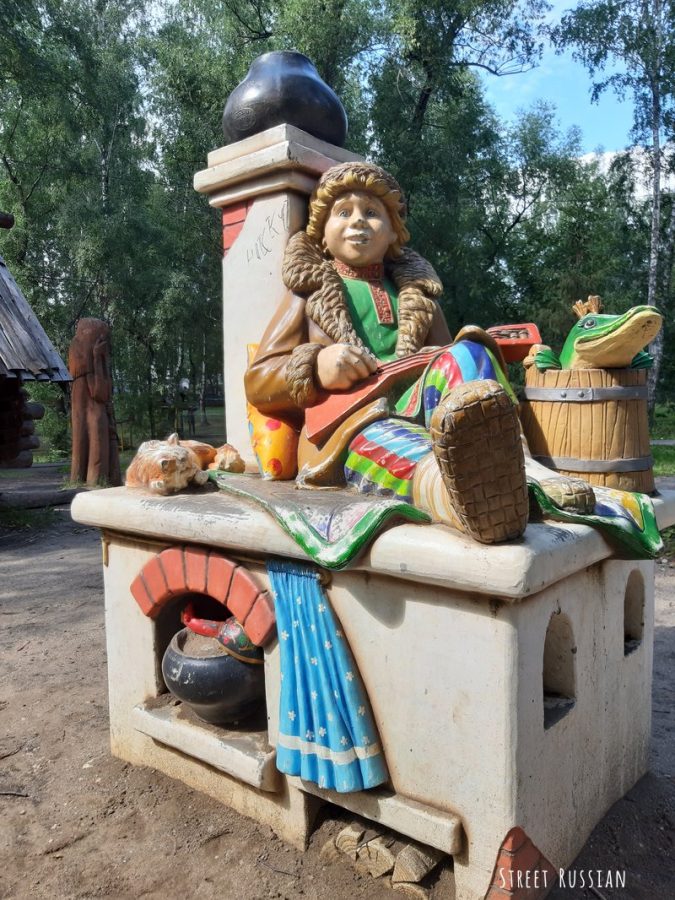 The story is about a guy who spends most of his time lying around in his warm bed (like Oblomov!) atop the stove. One day, he catches a magical fish that offers him wishes with the catchphrase "По щучьему веленью, по моему хотенью".


Птица Говорун (?)
What animal does this look like to you?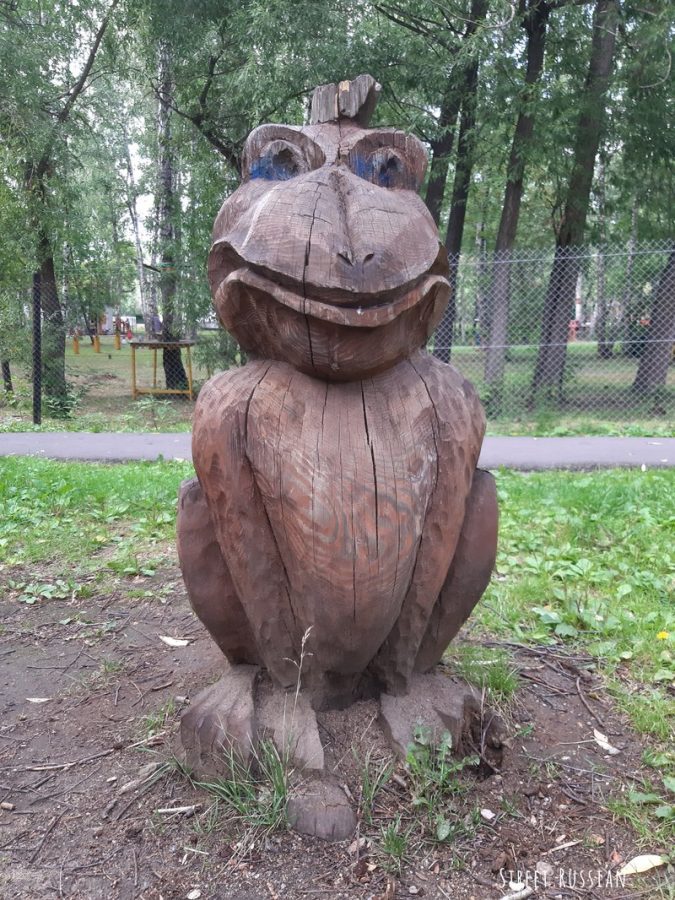 My husband and I couldn't quite agree on this one. He thought it was a bird, specifically Птица Говорун. I guessed frog… but on second examination, it definitely could be a bird warped by time.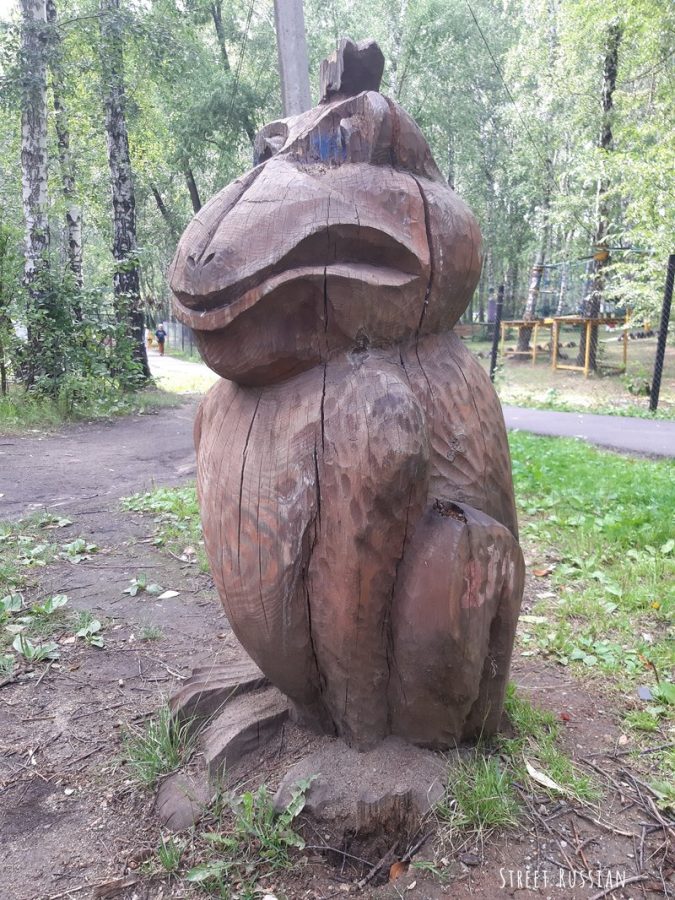 Птица Говорун (which kind of sounds like "talking bird") is a character from a 1981 sci-fi cartoon named Тайна третьей планеты. Do you see a resemblance?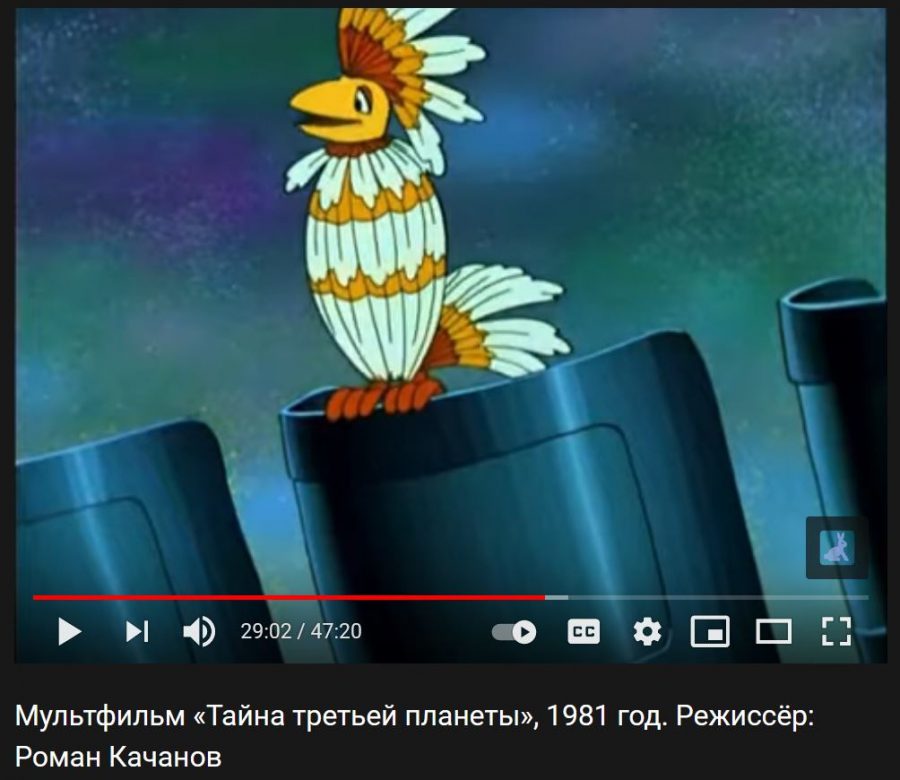 It's a long cartoon but the images are pretty amazing. I would definitely watch this cartoon again!


Три богатыря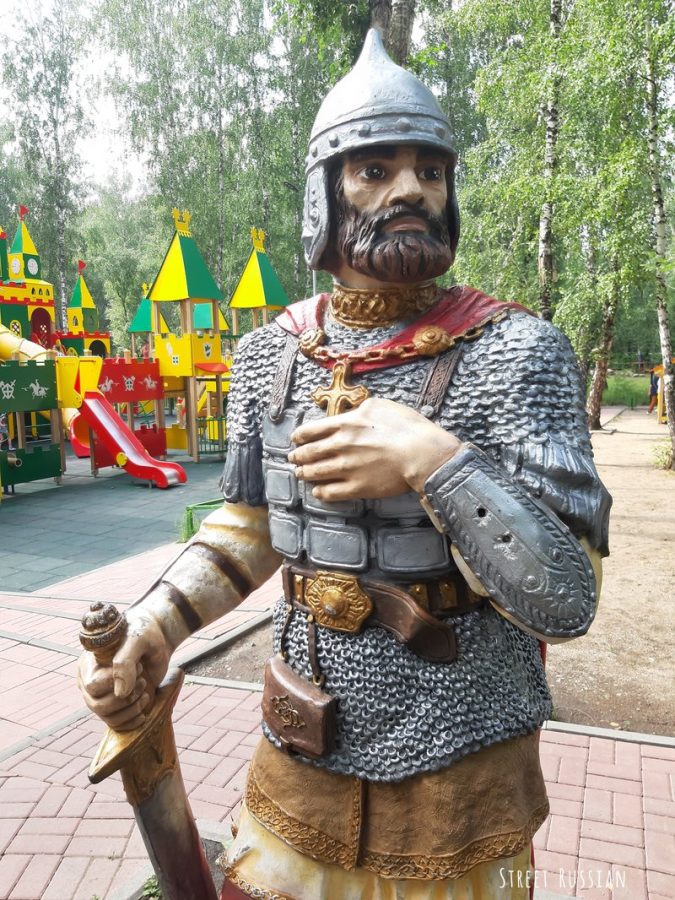 This looks like Илья Муромец from the Soviet version of Три богатыря.


Маша и Медведь
My husband recently told me the real story of Masha and Medved – it's not the modern cartoon version and they aren't exactly best friends!
After Masha wandered into his house, Medved told her: "I'll never let you go. You'll live here in my house, and you'll cook for me." She eventually escaped from him by hiding in a picnic basket, as shown here.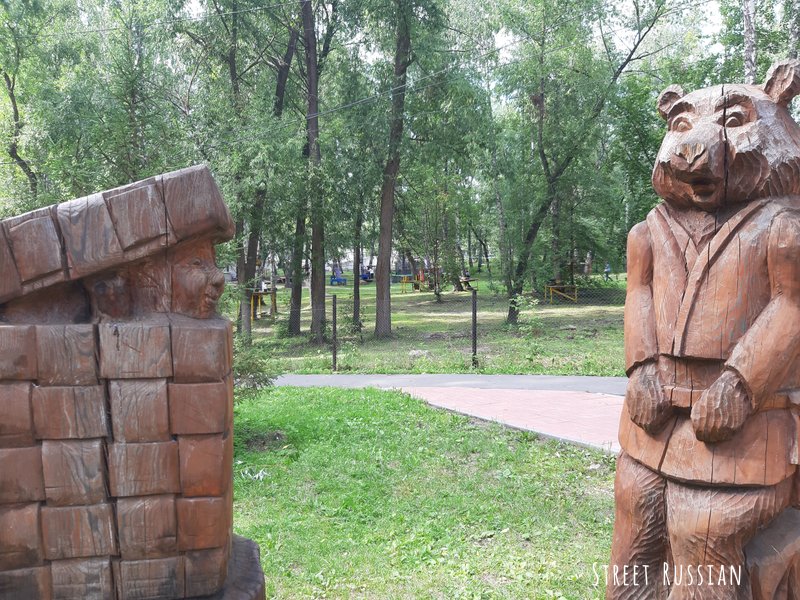 This is the original сказка:


Золотая рыбка
This fairy tale was once told by Pushkin as «Сказка о рыбаке и рыбке».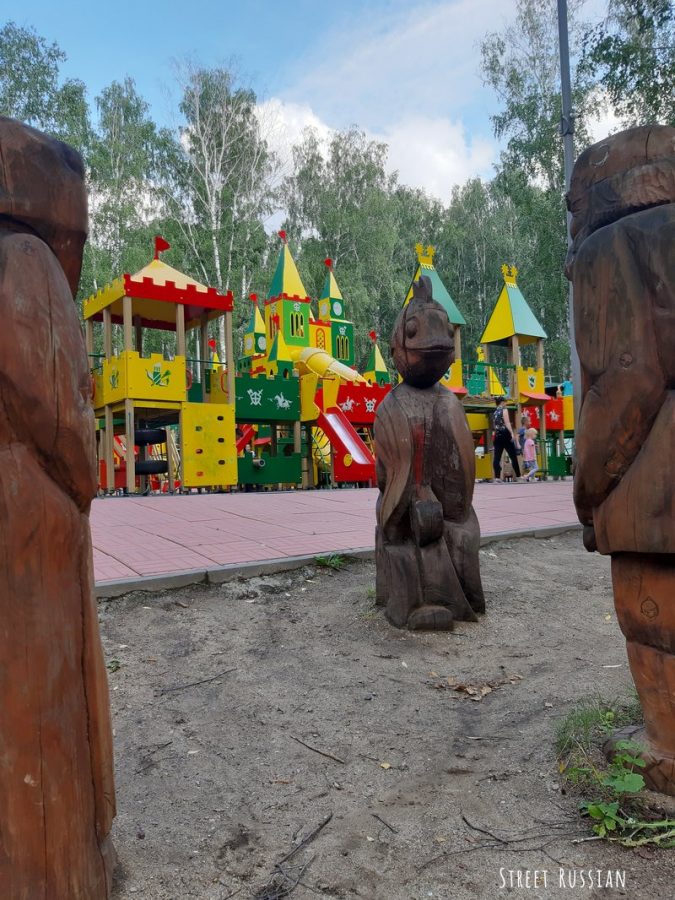 The plot is familiar. An old man and his wife eke out a meager existence. One day, the man catches a magical fish. His wife asks for more and more extravagant things until the couple finally loses everything. Here is the 1950 cartoon version:


Руслан и Людмила
Is this terrifying? Yes.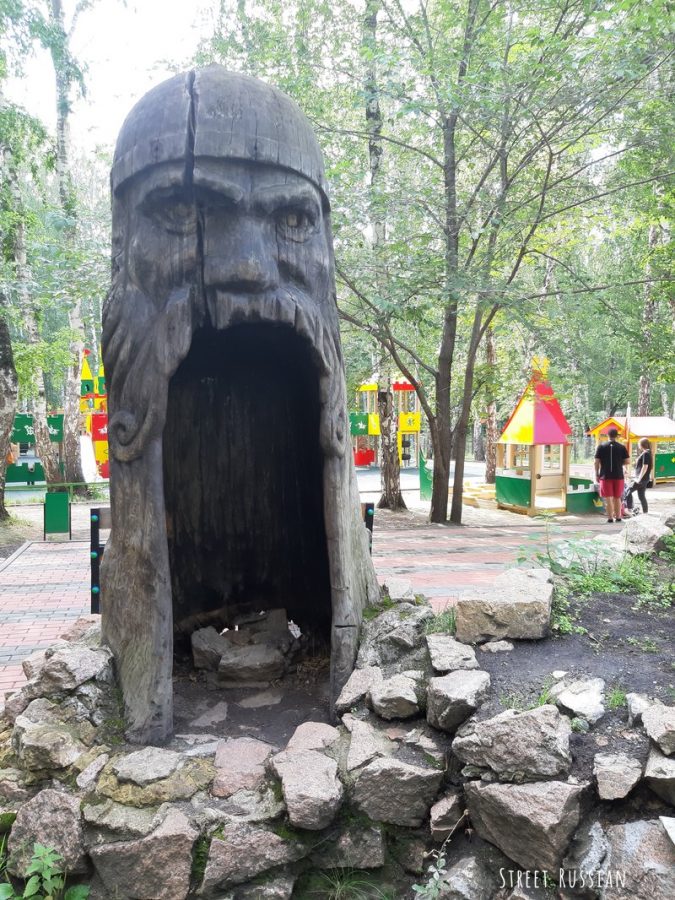 But are you bound to eventually run into one of these guys? Also yes. They're scattered throughout Russia (and Ukraine). Again, thanks to Pushkin. This guy comes from the tale of Руслан и Людмила. I'm not sure he actually has a name, other than Голова (the Head), but he was once a mighty warrior who had been cruelly tricked by his wizard brother.


Баба яга
And finally, we have the grand dame of Slavic witches: Baba Yaga.
Or is it? She usually has a bucket (for flying around in) and here she has a broom. She lives in a hut on chicken feet, but this hut has no such appendages. Is it really her? And why is there a pig nearby?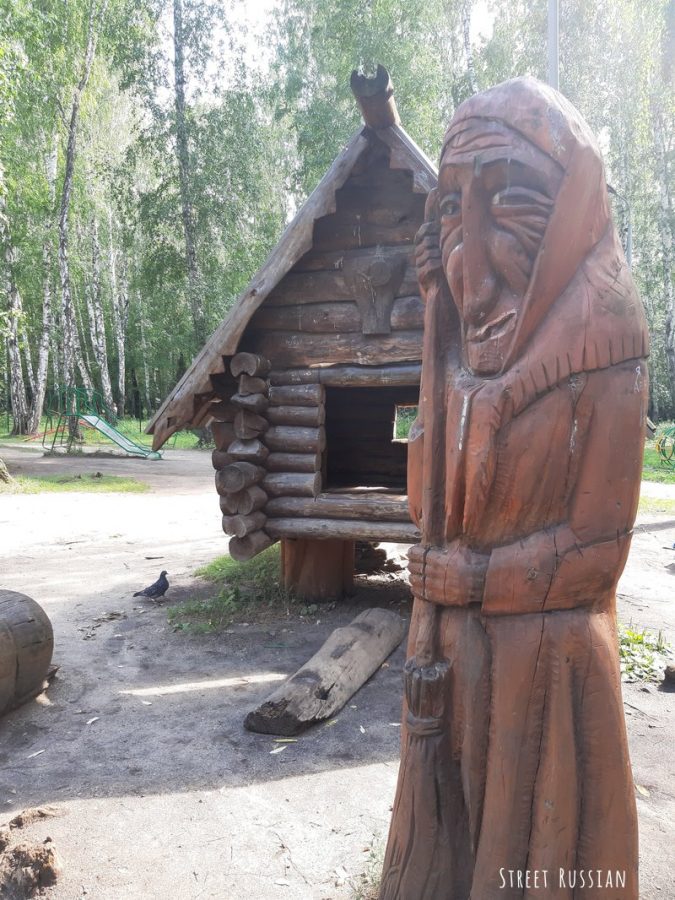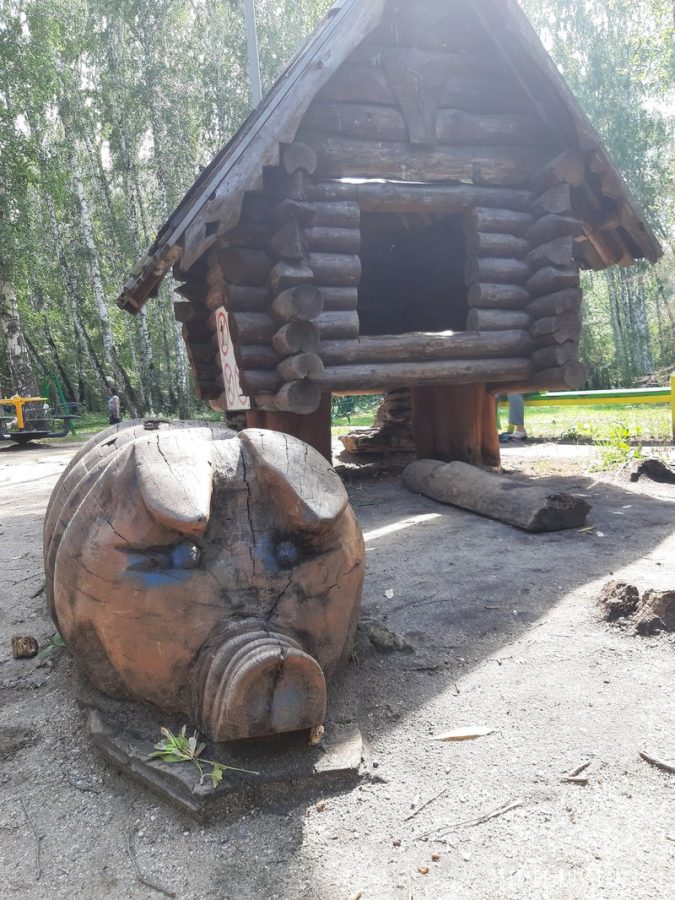 Here's a Baba Yaga cartoon from 1938:
This is a good article about her: Vice (2017) – The Enduring Allure of Baba Yaga, an Ancient Swamp Witch Who Loves to Eat People. Also: Russian Beyond (2019) – How John Wick got Baba Yaga completely wrong.


So, there you have it: Волк and Заяц, Винни пух, Домовёнок Кузя, Емеля-дурак, Птица Говорун, Илья Муромец, Золотая рыбка, Голова, Баба яга… is there anyone else who would fit in well at this park?
Also, if you're into fairy tales and cartoons, here are two more posts you might like:
Mini crash course in Russian fairy tale characters (about another park here in Chelyabinsk)
(The Other) Russian Childhood Cartoons (about what my husband watched as a kid)