It's spring here and everyone seems to be traveling or making travel plans! One friend is headed to Ukraine this summer. I gathered up a bunch of old grivnas to send with her. Don't you love the colors of these banknotes? (By the way, I read that Ukraine is changing things up soon, replacing some of the smaller banknotes with coins.)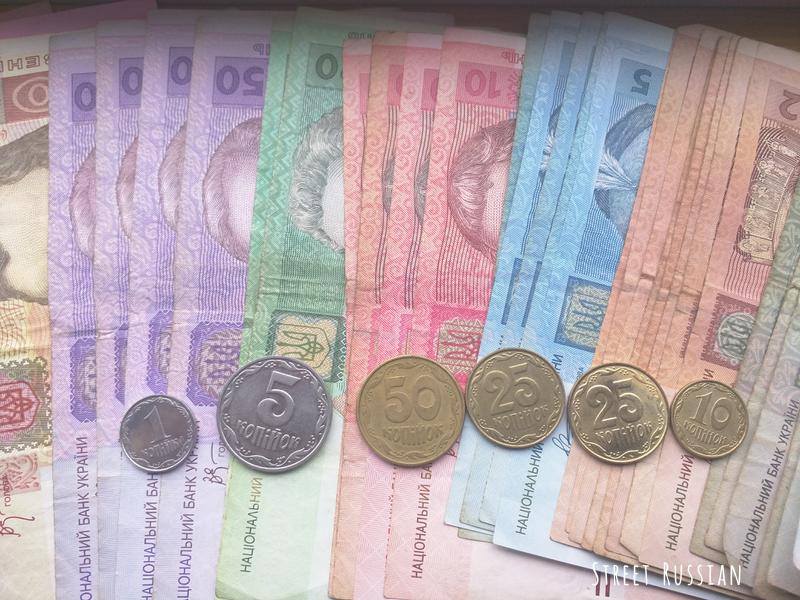 Another friend sent this picture from a store in Jerusalem… matryoshka cans, I'm in love. <3 <3 <3 (Reminder: please send me any cute matryoshka pictures you find! They totally make my day!)
And a penpal sent some fun mail (from the ять post)-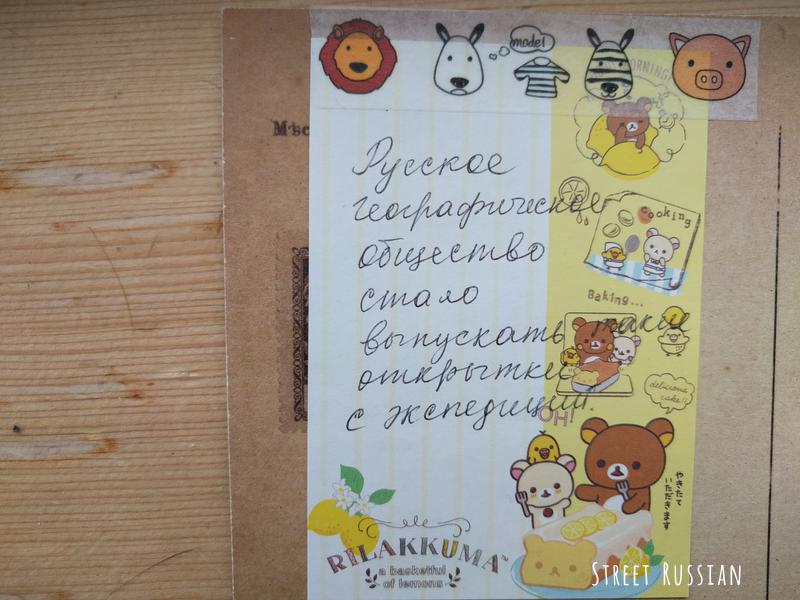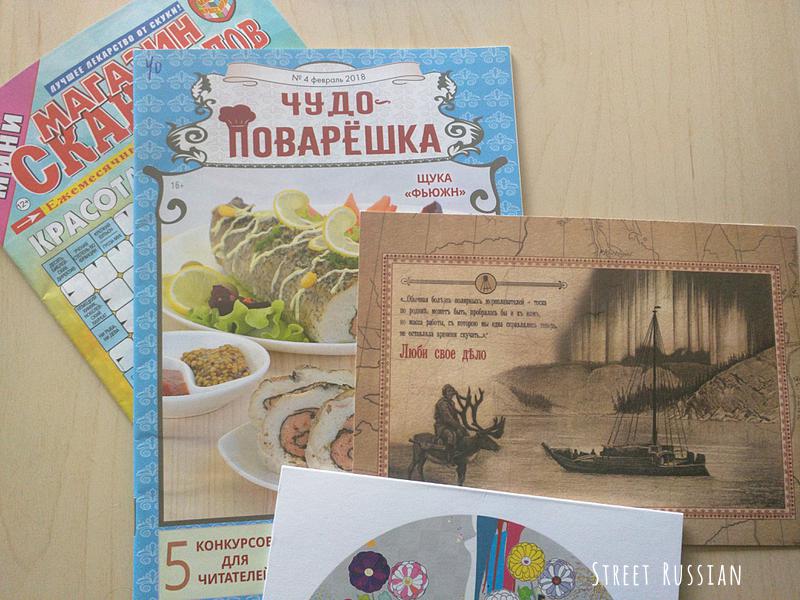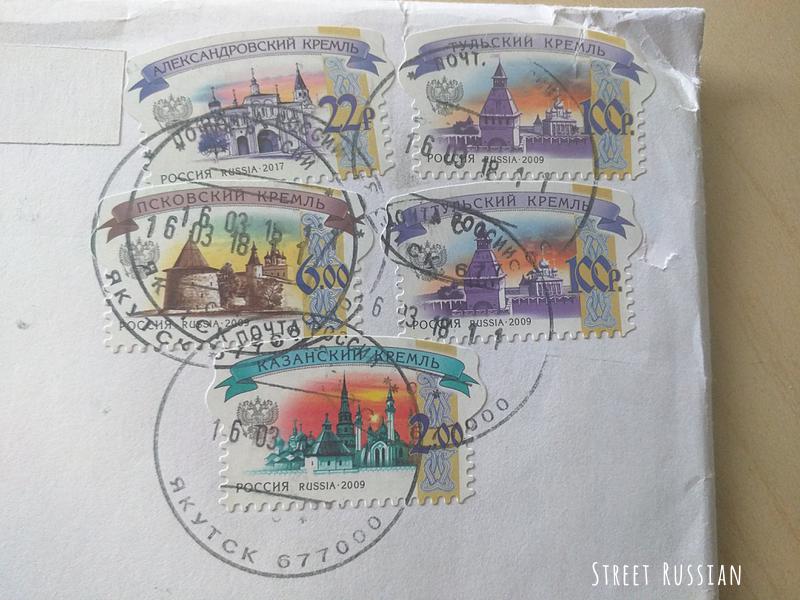 On a random note, I saw this interesting display at the library-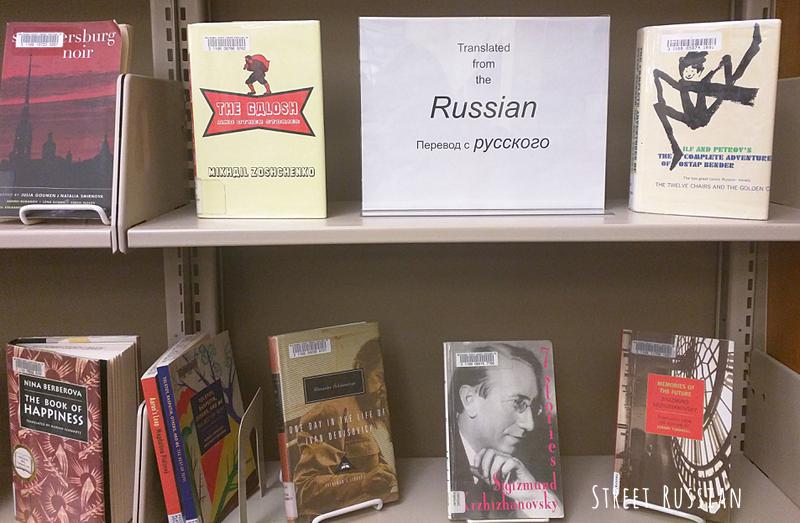 But I'm not checking out anything new until I make some SERIOUS progress on this stack of workbooks-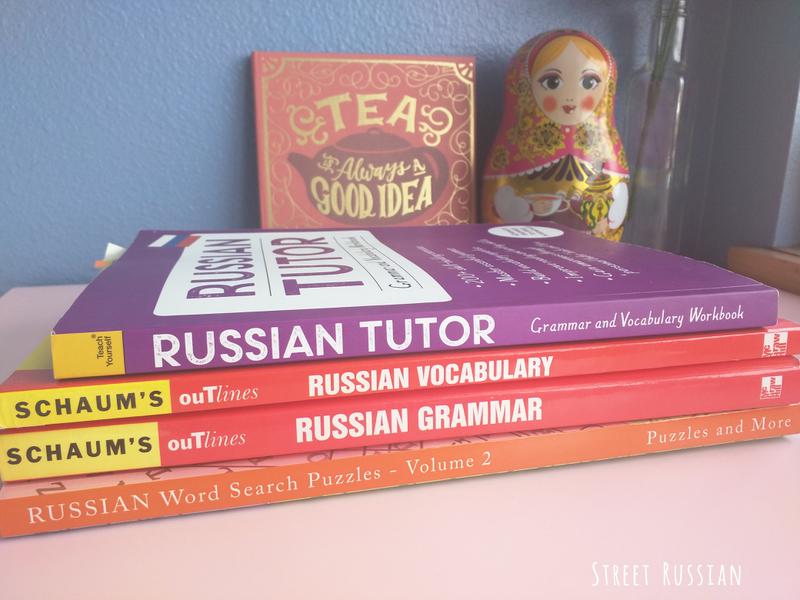 I did the first 10 chapters in Russian Tutor this month + 13 word searches. (And finished the 40-hour online component of my TESOL course, ура! Fortunately it took less than 40 hours to get through.)
Do you also have a pile of Russian workbooks stashed away somewhere? Please tell me I'm not the only one to buy way too many language workbooks. 😉
On to the roundup!
Что нового (What's new)
Viral internet videos in Russia. These crack me up! 🙂
Have you ever tried the "shadowing" technique to improve your language skills?
Thoughts on learning Russian from an American in Siberia.
What's good about Russia? from English teachers living in Russia.
Tremendously useful or hideously unsexy…? You decide! A Pre-Reform Russian Orthography Cheat Sheet.
The National Wine Agency of Georgia held an event in NYC last month. Here's what one blogger discovered.
A massive online collection of Russian phrases. Starts normal and then ventures into stuff like никто не дал им права шпионить за мной (no one gave them the right to spy on me).
Soooooo addicting: http://youknowyouarerussianwhen.tumblr.com/. Someone please stop me- I've gone through 17 pages already.
Last year, four ATVs (that can float!) spent months traveling overland from Archangelsk to Petropavlovsk-Kamchatskiy. The expedition videos are amazing!!
Did you know the ATA Slavic Languages Division now has a podcast?
Грандиозный финал (The grand finale)
I've been listening to this song non-stop lately.
Non. Stop.
Even when I'm not actively listening to it on YouTube, the song echoes through my brain. Look at these lyrics-
В левой руке сникерс
в правой руке марс
Мой пиар-менеждер
Карл Маркс
A Snickers in my left hand
a Mars in my right hand
My PR manager
is Karl Marx
I'll be falling asleep and then all of the sudden I'll hear В левой руке сникерс, в правой руке…! It's impossible not to get those lyrics stuck in your head!
What have you been doing lately to improve your Russian? What are your study plans for May?
Leave me a comment below! ?