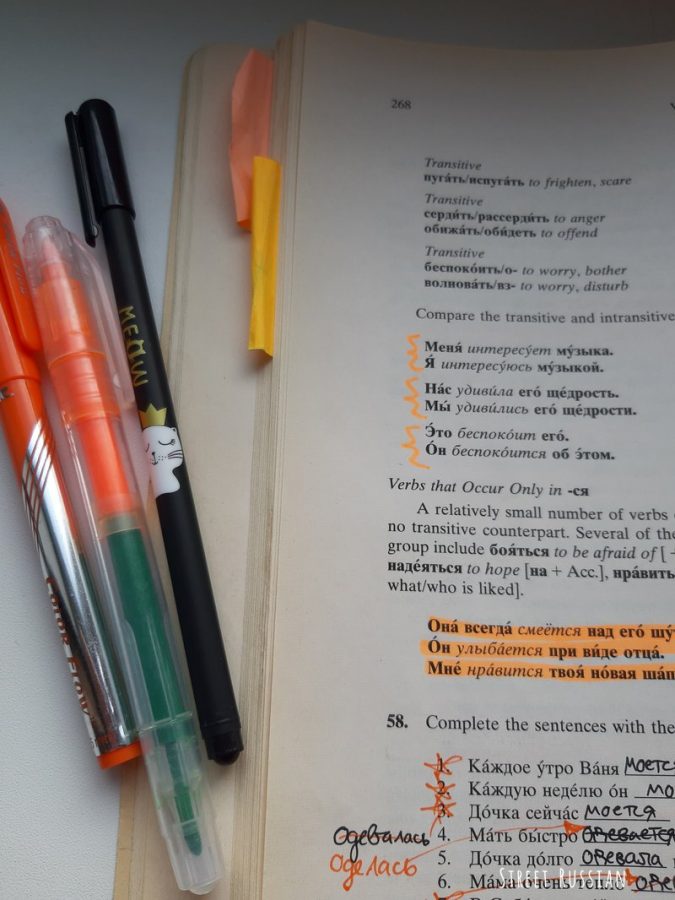 The final chapter of Schaum's Russian Grammar is СДЕЛАНО! 😁 79 pages of Russian verbs, done!


Random things I learned:


Russian has so many verb conjugations! More than I could have imagined + lots of verbs that take some remembering, like махать (to wave) = машу, машешь,… машут. Or stems in ей, like Что ты робеешь? (Why are you shy?).
***********************
Russian verbs are divided into PRODUCTIVE and NON-PRODUCTIVE. Non-productive classes = the old stuff. All new verbs coming into Russian get shuffled into the productive classes. (Апгрейдить anyone?)
***********************
Again, Schaum's Grammar is definitely a Good, Thorough Book but… sometimes the explanations get a bit technical for this level of language study: obstruent stems, transitivity, "action emanating from the Agent to the Patient (instead of simply "the passive voice").
On the other hand, some of the terms are actually pretty useful for further Google research. For example, did you know that suppletion = those mix-match verb pairs like говорить/сказать or искать/найти?
***********************
There is a group of "color" verbs: белеть, голубеть, желтеть, краснеть.
***********************
"Ты взял мою книгу?" "Нет, я не брал." Oh whyyyyyyy do these verbs have to be different? I understand how people learning English feel when they ask about the difference between "Did you do your homework?" and "Have you done your homework?"
***********************
The concept of annulled action is something I'm still getting used to. I found this little table really useful: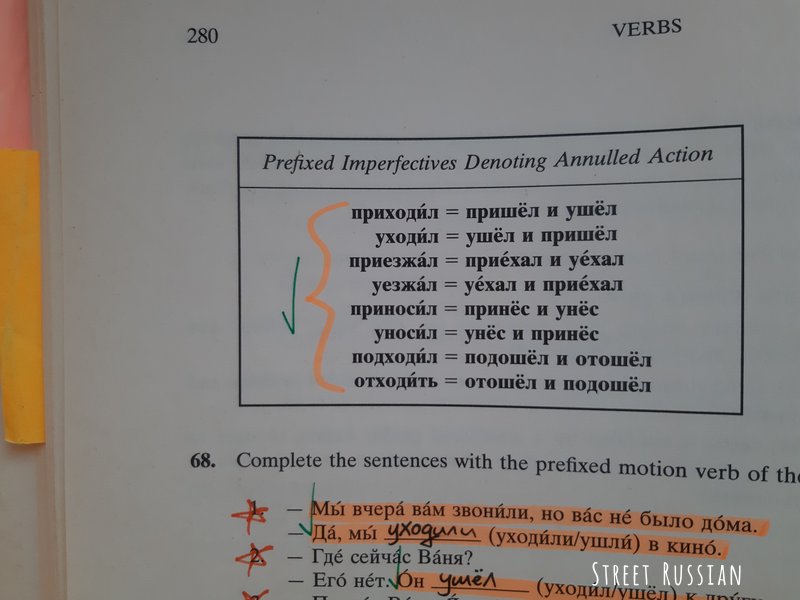 ***********************
Some perfective verbs with по- and за- indicate the action is just beginning. For example:
полюбить = to fall in love (start loving)
пойти = to start walking
заинтересоваться = to become interested
заболеть = to fall ill
засмеяться = to start laughing
***********************
There's an excellent review here of давай. I realized that up until now, I've only been using the давай + perfective first-person plural form of this, like Давай подумаем об этом. But turns out:
the opposite of Давай

подумаем

об этом is slightly different verb-wise: Нет, давай

не будем думать

об этом.
you can also use давай + imperfective for continuous/repeated actions:

Давай

говорить

серьезно = let's talk seriously
Давай

говорить

прямо = let's be frank
Давай

говорить

очень тихо = let's talk quietly
Давай

говорить

по делу = let's talk business
Compare the perfective version: давай

поговорим 

об этом завтра, когда ты протрезвеешь = let's talk about this tomorrow when you're sober
to suggest doing something else instead, use лучше:

Давай не будем смотреть этот фильм в кино. Давай

лучше

дома посмотрим.
***********************
Some of the topics in this chapter: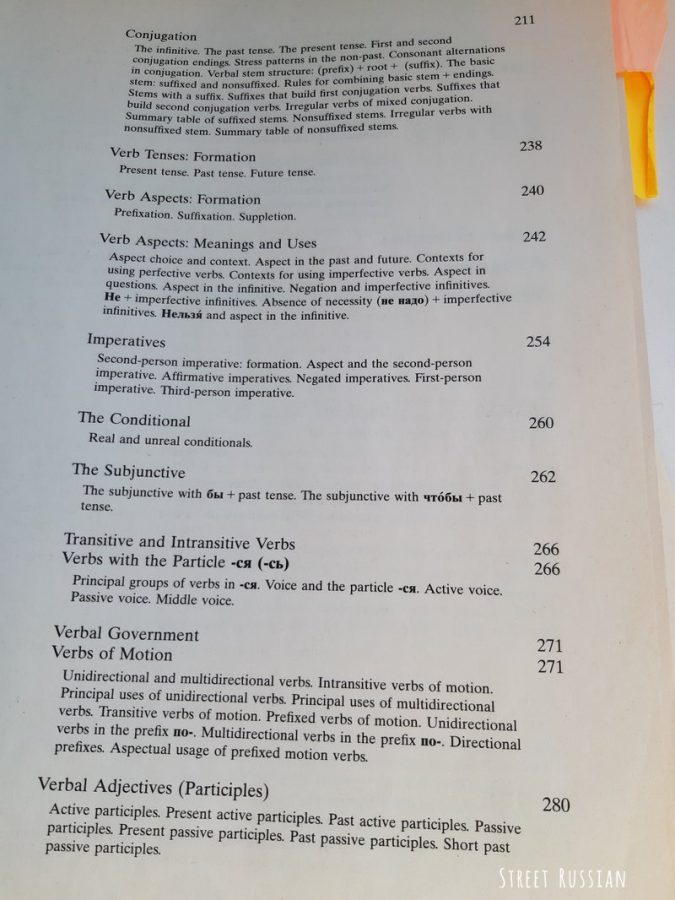 I can't believe I'm finally done with this book! Although Schaum's Russian Vocab took just one spring to complete, this grammar textbook took 5 years. And to be honest, I'm not quite done with it. I've been creating lots and lots of notes in ANKI – hundreds of entries!- and now I need to start reviewing them. I learned a lot of helpful things from this book… now the task is to remember them all.😆
If you're curious about this other chapters, here's a table of contents for you:
Chapter 1. Schaum's Russian Grammar: The Sounds of Russian
Chapter 2. Schaum's Russian Grammar: Nouns
Chapter 3. Schaum's Russian Grammar: Prepositions
Chapter 4. Schaum's Russian Grammar: Pronouns
Chapter 5. Schaum's Russian Grammar: Adjectives and Adverbs
Chapter 6. Schaum's Russian Grammar: Numbers, Dates, and Time
Chapter 7: Schaum's Russian Grammar: Verbs (this post)
Chapter 8. Schaum's Russian Grammar: Conjunctions


Have you used this series to study Russian? Or maybe there's another textbook you can recommend? Let me know in the comments! 🙂