Shapka, Babushka, Kefir.
Ah, this book. I've wanted to read it since 2017. Back then, my Russian wasn't good enough to get through it and I didn't know it was also published in English. Now here we are, years later, and I can finally enjoy it! But…
See these red letters on the cover?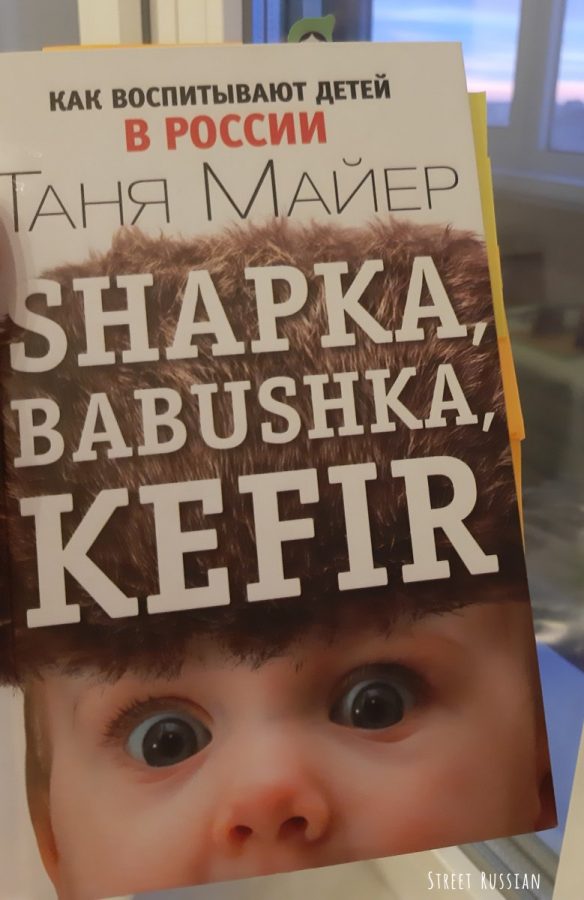 В России? More like in exclusive Moscow domiciles. Or not even Moscow. How about Spanish villas, Miami hospitals, and summer resorts in Vienna? Here's a quote from one Moscow mom on why she shipped her son off to boarding school in England:
"Моему старшему двенадцать, и он уже остро ощущает недостаток свободы в нашей московской жизни. Мы живем в доме за высоким забором, и я не могу просто отпустить его "гулять", потому что все знают, из какого он дома. Если я пошлю его в школу-пансионат в Англию, он обретет там независимость, так необходимую тинейджеру."

page 157
Keep in mind the "все знают, из какого он дома" bit. It's a good clue about what level of society you'll encounter in the book. Definitely not your ordinary citizens. Now back to the book…
On one hand, WE NEED MORE BOOKS LIKE THIS. Everyone is obsessing about how French moms feed their kids or how Japanese women organize their homes but Russian mothers… they do it ALL. They excel. They are simultaneously encyclopedic about childrearing yet carefree about motherhood. They somehow arrange all of life's awkward pieces into a perfect workflow: learning, working, cooking, exercise, vacation, romance, cleaning. Reading this book helped decode some of the magic (key takeaway: most moms get TONS of help from family) but I'm still in awe even after peeking behind the curtain.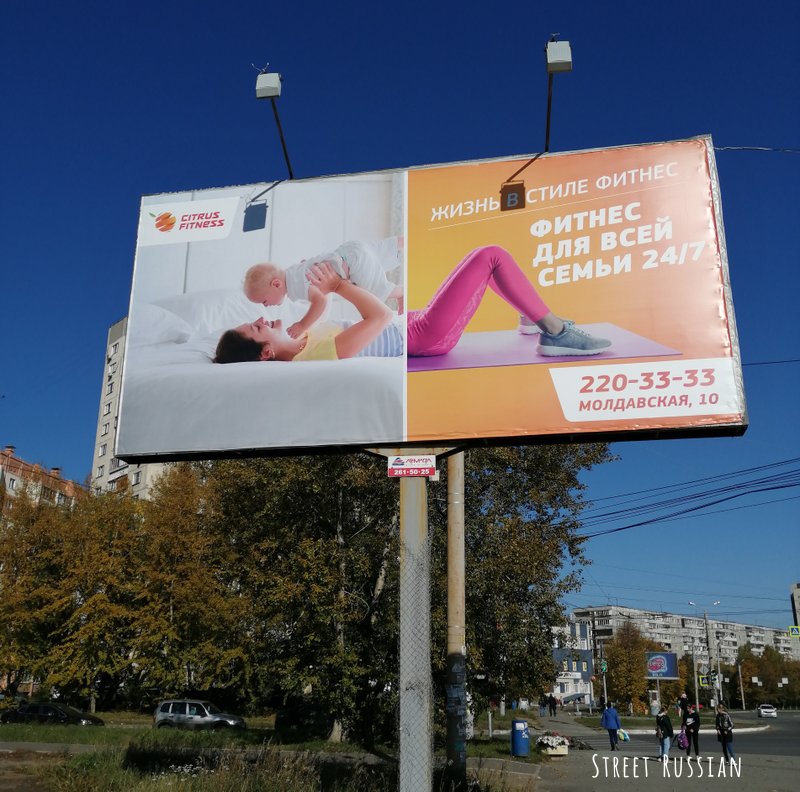 But I'm not sure I'm in awe from this book in particular. Author Tanja Maier both excused and belittled American women at the same time. One minute she's writing that of course it's going to be harder to take care of your kids when you barely even have maternity leave… but then she goes on to constantly disparage herself for being American.
Let's be clear: motherhood in Russia is a completely different business than it is in the United States.
Imagine getting government money when you give birth instead of getting a hospital bill. (This is called материнский капитал and yes, it does have some strings attached. But at least it's not a $10k hospital bill.)
Imagine getting the standard 3-year-long maternity leave.
Imagine having grandparents that are active (not occasional) caregivers.
Imagine being on doctor's orders to take your new baby out for fresh air and a walk twice daily.
Imagine a powerful parenting instinct that compels you take your children to the seaside at least once a year for the sea breeze and sunshine.
Imagine not having to pay an arm and a leg for daycare.
I was excited to read about pregnancy superstitions, giving birth in Russia, all that good stuff… but nope. Let's start right with the childbirth: the author's friends were not even giving birth in Russia. 🙄 The US, France, Spain, you name it… they would go anywhere BUT Russia! Russian hospitals were mentioned with a shudder, like some kind of leftover Soviet curse.
I mean, sure, perhaps women prefer not to give birth in an average public hospital in Russia but let's be realistic: most Russian women do give birth in these hospitals. How disappointing that the book went on and on about European hospitals and the climate in Miami. In fact, all her friends seem to live in a world of live-in Filipino nannies and imported Japanese diapers.
Who are these women????? Her friend Elena left a ten-month baby with a nanny for two weeks and flew to the Maldives for a girl's trip. Her friend Alina was living in Indonesia, flew to Florida to give birth, then moved with husband and baby to Costa Rica. Olga, deputy director in her husband's company, went back to work right away and had her driver bring the baby over for breastfeeding sessions. Not to be outdone, Alexandra- a financial director who also went back to work while breastfeeding- rented a second apartment in St. Petersburg so that the nanny could bring the baby over throughout the workday. The author herself had two nannies in Moscow. Er, until she fired the one she didn't like.
One of the book's biggest claims is that Russian women easily share childcare responsibilities, which allows them to be less stressed and harried than women in the West. I do agree with Mrs. Maier on that.
Русские мамы привыкли делить тяготы воспитания со всей семьей, с нянями, с бабушками, с детскими садами, с папами… В современной Америке многие мамы воспитывают детей в полной изоляции пригородов, и мне кажется, что они просто помешаны на контроле, потому что чувствуют, что вся эта огромная ответственность лежит только на них.

page 202
У русских же мам обычно есть кто-то, на кого они могут опереться, и они не сходять с ума от того, что воспитывают детей совершенно одни.

page 202 again
Even if grandparents live down the street, my American mom friends are often alone in raising their children. And while Americans do employ babysitters, it's often with a feeling of guilt. Maybe not so much in Russia? But the book skips over babysitters and goes right to the luxury version:
Огромную роль в воспитании ребенка играют в России и няни.

page 93
То есть на неделе мамам помогают няни, а на выходных — папы.

page 225
Is this true? Are nannies really a thing outside of Moscow?
Pro-tip from page 101: If you have lots of space at home, hire a nanny "с проживанием". But your nanny will likely have her Sundays off so you'll need to organize a family outing that day… like reserving a table beforehand for Sunday brunch at a popular Moscow restaurant with kid's playrooms and activity leaders.
What's that? You caught me rolling my eyes again? 🙄 Sorry. But if it's not the nanny, it's this: The author asks her friend Svetlana, living in Vienna, if she's worried about her children forgetting Russian. No. No? How is that?
"Очень просто. Я наняла гувернантку. Полгода она проводит в Санкт-Петербург, где работает учительницей, а полгода здесь."

page 167
Moving on…
There's a lot of talk about guilt and intuition in this book, mainly that Russian moms have intuition and American moms (especially the author) have the guilt.
Русские мамы не тонут в чувстые вины. Не проводят целые вечера за чтением книг о том, как воспитывать детей. Они постигают это на более интуитивном уровне.

page 203
Российские мамы доверяют своему (и бабушкиному!) инстинкту. А мы на Западе, похоже, забыли, каково это — полагаться на интуицию, и вместо этого все пытаемся найти настояшего знатока младенцев, прочесть правильную книгу, прослушать курс…

page 76
Олеся – корпоративный юрист… написала мне: "Я готовлю йогурт сама. Я ведь даже примерно не представлю, что кладут в йогурты, которые продаются в супермаркетах."…

Я спросила: "Неужели ребенок в три года готов есть такой вот несладкий йогурт без вкусовых добавок?"

"Ну конечно," сказала Ольга, "другого она и не пробавала."

У меня просто сердце оборвалось, когда я подумала о тонне покупных йогуртов, которые съели мои дети за годы… По сравнению с Олесей я была монстром. Я осторожно спросила, пробовала ли Олесина трехлетняя дочь шоколод.

"Шоколад? Не думаю."

page 191
Никогда не забуду, как однажды теплым летним вечером я прогуливалась с коляской по центру Москвы и столкнулась с коллегой по работе. Дима был молод, моден, ездил на дорогой машине и любил обедать в ресторанах. Он посмотрел на меня, на младенца и вместо поздравлений строго спросил: «Почему ребенок не на даче? Как ты можешь держать его в городе в такую погоду?» Я что-то промямлила и рванула домой, умирая от чувства вины.

page 206
Let's talk for a minute about the дача situation. Dachas are awesome, right? And they are rightly mentioned as such in the book. In real life they can run the gamut from simple (my best friend in Ukraine has a lovely dacha but no electricity or running water) to luxurious (my oligarch-y student would close his dacha up for the winter but give the housekeeper a key to come in and dust). In the book, the dachas are definitely on the fancier side:
Теперь она (дача) может оказаться и в Черногории, и в Болгарии, и в Испании.

page 207
Более того, семьи, где нет бабушек и дач, готовы снимать дачу и платить няне, чтобы она там сидела с детьми.

also page 207
The nanny strikes again! But yes, Tanja Maier is completely right about how dedicated Russian families are about children breathing in fresh air and spending time outside the city.
В России считается, что ребенку менее важно каждый день видеть маму, чем дышать свежим воздухом и играть на улице с другими детьми.

page 207
Whether it's your own dacha, a rented dacha, or packing the kids off to a детский лагерь, Russian kids spend most of their summer in nature.
Again, about vacation time-
When marveling at how one of her friends is about to spend a month in Spain with child, perhaps husband, and possibly grandma, the author wonders how much the hotel stay will cost. Wait, a hotel? Her friend:
"Нет, в доме! Родственники нам дают в нем пожить! Отличное будет путешествие!"
The author- and I can't tell if she's being sarcastic or in serious admiration- writes:
Ну сколько в Америке есть мам, которым родственники могут вот так легко дать домик на испанском побережье пожить, и пап, которые могут на месяц отпроситься с работы?

page 214
But not all dads can get away from work for vacation time. In this case, they get left behind while mom and baby travel abroad. What about cheating, you might ask? (Or maybe you didn't, but she spends several pages on the topic and only one mom admits that a month apart isn't so great for a marriage.) In general:
Русские мамы убедили меня, что месяц отсутствия не обязательно введет мужа в искушение.

page 219
(But on page 93, любая российская мама объяснит why your nanny should be не очень красивая… 😉)
Anyway, the chapter on where mothers summer and winter themselves has this disclaimer: these women who live six months abroad because "в России лежит снег и держатся темпуратура ниже нуля" (p 221) are "не супербогатые мамы." Okay, good to know. I would not believe this at all except women like Лилия Бойко are backing this assertion up on YouTube.
Dads in this book? Ah-mazing creatures! Chapter 11: The Dads consisted of nine pages (!) of women generously complimenting their husbands on being uber-incredible, unparalleled fathers. I think this is awesome, yes. But these nine pages came after a long intro about how Russian women never complain about their husbands (catch more flies with honey and whatnot). And about how if you see a Russian dad at a playground it's because he chose to be there, never because his wife nagged him to take the child outside. American women, on the other hand, are portrayed as cutting dads out of the picture and hogging the kids.
There was only one women who said anything that wasn't totally 100,000% positive about her husband… "но он может и расердиться, если устал". I'm sure the mom didn't mean it in this way but it reminded me of a huge topic that this book missed: domestic violence.
Another topic that was skipped: adoption. I don't know anything about adoptions within Russia but I did read this paragraph recently in a book called Putin Country: A Journey into the Real Russia:
"Traditionally, Russians only adopted a child if they could pass off the newborn as their own. A woman would often pretend to be pregnant in order to mask an adoption. And as it was in the West for so many years, adopted children were rarely told about their start in life. In Russia, this meant that any infant too old "to pass" was doomed to a state orphanage." It would have been interesting to hear what Mrs. Maier's friends thought about modern adoptions.


My notes on this book were massive. There was so much to think about. This is what the book looked like when I was just halfway through it.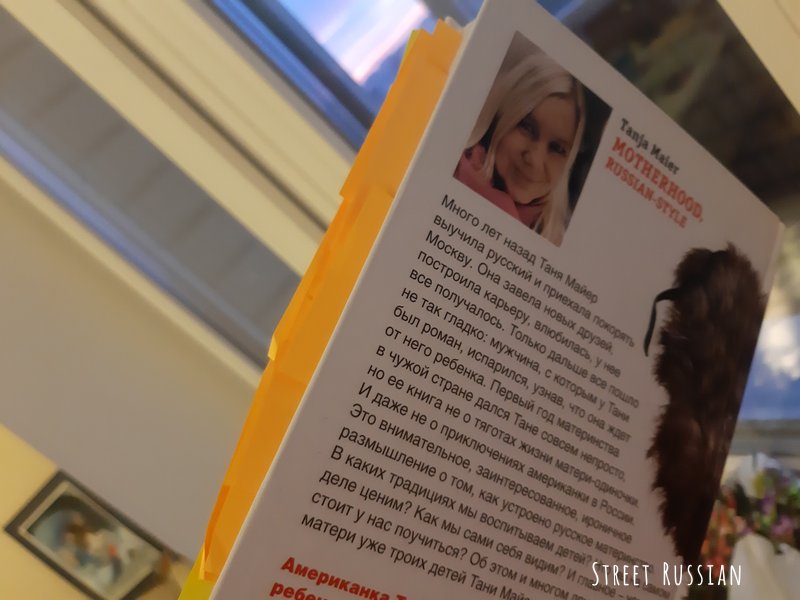 Part of why I wanted to read this book for so many years is because I really want to be a mom. That's probably how I ended up reacting so strongly to the info and stories in the book. Woes of the wealthy aside, there were a lot of interesting observations…


What is true:
It's true Russian women are often very secretive about their pregnancies. No big flashy gender reveals, absolutely no baby showers, no photo shoots, no baby "sprinkles". Sometimes I don't even know a friend is (was) pregnant until they message me with a picture of a baby's little hand!
Шапка — это святое.

page 67
Yes!!!!! Even on the warmest days in spring and fall, kids are wearing their hats. Moms say, "Надень шапку!" probably more than anything else because it's important to spend time outside every single day. Fresh air is considered sacrosanct, especially for young babies and new moms. No sitting at home!


What I learned (according to this book):
Russian women don't go for elective c-sections.
Doctors in Russia DO NOT believe in baby weight or eating for two. A woman should not gain an excessive amount of weight during pregnancy.
Maternity leave starts at 32 weeks. Months 8 & 9 are considered important chances to rest and prepare for baby.
What to do if you have both a newborn and older child at home? The Russian thing is to spend time bonding with your little one and let grandma/the nanny take care of the older kid.
Baby massage can drastically help a baby hit (physical) developmental milestones.


What seemed over-the-top:
New Russian moms are totally cool with the midnight wakeup calls and never complain about the exhaustion. In fact, none of the author's friends ever complained about their pregnancies!
Russian moms never judge the way other moms are raising their children. NEVER.
Russian moms are ready to take the high road when it comes to getting along with their mom-in-law…
Российские мамы невероятно разумно подходят к этому вопросу — ради детей можно и попридержать свои эмоции.

page 90
Is this actually true? Because do you know what happens if you do a Google search for "моя свекровь + помогите"?
A couple more idealized quotes about motherhood:
Русские как-то интуитивно понимают, что материнство — это прекрасно, но навсегда, и готовы приспосабливаться к новой реальности.

page 60
В России родительство – это задача на всю жизнь, а не до восемнадцати.

page 201
The only time a hint of criticism popped up was when it came to anti-vaxxer mothers, of which the author believed there were too many in her circles.


Please take everything I wrote about this particular book with a grain of salt. It was the first such book I've read in Russian so maybe I took some things too literally? If there was any sarcasm in the book, it surely flew right over my head. My Russian is currently at the state-the-facts-please level.
Now that I'm done, my neighbor (mid-thirties, an Italian translator, married with a 6-year-old daughter, no vacay home in Spain) is going to read it. I'm excited to hear her reaction: what's true, what she learned, what's over the top. You'll hear a little more about this book from me in a later post, since I interviewed several people based on Глава 6: Школьная жизнь.


Although it has been 6 months since my Q1 update, that's it for books in/about Russia. Just 3 books. (Here are the other 2.) There are still plenty more relevant e-books on my Kindle and a handful of Russian books on my bookshelf… and I may have gotten a few new books since that post. 🙈
In this final quarter of the year, I plan to:
finish Schaum's Grammar (down to the final chapter!)
finish Dirty Russian
read Orwell and the Refugees
finish reading Dostoevsky's White Nights & Other Stories
read Как перестать учить иностранный язык и начать на нем жить and Лучше каждый день
What are you reading these days? Are there any books you want to finish before the end of the year?