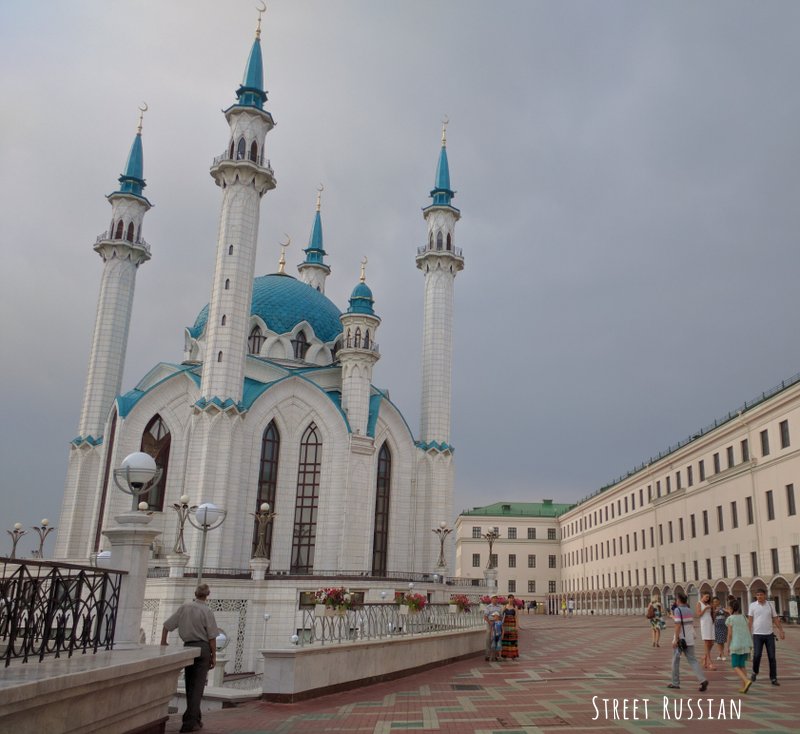 Here it is, the word that makes everyone learning Russian tremble in fear…
Достопримечательности.
It takes a while to get the hang of this word, doesn't it? How long did it take you? I had to break it down into its tiniest pieces.
Дос.
То.
При.
Ме.
Ча.
Тель.
Нос.
Ти.
Or maybe you think you can simply avoid the word forever, but then you get into a conversation about sightseeing and there it is.
Достопримечательности.
The landmarks, the tourist attractions, the can't-miss sights of a city.
Топ 10 достопримечательности Москвы!
15 лучших достопримечательностей Киева!
That's the thing about this word: eventually you'll need to use it. As a language student, at some point your reading list or travels will force you to memorize the word. And pronounce it correctly. 😉 But your reward will be worth it!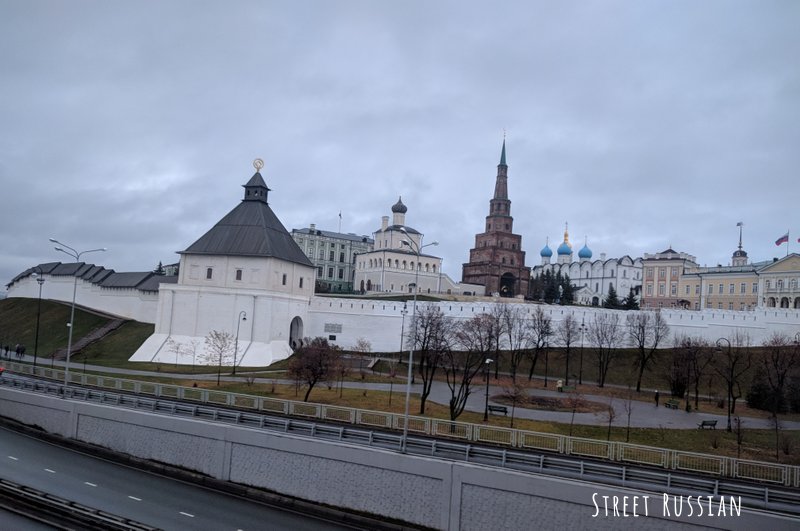 Along those lines, here are some of Kazan's most well-known достопримечательности. I have only spent about 3 days total in the city so this post represents just a fraction of all the things you can see and do in this incredible place.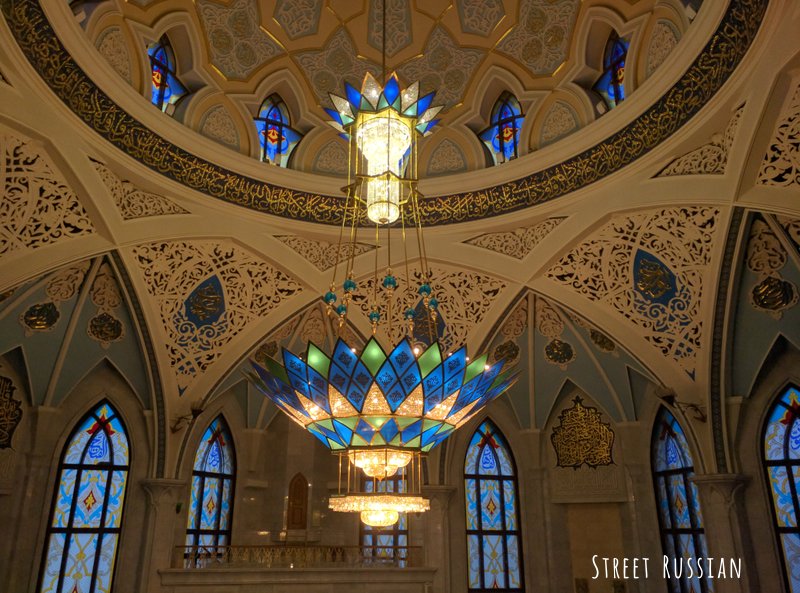 #1. Old Tatar Quarter / Старо-Татарская слобода
The streets here are filled with mosques, beautiful buildings, and street art.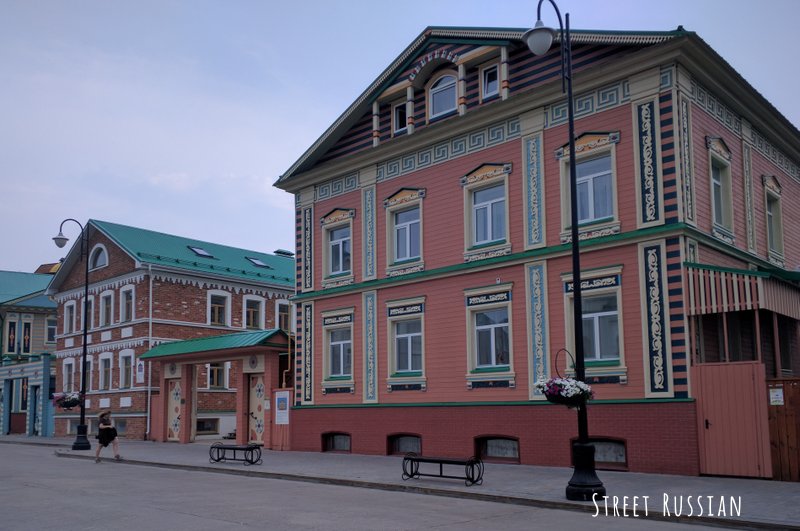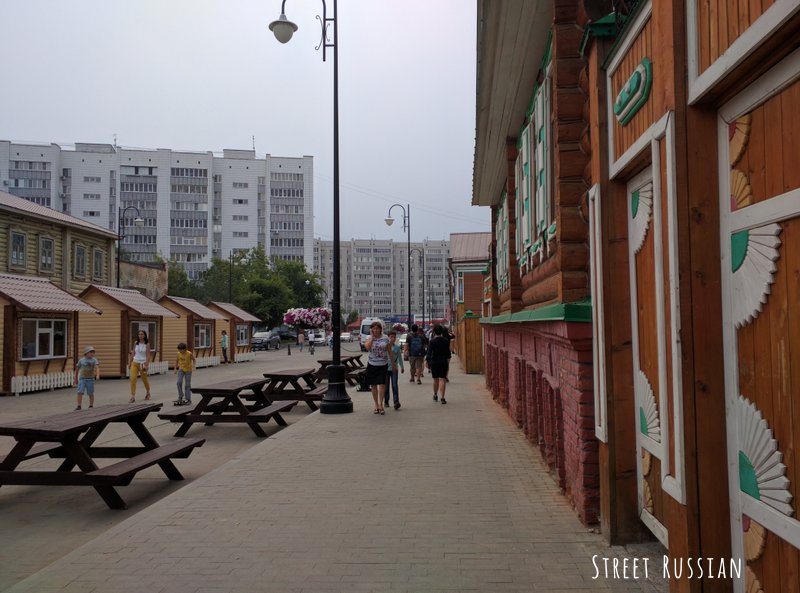 If you're hungry, there's a fantastic Tatar restaurant nearby named «Татарская усадьба». Check out their YouTube channel – Завтрак из дровяной печи в Татарской усадьбе – for recipes and inspiration!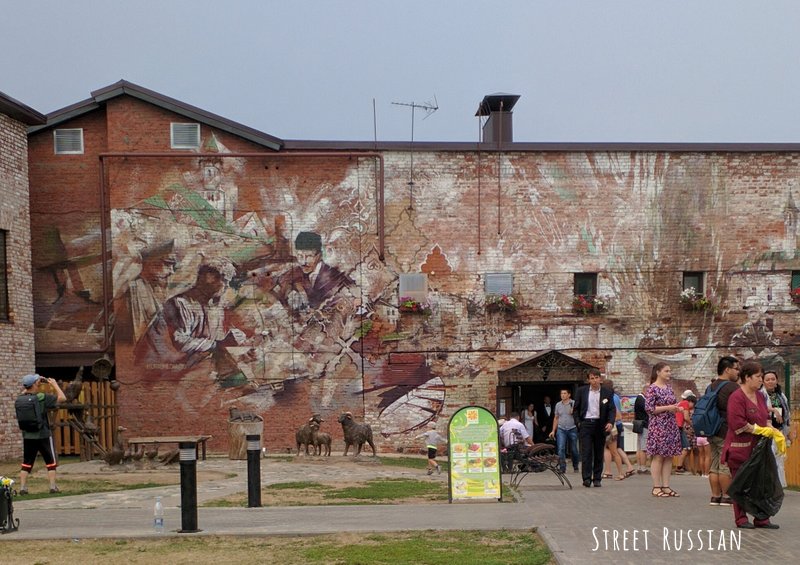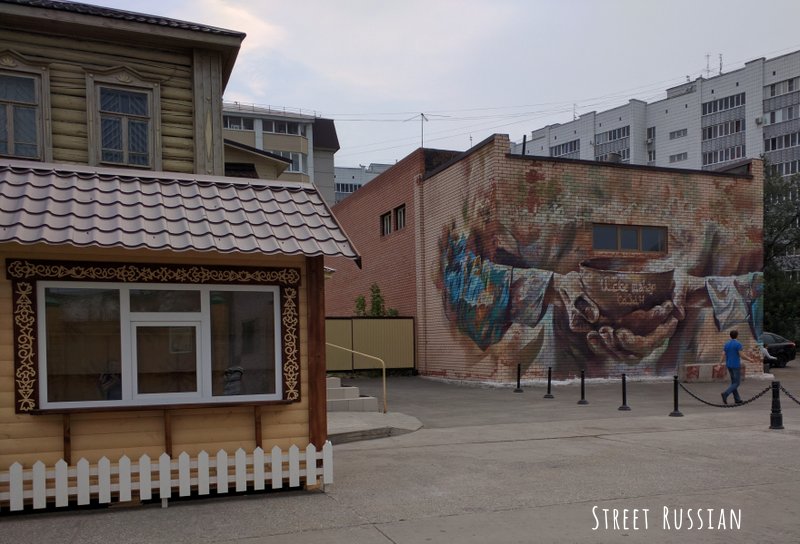 #2. Märcani Mosque / Мечеть аль-Марджани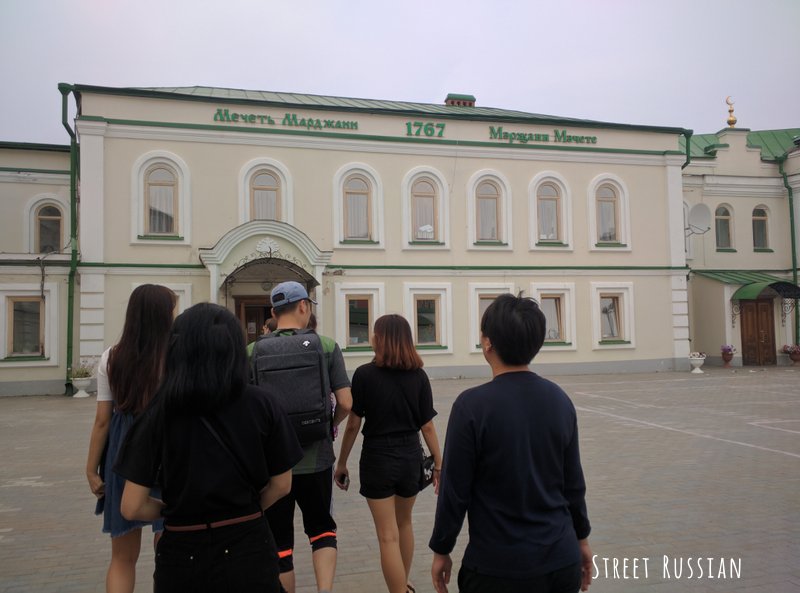 This 250-year-old mosque appeared in the Old Tatar Quarter when Catherine the Great ruled Russia. Later, it had the distinction of being the only mosque in Kazan allowed to remain open during the Soviet era.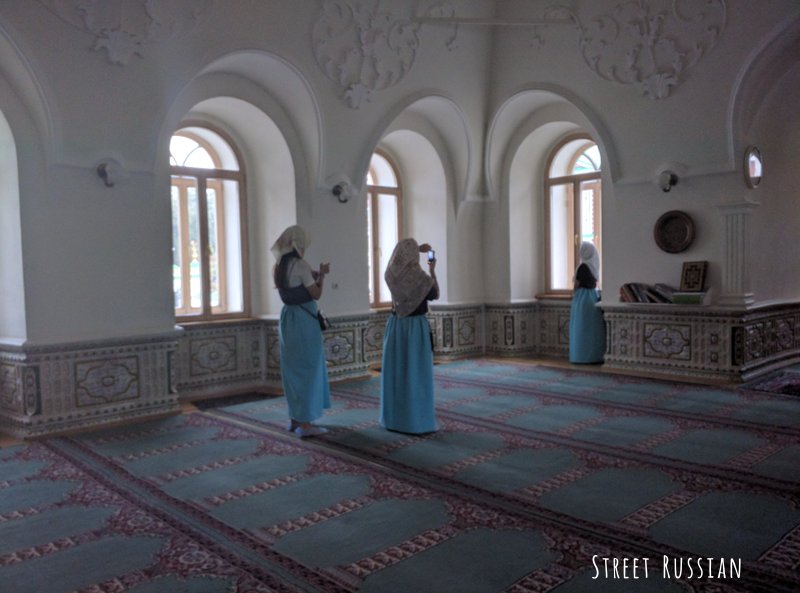 #3. Residential districts / спальные районы
Kazan has 1.1 million residents so there are lots of residential areas in the city… or more precisely, 7 residential areas according to this survey that named Приволжский район the best place to live in the city.
I'm not sure which спальный район this is but I think we can all agree that it looks pretty amazing. 😍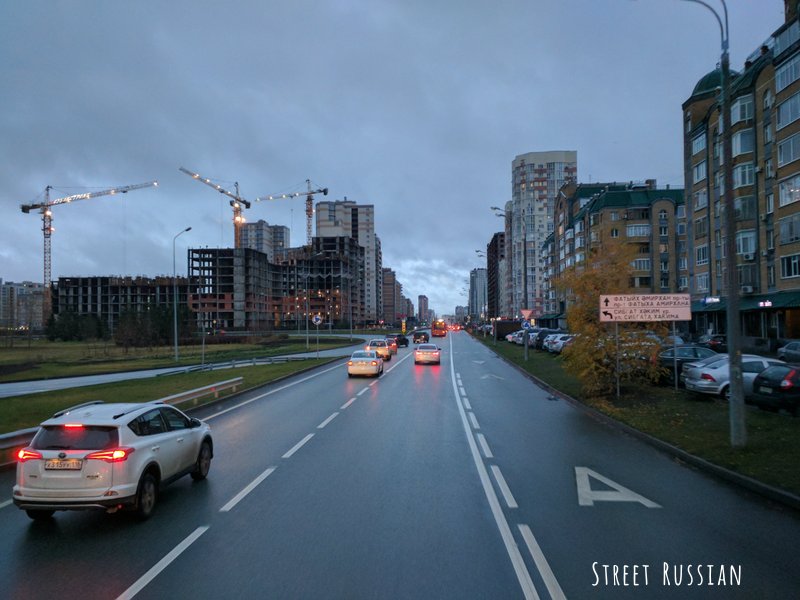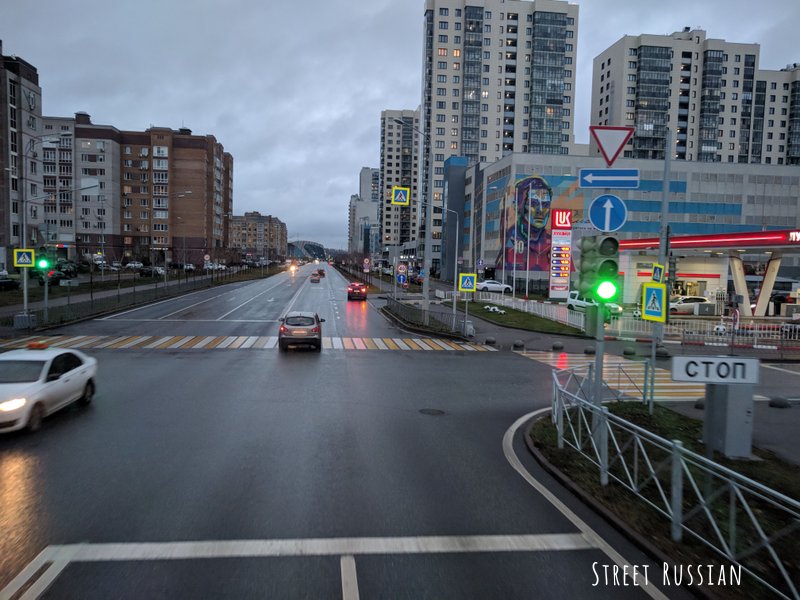 By the way, Chelyabinsk does not have any roads this smooth.😆 Kazan's transportation department is definitely putting in the hours!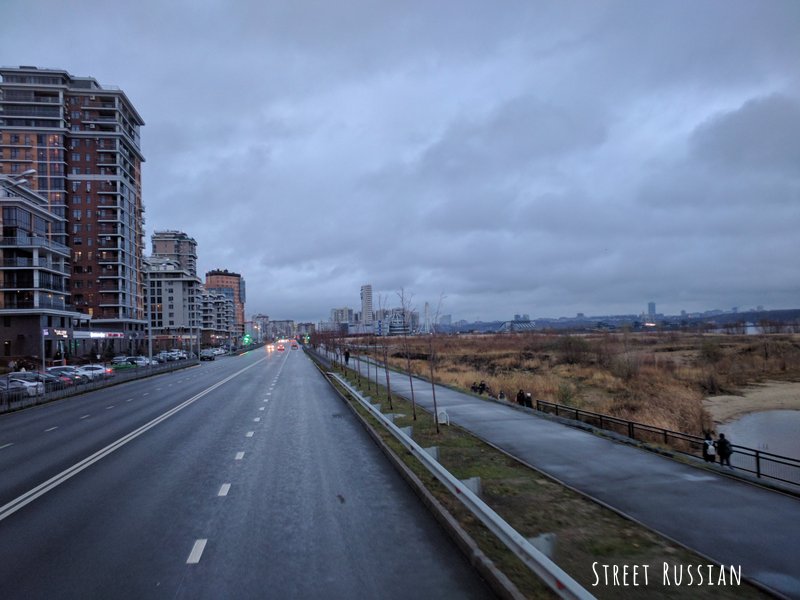 #4. Tatar State Puppet Theatre "Ekiyat" / Татарский государственный театр кукол «Экият»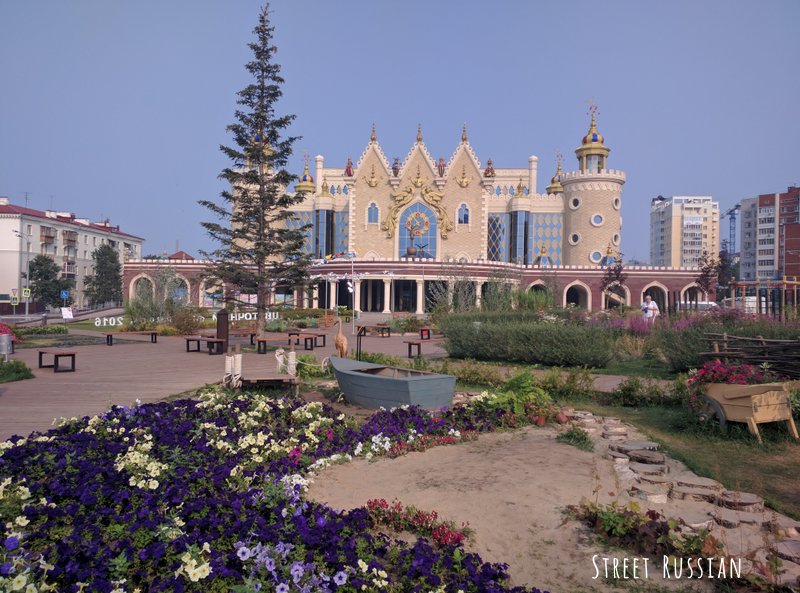 You'll find an extra detailed exterior and a lovely summer garden here. And what's even cooler: they show some plays in Russian and some plays in Tatar.
There's a "magic" stork in the theater garden… but I'm still waiting on him to keep his promise. 😔 But maybe it will be okay, I also believe in the "magic" powers of Russian fertility doctors!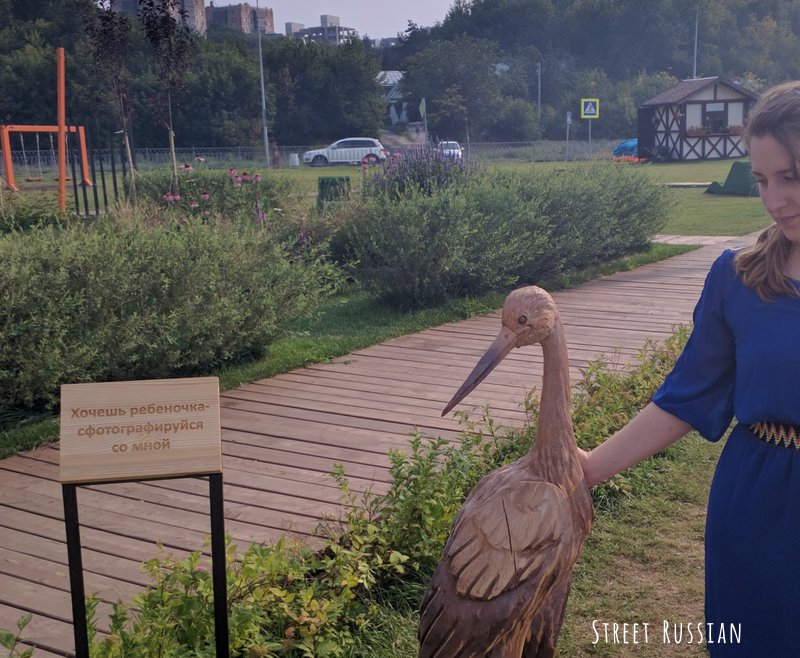 #5. Nikolskiy Cathedral / Никольский кафедральный собор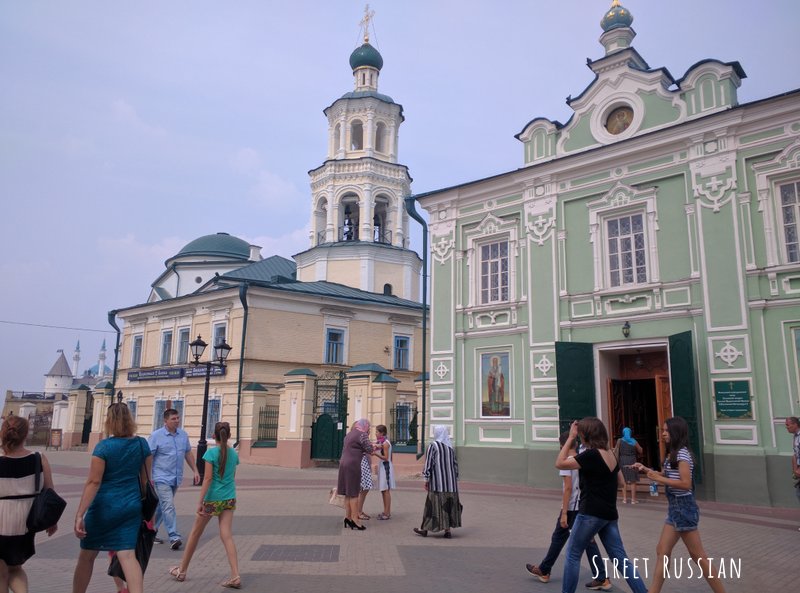 This well-maintained church is on the the city's main pedestrian street, which means you'll pass by it sooner or later. If you're curious about its колокольня (bell tower), I shared a short video clip here.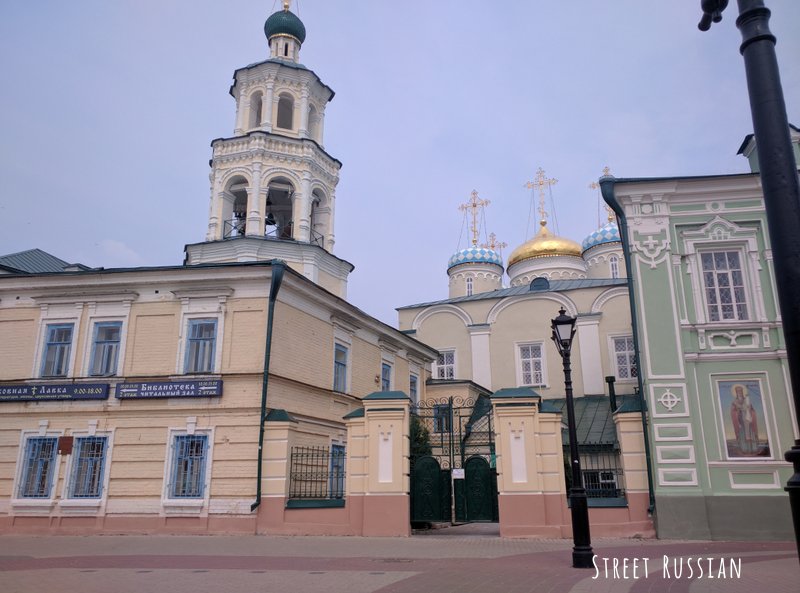 #6. Epiphany Cathedral / Богоявленский собор
This church is also on pedestrian-only Bauman Street, the city's most popular place to see and be seen.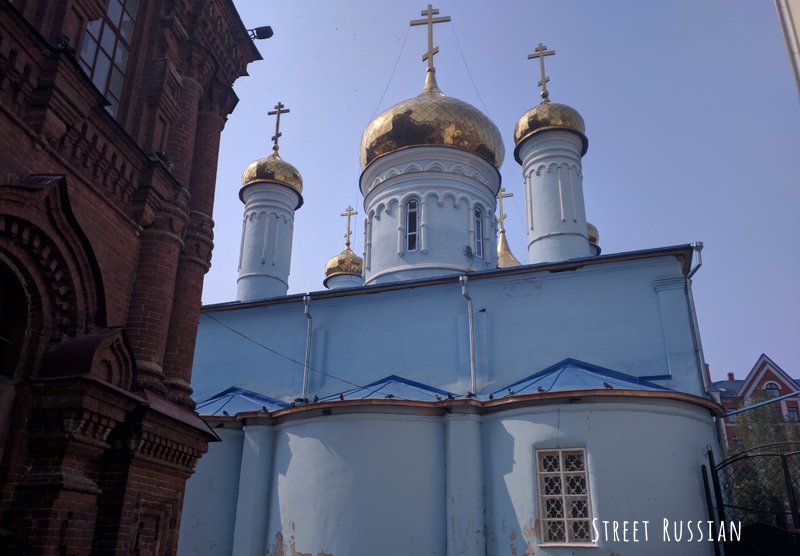 The Epiphany Cathedral's колокольня is 74 meters tall, making it the city's tallest колокольня. And there's a viewing platform up at the top that will give you staggering views of the city. (It's on my "next time in Kazan" list!)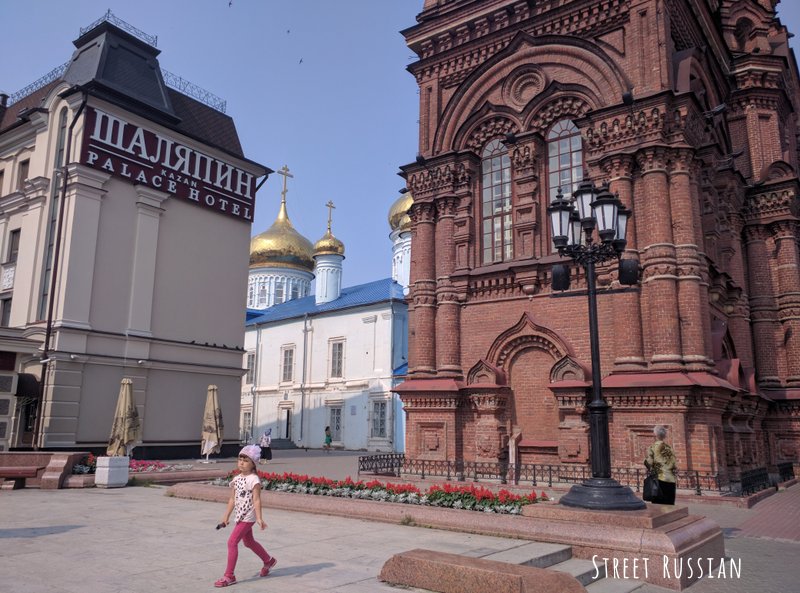 #7. Kazan Kremlin / Казанский Кремль
Now we're getting to some of Kazan's most photographed landmarks, all located inside the city's kremlin. Кремль, by the way, means "fortress"… any fortress, actually! Moscow's Red Square steals all the publicity and gets its own definite article – THE Kremlin – but plenty of other cities have their own ancient kremlins. Like Kazan, for example.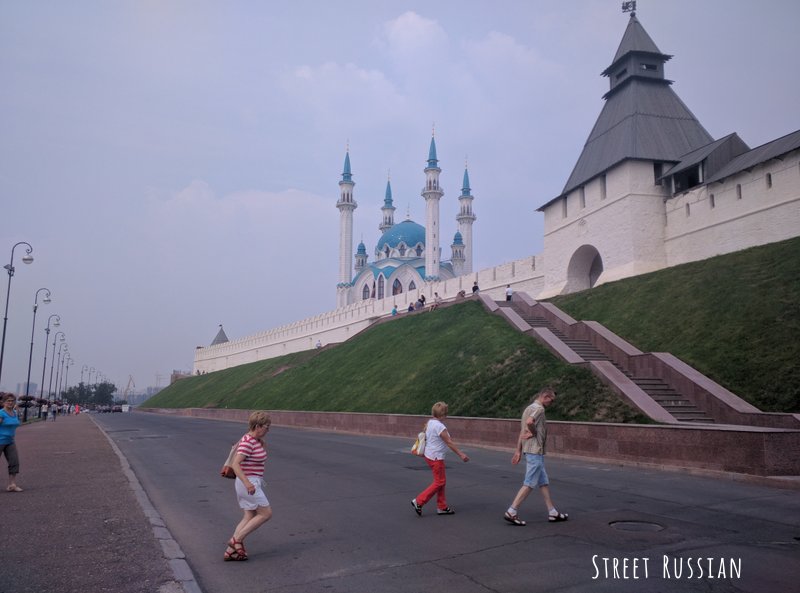 Kazan's Kremlin is a UNESCO World Heritage Site and was built on the orders of Ivan the Terrible waaaay back when.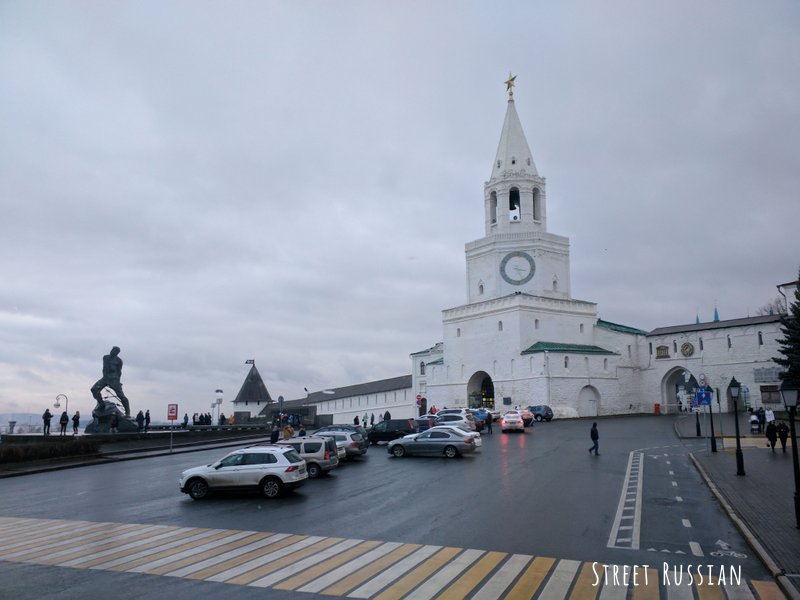 If you come to Kazan, you and your camera will definitely spend a few hours wandering here in the kremlin.
#8. Annunciation Cathedral / Благовещенский собор Казанского кремля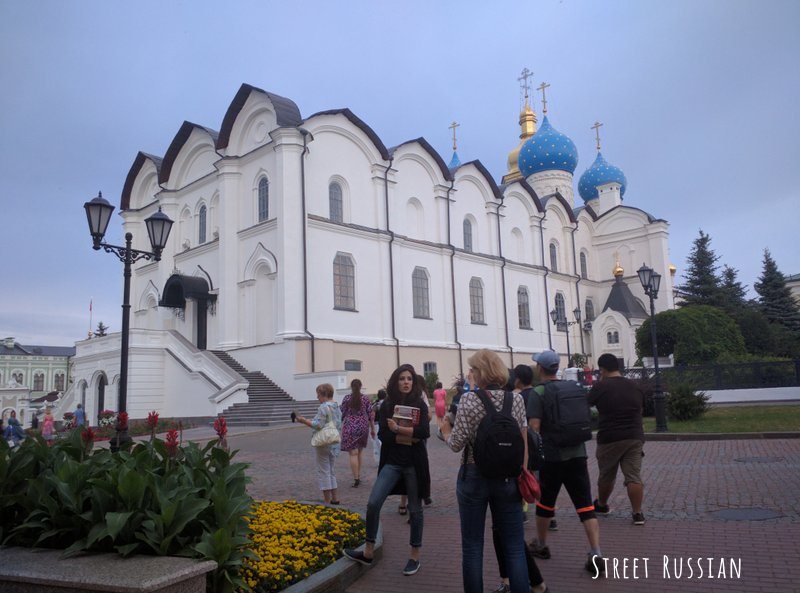 The first time I ever visited Kazan, I was with the group of student pictured above. We were all summer exchange students on an overnight excursion to tour the city's major достопримечательности. Because this trip was meant to actually teach us something, we spent a lot of the day visiting buildings that were important to Kazan's religious history.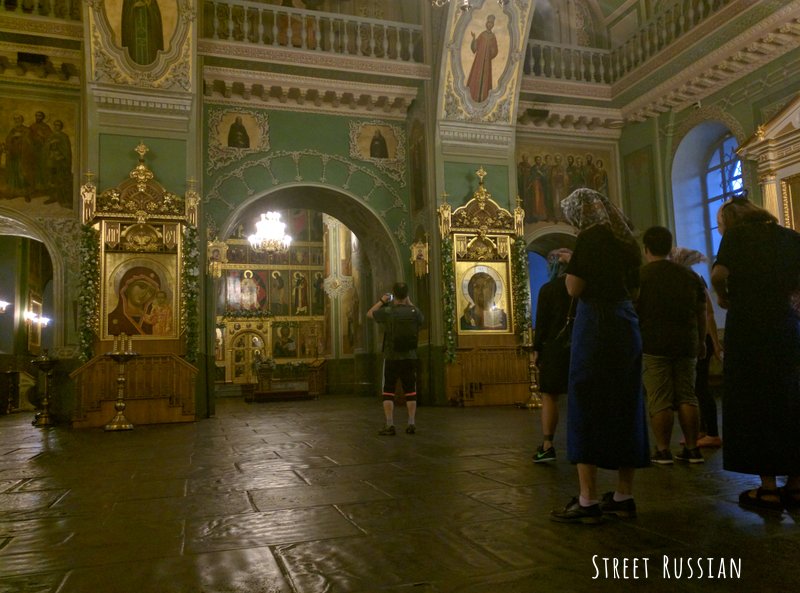 I found them incredible. By that I mean both incredibly beautiful and incredibly overwhelming. I must have taken some notes… we had lectures in every building… but I have no idea where those papers went.
The Annunciation Cathedral was constructed in the 16th century and is the oldest surviving building in the Kazan Kremlin. * Between 1917 and 1977, the cathedral lost a lot of its grandeur (most churches didn't fare well in the early USSR). But now, wow! Just look at this artwork!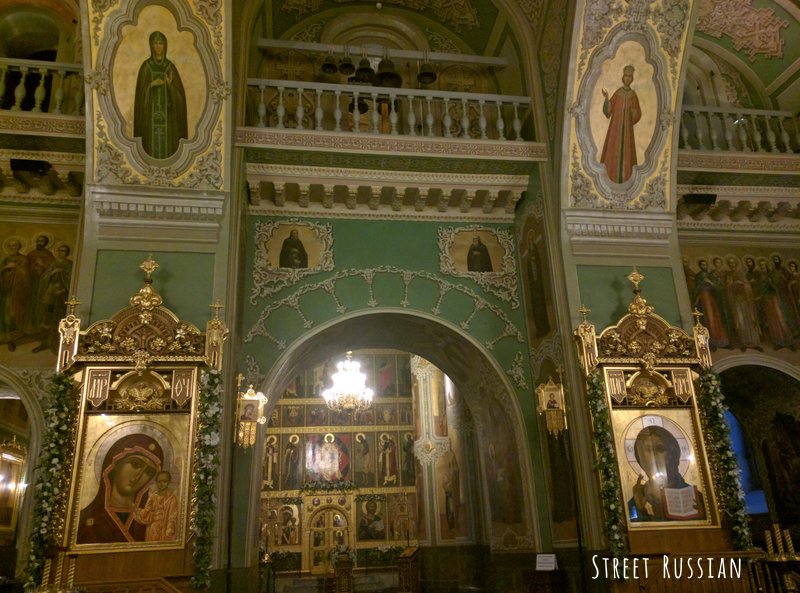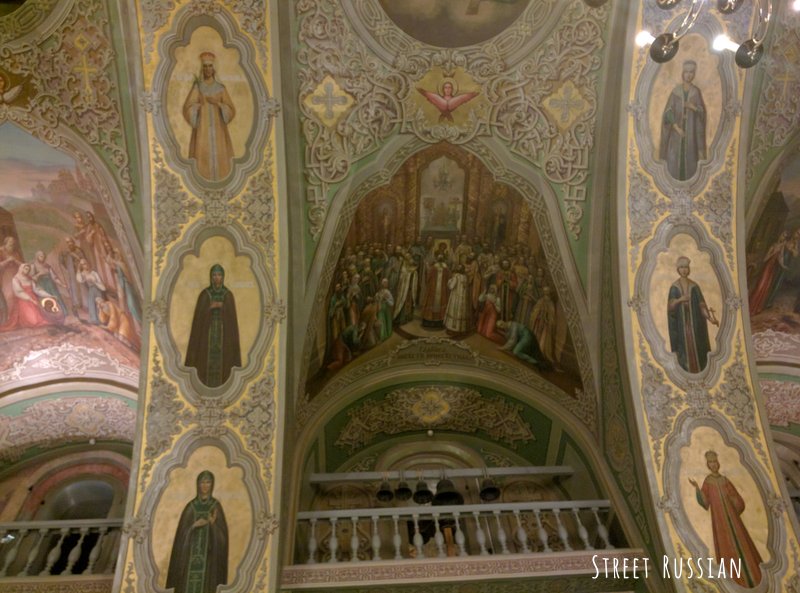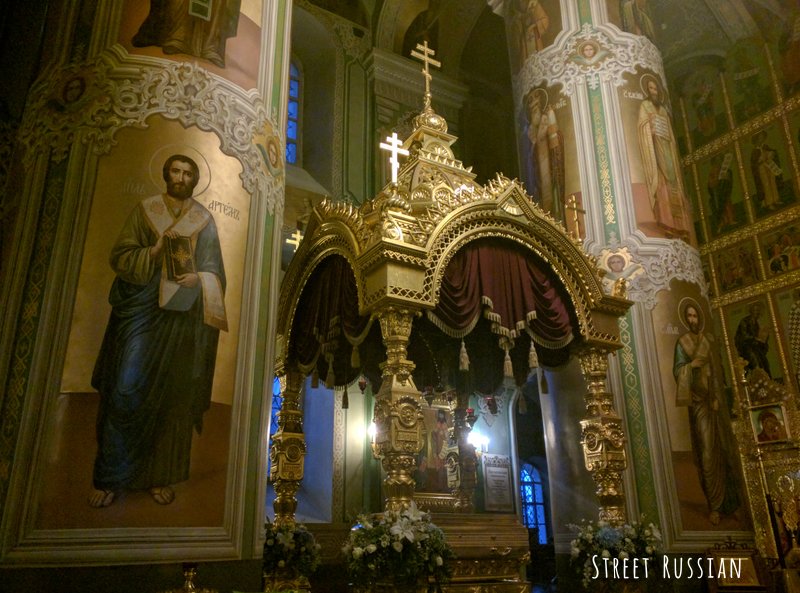 *Since I lost my notes, let's all be very thankful for orthodoxwiki.org!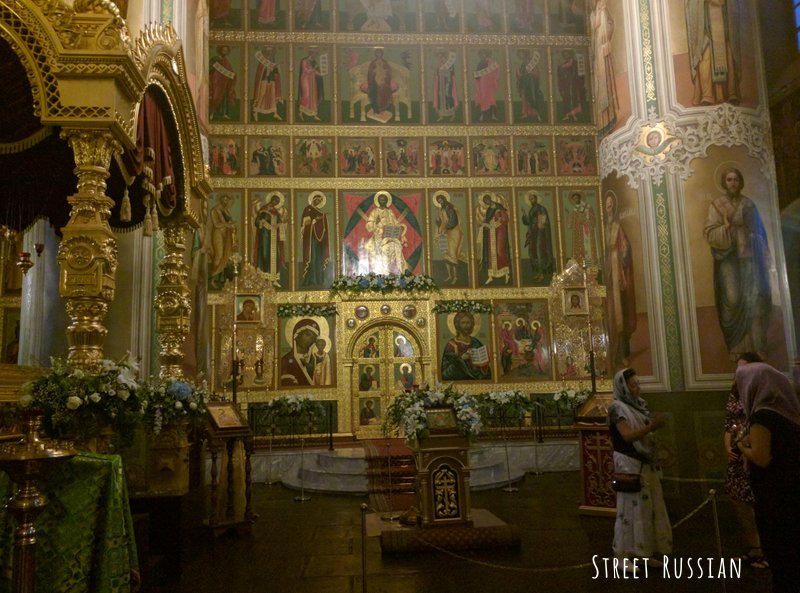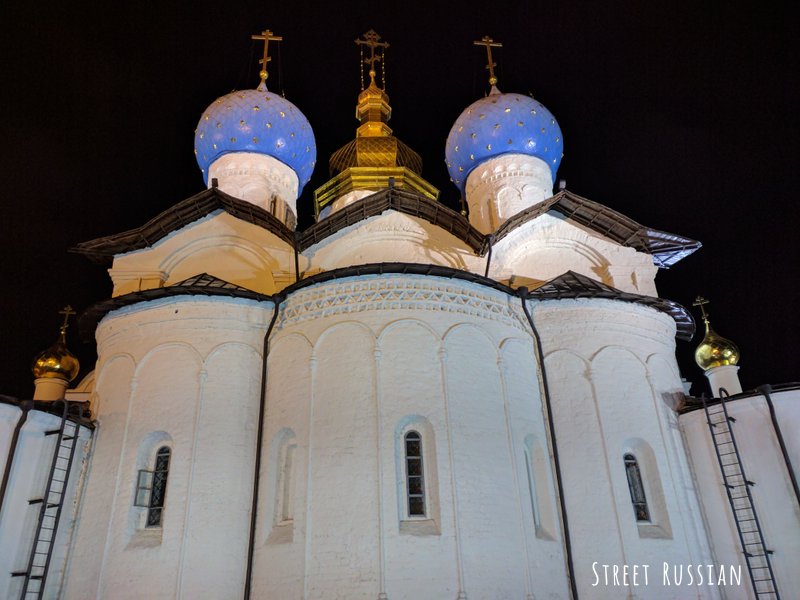 But I can tell you one thing from memory: walk around to the back of the cathedral for a panoramic view of the Kazanka River embankment.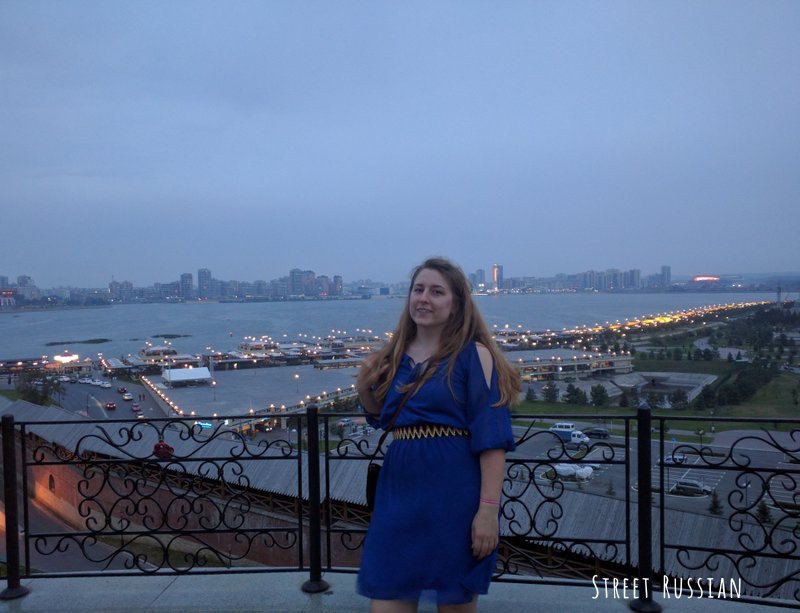 #9. Söyembikä Tower / Башня Сююмбикэ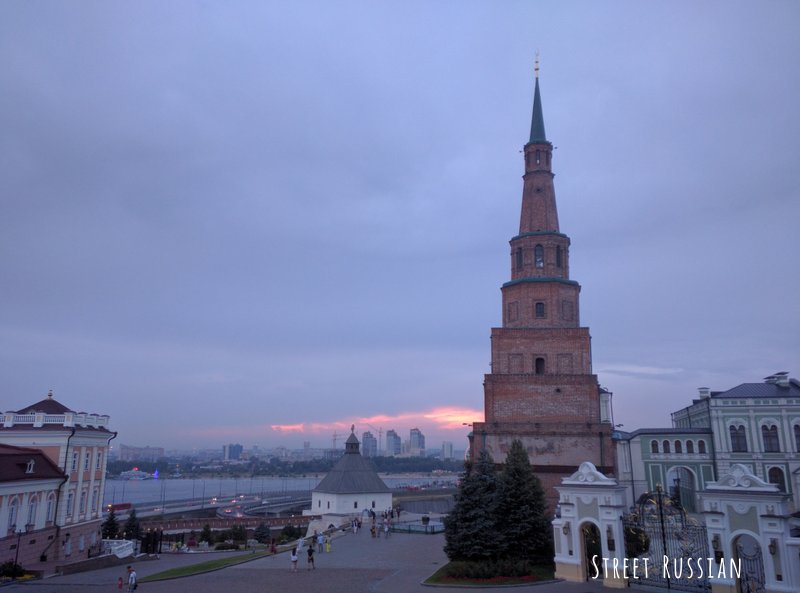 There's a good short article on Atlas Obscura about this tower's history.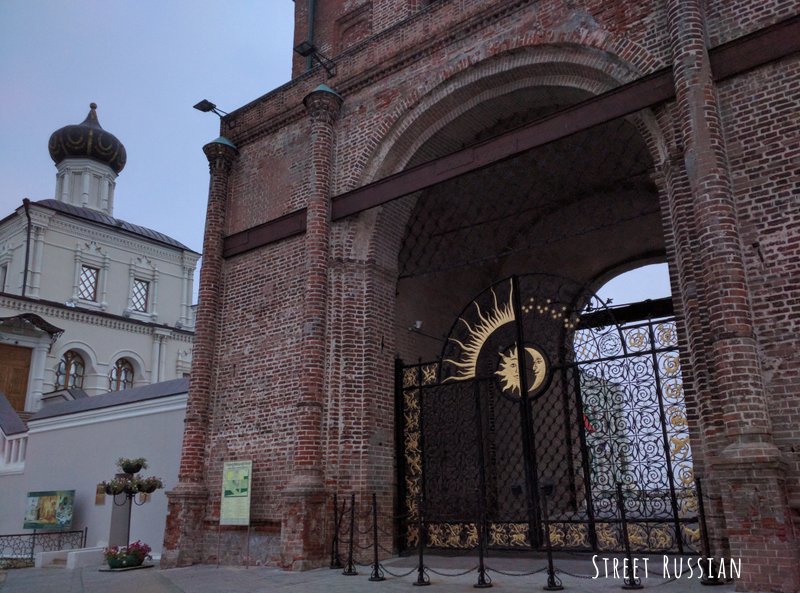 #10. Kul Sharif Mosque / Мечеть Кул-Шариф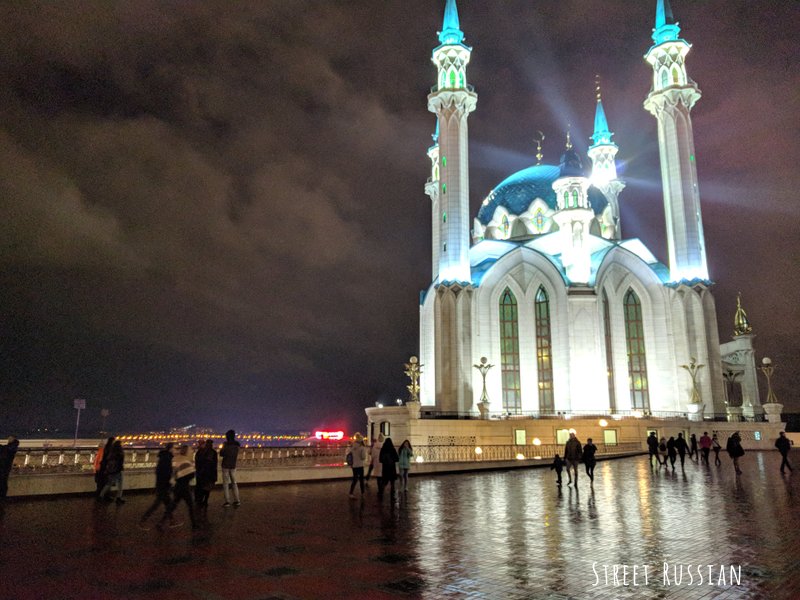 Kul Sharif mosque is both old and new.
The original mosque was destroyed back in 1552 when Ivan the Terrible overthrew the old Khans of Kazan. (A few years after that, Ivan the Terrible ordered the construction of the Annunciation Cathedral, which is достопримечательность #8 in this post.)
It wasn't until 450 years later – in 2005 – that a brand new mosque was finished on the site of the earlier mosque.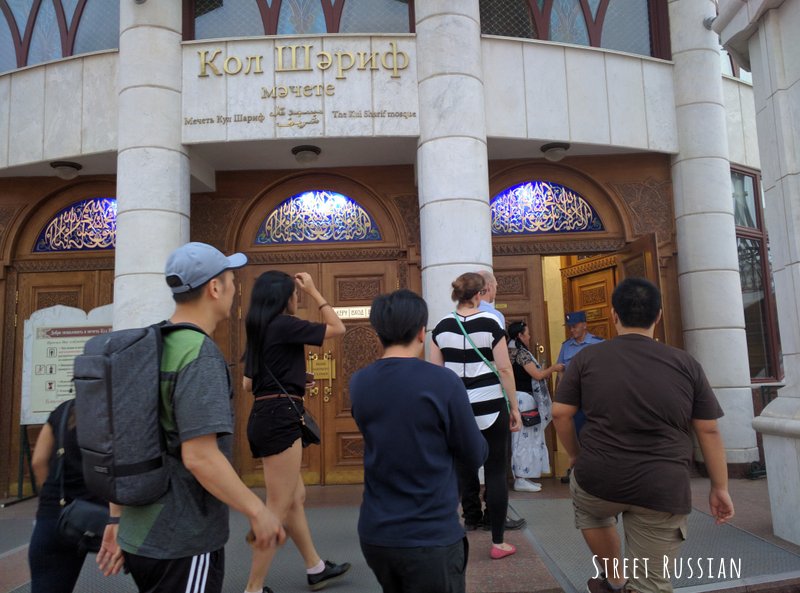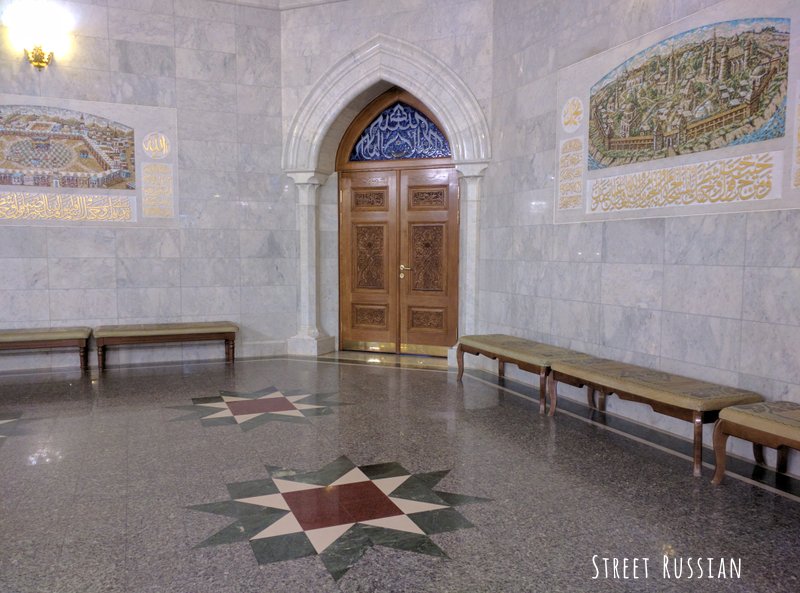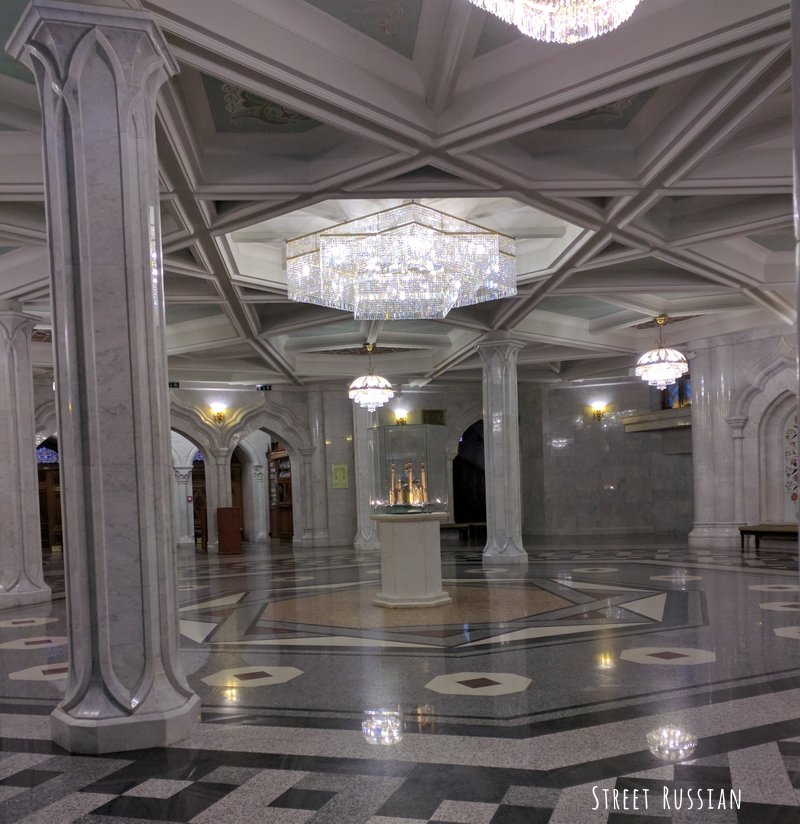 This towering new Kul Sharif took 9 years to build. It really is an impressive sight… 1500 worshippers can fit inside and 10,000 people can fit outside on the plaza!!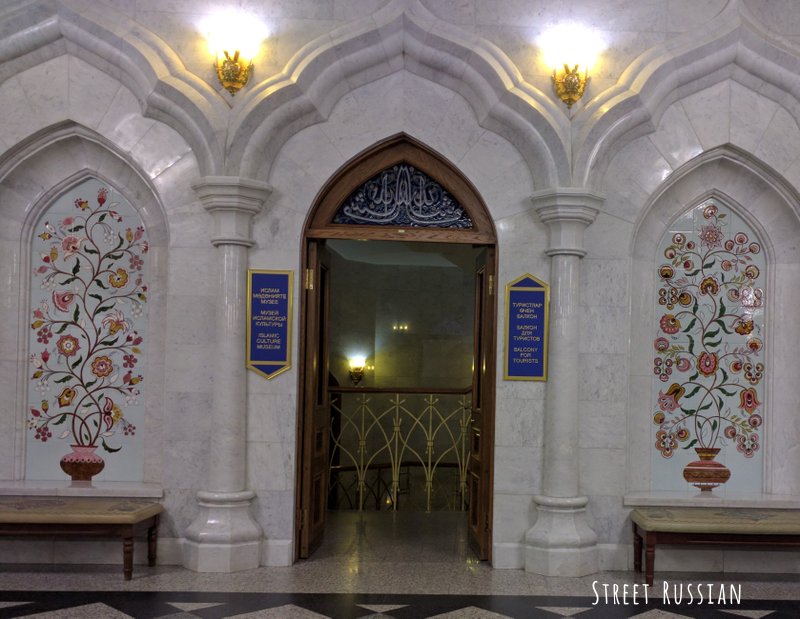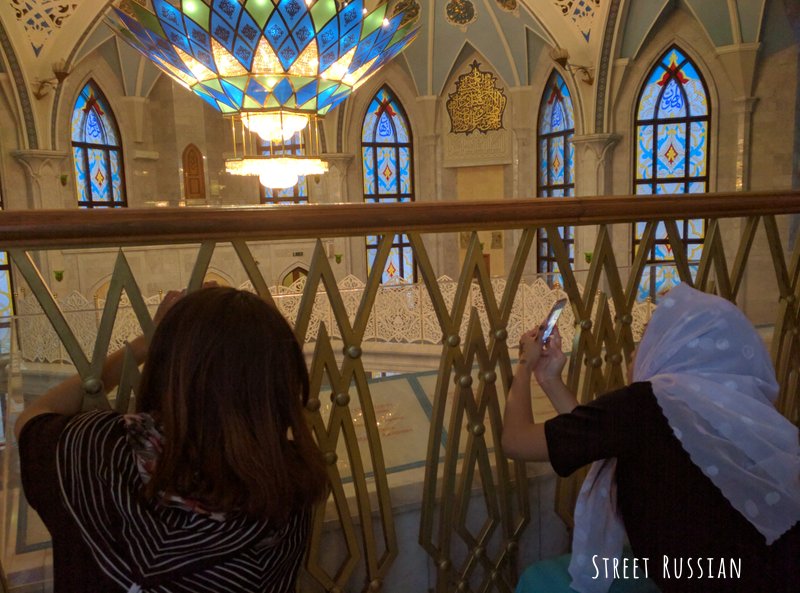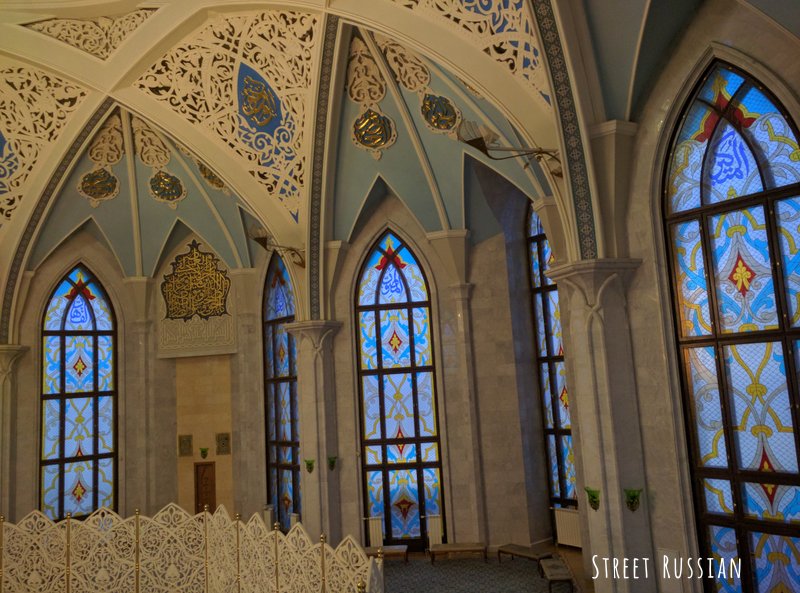 #11. Your turn! / твоя очередь!
Which of the достопримечательности from this list are the most interesting to you? And have you mastered the art of saying "достопримечательности" yet? 🙂


If you'd like to explore even more of Kazan's достопримечательности, I highly recommend browsing Visit Tatarstan.com and S7's travel guides. Or maybe you'd like to read a few of my other posts about the city?
Kazan's Soviet Lifestyle Museum