Russian books: a Q2 / Q3 reading list update. 🙂 Q1 is here.
Although I only read three books from my reading list, there is lots to share with you! In fact, there was so much that I'll save the third book (about the most состоятельные of Russia's состоятельные) for the next post.
In this post: a great what-did-they-eat journey through Russian history + a modern take on classic Russian literature.
MASTERING THE ART OF SOVIET COOKING by Anya von Bremzen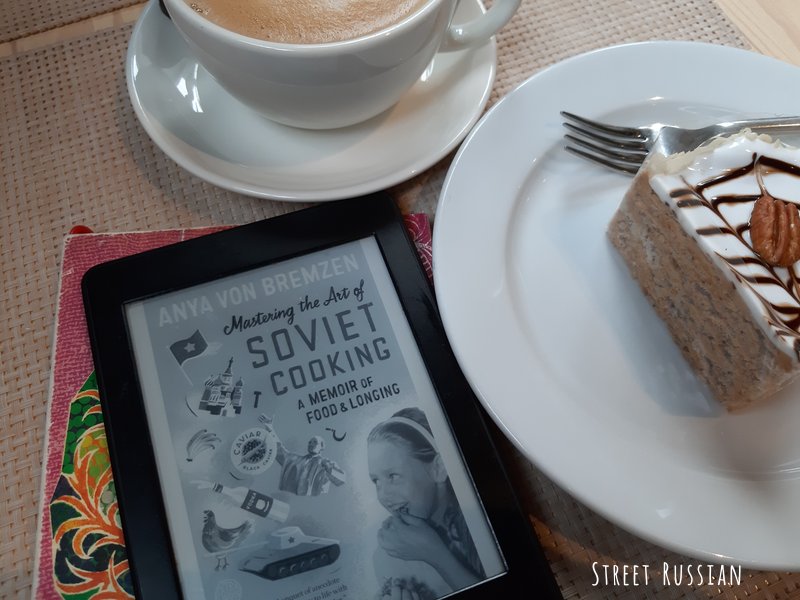 My friend suggested this book and I am SO thankful! It's a history book filled with food. There's decedent pre-revolutionary кулебяка, wartime rations, prized packs of Juicy Fruit gum in diplomat pockets, Red October candy (with a higher quality versions for the Soviet elite), Khrushchev's obsession with corn, and… to be continued since I'm only in chapter 7.
By the way, seriously? That's where the ubiquitous котлеты came from? Anastas Mikoyan, People's Commissar of Food Industry, took a foodie trip to the US in the 1930s, encountered a hamburger, and voilà!
The book's author – Anya von Bremzen – was born in 1963. The book's timeline goes all the way back to 1910 so the first few decades are based on stories from her grandparents. Then stories from her mother. Then the writing really comes alive when we get to Anya's own lifetime.
One caveat: if you're already super knowledgeable about 20th century Russia, this book might drag on a bit for you. My friend (we're reading the book together) is well-versed in Russian history and not very excited about the author's frequent forays into Soviet politics or WWII stories. But if you're like me and you still have a lot to learn, this book is an incredibly valuable resource.
A few snippets from the book to tempt you:
"All happy food memories are all alike; all unhappy food memories are unhappy after their own fashion." (haha)
"Inevitably, a story about Soviet food is a chronicle of longing, of unrequited desire…"
THE ANNA KARENINA FIX by Viv Groskop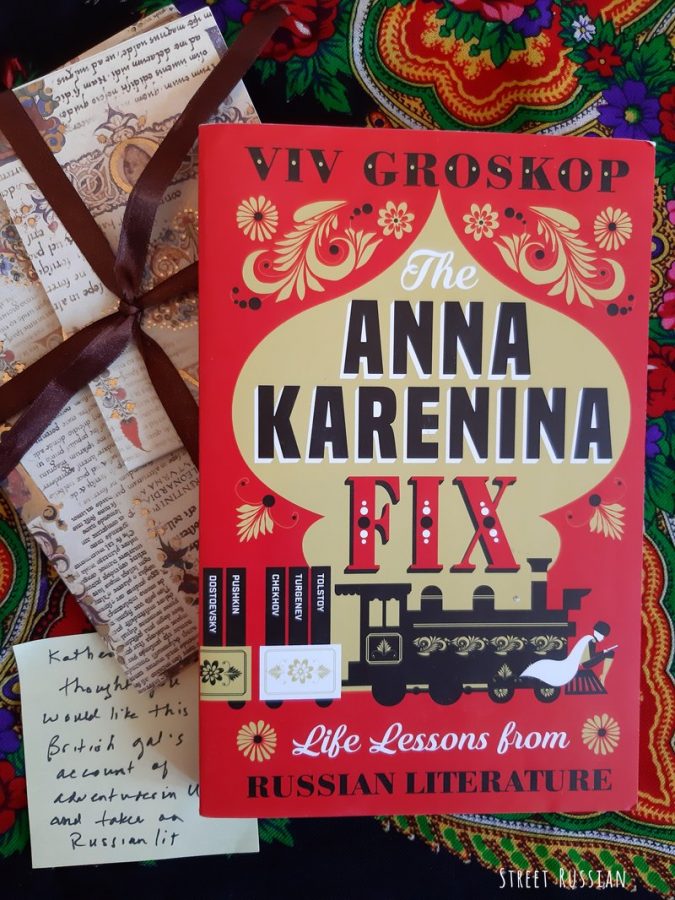 My mom, who had no idea I was reading this book on Kindle, read the book herself at the recommendation of my aunt. Mom then mailed a copy to Russia… at the same time I had secretly ordered her a copy off Amazon for her birthday, not knowing she had already read it! So, you could say this book is very popular in my family. 😉
Notes on chapters 1 – 5 are here. Продолжаем…

Chapter 6 covers Dostoevsky and one of his most famous books, the one "about those moments in life when you know you're going to do something very wrong but you do it anyway. Crime and Punishment is also predominantly a warning about the dangers of getting too hungry. Raskolnikov always copes with his inner conflict particularly badly when he has not had enough pies to eat."
Bonus: this chapter gives us a peek at Viv Groskop's year in Saint Petersburg, teaching and writing for a local newspaper. "Over the course of that year, Russia became a place where I saw terrible and mad things and often barely registered them, or considered them to be completely normal."
Other than his reputation for being tormented and constantly in despair, I didn't know much about Dostoevsky. It turns out he spent 4 years in a Siberian prison, was married twice, likely had epilepsy, and loved to gamble. He also based Crime and Punishment's plot on an actual murder that happened in 1865 Moscow. The real-life murderer was an Old Believer (Раскольник in Russian) which became the basis for the main character's last name.
On Raskolnikov:
"I cannot help thinking that, if Raskolnikov had had Twitter, he would not have needed to kill anyone. He could have just lived out all his grandiose fantasies on there, tapping and trolling away. Why overcome inner conflict when you can harass other people with annoying hashtags?"
Chapter 7 was about Chekhov, who actually seems like a pretty easy-going guy for a Russian writer. He trained and worked as a doctor, dying at forty-something from tuberculosis in 1904. His play Three Sisters, a drama about three sisters who are disappointed with life and want to move back to Moscow, was published in 1901.
"Chekhov's brilliance lies in capturing something important about a life change that was happening at the time he was writing: people were starting to be able to affect their own lives, change their class, break out of the confines of their gender. I like to think it's significant that it's 'Three Sisters' and not 'Three Brothers'. If it were 'Three Brothers', the brothers could just go and live in Moscow and it would be a very short play, set largely in Moscow."
Again, I'm impressed by the author's research into the petty dramas of the Great Russian Writer Clique. Tolstoy, for example, said this to Chekhov (despite them being friends!):
"You know, I hate your plays. Shakespeare was a bad writer, and I consider your plays even worse than his… Where can I follow your character? To the couch in the living room and back. Because your character has no other place to go."
😂 By the way, here's an interesting write-up in Russian Life magazine called When Chekhov Met Tolstoy
In Chapter 8, Viv Groskop tackles Solzhenitsyn…
I mean, who speaks English as a native language and is comfortable saying 'Solzhenitsyn'?
He was virtually like a character out of the Bible. He even looked like God.
…and is disappointed to discover her family tree traces back to Poland, not Russia.
Chapters 9, 10, and 11 were quick reads.
Chapter 9:
"Of all the Russian classics, The Master and Margarita is undoubtedly the most cheering… it is the book that saved me when I felt like I had wasted my life. It encourages you not to take yourself too seriously, no matter how bad things have got."
I had no idea this classic was published so (relatively) recently. Bulgakov wrote it back in the 1930s but it wasn't published until the 1960s… long after the author's death in 1940!
Chapter 10. The author eventually overcomes her disappointment at not being Russian and learns to be contented with Russian "as a very good lifelong friend." Then she moves on to Gogol's Dead Souls, which "comes across as the most English of all the Russian novels. It has a Dickensian feel to it…" This chapter also covers Gogol's absolute adoration for all kinds of food + the (maybe?) creation of Гоголь-моголь.
Chapter 11: War and Peace. I'm glad this book was included because I have zero intention of reading it myself now. Have you read it? Are there really over 500 characters? 😱 If that's true, Viv Groskop was wise in writing: 
"There's no such thing as 'failing' to read War and Peace. You just haven't got enough practice in yet. It's essential to regard it rather like riding a bicycle… The key is to keep getting back on the bicycle."
Also:
"This is the key to tackling War and Peace: personalize it. What do you want to get out of it? Why are you reading it? How can you mould your reading of it to your own personal tastes and habits?"
There's a Recommended Reading list at the end of the book. This list contains the exact editions the author herself read + other books that may be helpful. In fact, the book that inspired her to write The Anna Karenina Fix was Elif Batuman's The Possessed: Adventures with Russian Books and the People Who Read Them. That's another book waiting on my Kindle. At this rate, I may not need to actually read the real Russian classics themselves. 😆
After finishing The Anna Karenina Fix, I noticed that the author has another version of this book ("oh, I wish I were nationality X! Sigh! Let me at least read some of their books!") that came out in June 2020. From the blurb: "Like many people the world over, Viv Groskop wishes she was a little more French. A writer, comedian, and journalist, Groskop studied the language obsessively starting at age 11, and spent every vacation in France, desperate to escape her Englishness and to have some French chic rub off on her." – Au Revoir, Tristesse: Lessons in Happiness from French Literature 


       
Have you read Mastering the Art of Soviet Cooking or The Anna Karenina Fix yet? Or maybe you've heard of the book I'll tell you about next time: Shapka, Babushka, Kefir? What Russia(n) books have you been reading lately?