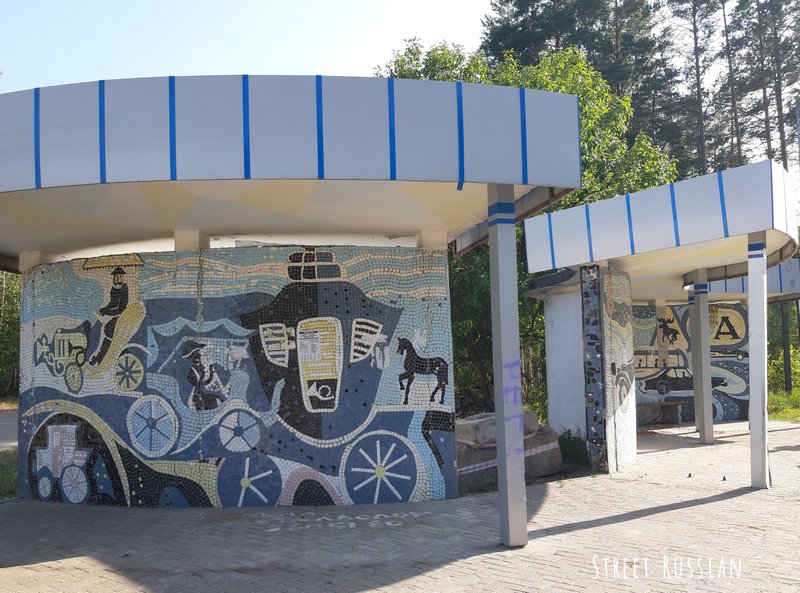 These amazing mosaics were the first street art we tracked down after moving to Kazan. I saw them on the Instagram account of a friend's friend. When I asked her where the mosaics were, she kindly offered to take us there! 🤩 Turns out the art is a bit outside of the city, along the road to a fancy area called Borovoye Matyushino. Let's check them out together!


Остановка у Зеленого Бора / Zeleny Bor bus stop
These mosaics give a shout out to the 1980s Olympics, which were held in Moscow.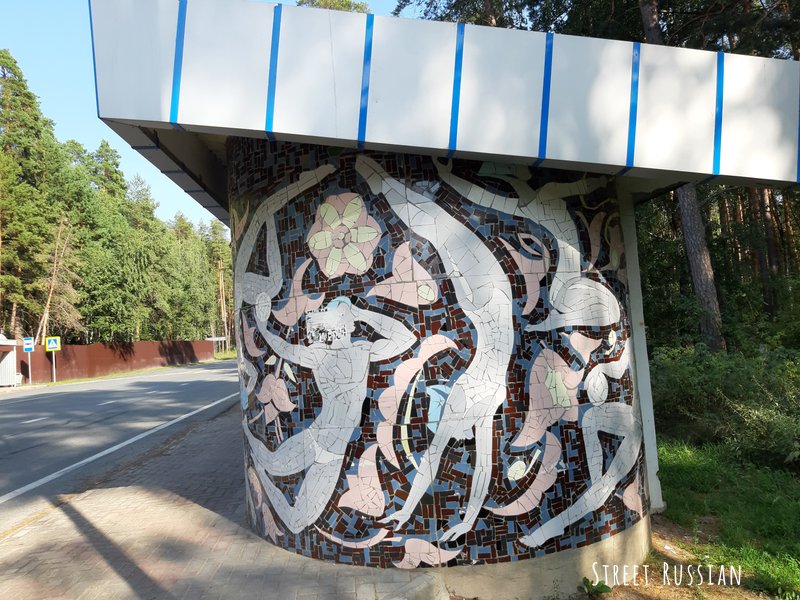 I'm still getting a handle on the symbols of Kazan, but I've already spotted a popular one: tulips. Tulip art is everywhere, including in this Soviet-era mosaic.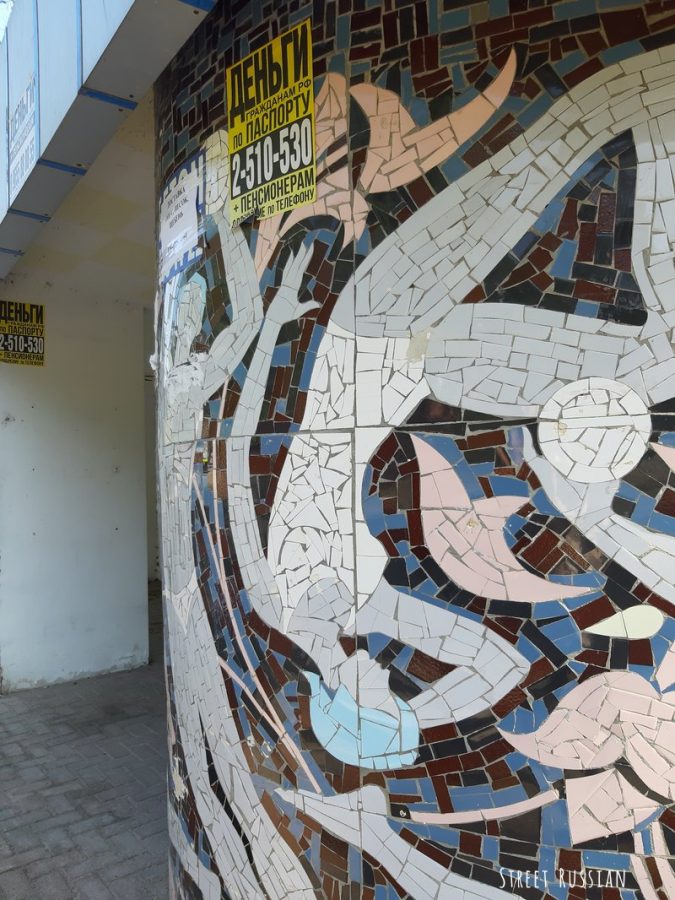 Like all the mosaics I've seen here, it's easy to admire them but harder to get actual info on them. What year were they made? Who was the artist? Kazan has urbanized so much in the past decade, I think it's really cool this art still exists.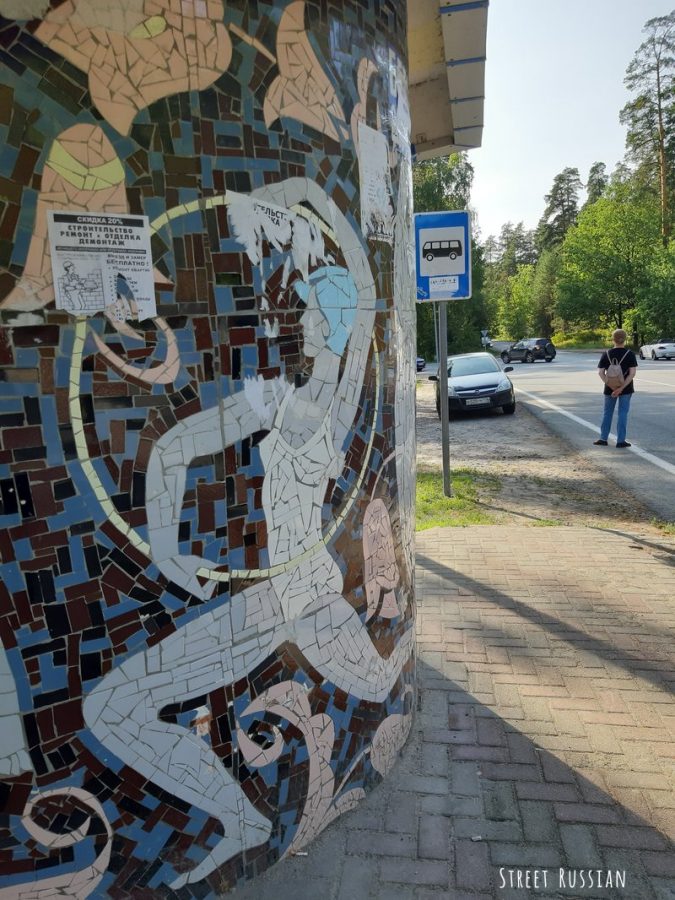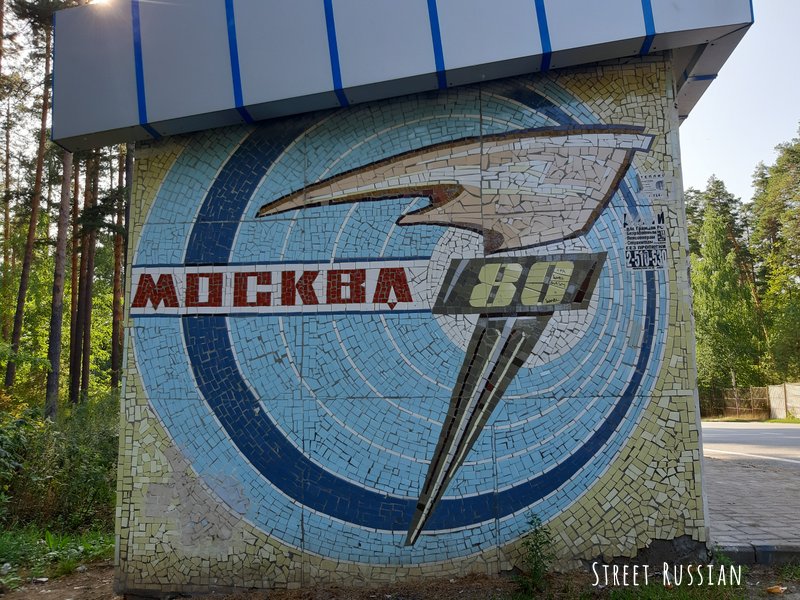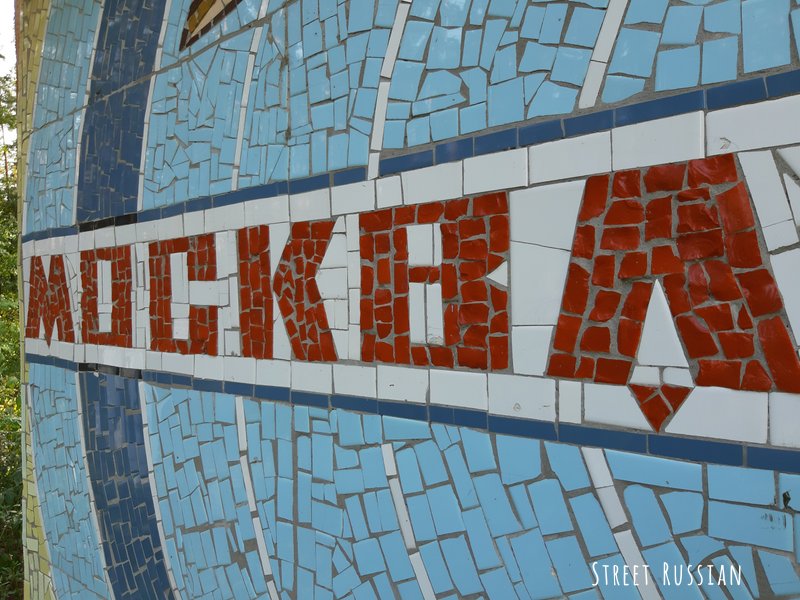 Остановка на трассе Казань – Боровое Матюшино / Kazan – Borovoe Matyushino highway bus stop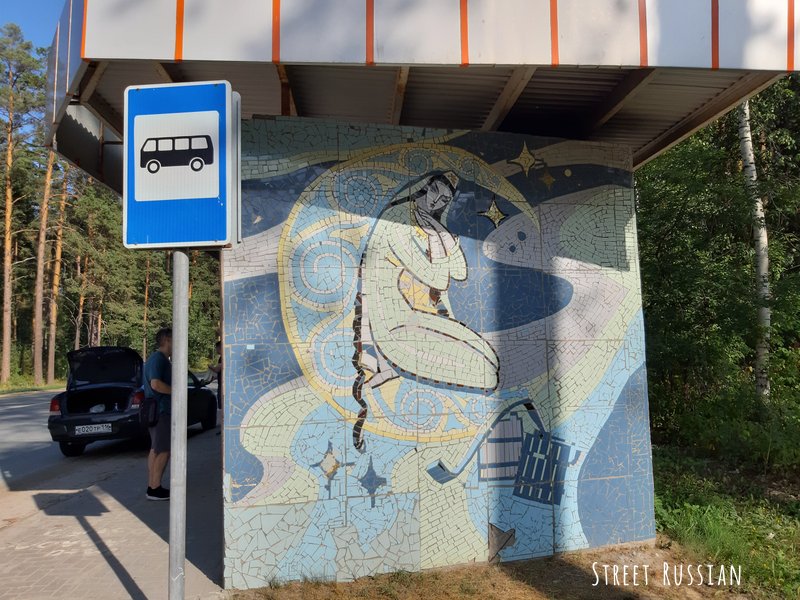 Next up, my favorite: these mosaics showcasing Tatar legends. 😍 How amazing are they?!
This first mosaic depicts the story Зухра-Йолдыз. Зухра is a Cinderella story without the prince. Her cruel stepmother sentences her to endless hard labor until the girl is finally rescued by a benevolent star in the night sky. You can read the full story here: Татарская сказка "Зухра – Йолдыз".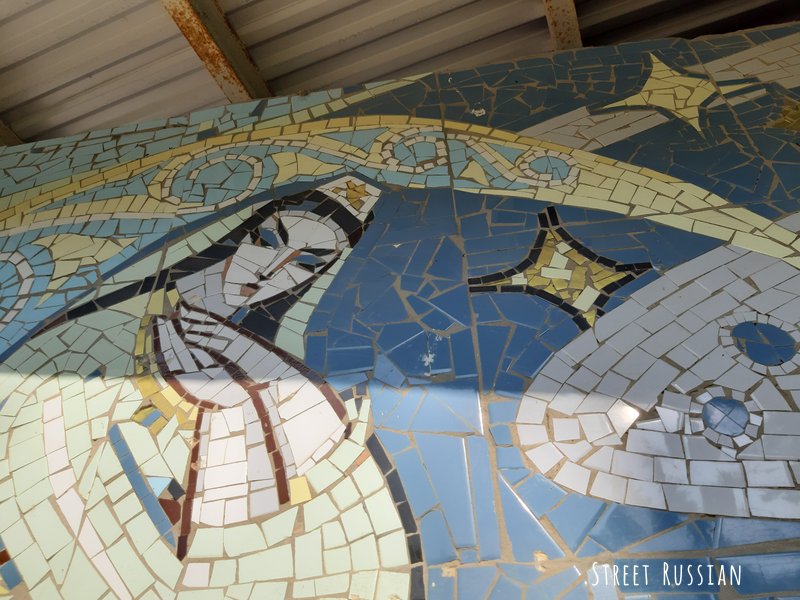 I think this woman sitting by water lilies is actually a nymph named Су анасы (Tatar) or Водяная (Russian).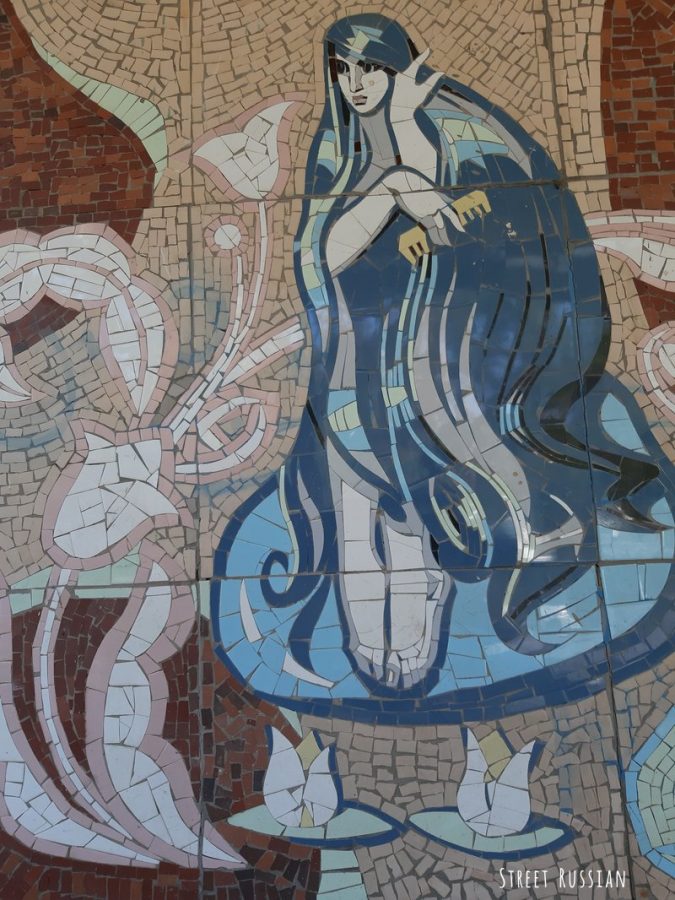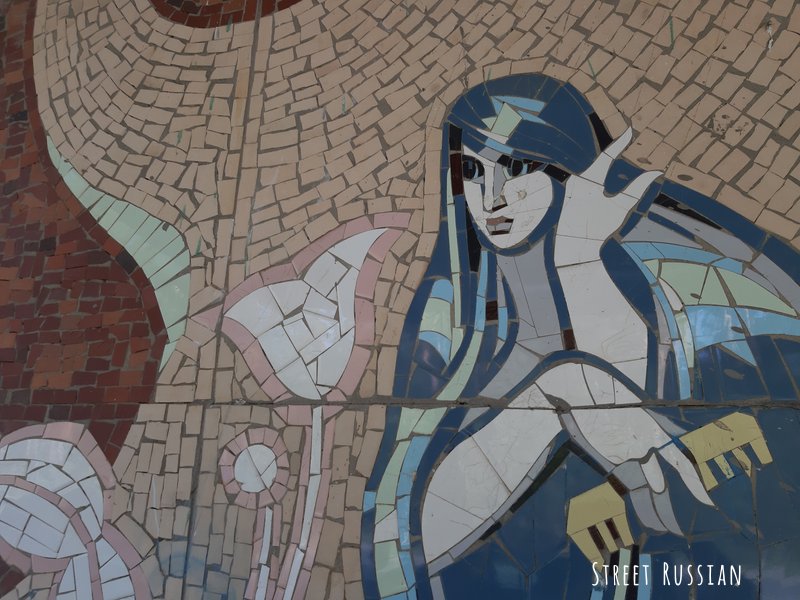 She can also be found in one of Kazan's metro stations: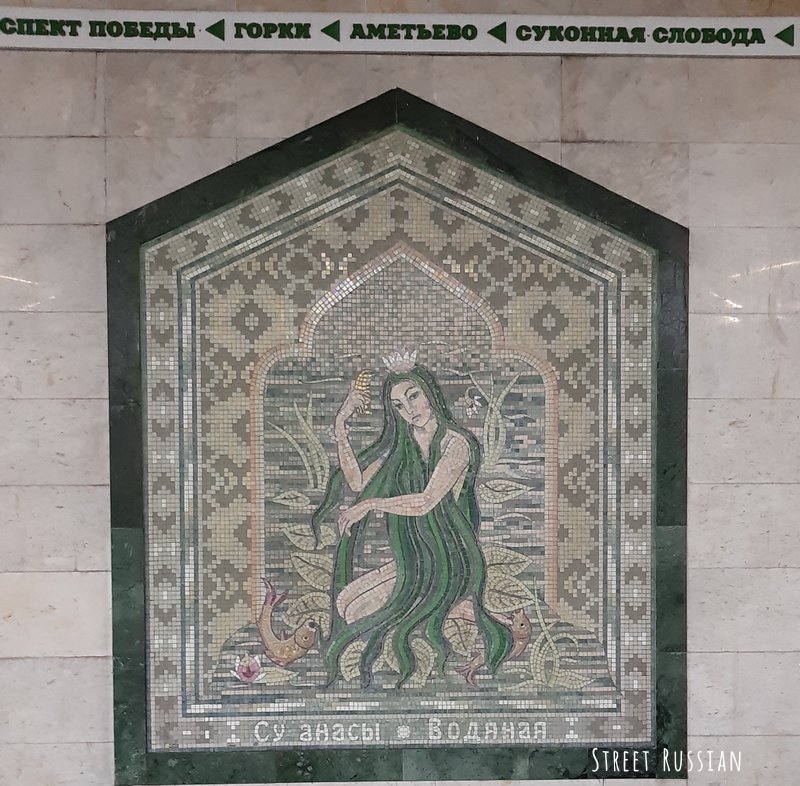 Next is a young woodcutter facing off against Шурале, a forest creature that Wikipedia claims will tickle you to death. 😳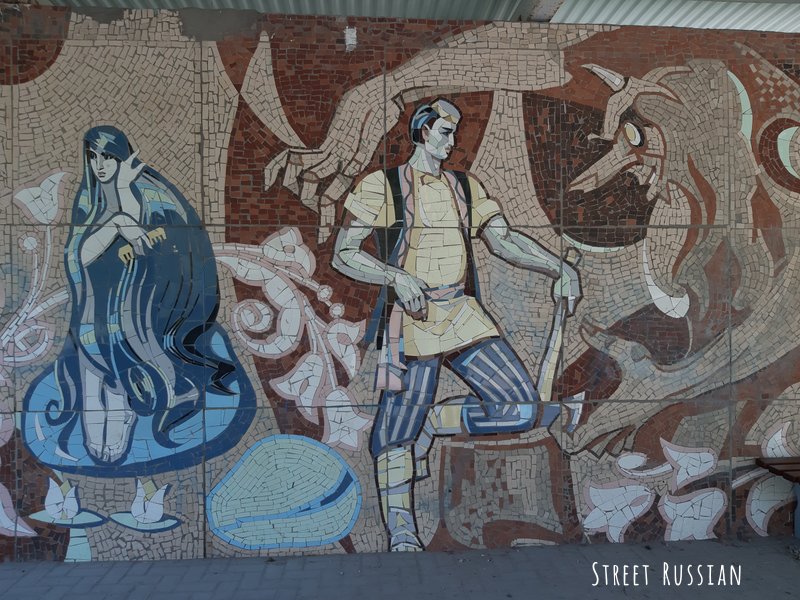 As far as fairytale deaths in the woods, that's probably not the worst way to go.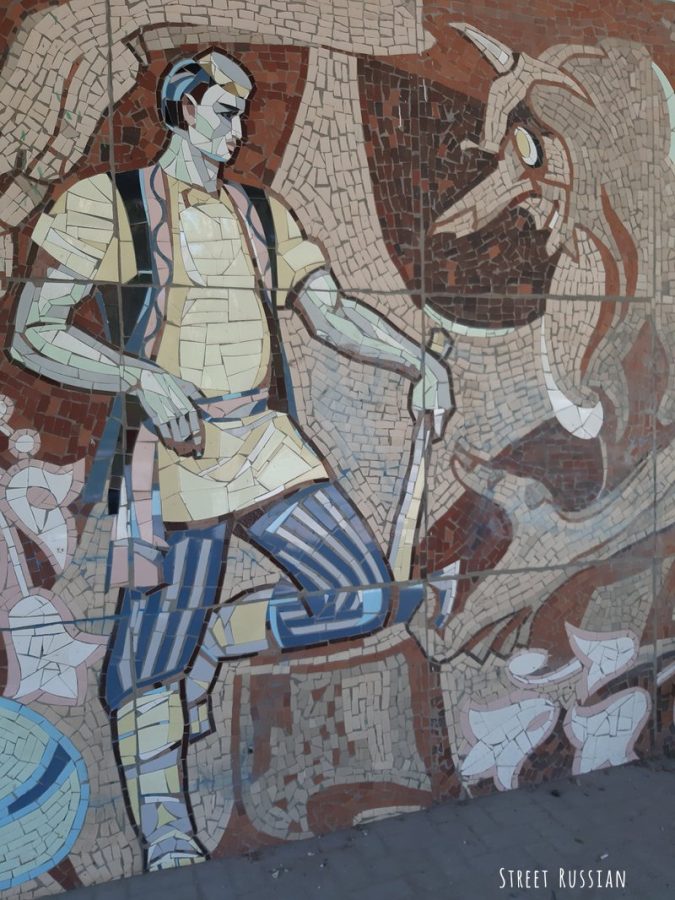 Шурале appears to be another form of Леший, a mythical Slavic creature that always creeped me out. You can read the tale of Шурале and the woodcutter here.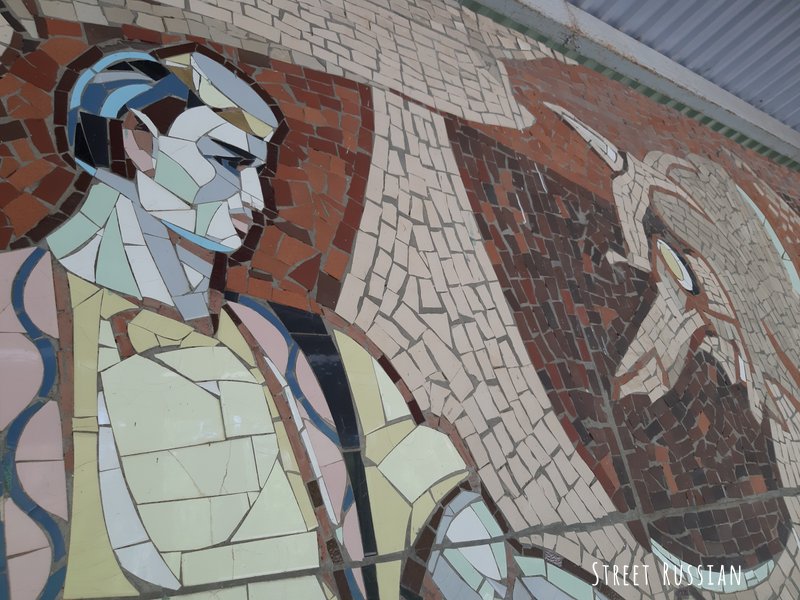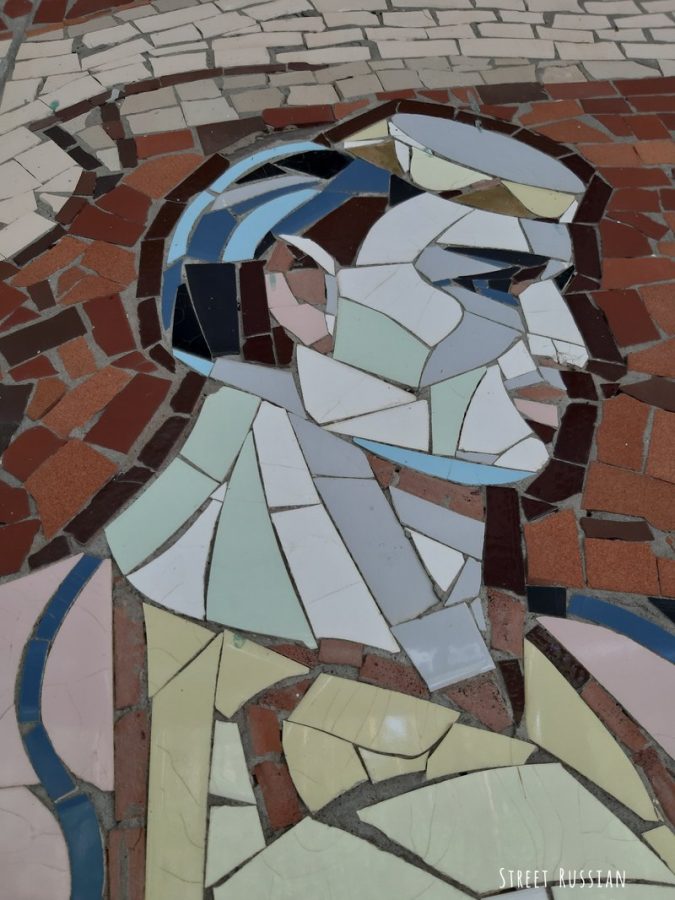 I am completely amazed at the level of detail here. Mundane pieces of broken tile and brick transform into shading, cheekbones, emotions. The longer I look, there more incredible it seems!
But back to the stories… The final story is also pretty creepy. When we came to see this bus stop, I didn't know any of these stories so I'm missing some key photos, but just imagine this told in mosaic form:
An angry old witch has a son. The son spies a beautiful village girl named Гульчечек and bridenaps her. Desperate to see her family again, the girl flees the witch's house for home. Гульчечек is pursued for days by the witch, who has transformed into a vicious wolf. Each time the girl sings to the forest for help, she is given shelter by the forest. Each time she emerges, she is again tracked down by the witch.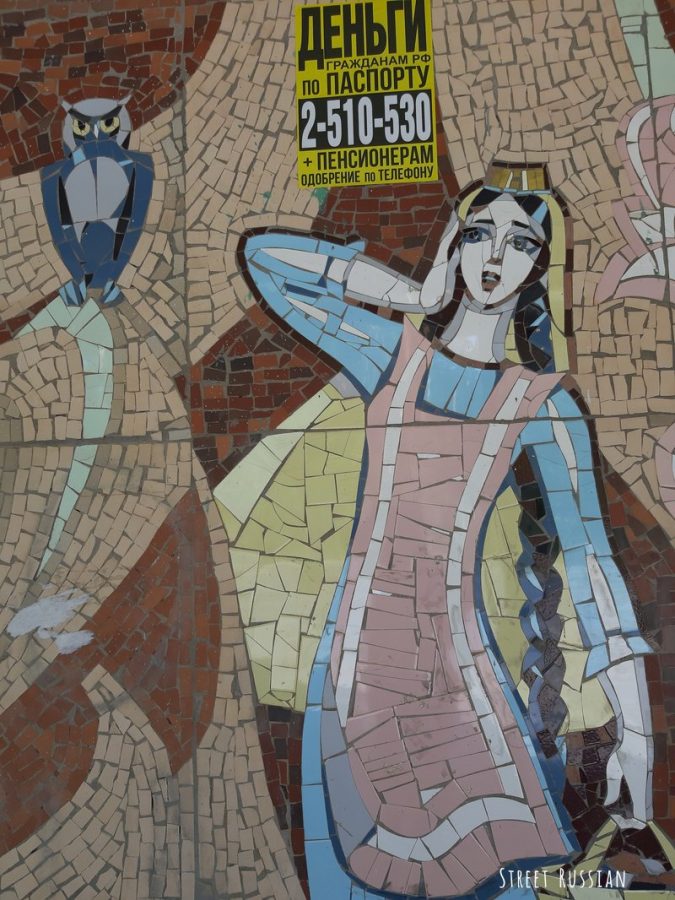 At last, finally within sight of her home, Гульчечек climbs a tree to again escape the witch-wolf. She manages to send a message to her brother, who rushes to save her. You can read the full story here.


Остановка на Матюшинском тракте / Matyushinsky Tract bus stop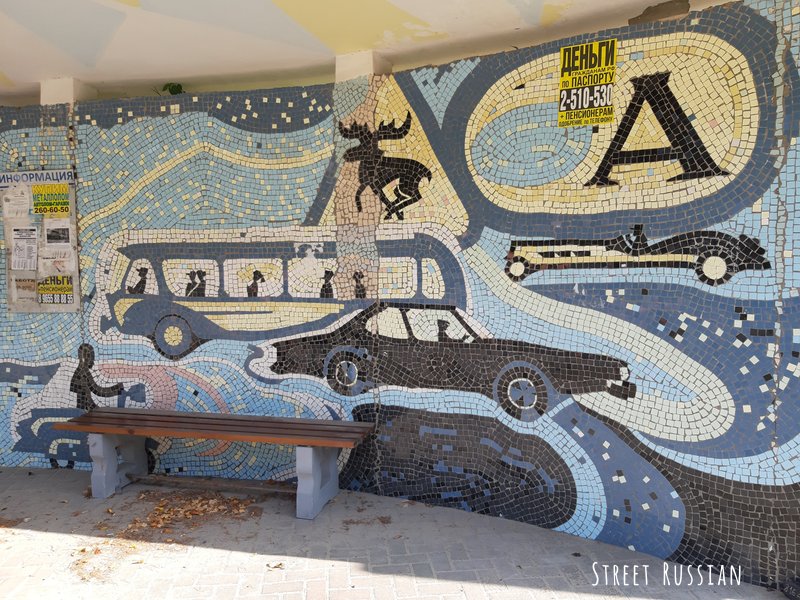 The theme here is transportation, probably current up to the point at which this mural was made. (Transportation methods that I have seen in Kazan but aren't pictured here: a Tesla, a child-size Segway, a stretch Hummer limousine, a моноколесо, as well as infinite Yandex taxis and самокаты.)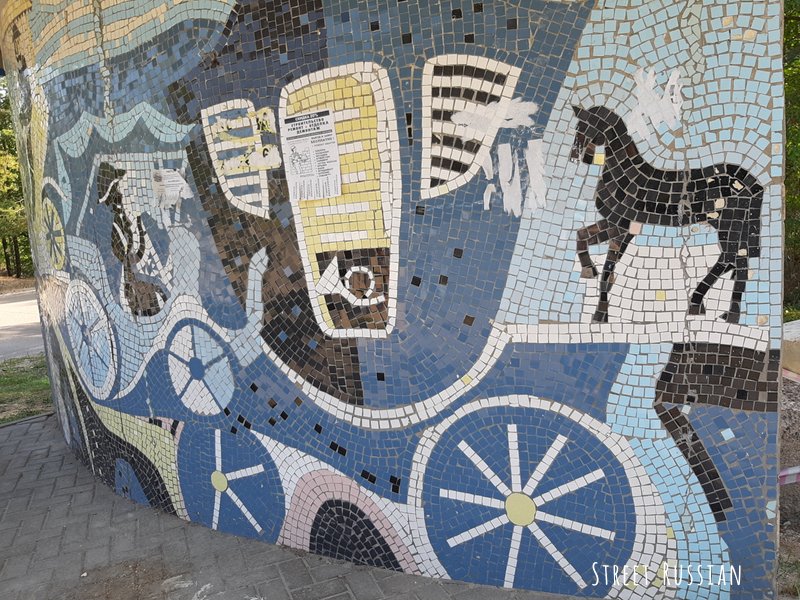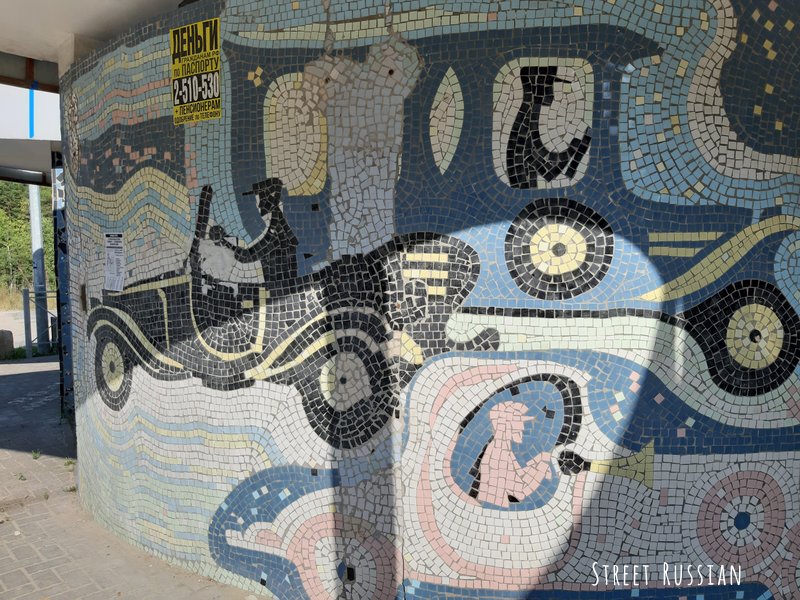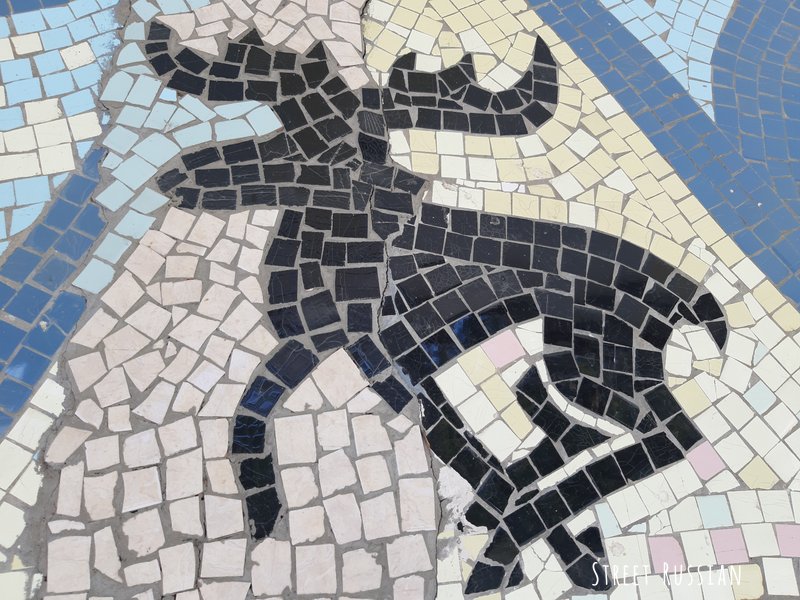 There are three more of these bus stop that we haven't made it to yet. You can see them (plus Google map locations for all the bus stops) here: Шесть советских мозаичных павильонов недалеко от Казани. It seems like there is quite a bit of Soviet-era street art left on the walls here, which is a pleasant surprise!