Another workbook completed! 🙂 After finishing Russian Tutor, I sped through Schaum's Outlines Russian Vocabulary. Is it worth it? I say yes, although it's pretty intense.
Here's a look inside…
This workbook organizes thousands of Russian words into 28 themed chapters. The chapters are filled with little illustrations that are either labeled or left blank for you to label.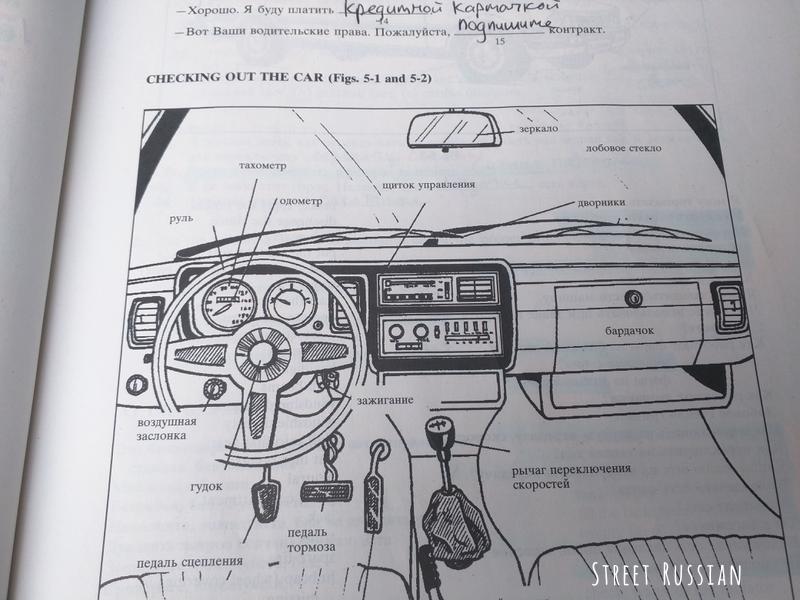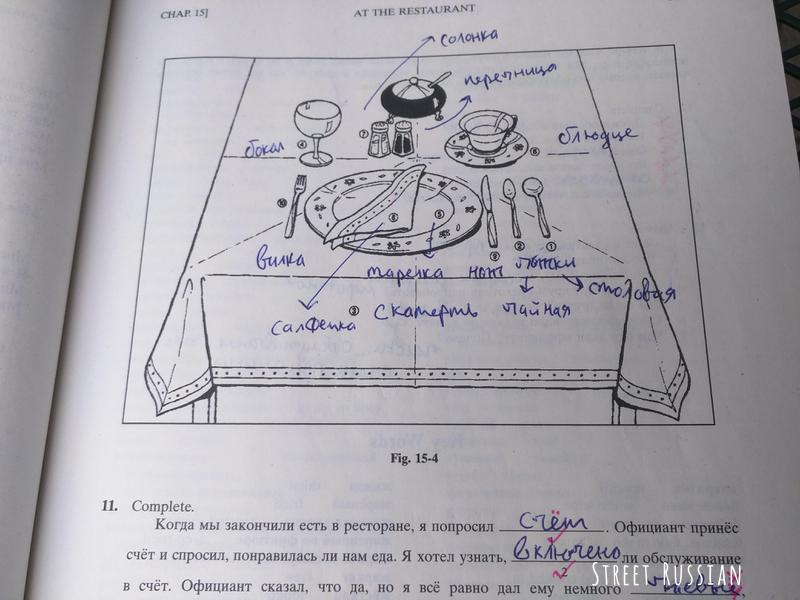 Here are all 28 topics covered in the workbook:
At the airport / On the airplane / Passport control and customs / At the train station / The automobile / Asking for directions / A telephone call / Public transportation / At the hotel / At the bank / At the post office / At the hairdressers / At the clothing store / At the dry cleaner / At the restaurant / Shopping for food / At the farmer's market / At home / At the doctor's office / At the hospital / At the theater and the movies / Sports / The weather / Education / Government and politics / Crime / Business / The computer
It's like the topics have been pulled straight out of a phrasebook. There's no conversation ("Hi! How are you?") and no grammar. Everything is designed to help you be understood when you're shopping, traveling, or feeling sick. Speaking of illness, At the hospital was one of my favorite chapters. It's further divided into Admission to the hospital / In the emergency room / Surgery / In the recovery room / In the delivery room so there were lots of interesting words I'd never encountered before like акушер (obstetrician), желчный пузырь (gallbladder), носилки (stretcher), and an explanation that while клиника can refer to a hospital or clinic, поликлиника is specifically an out-patient facility.
If medical terminology bores you, there are surely other topics that will be more appealing. Some of the topics I found boring- sports, politics, visiting the dry cleaner- and I worked through them as quickly as possible. The biggest downside of the copy I bought is its age… it was published in 1999, meaning outdated references to listening to records, smoking on airplanes, the hassles of making a long-distance phone call, etc. And let's not even get into the technology chapter…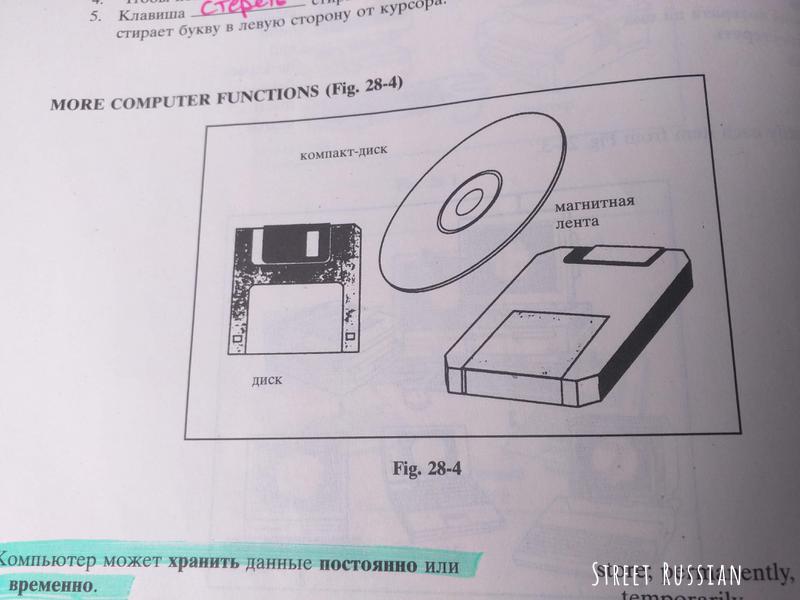 I bought this book at a local bookstore so there was no option to buy a newer version. (On Amazon I see more recent editions that probably cover updated topics.)
Still, vocab is vocab and there's so much to learn here!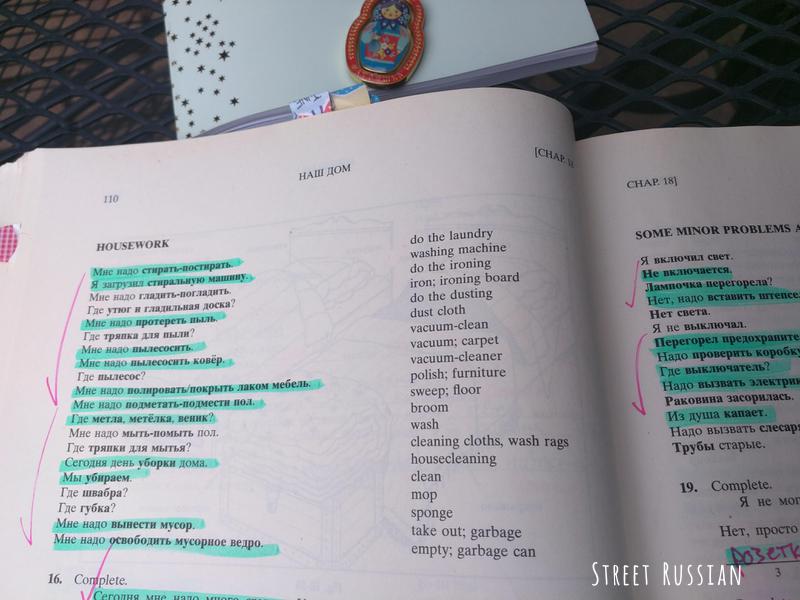 Each chapter is broken down into mini topics, which means less overwhelm for you-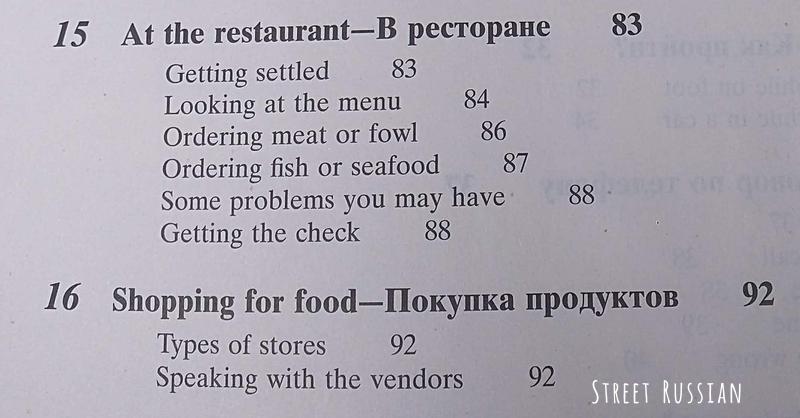 And each chapter starts with sentences that use the new vocabulary, immediately followed by exercises-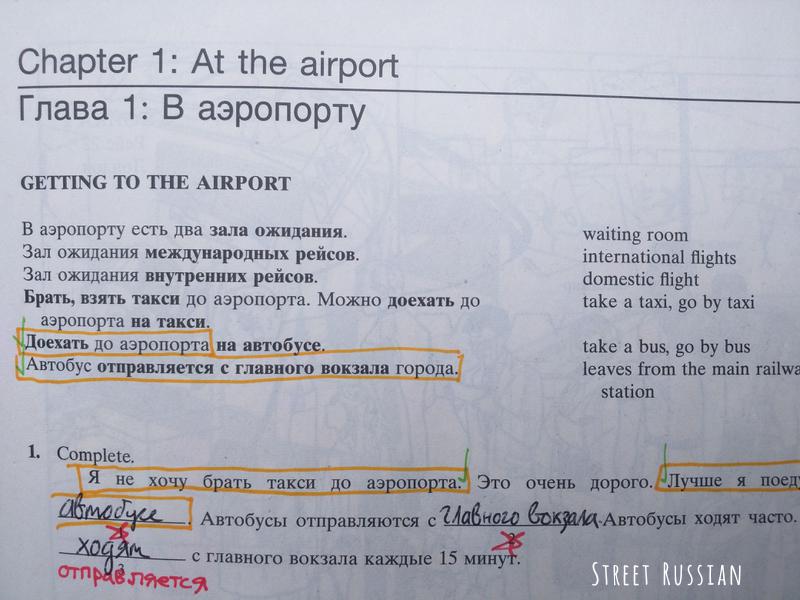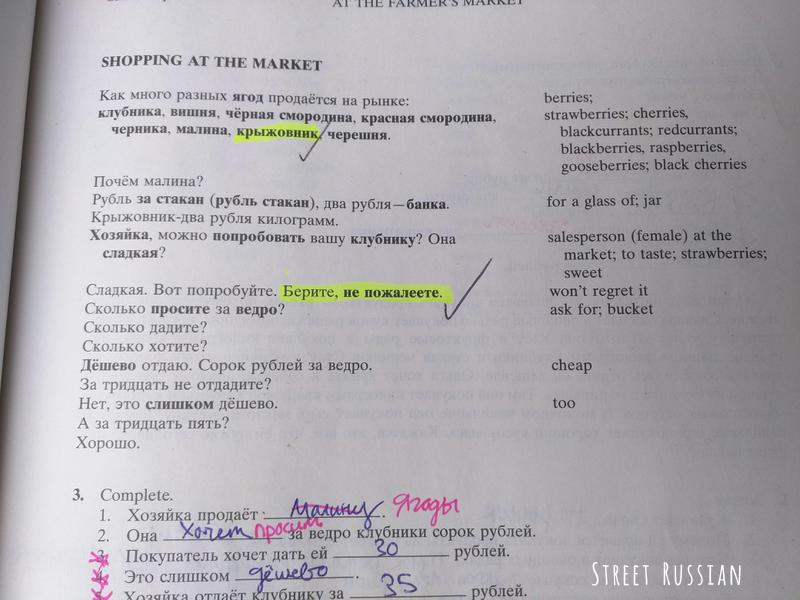 The exercises are what you'd expect in a vocabulary workbook: fill-in-the-blank, match word to definition, read a story and answer the questions, complete a dialog.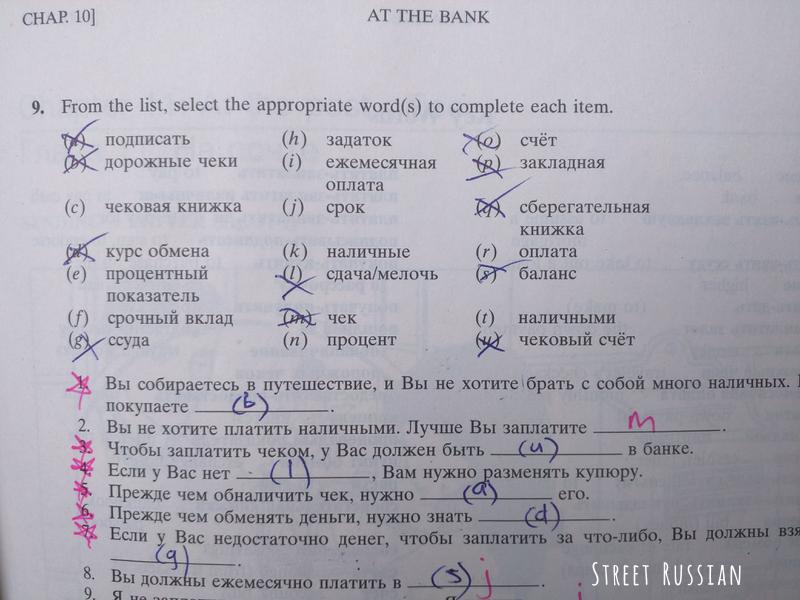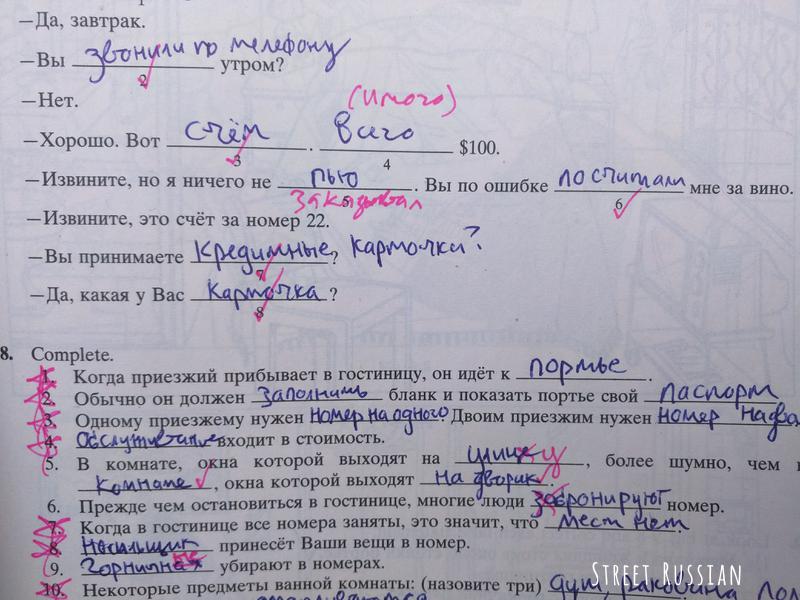 Although 28 chapters made the book feel long (Russian Tutor only had 20), it helped that each chapter was divided into smaller sections. It took me about a month to complete and that included working in it almost daily + several long sessions on airplanes/trains.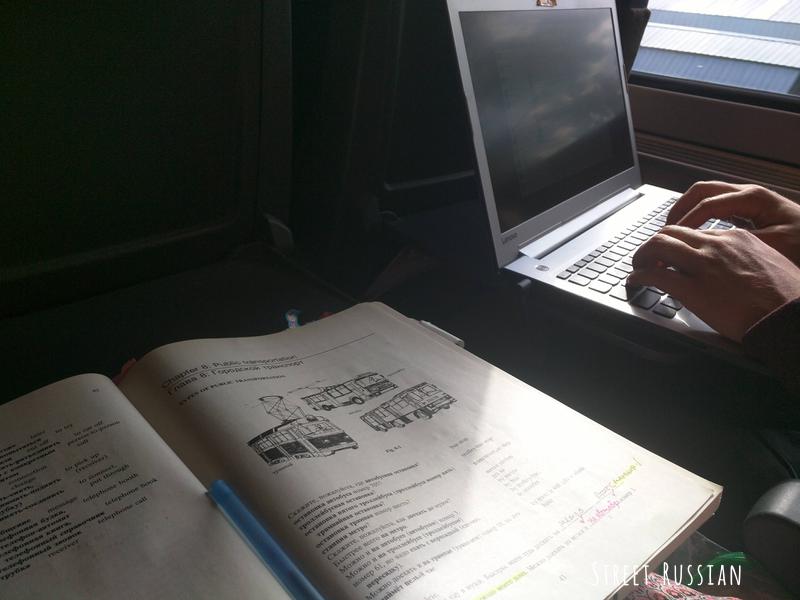 The vocab and activities take up 160 pages and the rest of the book is filled with the appendices, answer key, and RU-ENG/ENG-RU glossaries. There are 5 appendices that review basic vocab (days of the week, months and seasons, time expressions, numbers, and foods).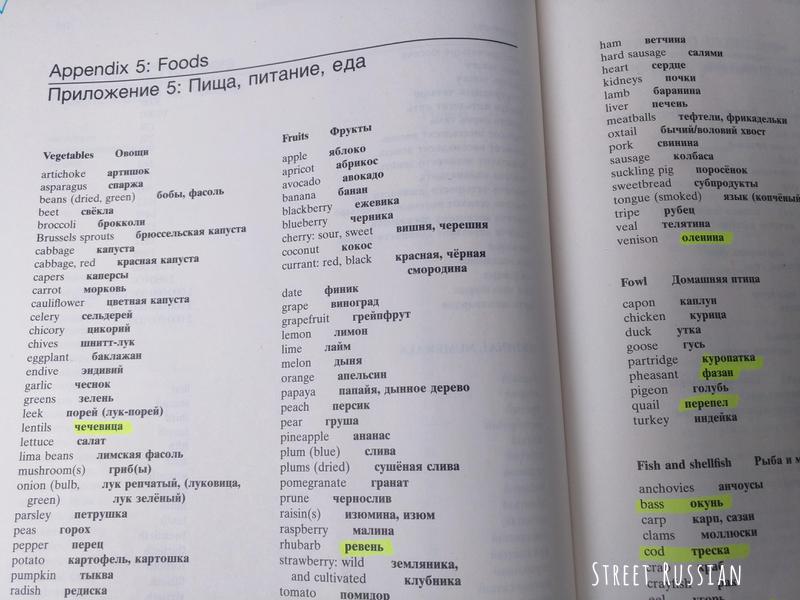 What I really like about this workbook is the ключевые слова (key words) part at the end. Now that I've completed all the chapters and exercises, I'll probably recycle the book… but I'm going to tear out these pages to review again in a few weeks.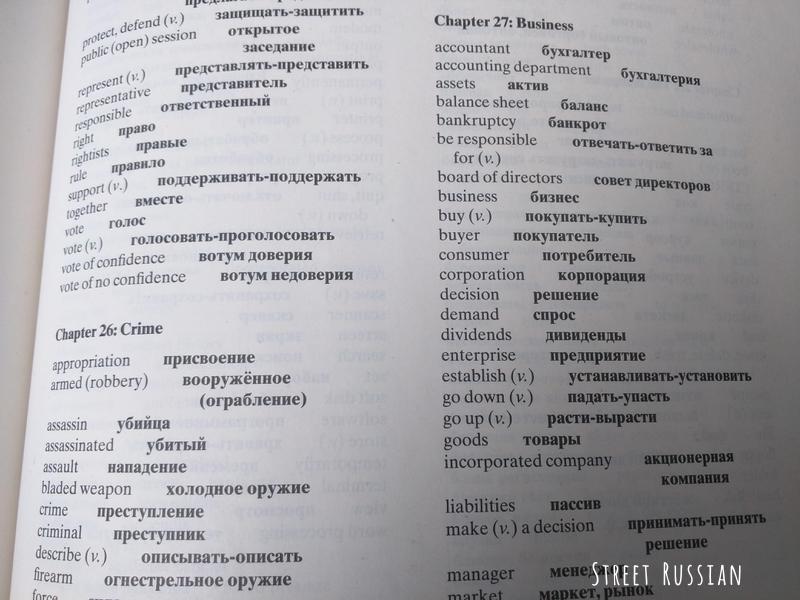 Should you get this workbook?
If you're ready for new vocab and have some free time coming up, it's a good investment.
If you're in a hurry or you need conversation/grammar practice, then you'll probably be more interested in Russian Tutor, Schaum's Russian Grammar, or HelloTalk.
Finishing this whole workbook in a month = word overload!, a new chapter almost every day. Now my goal is to remember hundreds of new words by saving them in Anki and reviewing the ключевые слова pages. On the other hand, this book was just sitting on my bookshelf for at least a year- when I first got this book, I had a grand plan to use the Goldlist method to remember all the new words, ha- so if I didn't force myself through it quickly, then I'd never get around to it. If you can work through the book more slowly without losing your passion for it, I think Schaum's Outlines Russian Vocabulary is a great way to broaden your Russian vocabulary.