The first time I stayed in a sanatorium, I thought it was a really weird place.
Do you know what a sanatorium is? (When I told my brother we visited one, he replied, "What? Do you have tuberculosis?")
If you ask me about sanatoriums today, I'll tell you that they're resort-style hotels with a Soviet vibe, doctors, banyas, and three meals a day.
If you had asked me ten years ago about sanatoriums, however, I would have probably warned you off. That first sanatorium stay was set up by my husband's family (Russians will never send a relative off to visit another city without first giving the contact info of someone else; in this case, the contact info was for a guy who managed a sanatorium) and included:
a brochure of terrifying medical equipment
toilet-paper rationing by housekeeping staff
running water available only twice a day
me accidentally eating liver for breakfast
That was years ago and I've since learned that none of those things are actually that bad, nor are they specifically related to sanatoriums. 😉
In fact, if you know what you're signing up for, sanatoriums are awesome.
To start, you've got all your meals covered. No one will claim the food is fancy, but it's wholesome and there's lots of it. Meals are all-you-can-eat buffets (in Russian: шведский стол) of stolovaya food: salads, mashed potatoes, cutlets, soups, pelmeni, more salads, stew, grechka, blini, fresh fruit, coffee and tea. I have a whole post coming soon of just food pictures!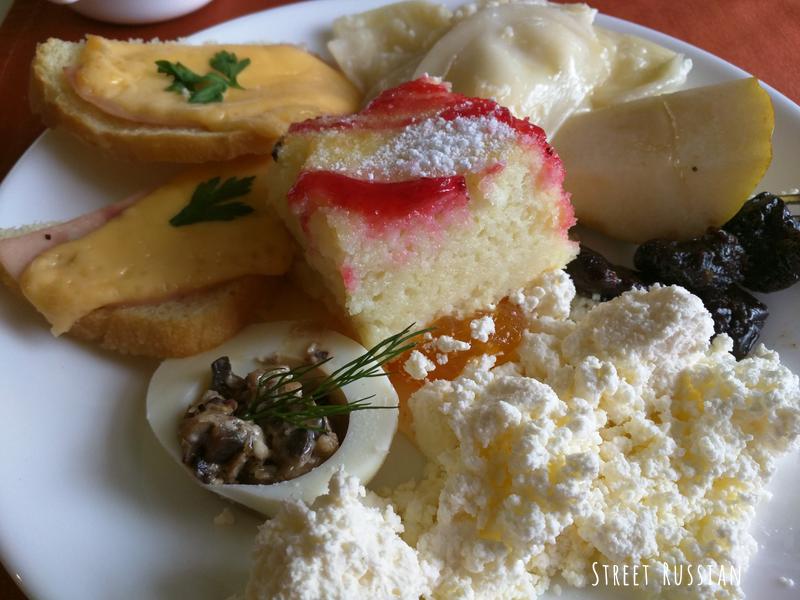 Next, sanatoriums are designed to improve your health.
Some people come to get health problems diagnosed or treated. For example, you can get a woman's health exam + ultrasound, see a endocrinologist, or have a checkup done by a cardiologist.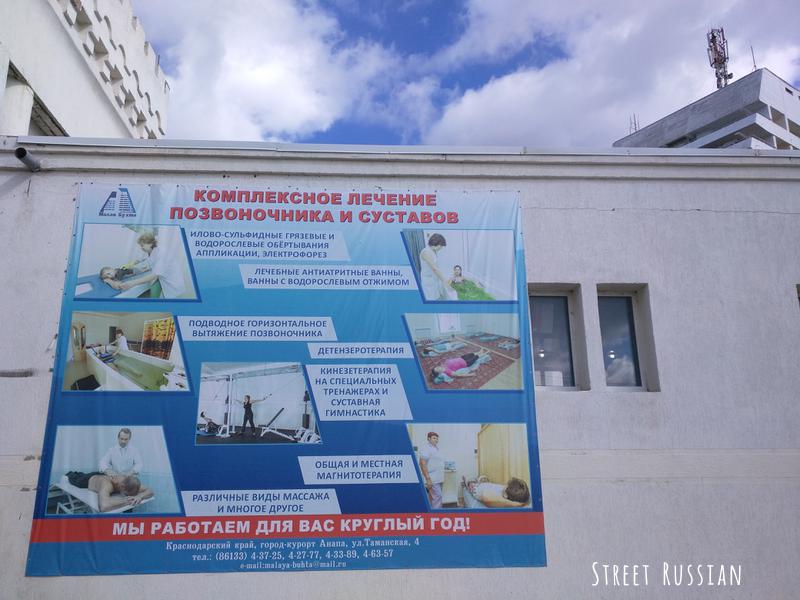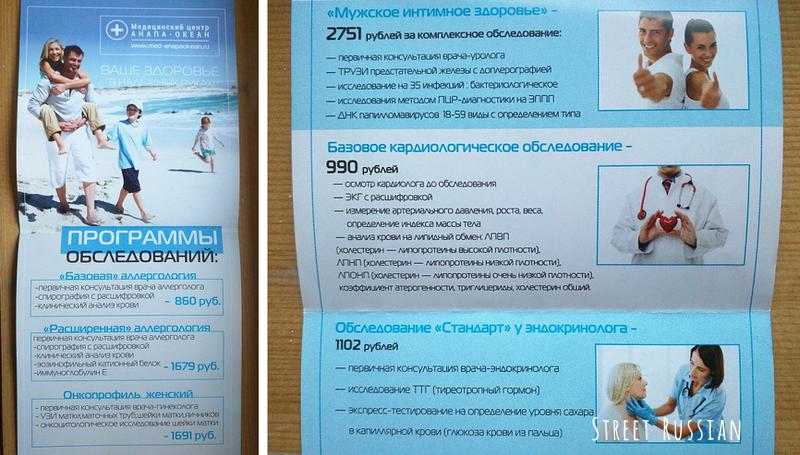 Other people simply come to de-stress. A stay at a sanatorium includes unlimited visits to the sauna, swimming pool, salt cave, steam bath, and whatever else is tucked away in the spa. You can sign up for massages, facials, mud baths, and mysterious "procedures" for an extra fee.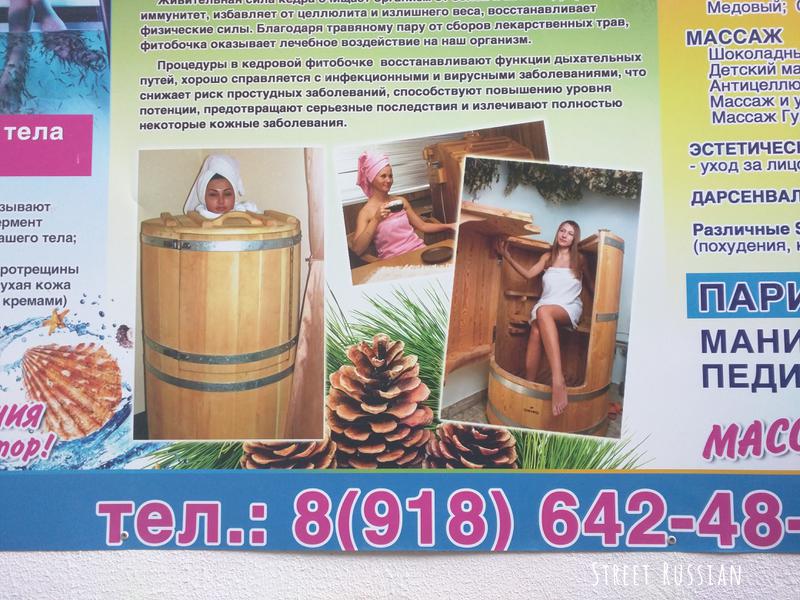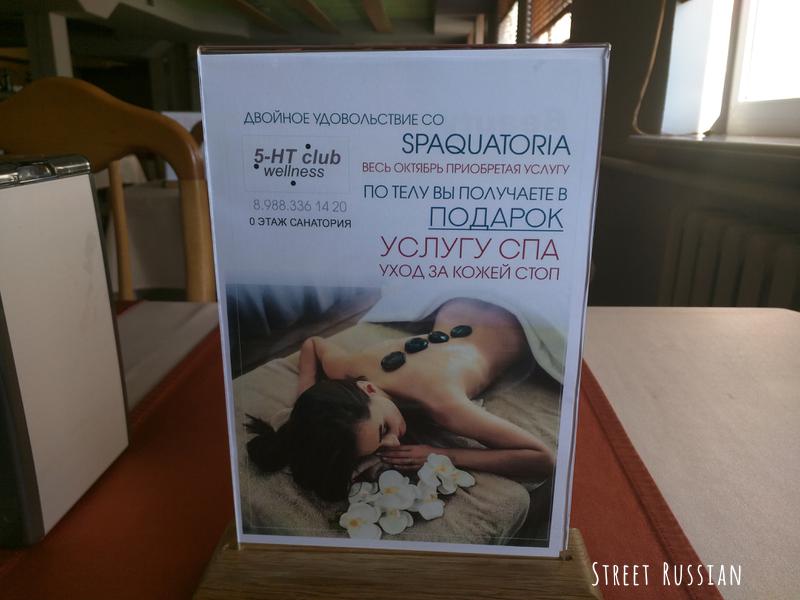 There's one mysterious procedure in particular that fascinates us: the "Elephant Bath". Neither D nor I know what it's actually called (водолечение, perhaps?), but we want to try it someday. As far as I can tell, you just stand there while someone sprays you down like an elephant at the zoo.

A sanatorium stay tends to be longer than a hotel stay. Some of the pensioners we met at our sanatorium were staying for more than a month to fully relax and recuperate. We'd see them lying in the banya, towels wrapped tightly around their heads, or lingering in the stolovaya over breakfast. They were never in a hurry, slowly moving through the weeks of their sanatorium stay. A sanatorium will often advise a рекомендуемый срок of 14 days or longer.
The sanatorium we visited last fall also offered free group fitness classes. We didn't have the courage to try йога в гамаках but we did go to one regular yoga class. Later I booked a session in the gym with a personal trainer named Katya (who spent half our session flirting with another trainer and the other half in a lecture on why girls shouldn't lift heavy weights.)
Even though our stay wasn't that long, we left feeling totally refreshed. The act of sitting in a real Russian banya every day has amazing recuperative powers. 😉 In fact, this whole sanatorium-seaside experience was so good that we started daydreaming about organizing a group tour to a sanatorium…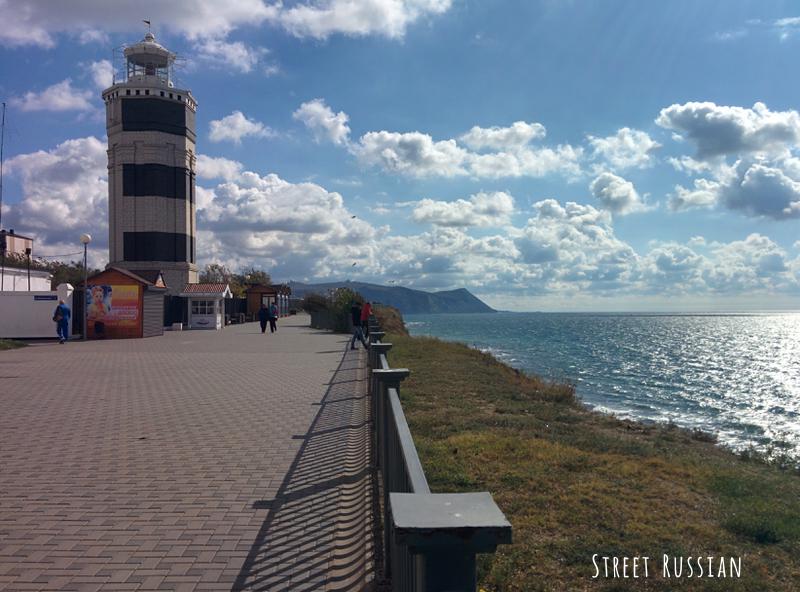 Imagine it: we all meet in Moscow, fly to Anapa, check in to a sanatorium together, and spend seven days exploring the city / wine tasting / spending afternoons in the banya / swimming in the sea / taking pictures of imposing concrete buildings / learning Russian and leave feeling healthier and full of good food. Plus, D and I could warn you which dishes contains liver and when the hot water will be shut off, haha. What do you think? Does it sound interesting?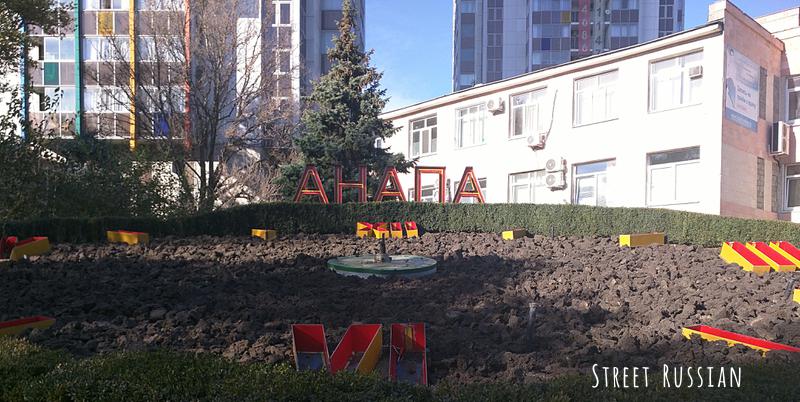 The city of Anapa has tons of sanatoriums and hotels. The biggest ones are on the road out of town and have enormous campuses sealed off by fences. A few of these places are exclusively for children who need medical treatments. Other places have huge waterparks with twisting waterslides and advertise themselves as отели "все включено".
We stayed in town, next to the sea. The sanatoriums in this part of town were smaller and surrounded by little stores and parks. In the next post, I'll tell you more about where we stayed. For now, here are pictures of five sanatoriums that we walked past almost every day…
#1. Санаторий 
«
Кубань
»
Out of all the sanatoriums shown here, this one was my favorite. Those zigzag balconies towering above a zigzag sidewalk of red, green, and yellow? Sign me up!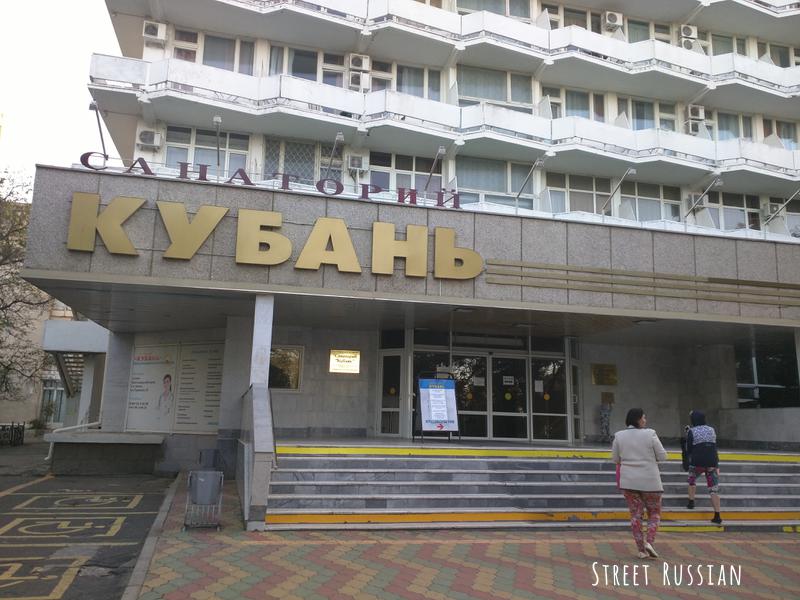 We went inside here one afternoon but didn't get any further than the вахтёр sitting at the front desk. He gave us a piece of paper with an official-looking stamp at the top and the October-December 2017 rates at the bottom: 1100 rubles a day for food and a simple room, less than $20 USD.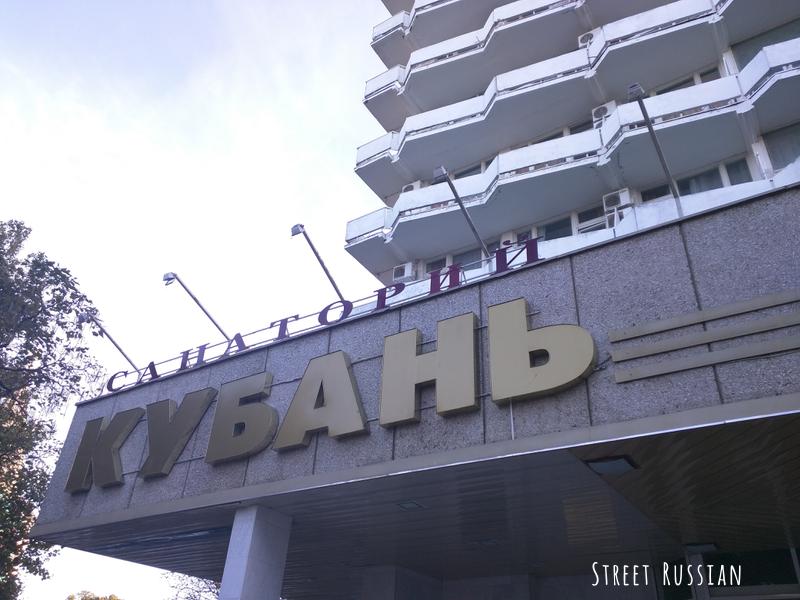 Their website unfortunately doesn't have any information on when the sanatorium was built or who designed those cool balconies, but it does promise more than 140 medical procedures to chose from.
#2. Санаторий «Мотылёк»
This sanatorium looks modest from the street but includes a volleyball court, a playground, a library, a nightclub, a cafeteria, and a gym, along with the requisite spa complex. You can peek at what's behind those wooden doors on their website.
#3. Санаторий 
«
Русь
»
Treatments are offered here for things like allergies, insomnia, eczema, hypertension, and diabetes… or you can just go for a swim in the indoor saltwater swimming pool.
You can see more of the sanatorium in the video below or on their website:
#4. С
анаторий «Старинная Анапа»
This fancy sanatorium (4 stars!) was next door to where we stayed. It was the most elegant sanatorium in the area, complete with doormen and glittering chandeliers and (briefly) an actual camera crew out front filming a movie or TV show.
According to the sanatorium's website, the first version of this place was built in the 1930s and restored in the 1960s.
#5. Санаторий «Малая Бухта»
I'm not sure what happened to the rest of my pictures of this sanatorium, but Малая Бухта is definitely runner-up for best architecture. Take a look at the building's design…
This sanatorium was further south than the others, about a 30-minute stroll from where we were staying. Although the other sanatoriums all share the city beach, this sanatorium has a private beach. When the weather turns cold, they open up a three-story building called "Winter Beach" that's actually been built on the beach itself. You can read more about it on their website.
In the next post, I'll share some pictures and stories from the sanatorium we stayed in last fall. What do you think of sanatoriums? Would you feel comfortable staying in one or do you prefer regular hotels? We're planning to do another sanatorium trip in the fall, so leave me a comment if you'd be interested in meeting up over there! 🙂