Check out what I just got my hands on:
Aleksandr Dragunkin's A Big Leap in English in 95+ Minutes…
As a Russian language learner, it's super-interesting to look at things from the other side. Thinking about what English learners struggle with can even help you with your own studies. For example, money is plural in Russian (деньги) and so lots of Russians will refer to money as "them" instead of "it" in English… which means you're probably going to make the opposite mistake at first in Russian.
But back to this textbook-
This textbook comes from a local classroom for English language learners. The woman who runs the program showed it to me one day, asking if it was worth keeping or should be tossed out. The book looked so familiar: the man taking himself very seriously in a James Bond suit, the big promises on the cover…. where had I seen this before?
I remember!
My husband's parents had a copy of this in their home. And more than just "had a copy" too. They read it and reread it and truly believed in it.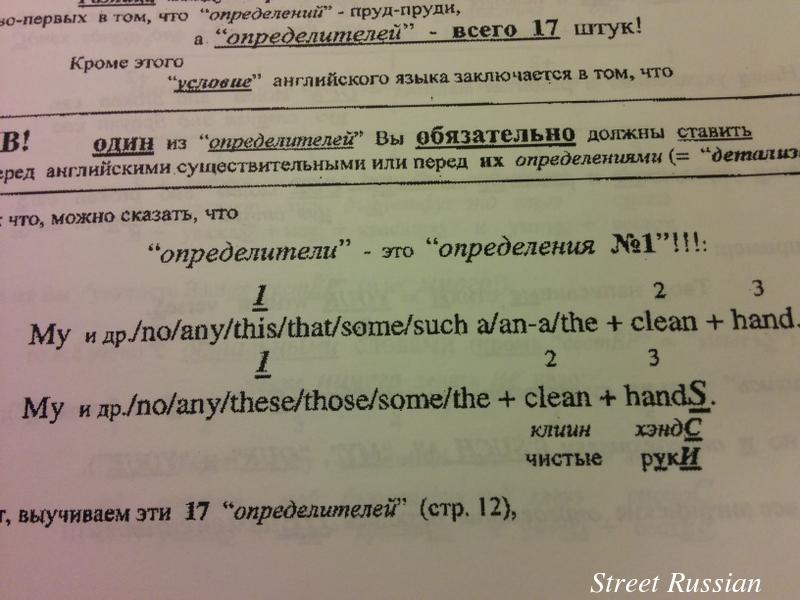 Most language textbooks are written K.I.S.S. style: keep it simple, stupid. Not this one, though. This is language learning meets electrical engineering.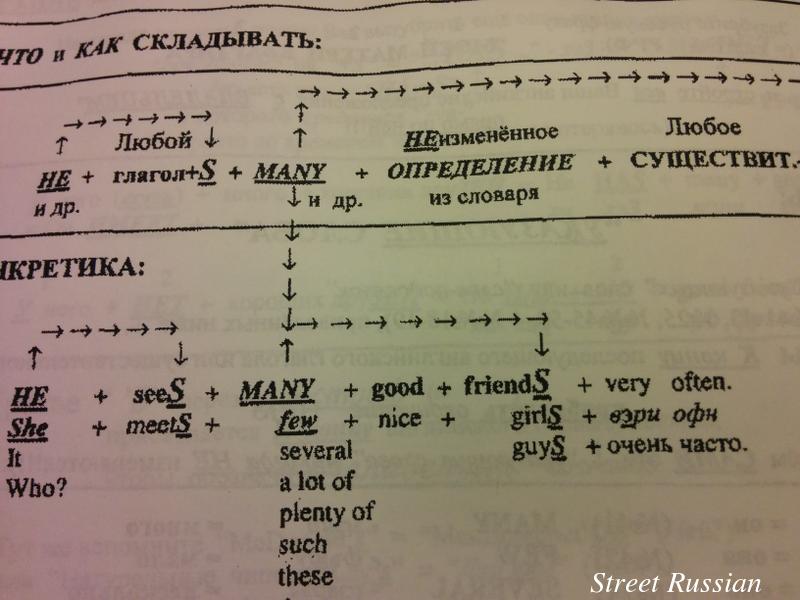 The funny thing is that's exactly what his parents liked about it. They didn't want to feel like idiots- they wanted something "at their intellectual level". The more complicated it looked, the better.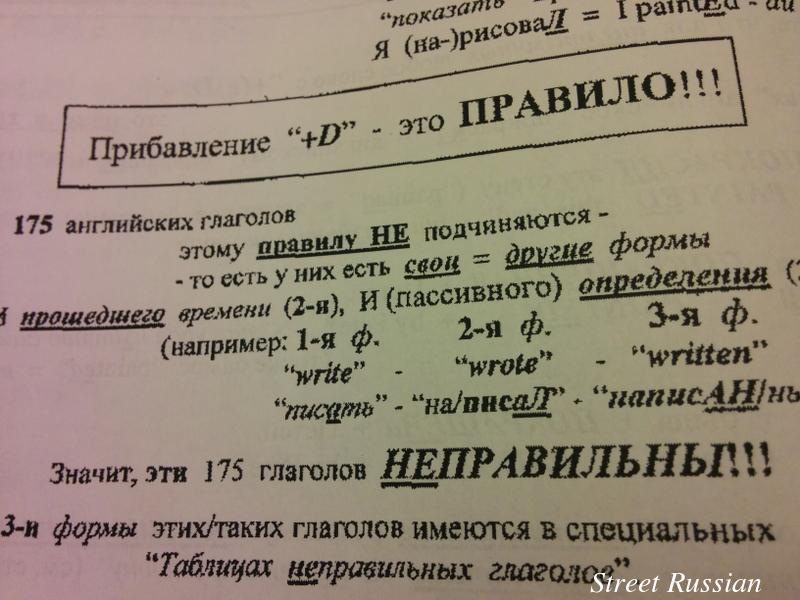 If it looks to you like there's a lot of shouting going on in this textbook, you're 100% right. And simply as a teacher who works with a lot of Russian speakers, I can tell you that they do prefer a strong, decisive teacher. Not the "what do you feel like doing today?" kind of teacher and definitely not the "well, there's really no right or wrong answer here" kind of reply. That это ПРАВИЛО!!! and эти 175 глаголов НЕПРАВИЛЬНЫ!!! spoke directly to my father-in-law's heart.
Does this book make impossible promises though? And who is Aleksandr Dragunkin?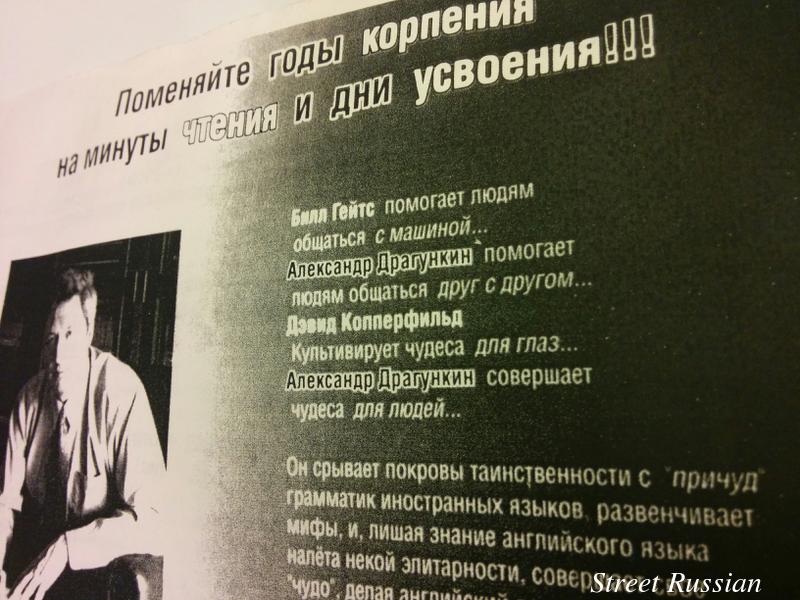 On the back cover:
Exchange years of toil for minutes of reading and days of taking it all in!!!
You have in your hands right now not just a pile of paper sullied with printed ink-
You have in your hands concentrated knowledge.
You have in your hands a chance, the ability to change your life, the ability to break though!
Use this unique chance! Help your destiny! And all this in 95+ minutes!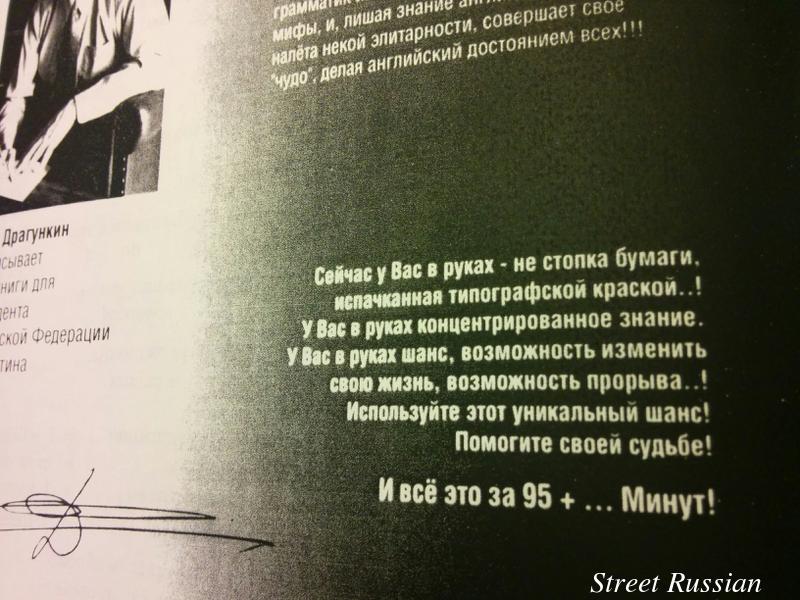 The author is a 68-year-old linguist from St. Petersburg who has gotten into some disputes with other linguists over his opinion of the "greatness and mightiness" of the Russian language. His teaching style fascinates me because I've never seen actual proof that he speaks English. Does he? But no matter; his method sells. I call it the learn-to-speak-a-foreign-language-without-ever-having-to-actually-speak method. Try watching a few minutes of one of his videos:
If you simply study enough rules and understand the inner workings of all grammatical concepts then bam!
You don't need to speak. You know the language, of course. I guess. 😉
On the other hand, as one student of his method said here: "I thought that speaking and writing skills would appear automatically after learning sufficent [sic] number of English words." Or in the words of another commenter: "[He] is a hyperactive con-artist. What makes me feel good about Dragoonkin is that when you think anybody more stupid than you can't simply exist, you can always find a more stupid but at the same time a successful specimen."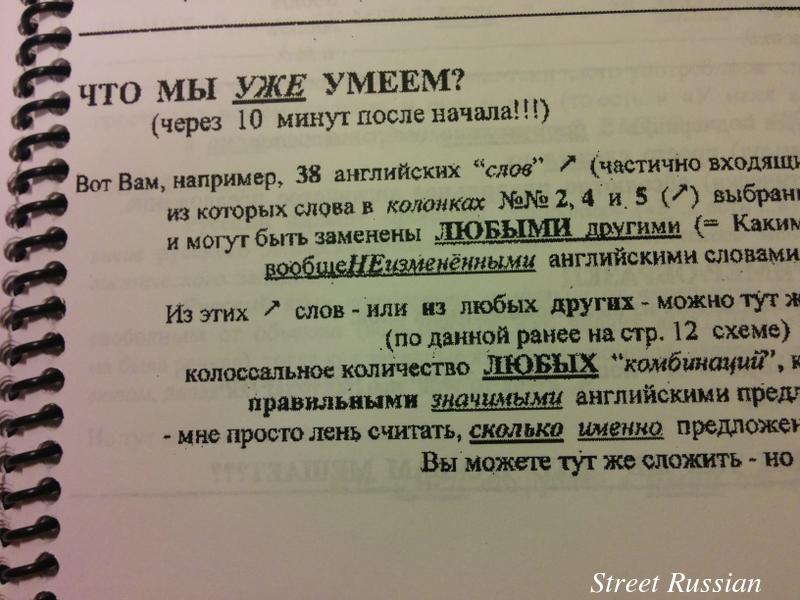 Anyways, I suggested that the program coordinator keep the book in the classroom. It was kind of a toss-up: the book might make someone feel like they're being proactive and give them motivation to study, but it's easy to get caught up in it and forget that EVERY learner needs to go through the whole I-sound-like-I-have-the-brainpower-of-a-warthog phase of learning. Да, всем надо быть дураками на немного.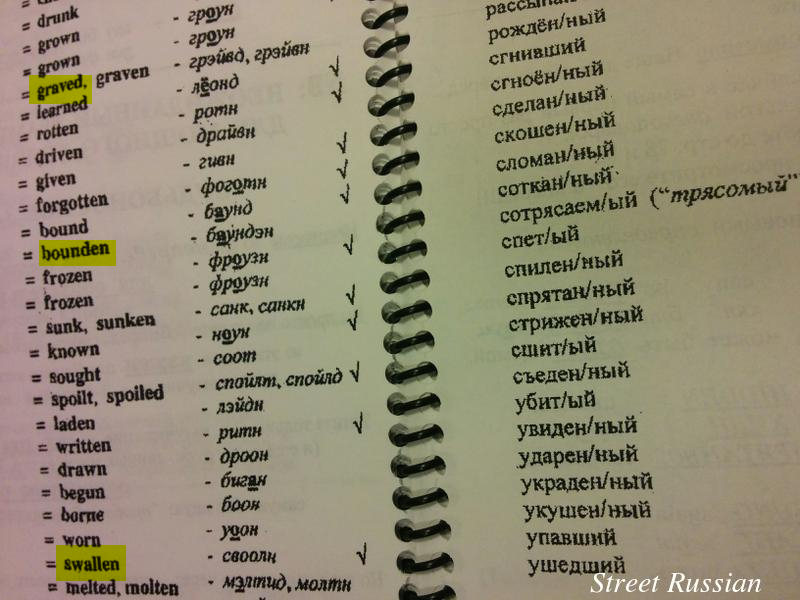 But the other reason to keep the book around? The example sentences.
In keeping with the you-are-so-smart vibe of the book, Aleksandr Dragunkin ditches the traditional examples of "What time is it?" and "Excuse me, where is the train station?" and gives us these beauties instead: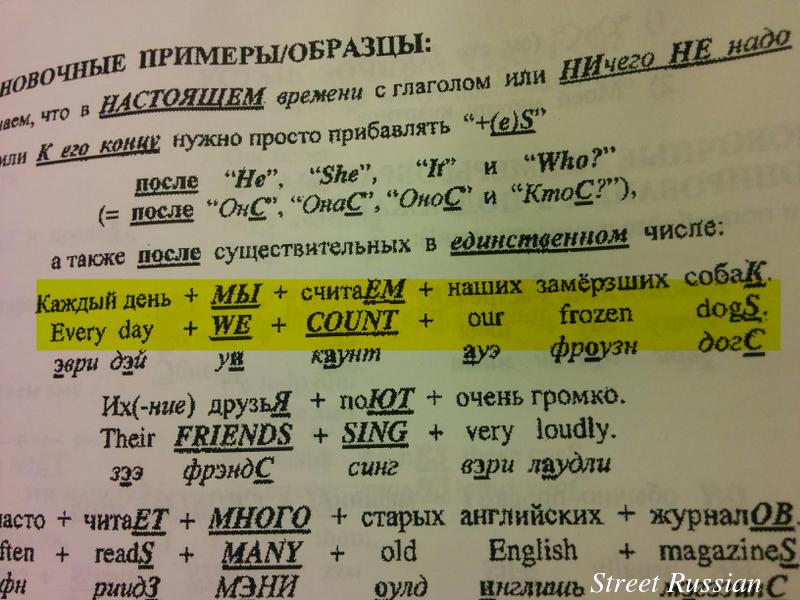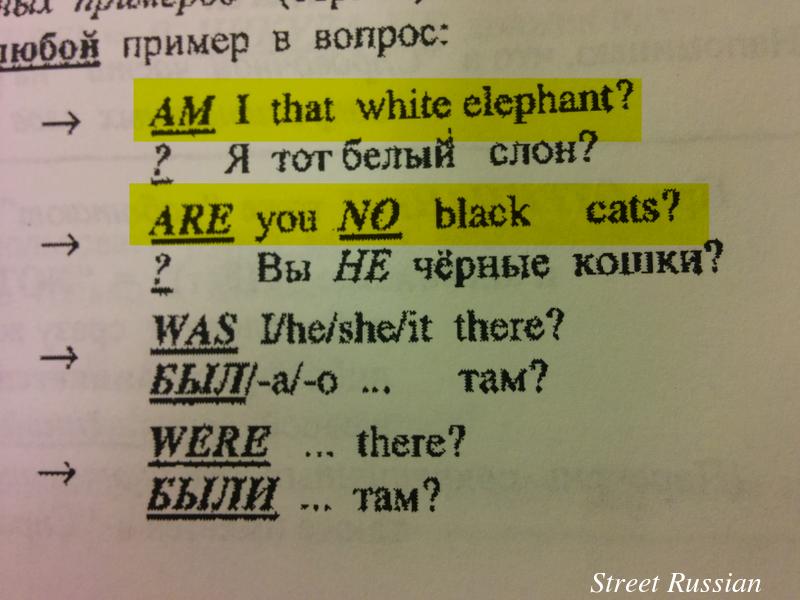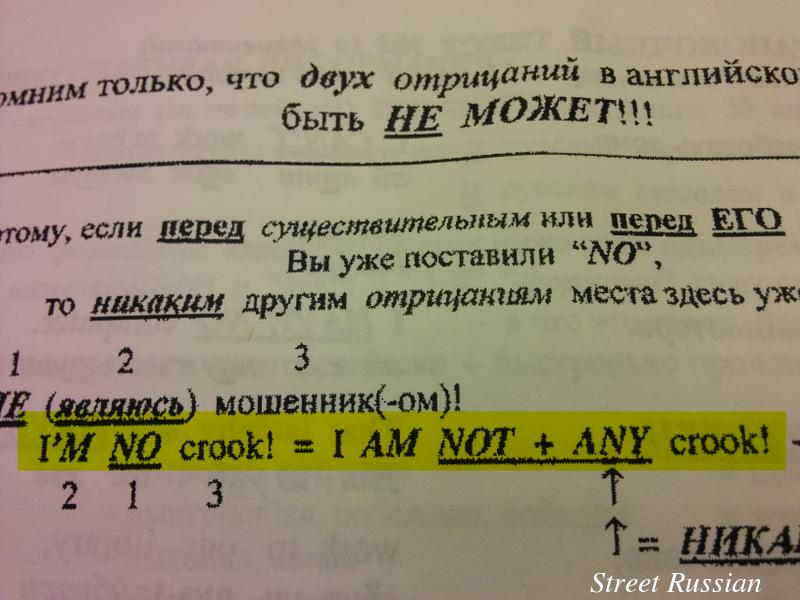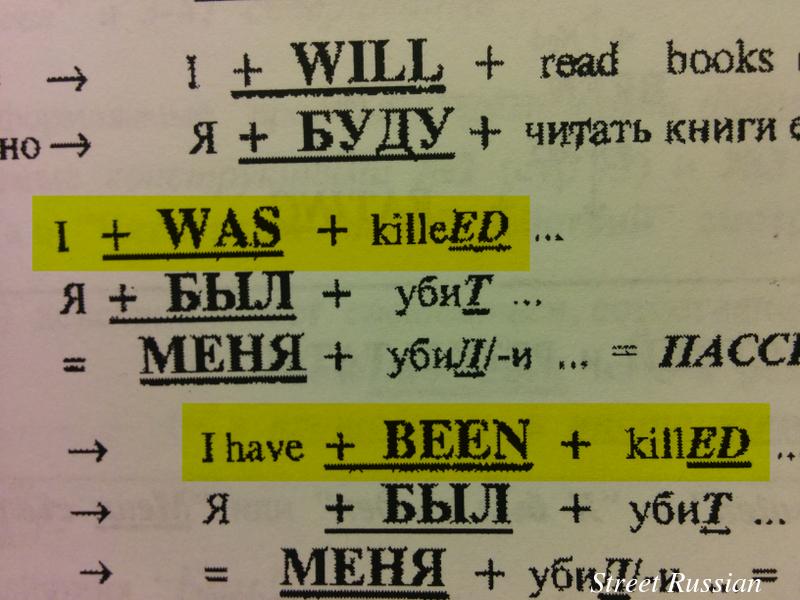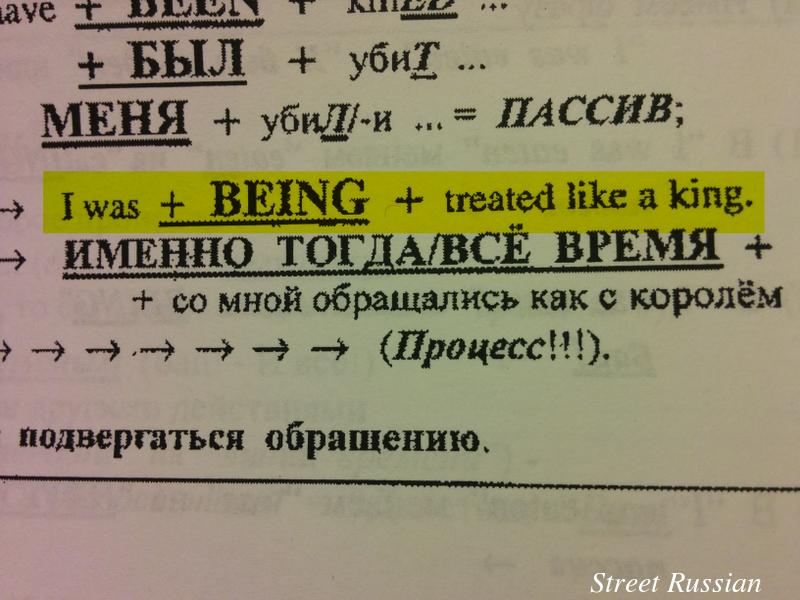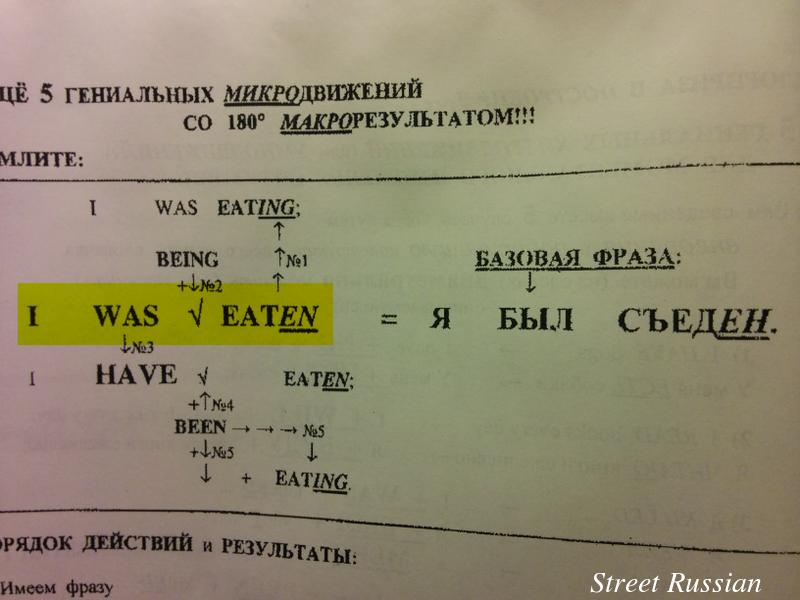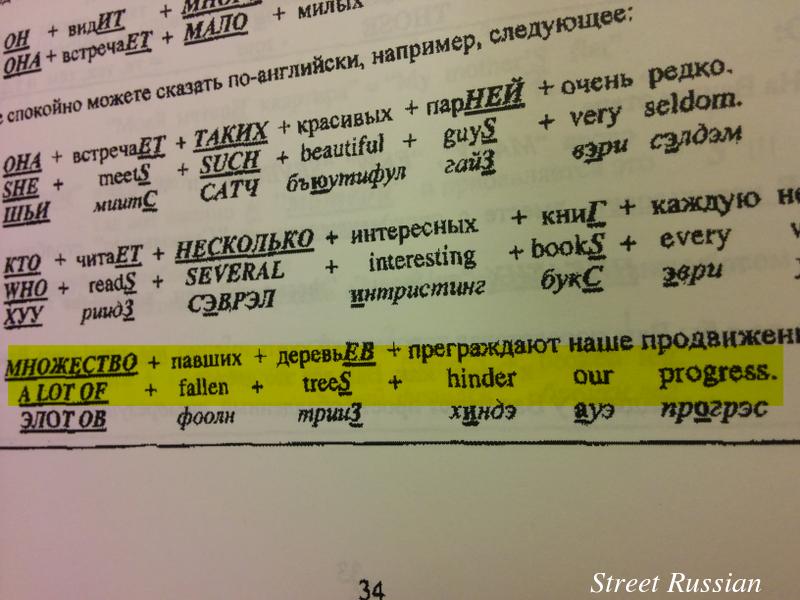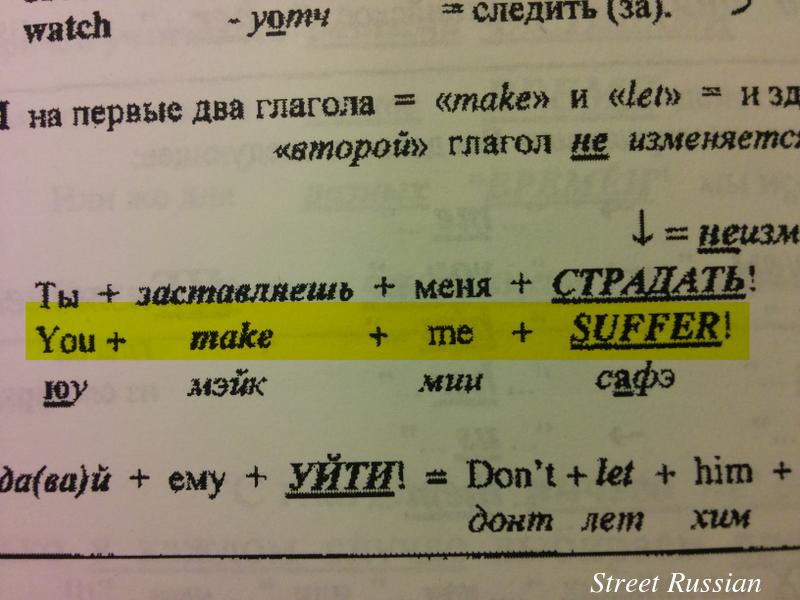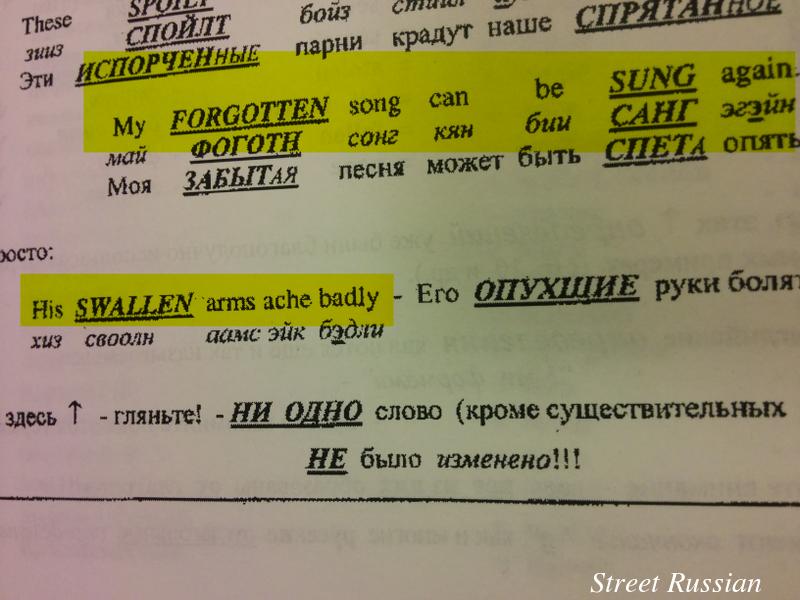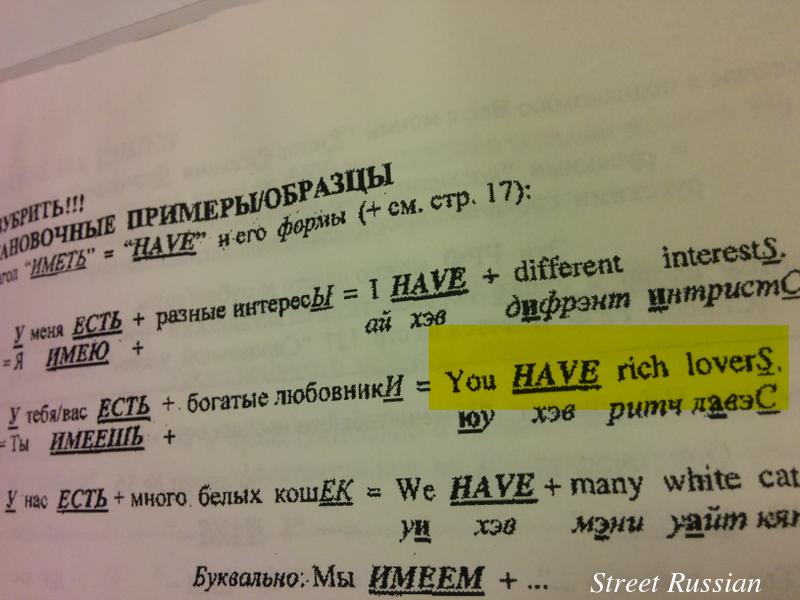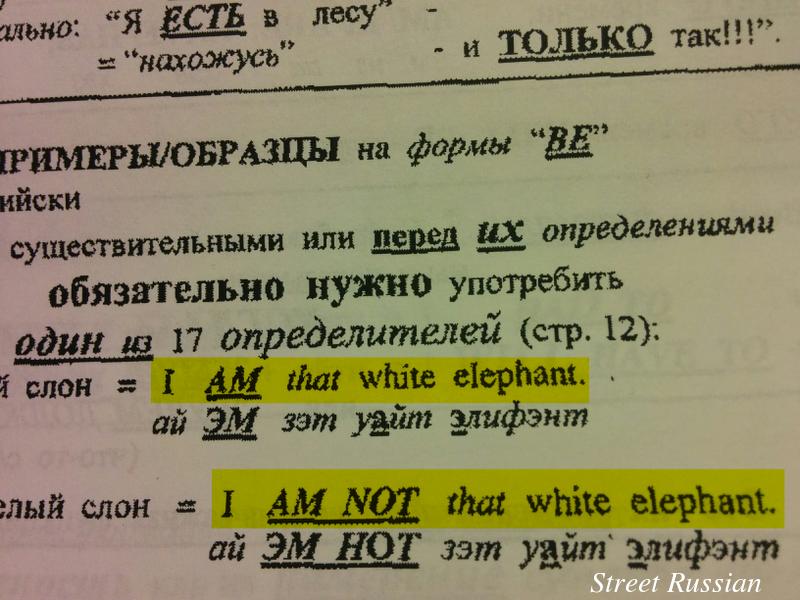 I dearly hope that if I ever write a language learning book, the examples will be no less extravagant than these ones.
What do you think of A Big Leap in English in 95+ Minutes… ? Leave a comment below with your defense or criticism of this textbook! Have you ever used anything like this in your studies?